Welcome to Kas, a hidden gem on the stunning Turkish Riviera. Nestled along the southwestern coast of Antalya, Kas offers a perfect blend of natural beauty, rich history, and a relaxed coastal atmosphere. With its crystal-clear turquoise waters, charming streets, and fascinating archaeological sites, Kas is a paradise for nature lovers, adventure enthusiasts, and those seeking a tranquil getaway. In this guide, we will take you on a journey through the highlights of Kas, providing you with all the information you need to plan an unforgettable holiday.
What to Expect? Explore the Enchanting Beauty
When you visit Kas, expect to be captivated by its natural wonders and cultural heritage. Here are some of the things you can expect to find in this idyllic destination:
Pristine Beaches
Kas is renowned for its breathtaking beaches and secluded coves. The azure waters and pebbly shores invite you to relax, soak up the sun, and swim in the refreshing Mediterranean Sea. Whether you prefer quiet spots or lively beach clubs, Kas has something to suit every taste.
Rich History
As you wander through the streets of Kas, you'll encounter traces of its ancient past. From Lycian tombs carved into the cliffs to the remnants of a Roman theater, the town is a living testament to its historical significance. Don't miss the opportunity to explore the ancient ruins and learn about the fascinating civilizations that once thrived in this region.
Vibrant Culture
Kas is a melting pot of cultures, with influences from ancient civilizations and modern-day Turkey. The town's lively atmosphere, colorful markets, and traditional festivals provide an immersive cultural experience. Immerse yourself in the local traditions, taste authentic Turkish cuisine, and interact with the friendly locals to truly embrace the vibrant culture of Kas.
---
No Regrets Booking Advice
---
Outdoor Adventures
For adventure seekers, Kas offers an array of thrilling activities. Explore the underwater world through scuba diving or snorkeling excursions, hike along the Lycian Way trail for stunning coastal views, or embark on a boat tour to discover hidden caves and secluded bays. With its rugged landscapes and pristine nature, Kas is a playground for outdoor enthusiasts.
Why Holiday in Kas?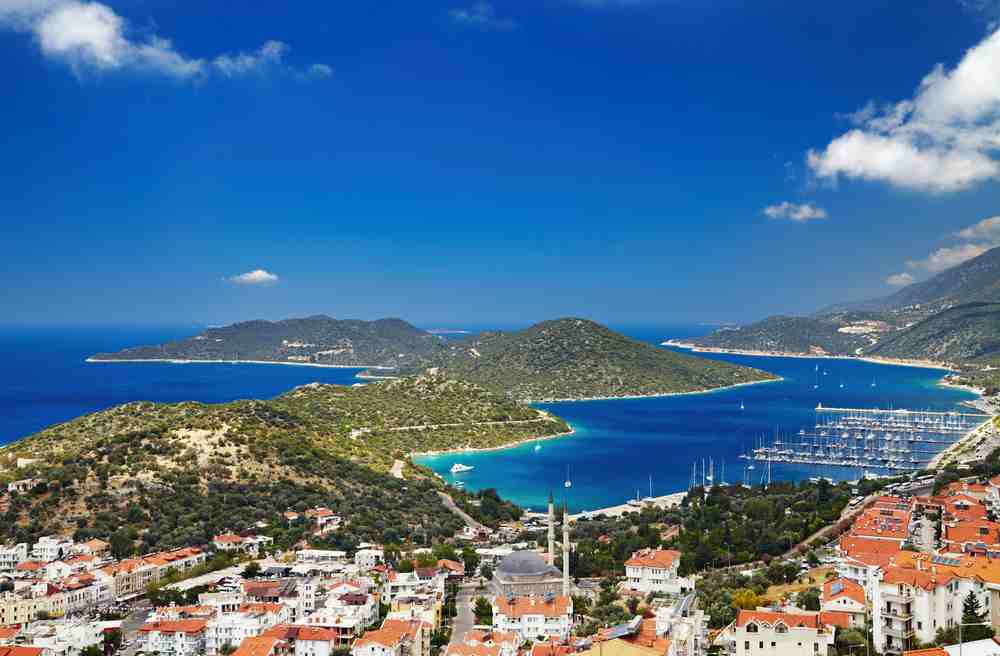 Kas in Antalya is not just another beach resort town; it's a destination that has something truly special to offer. Here are some compelling reasons why you should choose Kas for your next holiday:
Unspoiled Natural Beauty
Kas boasts unspoiled natural landscapes that will leave you in awe. From the crystal-clear waters of the Mediterranean to the majestic Taurus Mountains that provide a stunning backdrop, every corner of Kas offers breathtaking beauty. Whether you're gazing at the sunset over the sea or exploring the lush valleys and hidden waterfalls, you'll be surrounded by nature's wonders.
Tranquil and Relaxing Atmosphere
Unlike some of the more crowded tourist destinations, Kas has managed to preserve its laid-back and relaxed atmosphere. It's the perfect place to escape the hustle and bustle of everyday life and unwind in a peaceful environment. You can enjoy leisurely strolls along the picturesque harbor, sip a cup of Turkish tea at a local cafe, or simply bask in the serenity of your surroundings.
Authentic Turkish Experience
Kas allows you to immerse yourself in the authentic Turkish way of life. The town is still relatively untouched by mass tourism, which means you'll have the opportunity to interact with locals and experience their warm hospitality. From enjoying traditional cuisine to exploring local markets and participating in cultural events, you'll get a genuine taste of Turkey in Kas.
Gateway to Lycian Civilization
Kas is the perfect base for exploring the ancient Lycian civilization. The region is dotted with archaeological sites.
Top Things to Do & See in Kas
1. Explore the Ancient Theater
Start your journey in Kas by visiting the well-preserved Ancient Theater, dating back to the 1st century BCE. Marvel at the grandeur of this Roman amphitheater and imagine the performances that once took place on its stage. Climb to the top for panoramic views of the town and the surrounding landscape.
2. Discover the Sunken City of Kekova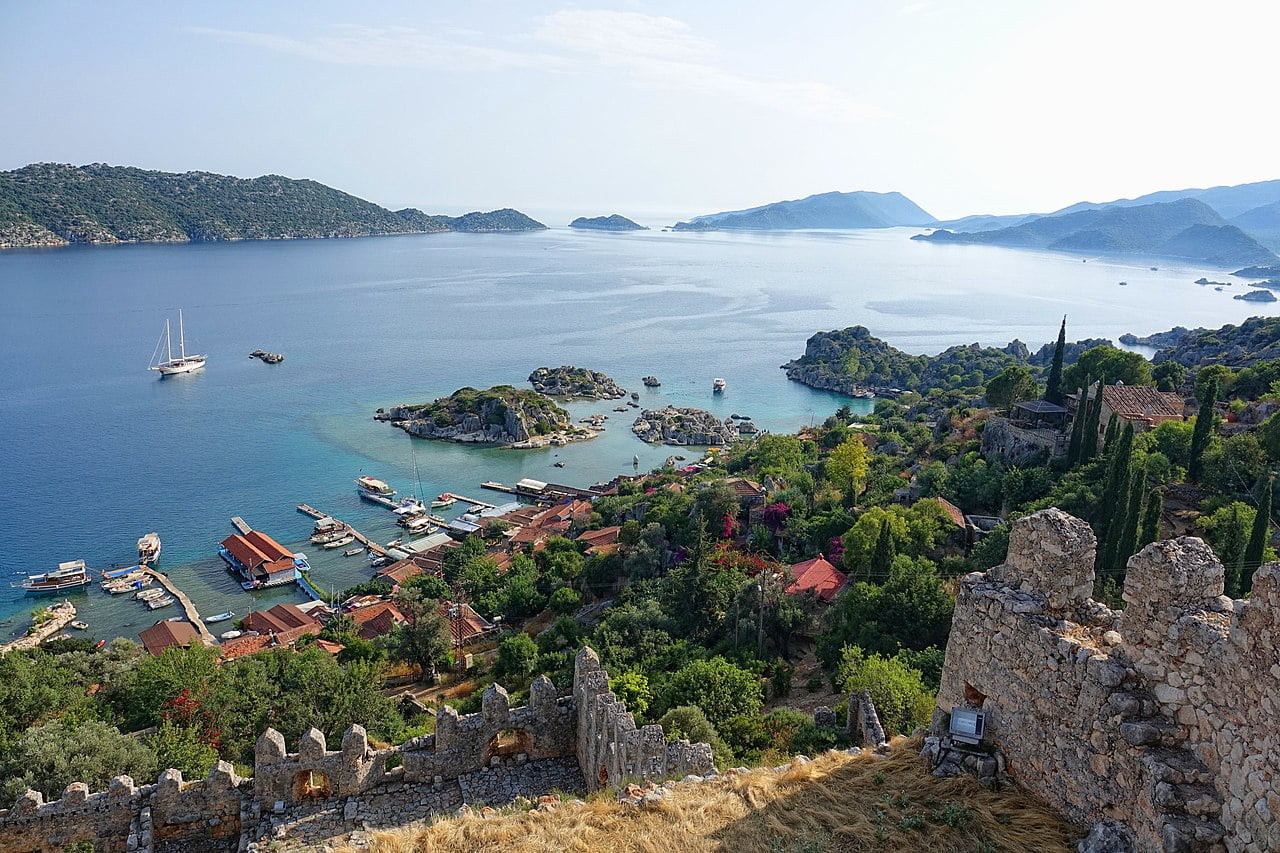 Embark on a boat tour to the nearby island of Kekova and witness the mesmerizing sight of a partially submerged ancient city. The Sunken City of Kekova is a fascinating archaeological site where you can see remnants of houses, streets, and even a Byzantine church beneath the turquoise waters. Snorkel or swim in the clear waters to get a closer look at this underwater wonder.
3. Wander the Streets of the Old Town
Take a leisurely stroll through the charming streets of Kas Old Town, known as the Uzun Carsi. Admire the traditional Ottoman-style houses, boutique shops, and local cafes. The narrow alleyways will lead you to hidden gems, such as small art galleries and artisanal craft shops. Don't forget to stop by the Friday Market, where you can find fresh produce, spices, and local handicrafts.
4. Relax on Kas Beaches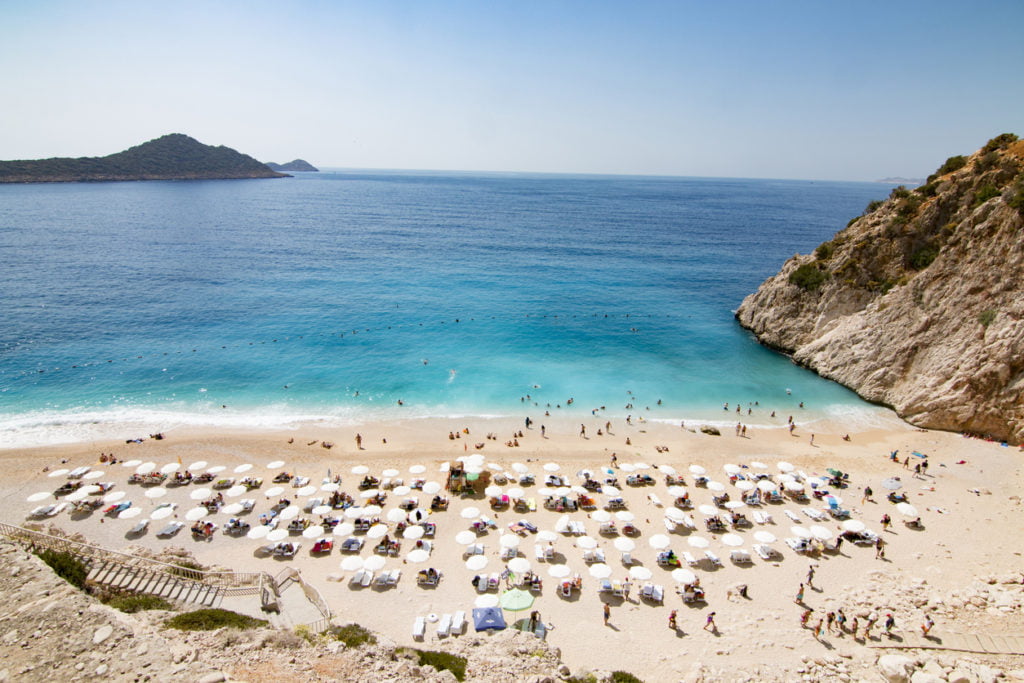 Indulge in the beauty of pristine beaches in Kas and soak up the sun on its golden sands. The region is home to several stunning beaches, including Kaputas Beach, a hidden gem nestled between towering cliffs, and Patara Beach, with its miles of soft sand and protected turtle nesting areas. For a more secluded experience, head to Limanagzi Beach or Big Pebble Beach, where you can unwind in peace.
5. Take a Boat Trip to the Greek Island of Meis
From Kas, you can easily hop on a boat and visit the nearby Greek island of Meis (Kastellorizo). Enjoy a day trip to explore this charming island, stroll through its colorful streets, and sample Greek delicacies at local tavernas. Don't forget to visit the Blue Grotto, a breathtaking sea cave renowned for its vibrant blue waters.
6. Dive into Underwater Wonders
Kas is a renowned diving destination, offering crystal-clear waters and a rich underwater ecosystem. Whether you're a seasoned diver or a beginner, you can embark on diving excursions to discover vibrant coral reefs, ancient shipwrecks, and a variety of marine life. Explore sites like the Canyon, the Octopus Reef, and the Lighthouse for unforgettable diving experiences.
7. Trek the Lycian Way
Hiking enthusiasts will delight in the opportunity to trek a portion of the famous Lycian Way, one of the world's top long-distance hiking trails. Follow the well-marked path and immerse yourself in the breathtaking landscapes of Kas and its surroundings. The trail offers a mix of coastal vistas, pine forests, ancient ruins, and traditional villages, providing a unique and rewarding hiking experience.
8. Explore Kalkan: A Captivating Seaside Haven
Located just 25 kilometers west of Kaş, Kalkan is a mesmerizing seaside resort that truly comes to life during the summer months. With its narrow streets paved with traditional Albanian cobblestones, Kalkan offers a unique charm. The town has been beautifully restored, with historic wooden houses transformed into boutique hotels, authentic cafes, craft shops, and fantastic restaurants where you can indulge in the flavors of the Mediterranean and savor delicious seafood dishes.
Kalkan, being in close proximity to Kaş, is renowned for its day-long yacht excursions. Additionally, the area boasts one of its most notable attractions: the magnificent Kaputaş Beach, which stretches along a four-kilometer coastline.
As you explore Kalkan, you'll be enchanted by the blend of old-world charm and modern amenities. The captivating architecture, intertwined with the natural beauty of the surrounding landscape, creates a picturesque setting that will leave a lasting impression.
9. Kas Market (Uzun Carsi)
Immerse yourself in the vibrant local culture by visiting the Kas Market. Wander through the bustling stalls filled with fresh produce, traditional crafts, and local delicacies. Don't forget to sample the flavorsome Turkish street food and mingle with friendly locals. One of the best places to visit in Kas.
Uzun Çarşı, also known as Kaş Market, is one of the main shopping and walking areas located on Doğruyol Caddesi in the Old Town. This pedestrian street, made of unique concrete, meanders along an inclined slope and is adorned with colorful shops, boutiques, and stalls offering a wide variety of products.
The sellers in Kaş Çarşısı showcase a range of items, from fashion and locally handmade products to Turkish kilims and Lycian carpets, providing visitors with a diverse shopping experience. Besides enjoying a delightful shopping spree and practicing the art of bargaining, wandering through the wooden balconies and traditional houses adds to the charming ambiance of the area.
10. Indulge in Local Cuisine
No visit to Kas is complete without savoring the flavors of Turkish cuisine. Sample fresh seafood at waterfront restaurants, enjoy mezze (appetizers) accompanied by traditional Turkish raki, and try local specialties like stuffed vine leaves (dolma) and lamb kebabs. Don't miss the opportunity to taste the delicious Turkish desserts, such as baklava and künefe.
11. Boat Trips to the Sunken City of Kekova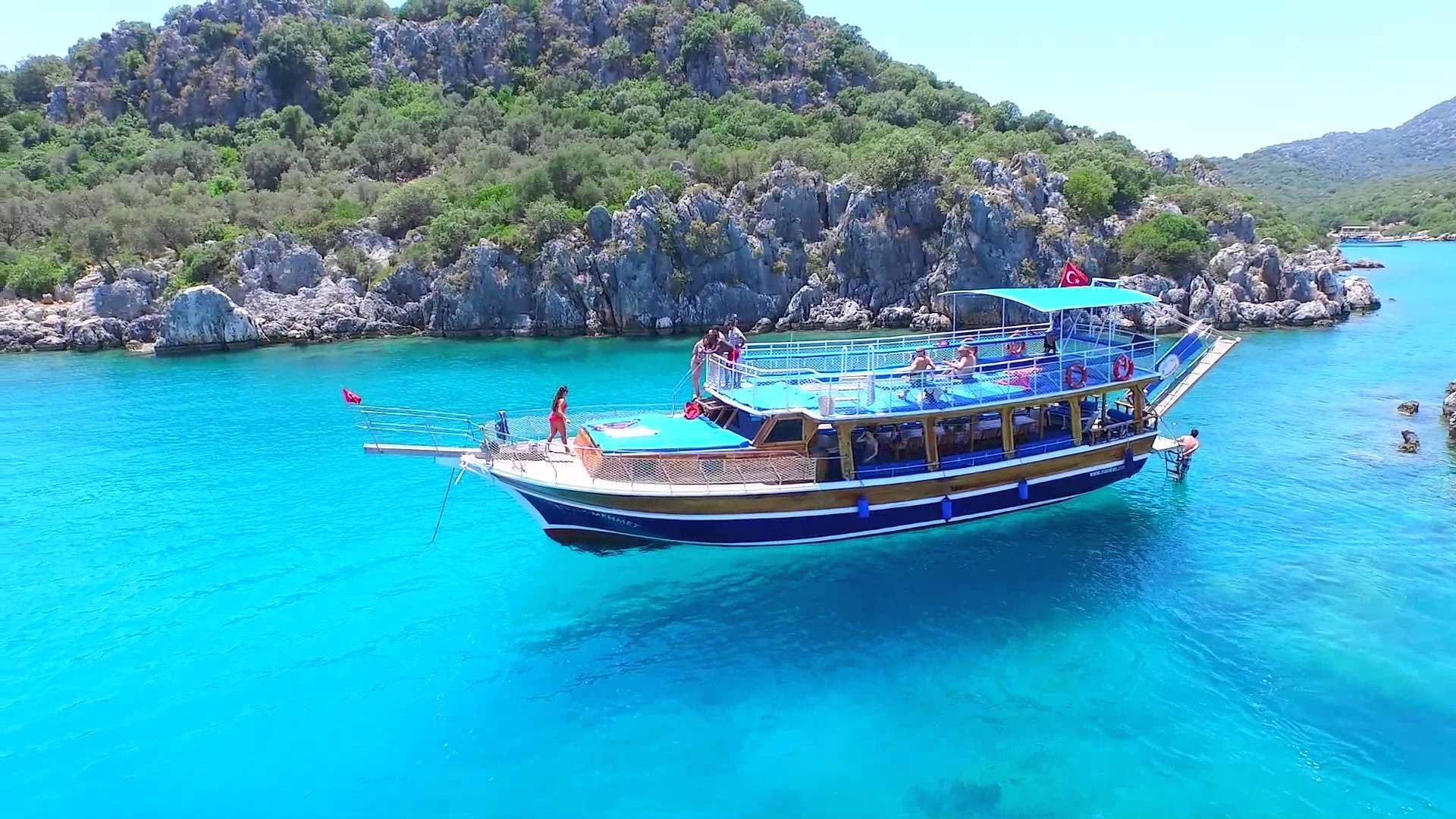 The Sunken City of Kekova is an archaeological gem located along the Turquoise Coast of Turkey. With its submerged ruins, crystal-clear waters, and fascinating history, it has become a must-visit destination for travelers seeking a unique and immersive experience. One of the best ways to explore the Sunken City is through boat trips to Sunken City of Kekova that take you on a journey through time and allow you to witness the ancient ruins up close.
Daily Tours & Excursions from Kas
Eating Out in Kas
Kas offers a delightful culinary experience in Antalya with a range of restaurants and cafes serving both local Turkish cuisine and international dishes. Here are some popular dining options to explore:
Meydan Ocakbasi: This restaurant specializes in traditional Turkish kebabs and grilled meats, offering a flavorful and authentic dining experience.
Lukka Exclusive Restaurant: Located by the harbor, this restaurant offers a picturesque setting and serves a variety of seafood dishes, including freshly caught fish.
Medusa Restaurant: Enjoy a romantic dinner with stunning views of the Mediterranean Sea at this restaurant known for its seafood specialties and Mediterranean flavors.
Saray Restaurant: Set in a charming Ottoman-style building, this restaurant offers a mix of Turkish and international cuisine, with a focus on fresh and locally sourced ingredients.
Kas Marina Restaurant: Located in the marina, this restaurant offers a chic atmosphere and a diverse menu featuring seafood, Turkish mezes, and international dishes.
Shopping in Kas
Kas has a vibrant shopping scene, with a mix of boutique stores, local markets, and souvenir shops. Here are some shopping recommendations:
Kas Friday Market: Visit this bustling market to experience the vibrant local culture. You'll find a wide range of products, including fresh produce, spices, textiles, handicrafts, and souvenirs.
Old Town Shops: Wander through the narrow streets of the old town to discover charming boutique shops selling handmade jewelry, ceramics, textiles, and unique local crafts.
Kas Leather Shop: If you're looking for high-quality leather goods, head to one of the specialized leather shops in Kas. You'll find a variety of items, from jackets and bags to belts and accessories.
Antique Shops: Kas is known for its antique shops, offering a treasure trove of vintage items, including jewelry, carpets, coins, and traditional Turkish artifacts. Explore these shops to find unique and authentic pieces.
Nightlife in Kas
Kas offers a vibrant nightlife scene with a variety of bars, cafes, and beach clubs where you can unwind and enjoy the evening. Here are some popular options:
Nur Beach Club: Located on a scenic beach, this club offers a relaxed ambiance, live music, and refreshing cocktails. Enjoy the beautiful sunset while sipping your favorite drink.
Hideaway Bar: Tucked away in the narrow streets of the old town, this cozy bar offers a laid-back atmosphere and a wide selection of drinks. It's the perfect place to socialize and meet fellow travelers.
White Dolphın Beach Club: This beachfront club is known for its lively atmosphere, DJ performances, and themed parties. Dance the night away under the stars and enjoy the vibrant energy of the crowd.
Cafe de la Mar: Situated by the harbor, this trendy cafe-bar offers a stylish setting and a diverse menu of drinks, including cocktails and local spirits. Relax on the terrace and soak up the lively atmosphere.
Lodging in Kas
Kas in Antalya provides a range of accommodation options to suit different preferences and budgets. Whether you're looking for luxury resorts, boutique hotels, or budget-friendly guesthouses, you'll find plenty of choices. Here are some recommended options:
Barbarossa Hotel: This boutique hotel offers comfortable rooms with stunning sea views and a charming rooftop terrace. It's located in the heart of the old town, close to restaurants and shops.
Mavilim Hotel: Situated near the harbor, this family-run hotel provides cozy rooms, friendly service, and a central location. Enjoy the rooftop breakfast terrace and easy access to the town's attractions.
Villa Tamara: For a more secluded and luxurious experience, consider renting a private villa like Villa Tamara. These villas offer spacious accommodations, private pools, and beautiful views of the surrounding landscapes.
Hideaway Hotel: Nestled in a peaceful location, this hotel offers a serene and tranquil atmosphere. Enjoy the lush gardens, outdoor pool, and comfortable rooms for a relaxing stay.
The Peninsula Gardens Hotel: Located on the Kas Peninsula, this upscale hotel offers panoramic views of the Mediterranean Sea and luxurious amenities. Indulge in spa treatments, dine at gourmet restaurants, and unwind in elegant surroundings.
Plan Your Trip to Kas
Getting There
Kas is easily accessible from Antalya, which has an international airport with connections to major cities worldwide. From Antalya you can reach Kas by road or sea. If you prefer to drive, it's approximately a 2-hour journey along the scenic coastal road. Alternatively, you can take a bus from Antalya to Kas, with regular services available throughout the day.
If you're looking for a more leisurely and picturesque journey, consider taking a boat from Antalya to Kas. There are daily boat tours that offer a relaxing and scenic experience along the coastline, allowing you to admire the stunning views and enjoy the refreshing sea breeze.
Best Time to Visit
The best time to visit Kas is during the spring (April to June) and autumn (September to November) when the weather is pleasant and the tourist crowds are smaller. The summer months (July and August) can be hot and crowded, but the crystal-clear waters are perfect for swimming and water activities.
Dress Code
Kas is a casual and relaxed destination, so pack lightweight and comfortable clothing suitable for warm weather. Remember to bring a hat, sunglasses, sunscreen, and swimwear for beach visits. If you plan to visit religious sites, it's advisable to dress modestly and cover your shoulders and knees.
Currency
The currency in Turkey is the Turkish Lira (TRY). It's recommended to have some cash on hand for small expenses, as not all places may accept credit cards. ATMs are widely available in Kas, allowing you to withdraw cash when needed.
Language
The official language is Turkish, but English is widely spoken in tourist areas, hotels, and restaurants. You should have no trouble communicating and getting assistance in English.
Safety
Kas is generally a safe destination, but it's always wise to take common safety precautions. Keep an eye on your belongings, especially in crowded areas, and be cautious when swimming or participating in water activities. Follow any safety instructions provided by tour operators for diving or other adventure sports.
Local Etiquette
While the people of Kas are friendly and welcoming, it's important to respect local customs and traditions. Dress modestly when visiting religious sites, and always greet locals with a polite "Merhaba" (hello) or "Tesekkür ederim" (thank you).
With its captivating beauty, rich history, and endless opportunities for adventure and relaxation, Kas in Antalya is a destination that will leave you with unforgettable memories. Plan your trip to this charming coastal town, and let the wonders of Kas unfold before you. Whether you're exploring ancient ruins, soaking up the sun on pristine beaches, or indulging in delicious cuisine, you'll find that Kas has something for everyone. So pack your bags, immerse yourself in the beauty of Kas, and create memories to last a lifetime.