Antalya, known for its stunning coastline and crystal-clear waters, is home to numerous beautiful beaches that attract visitors from around the world. One such hidden gem is Kaputas Beach, nestled in the charming town of Kas. With its picturesque setting, turquoise waters, and pristine golden sand, Kaputas Beach offers an idyllic beach experience that will leave you mesmerized. In this blog post, we will take you on a virtual tour of Kaputas Beach, highlighting its unique features, beach facilities, and how to make the most of your visit.
What Makes Kaputas Beach Special?
Kaputas Beach is renowned for its natural beauty and secluded location. Here are some key features that make it stand out:
Pristine Sand
The beach is adorned with soft, golden sand that is incredibly fine and velvety to the touch. Walking barefoot on this powdery sand is a delight.
Turquoise Waters
The mesmerizing turquoise color of the water is one of the defining characteristics of the Beach. The clarity of the water allows you to see the vibrant marine life and underwater formations.
Dramatic Setting
The Beach is situated at the foot of a ravine, surrounded by towering cliffs and lush greenery. This creates a dramatic backdrop that adds to the beach's allure.
---
No Regrets Booking Advice
---
Beach Facilities and Amenities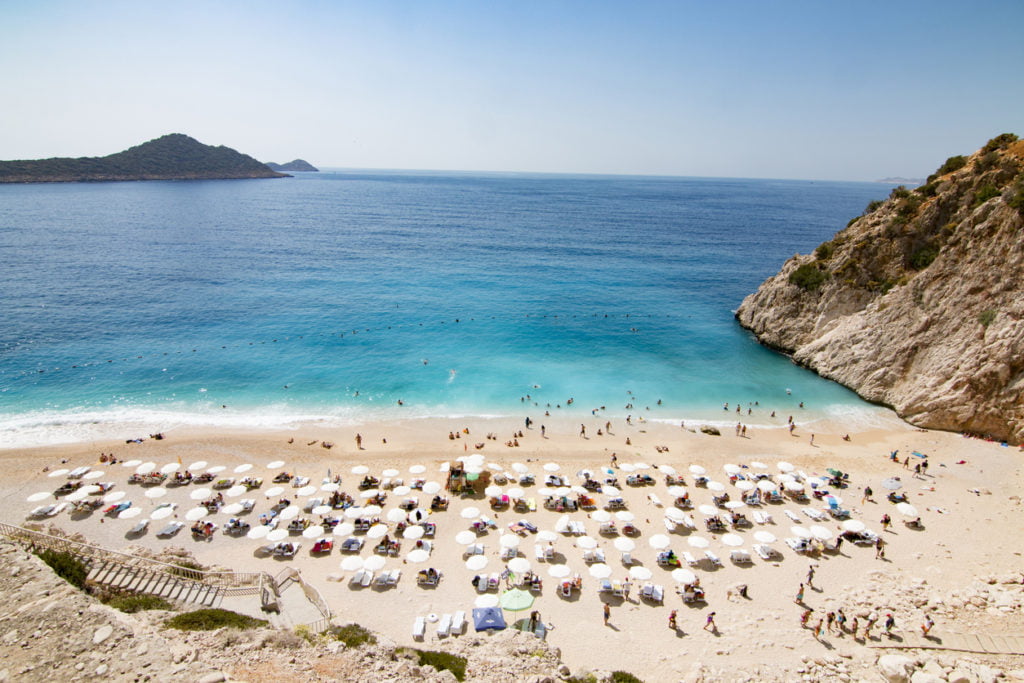 While Kaputas Beach maintains its natural charm, there are basic facilities and amenities available to ensure your comfort:
Sunbeds and Umbrellas
You can rent sunbeds and umbrellas to relax and soak up the sun in comfort. These are available for a nominal fee.
Lifeguards
Trained lifeguards are stationed at the beach to ensure the safety of visitors. It is always advisable to swim within designated areas and follow the lifeguards' instructions.
Showers and Toilets
Convenient shower and toilet facilities are available near the beach, allowing you to freshen up after a dip in the sea.
Snack Stalls
There are several small snack stalls along the beach where you can grab a quick bite or refreshing beverages.
Getting to Kaputas Beach
Kaputas Beach is located approximately 20 kilometers from the town of Kas. Here are some transportation options to consider:
Private Vehicle
If you have access to a car or are renting one, driving to Kaputas Beach is the most convenient option. The journey takes approximately 30 minutes from Kas, and there is a parking area near the beach where you can leave your vehicle.
Dolmus (Minibus)
Dolmuses are a popular means of public transportation in Turkey. From Kas, you can take a dolmus that operates along the Kas-Kalkan route. Inform the driver that you want to get off at Kaputas Beach, and they will drop you off at the nearest point.
Taxi
Taxis are readily available in Kas, and you can hire one to take you directly to Kaputas Beach. However, keep in mind that taxi fares may be higher compared to other modes of transportation.
Tips for a Memorable Beach Day
To ensure a fantastic experience at Kaputas Beach, consider the following tips:
Arrive Early: Kaputas Beach can get crowded, especially during peak tourist seasons. To secure a good spot and avoid the crowds, aim to arrive early in the morning.
Pack Essentials: Don't forget to bring sunscreen, towels, hats, and plenty of drinking water. It's also a good idea to bring a beach mat or blanket for lounging on the sand.
Protect Yourself from the Sun: The Mediterranean sun can be strong, so make sure to apply sunscreen with a high SPF before heading to the beach. Wear a hat, sunglasses, and lightweight clothing to protect your skin from harmful UV rays.
Bring Snacks and Refreshments: While there are snack stalls available at the Beach, it's a good idea to bring your own snacks and refreshments. Pack some fruits, sandwiches, and cold drinks to enjoy during your beach day.