Find out the top best clinics and surgeons for a hair transplant in Antalya, Turkey with our useful guide. Here you can read about the hair transplantation in Antalya, including what to expect, what the city offers, hair transplant methods (FUE, Sapphire FUE, DHI, etc.) applied in Antalya, prices, and insider tips.
What is Hair Transplantation?
Hair transplantation is a microsurgical method of transferring healthy hair follicles from one part of the body, a.k.a. donor site, to a bald or balding area of the body, a.k.a. recipient site where the hair follicles are no longer active and where balding occurs. Therefore, to minimize the risks of hair transplantation, it should be done in a hospital environment by well-trained and experienced plastic surgeons to get the best results.
Hair transplantation is planned and applied completely individually. A plastic or dermatological surgeon usually moves hair from the back or side of the head to the front or top of the head which has hair loss. The transplantation method can be applied successfully not only in the scalp but also in the loss of hair in all areas of the body such as eyebrows, mustache, or beard.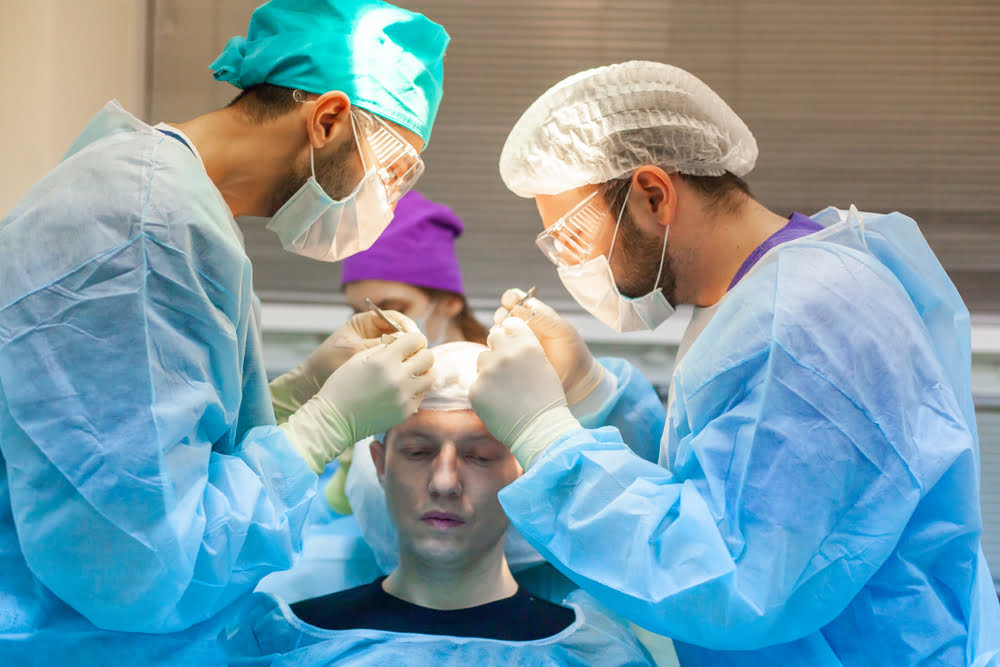 If a correct technique is applied, the success rate of hair transplantation is quite high. For a natural look, it is very important to plant the hair at the right distance, angle, and density to the bald areas.
Why do we lose our hair?
It is claimed that the majority of hair loss results from pattern baldness. One of the most important causes of hair loss is genetic coding; however, it can also occur as a result of advancing age, traumatic injuries, or various medical disorders including diet, stress, illness, hormonal imbalance, and medications.
Who benefits from a hair transplant?
All individuals of all ages, who have had hair loss problems for various reasons in men and women starting from 19-20 ages, don't generally have a physiological disease that prevents hair transplantation and therefore have enough follicles in the donor area. Today, almost 50% of men over the age of 50 are faced with the problem of hair loss. Therefore, hair transplantation is the most applied cosmetic surgery for men. Not only do the men experience hair loss, but also many women may also experience hair loss or thinning.
You are a suitable candidate for hair transplantation if you…
Have completed your physical development,
Don't have a physiological disease that prevents hair transplantation,
If there are enough and suitable hair follicles in the donor area on your head,
If there is a suitable space in the area where the hair follicle will be transplanted, you are a suitable candidate for hair transplantation,
Hair transplantation is also successfully applied in women. Considering the size of the bald area, especially in women, unshaven transplantation is also performed.
Major Hair Transplant Methods
Hair transplantation can be applied not only for baldness, but also to increase hair density in thinned areas, and after a thorough hair and scalp analysis, the doctor decides which method will be the best for the patient. Together with the modern techniques, there are about 5 best known techniques. However, FUE, Sapphire FUE and DHI is the most widely accepted and preferred one.
FUE method, with Sapphire FUE and DHI types, is based on the principle that the hair follicles are taken one by one from the donor area between the back of the head and the two ears without making an incision, and transplanted to the missing areas, in the operation performed with the aid of a device, a large number of hair follicles are collected as grafts (two, three or four each) over a 0.7 – 0.9 mm diameter round scalpel donor area connected to the motor.
The most important point of the hair transplantation technique is that the hair transplantation plan is made correctly beforehand, and knowing how many and how many degrees the grafts will be placed in which area. FUE, which is one of the two widely accepted hair transplantation techniques used today, provides a more comfortable operation process and the recovery process is faster, as it is performed without any cuts, pain, and scarring.
Hair Transplantation with Laser Hair Therapy (LCT) is a low-level laser therapy, which is a.k.a. cold laser with hair transplantation. It is approved by the FDA and has been in use in the US since 2011. The purpose of applying a low-level laser therapy after hair transplantation is to speed up the healing time, to help reduce side effects such as redness, swelling, or any pain-related conditions. LCT is a promising method that provides several advantages, as such; it promotes faster hair growth and reduced recovery time for those who have already had hair transplantation. LCT is one of the latest and most popular hair transplantation techniques used in Europe today.
FDA approved another hair restoration method in 2009, which utilizes robotic devices with cameras and robotic arms to assist the surgeon with the FUE procedure. The robotic device named NeoGraft is known to be the 1st robotic surgical device in the area.
To obtain a considerably good amount of hair growth, here comes another hair transplantation method named PRP- laser biostimulation hair transplantation method, which uses some solution produced by the cells that play a role in blood coagulation. Integrating lasers with this method provides a success rate that is beyond some other mesotherapy methods. This technique is applied 2 times a year with 5 sessions.
Antalya Turkey – Your New Permanent Address for a Hair Transplant
Beautiful hair makes anyone look more attractive; after all, who doesn't like receiving unflattering comments about how gorgeous their hair looks or how strong their hair is! It is an acknowledged fact that the face gains a completely different look when combined with healthy-looking beautiful hair.
If you don't have any of that, or if you are currently feeling down, because your hair is getting thinner and thinner day by day, falling a lot, or you have already lost some of it at some parts of your scalp. Seriously, don't worry at all, because a hair restoration always exists in the province of Antalya, Turkey, at an affordable price combined with a gorgeous vacation!
Antalya has every state-of-art- facilities as well as medical experts trained abroad to restore the natural hair look to the person in a comfortable way with modern medical applications. Hair transplant Antalya is undoubtedly a natural yet permanent solution hair thinning and baldness problems in people.
Hair Transplant Antalya FAQs
How much does it cost a hair transplant in Antalya, Turkey?
Average cost of a hair transplant in Antalya is around €1500. In addition it often ranges between €1500-€3500 with thee reputation of the hair transplant surgeon and the quality of the hospital/clinic.
Is Antalya good for hair transplant?
Antalya has every state-of-art- facilities as well as medical experts trained abroad to restore the natural hair look to the person in a comfortable way with modern medical applications. The city also boasts high-quality medical infrastructure with its top doctors and state-of-the-art health facilities. There are 26 private hospitals, 2 of which are accredited, 18 medical centers, 22 poly-clinics, 6 branch centers, 9 physiotherapy centers, and 23 dialysis centers in the city.
Why is hair transplant in Antalya, Turkey cheap?
The costs are geography-dependent; however, doing your calculations well, you can always save up to 40-80 % by having gorgeous vacation with inclusive packages with all surgical care, airport pickup, pre- and post surgery accommodations, etc.
Best Hair Transplant Clinics & Surgeons in Antalya Turkey
Antalya has many reasons to choose for a hair transplant thanks to its temperature climate, idyllic beaches, clear sea, gorgeous ancient history, mesmerizing views with cultural heritage, traditional unified with contemporary architecture, and more. It is at the top of the priority list of provinces preferred by foreign patients and travelers not only for treatment but also vacation.
You are able to find top class hair transplant clinics and surgeons in Antalya, Turkey, offering all the necessary services for their guests. We are locals and here we only recommend the proven and top rated surgeons and clinics comparing the patients' comments, affordable prices, brand value and quality of the clinics, hospitals, renowned surgeons, hair technicians, specialists, and therapists.
Cayra Clinic
Cayra Clinic is a trending medical tourism provider giving very professional and high class medical tourism services for its patients with its team of professionals having above 15 years of experience. The clinic aims to obtain all inclusive and perfect medical treatment in a safe environment and with significantly lower medical travel costs.

Cayra Clinic had served more than 5000 patients worldwide by giving high quality medical treatments through JCI and Turkish Ministry of Health accredited clinics, surgeons, doctors, specialists and hospitals in Istanbul and Antalya and Turkey.
They offer very good prices with all inclusive packages, personal treatment plans, after care, privacy and transparency for its patients. They also offer all medical travel package including flights, VIP airport transfers, luxury accommodation, interpreters with very affordable prices.
Top medical treatments offered include Hair Transplant, Dentistry, Face-Body Aesthetic Surgeries, Obesity Surgeries, Surgeries for Man, Eye Surgery, Breast Surgeries
Note: You can reach Cayra Clinic and get free consultation and quote by filling out the form at the bottom of the page. Also you can get 5% discount as being our website visitor.
---
SALUSS Medical
Çağlayan Mah. 2004 sokak Kaya Apt. No:7, Muratpaşa, Antalya, Turkey, salussmedical.com
SALUSS is a popular medical tourism agency providing high quality medical treatments with lower medical costs for its patients. Having more than 10 years of experience in health tourism in Turkey, SALUSS offers a high quality medical treatments along with accredited surgeons & internationally well-known and awarded clinics and hospitals in Antalya and Turkey, as well as a range of luxury accommodation to suit your budget.
SALUSS provide dental treatments, hair transplantation, obesity surgeries, aesthetic & cosmetic surgeries, oncological treatments, LASIK, IVF, and organ transplantation for its patients from all over the world.
SALUSS offers Vip Airport pick up and transfer, Hospitalization procedures, blood tests,hair or beard planting (maximum number of graft applications), 3 days accommodation is included to the price (B&B), City tour, Shopping trip, Translation services, Medical reports, Certifications, Regular Controls after procedure, First medications, Neck pillow, Bandana and Lifelong warranty.
Note: You can reach SALUSS Medical and get free consultation and quote by filling out the form at the bottom of the page. Also you can get 5% discount as being our website visitor.
---
SE Hair Clinic Dr. Seda Erdogan
SE Hair Clinic is a popular international and modern hair transplant and hair restoration clinic in Antalya providing high quality services for its patients. Dr. Seda Erdogan leads the hair transplant operations with her professional surgical team carrying out the planning of hair transplant, analysis of blood tests and dermatological analysis of the scalp.
Dr. Seda Erdogan is one of the most popular dermatology specialists in Antalya giving hig quality hair transplant and hair restoration services for her patients at her own clinic in Antalya.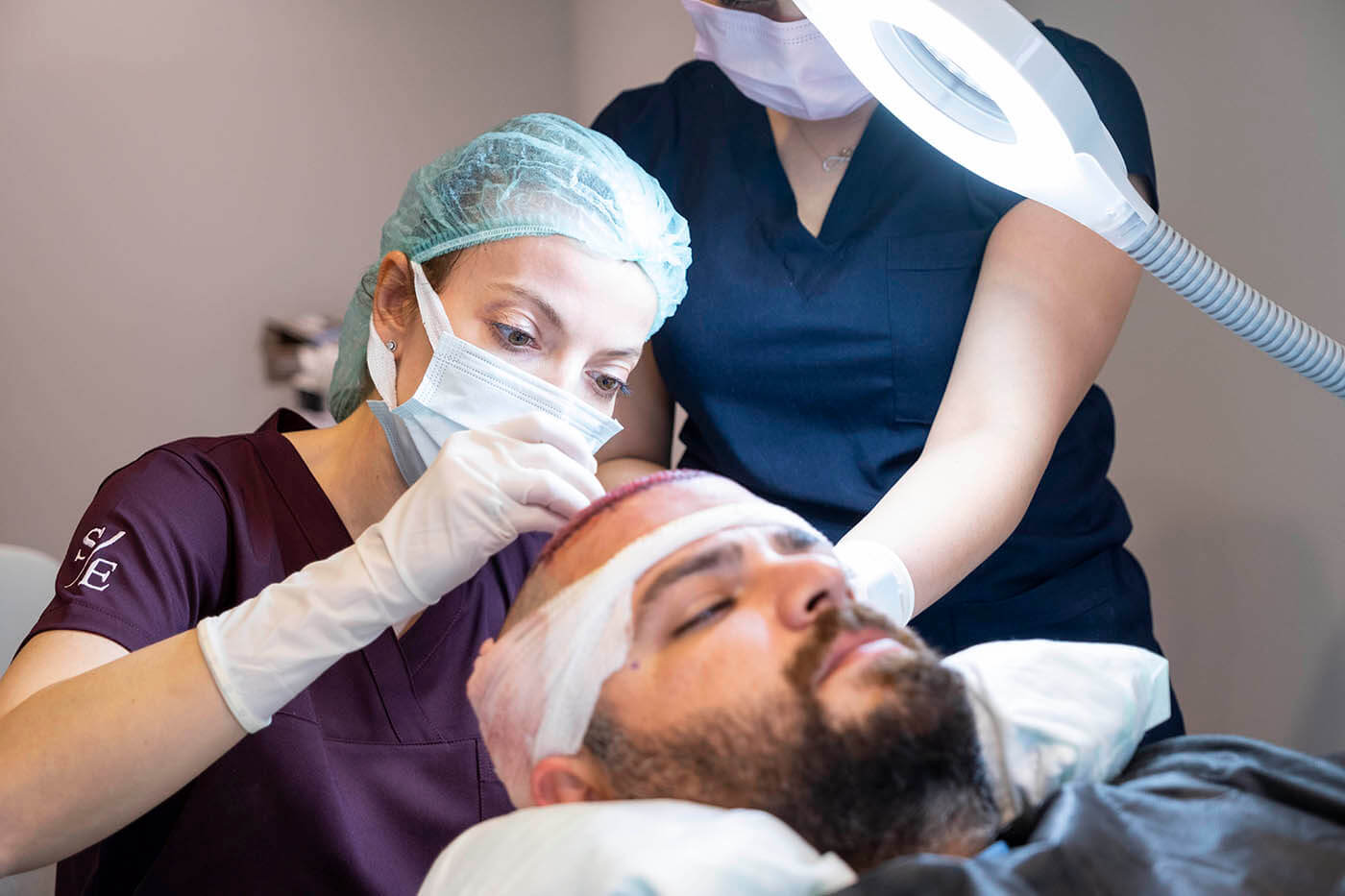 Dr. Seda Erdogan graduated from Gazi University Faculty of Medicine and afterwards received specialization training at Necmettin Erbakan University Meram Faculty of Medicine and than became a dermatology specialist on skin and venereal diseases. She achieved many trainings and courses both in Turkey and abroad.
She also worked in Memorial Antalya Hospital, one of the best private hospitals in Turkey. And afterwards she established her own clinic where aesthetic and cosmetic applications are carried out with high quality standards and advanced laser technologies.
Note: You can reach SE Hair Clinic and get free consultation and quote by filling out the form at the bottom of the page. Also you can get 5% discount as being our website visitor.
---
PROFUE Hair Clinic
Mehmet Akif Cd., Kepez, Antalya, Turkey, profue.com
PROFUE is also a popular hair transplant clinic that provides high quality hair transplant services leaded by Dr. Erhan Aydogan and with his professional team. The clinic operates FUE method and the donor grafts is done manually using the Lateral Slit technique. Hair transplant operations are performed at the top-class private hospital in Antalya.
Dr. Erhan Aydogan is a popular plastic surgeon that has been practicing plastic surgery for more than 20 years. He has big experience in several hair transplant methods that include Lateral Slit and DHI Implanter Pen method and worked in both Germany and Antalya. He has extensive experience.
Note: You can reach PROFUE Hair Clinic and get free consultation and quote by filling out the form at the bottom of the page. Also you can get 5% discount as being our website visitor.
---
Get a Free Quote / Book Hair Transplant
You may get a free quote with consultation from the best dental clinics in Antalya Turkey we list above by filling out the form below. Upon submitting the form, medical and administrative teams of the surgeons and clinics will contact you and provide you all the necessary information regarding your treatment plan with procedures, pricing and travel package information. You'll also get 5% discount for being our valuable website visitor.
Hair Transplant Request Form
---
Disclaimer
The medical content and information on this page is only for informational purposes. You should consult your doctor for any diagnosis and treatments. We don't have partnerships with the clinics, hospitals and surgeons, also and don't do any treatments. The information on this page should not be construed as medical advice or treatment recommendation, and doesn't substitute visiting a doctor.