Nestled in the heart of Antalya's picturesque coastline, Kiris in Kemer offers a perfect blend of natural beauty, tranquil beaches, and vibrant attractions. This hidden gem is a paradise for travelers seeking a relaxing and memorable holiday experience. From stunning beaches to ancient ruins and thrilling water sports, Kiris has something for everyone. In this guide, we'll delve into what you can expect in Kiris, why it's an ideal holiday destination, and the top things to do and see during your visit.
What to Expect? A Hidden Gem for Your Dream Holiday
Kiris is a charming coastal town located within the Kemer district of Antalya. Here's what you can expect when you visit Kiris:
Beautiful Beaches
Kiris boasts pristine beaches with crystal-clear waters and soft golden sand. Relax under the warm Mediterranean sun, take refreshing dips in the sea, and enjoy breathtaking views of the surrounding mountains. Some of the popular beaches in Kiris include Kiris Beach, Moonlight Beach, and Champion Beach.
Scenic Natural Surroundings
Surrounded by the Taurus Mountains, Kiris offers a stunning natural backdrop for your holiday. Take leisurely walks along the coast, explore the nearby pine forests, or embark on hiking adventures to discover hidden trails and breathtaking vistas.
Ancient Ruins
Kiris is located in close proximity to historical sites and ancient ruins. Explore the remnants of Phaselis, an ancient city known for its harbor, Roman ruins, and amphitheater. Immerse yourself in the rich history of the region as you wander through the archaeological remains.
---
No Regrets Booking Advice
---
Water Sports and Activities
Kiris is a haven for water sports enthusiasts. Dive into thrilling adventures such as snorkeling, scuba diving, and jet skiing. Discover the vibrant marine life beneath the surface or get an adrenaline rush with exciting water-based activities.
Charming Local Culture
Experience the warm hospitality and rich traditions of the local community in Kiris. Visit local markets to sample traditional Turkish cuisine, shop for handmade crafts, and interact with friendly locals who are proud to share their heritage.
Why Holiday in Kiris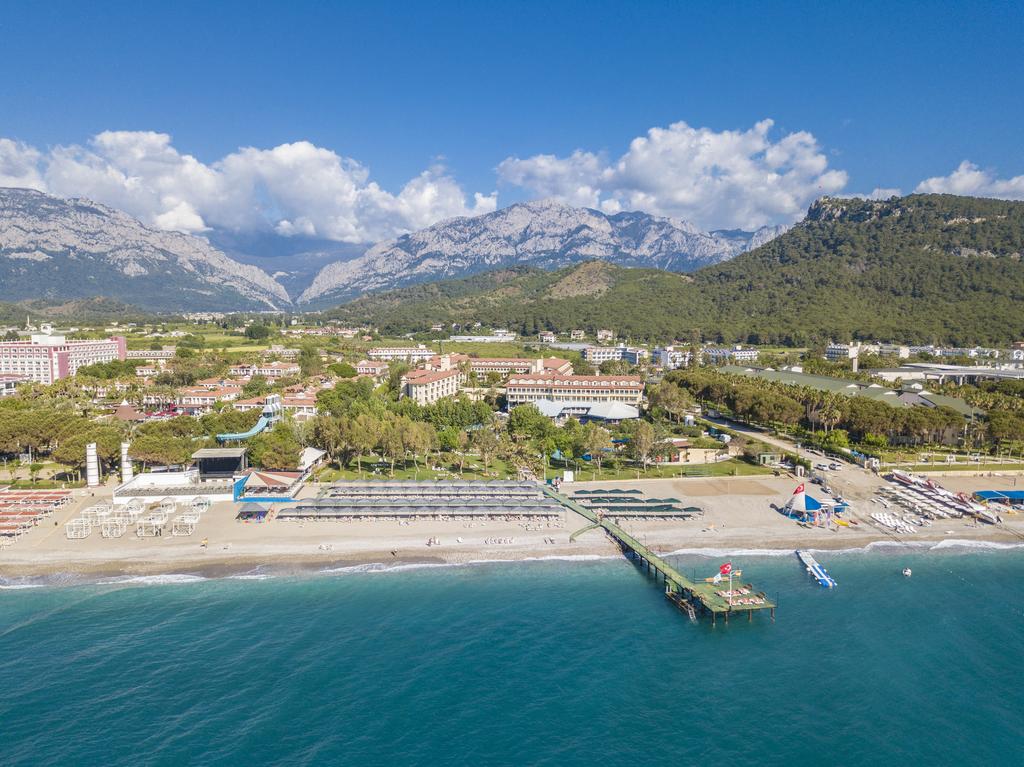 Kiris offers a unique and memorable holiday experience for various reasons:
Serenity and Relaxation
If you're looking to escape the hustle and bustle of city life, Kiris provides a serene and peaceful setting. The laid-back atmosphere and breathtaking natural beauty allow you to unwind and rejuvenate your mind, body, and soul.
Unspoiled Beauty
Unlike more popular tourist destinations, Kiris retains its natural charm and authenticity. The unspoiled beaches, picturesque landscapes, and tranquil ambiance create a sense of exclusivity and privacy for travelers seeking a quieter retreat.
Proximity to Attractions
Kiris is ideally located near several notable attractions, making it a convenient base for exploring the wider Antalya region. From historical sites to natural wonders, you can easily embark on day trips to destinations like the ancient city of Olympos, the stunning Cirali Beach, or the legendary Chimera flames.
Outdoor Adventure
Nature lovers and adventure seekers will find plenty of opportunities to indulge in outdoor activities in Kiris. Whether it's hiking, mountain biking, or paragliding, the surrounding mountains and landscapes provide a playground for outdoor enthusiasts.
Family-Friendly Environment
Kiris is a family-friendly destination with a range of activities and attractions suitable for all ages. From kid-friendly beaches to water parks and amusement centers, there's no shortage of entertainment options to keep the whole family engaged and entertained.
Top Things to Do & See in Kiris
1. Explore Phaselis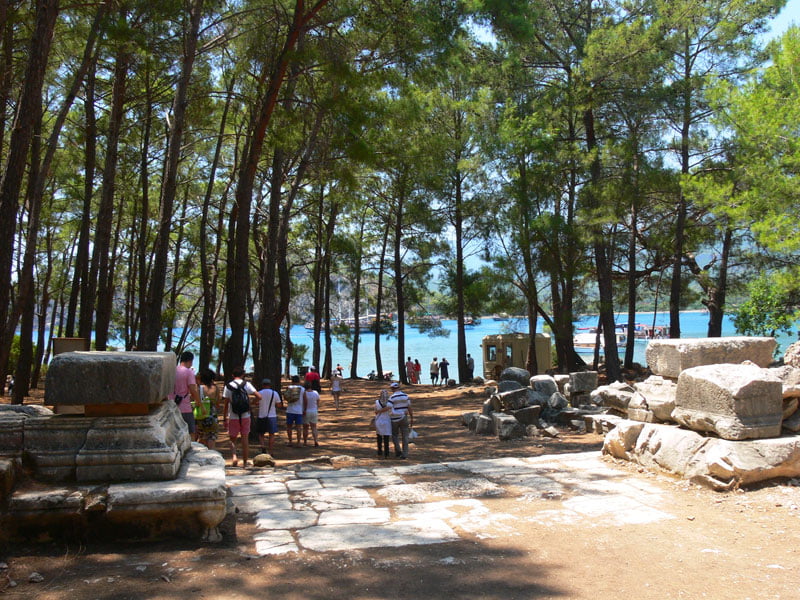 Phaselis is an ancient city located near Kiris, known for its well-preserved ruins and scenic setting. Spend a day exploring the ancient harbor, Roman baths, and amphitheater. Marvel at the historical artifacts and immerse yourself in the rich history of this once-thriving city.
2. Relax on Kiris Beach
Kiris Beach is a beautiful stretch of coastline where you can unwind and soak up the sun. Lounge on the sandy shores, take refreshing dips in the turquoise waters, or enjoy a leisurely stroll along the shoreline. The beach offers various facilities, including beach clubs, restaurants, and water sports activities.
3. Discover the Olympos Cable Car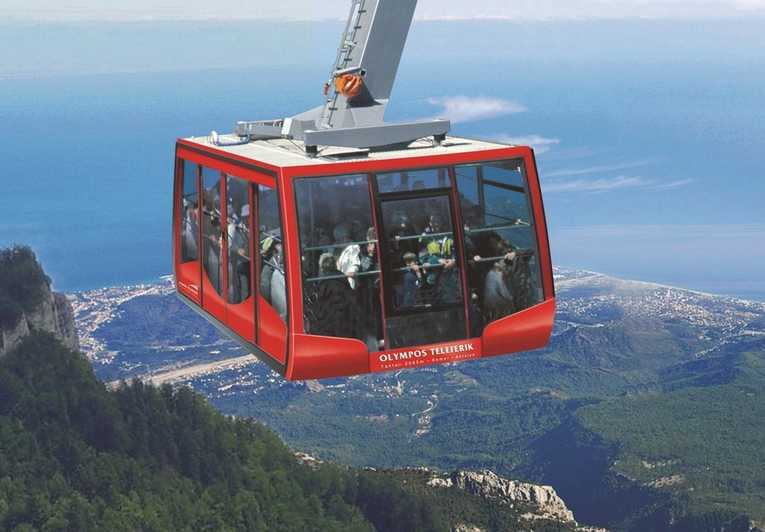 Take a scenic cable car ride up to the peak of Mount Olympos for breathtaking panoramic views of the surrounding landscapes. Capture stunning photos, breathe in the fresh mountain air, and enjoy the serenity of the elevated vantage point. Don't forget to visit the charming village of Olympos at the foot of the mountain.
4. Hike in Olympos National Park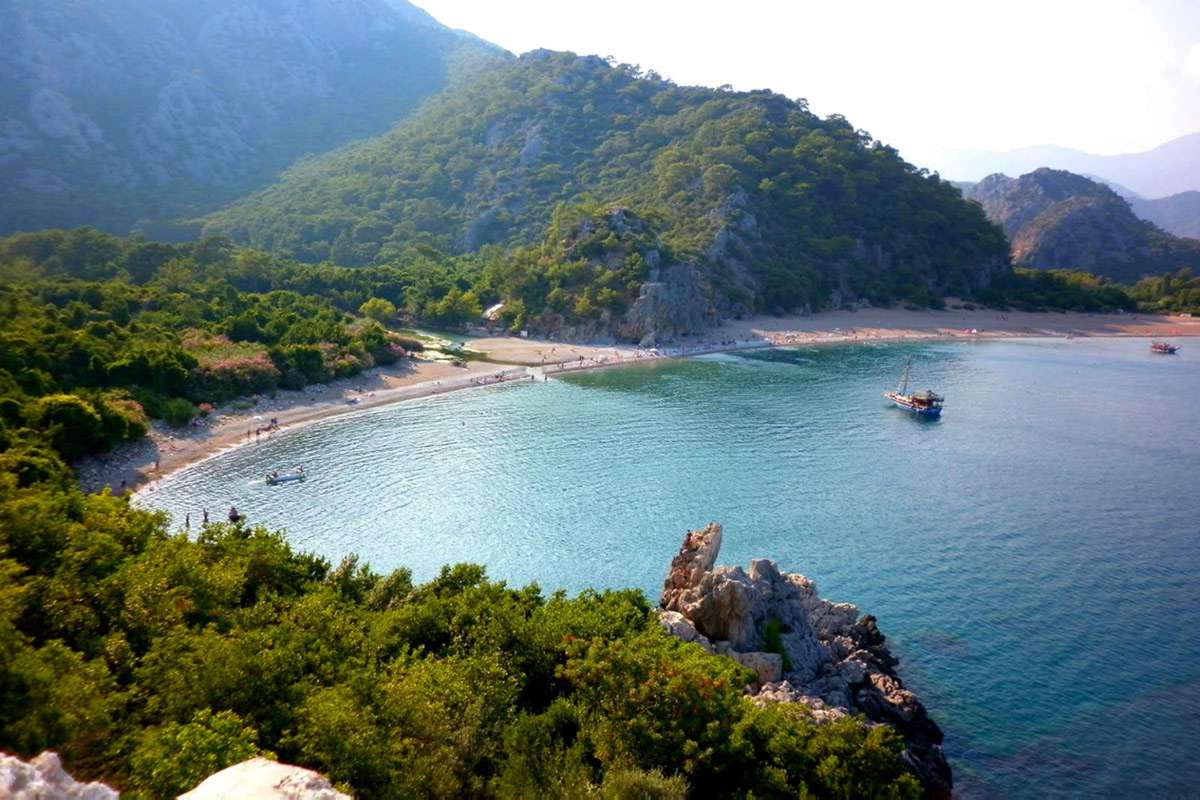 Lace up your hiking boots and embark on a scenic hike in Olympos National Park. Follow well-marked trails that lead you through dense forests, past waterfalls, and offer panoramic views of the surrounding mountains. Keep an eye out for the park's diverse wildlife, including rare bird species.
5. Visit the Eternal Flames of Yanartas
Venture to the nearby village of Cirali and witness the mystical Eternal Flames of Yanartas. These natural gas vents have been burning for thousands of years and create an otherworldly ambiance. Take a nighttime hike to experience the flames flickering against the dark sky.
6. Enjoy Dolusu Water Park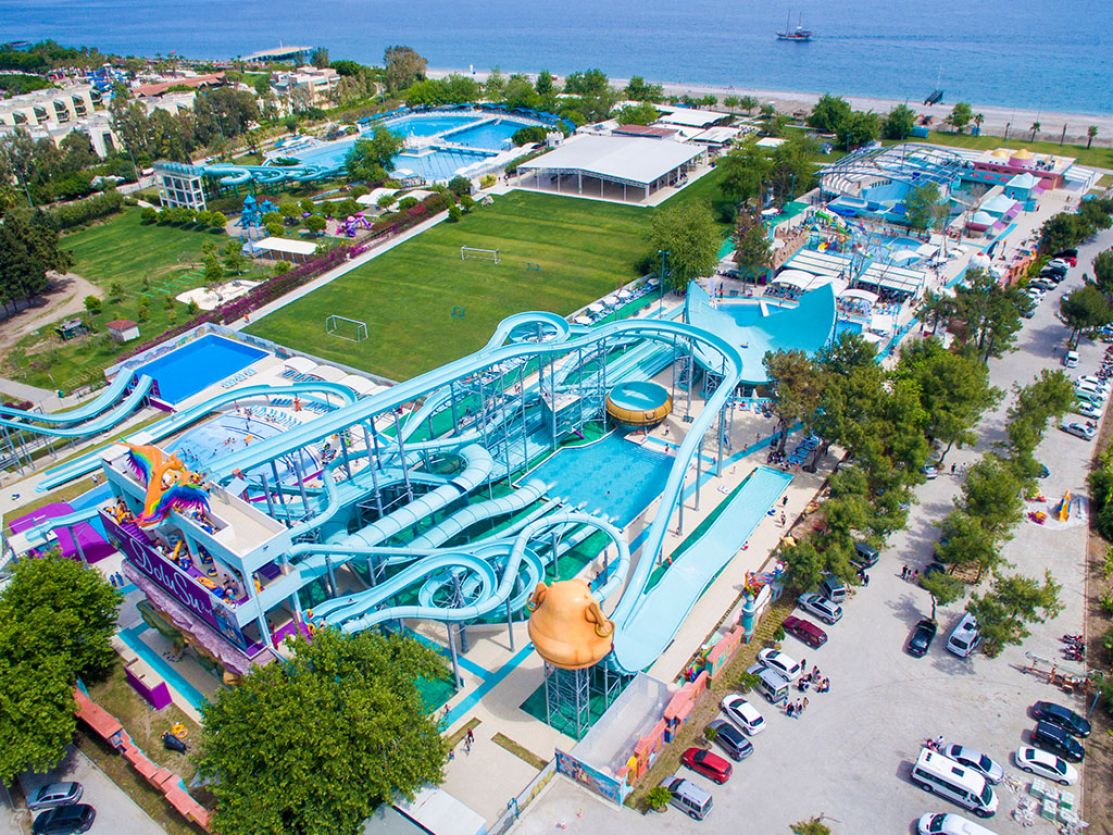 Welcome to Dolusu Water Park, an aquatic paradise nestled in the heart of Kiris, Kemer. If you're seeking a thrilling and refreshing escape from the scorching summer heat, look no further! Dolusu Water Park promises a day of excitement, laughter, and endless water-based adventures for visitors of all ages. Join us as we explore the highlights, attractions, and unforgettable experiences awaiting you at this captivating water park.
7. Visit the Three Islands
Embark on a boat trip to the Three Islands, located just off the coast of Kiris. Explore the picturesque islands, swim in crystal-clear waters, and bask in the beauty of the secluded beaches. Enjoy a delicious lunch on board and immerse yourself in the tranquility of these idyllic island escapes.
8. Indulge in Water Sports
For the adventurous souls, Kiris offers a range of water sports activities. Try your hand at jet skiing, parasailing, banana boat rides, or windsurfing. Feel the rush of adrenaline as you glide across the water and make lasting memories of your thrilling experiences.
9. Experience Turkish Cuisine
Kiris boasts a variety of restaurants and eateries where you can savor authentic Turkish cuisine. Indulge in traditional dishes such as kebabs, mezes (appetizers), and baklava (sweet pastry). Don't forget to try the local specialty, fresh seafood, which is abundant in this coastal region.
10. Shop at Local Markets
Immerse yourself in the vibrant atmosphere of Kiris' local markets. Explore stalls filled with spices, textiles, and handicrafts. Bargain for unique souvenirs, Turkish carpets, traditional ceramics, or local produce. The markets offer a glimpse into the local culture and provide an opportunity to take home a piece of Kiris.
11. Experience the Nightlife
While Kiris is known for its laid-back ambiance, it also offers a lively nightlife scene. Discover beachfront bars, music venues, and clubs where you can dance the night away or enjoy live entertainment. Sip on refreshing cocktails, mingle with locals and fellow travelers, and create unforgettable memories of your evenings in Kiris.
Top Daily Tours & Excursions
Eating Out
Kiris offers a diverse culinary scene with a variety of restaurants, cafes, and eateries serving both local and international cuisines. Here are some dining options to explore:
Local Turkish Cuisine: Sample traditional Turkish dishes such as kebabs, mezes (appetizers), fresh seafood, and baklava at local restaurants. Don't miss out on trying famous Turkish specialties like çiğ köfte (raw meatballs), pide (Turkish pizza), and gözleme (filled flatbread).
Seafood Restaurants: Being a coastal town, Kiris is renowned for its fresh seafood. Indulge in grilled fish, calamari, shrimp, and other delicious seafood delicacies at waterfront restaurants offering stunning views of the Mediterranean Sea.
International Flavors: Explore the international dining scene in Kiris, where you can find restaurants serving Italian, Mexican, Asian, and other international cuisines. Enjoy a taste of home or venture out and try something new.
Cafes and Patisseries: Relax and unwind at cozy cafes scattered throughout Kiris. Sip on Turkish tea or coffee, savor delectable pastries, and enjoy the laid-back atmosphere. Don't miss the opportunity to try traditional Turkish desserts like baklava and künefe.
Shopping
Kiris offers a range of shopping opportunities, from local markets to modern shopping centers. Here are some places to indulge in retail therapy:
Local Markets: Visit the weekly market in Kiris, where you can find a vibrant array of fresh produce, spices, textiles, and souvenirs. Immerse yourself in the lively atmosphere and practice your bargaining skills to score unique items at reasonable prices.
Shopping Centers: Head to nearby Kemer, where you'll find modern shopping centers housing national and international brands. Enjoy a day of shopping, browse fashion boutiques, and explore the variety of shops offering clothing, accessories, electronics, and more.
Nightlife
Although Kiris is known for its peaceful and relaxed atmosphere, there are still options for nighttime entertainment. Here are some suggestions:
Bars and Beach Clubs: Experience the vibrant nightlife scene in nearby Kemer, where you'll find bars and beach clubs offering live music, DJ performances, and refreshing cocktails. Dance the night away, enjoy beachside lounging, and soak up the energetic ambiance.
Hotel Entertainment: Many hotels in Kiris organize evening entertainment programs, including live music, dance shows, and cultural performances. Check with your accommodation to see if they offer any special events or shows during your stay.
Lodging
Kiris offers a range of accommodation options to suit different budgets and preferences. Whether you're looking for luxury resorts, all-inclusive hotels, or cozy guesthouses, you'll find a variety of options to choose from. Some popular areas to consider for lodging include:
Beachfront Resorts: Enjoy the ultimate relaxation experience by staying in one of the luxurious beachfront resorts in Kiris. These resorts offer stunning sea views, private beaches, spa facilities, and a range of amenities to ensure a comfortable and memorable stay.
All-Inclusive Hotels: Opt for an all-inclusive hotel to enjoy hassle-free accommodation with meals, drinks, and entertainment included. These hotels often offer a range of amenities such as swimming pools, water parks, kids' clubs, and sports facilities.
Boutique Hotels and Guesthouses: Experience the local charm by staying in a boutique hotel or guesthouse in Kiris. These smaller accommodations offer personalized service, unique decor, and a more intimate atmosphere.
Plan Your Trip to Kiris
When planning your trip to Kiris, consider the following tips:
Best Time to Visit
Kiris enjoys a Mediterranean climate, making it ideal to visit during the spring and autumn months when the weather is pleasant and mild. Summers can be hot, while winters are generally mild with occasional rainfall.
Accommodation Options
Kiris offers a range of accommodation options, from luxury resorts to budget-friendly hotels and holiday apartments. Choose a place that suits your preferences and budget, ensuring easy access to the beach and nearby attractions.
Transportation
The closest major airport to Kiris is Antalya Airport, which is well-connected to domestic and international destinations. From the airport, you can hire a taxi or arrange private transfers to reach Kiris. Renting a car provides flexibility for exploring the surrounding area.
Local Transportation
Getting around Kiris is relatively easy with several transportation options available:
Public Buses: Kiris is well-connected to neighboring towns and districts through the local bus network. You can hop on a dolmuş, a shared minibus, to travel to nearby attractions and explore the surrounding areas. Dolmuş routes and schedules can be obtained from the local bus stations or tourist information centers.
Taxis: Taxis are a convenient mode of transportation for shorter distances or when you prefer a direct and private ride. Taxis are readily available throughout Kiris, and you can either hail one on the street or find them at designated taxi stands. Make sure the taxi meter is running or agree on a price before starting your journey.
Car Rental: Renting a car gives you the freedom to explore Kiris and its surroundings at your own pace. Several car rental companies operate in the area, offering a wide range of vehicles to suit your needs. Just make sure to have a valid international driver's license and familiarize yourself with local traffic rules and regulations.
Walking and Cycling: Kiris is a relatively compact area, making it ideal for exploring on foot or by bicycle. Take leisurely strolls along the beach promenade or wander through the town's charming streets. If you prefer cycling, you can rent bicycles from local shops or check if your accommodation provides them as a guest amenity.
Organized Tours: To make the most of your time in Kiris and ensure a hassle-free experience, you can also opt for organized tours. These tours cover popular attractions, provide transportation, and are led by knowledgeable guides who can offer insights and historical information about the area.
Remember to plan your itinerary in advance, allowing ample time to explore the attractions and enjoy the relaxing atmosphere of Kiris. Check local transportation schedules, consider traffic conditions during peak seasons, and allocate enough time to savor the local cuisine, soak up the sun on the beaches, and engage in the various activities available.
Enjoy your holiday in Kiris, and make lasting memories in this charming coastal paradise.