Welcome to the vibrant city of Antalya, where shopping becomes an exhilarating experience. With its bustling markets, modern malls, and traditional bazaars, Antalya offers a diverse and captivating shopping scene that will leave you spoilt for choice. Join us as we embark on a retail adventure, exploring the hidden gems and must-visit shopping destinations in this enchanting city. Discover the unique treasures, local handicrafts, and fashionable delights that await you in Antalya.
Shopping Scene of Antalya
Shopping in Antalya is definitely a fantastic experience for travelers. Antalya offers great and fantastic opportunities and experiences for shopaholics. From big shopping malls, supermarkets, popular outdoor flea and street markets, antique, souvenir and handicraft shops to great stores, you'll find plenty of shopping opportunities in this metropolitan Turkish Riviera.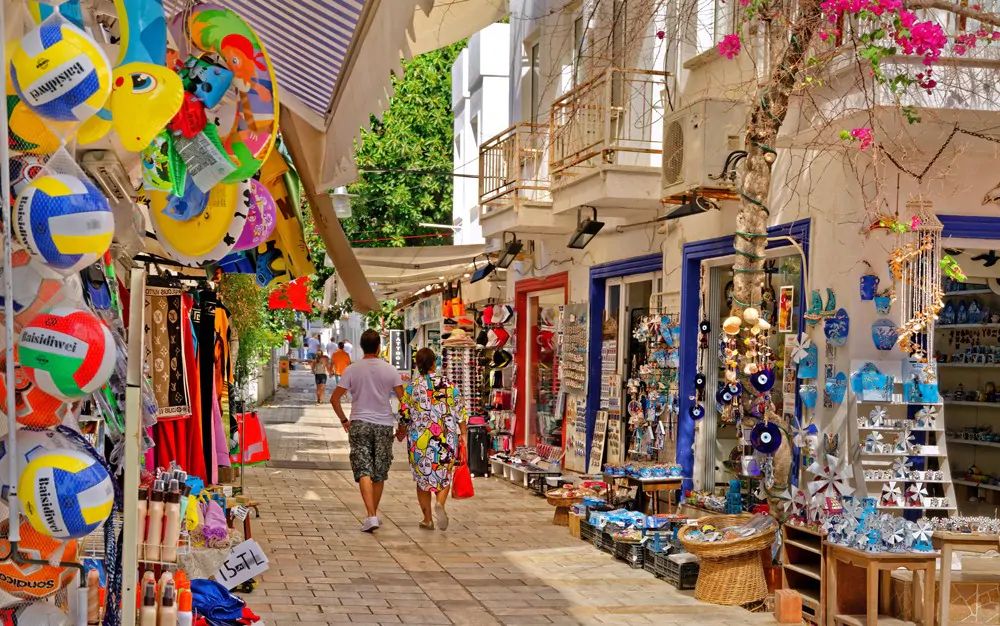 A Shopper's Paradise
Antalya is renowned for its vibrant and diverse shopping scene, catering to every taste and budget. From luxury boutiques and international brands to local markets and artisanal shops, there is something for everyone in this retail paradise. Whether you're seeking trendy fashion, traditional handicrafts, or unique souvenirs, Antalya has it all.
Cultural Influences
The shopping experience in Antalya is imbued with a rich blend of cultural influences. As you browse through the bustling markets and boutique stores, you'll encounter a fusion of Turkish, Mediterranean, and international styles. From intricately woven carpets and kilims to intricate silver jewelry and vibrant ceramics, the cultural heritage of the region is reflected in its shopping offerings.
What to Buy in Antalya
1. Traditional Handicrafts
Antalya is a treasure trove of traditional Turkish handicrafts, offering visitors a chance to take home a piece of authentic local culture. Some popular items include:
---
No Regrets Booking Advice
---
Carpets and Kilims: Explore the intricate designs and vibrant colors of Turkish carpets and kilims. These handwoven masterpieces are a testament to the rich textile heritage of the region.
Ceramics and Pottery: Admire the skillful craftsmanship of Antalya's ceramics and pottery. From colorful tiles to delicate porcelain pieces, these items make for unique and beautiful souvenirs.
Silver Jewelry: Discover the artistry of Turkish silversmiths as you browse through the stunning collection of silver jewelry. From intricate necklaces and bracelets to ornate rings and earrings, these pieces are timeless keepsakes.
2. Fashion and Apparel
Antalya is a fashion-forward city with an array of stylish boutiques and shopping centers. Whether you're looking for the latest trends or unique designer pieces, you'll find a plethora of options. Some popular fashion items include:
Designer Labels: Explore the luxury boutiques and designer stores in Antalya, offering international and local fashion brands. Indulge in high-end shopping and discover exclusive collections.
Street Fashion: Immerse yourself in the local street fashion scene as you explore the trendy neighborhoods of Antalya. From bohemian chic to urban cool, there's a style to suit every taste.
3. Local Delicacies
No shopping experience is complete without sampling the local flavors. Antalya's markets and food bazaars offer a tempting array of culinary delights. Don't miss the opportunity to try:
Spices and Herbs: Delight your senses with the aromatic spices and herbs that fill the air in Antalya's markets. From fragrant saffron to flavorful sumac, these ingredients will add a touch of Turkish cuisine to your cooking.
Turkish Delights: Indulge in the sweet and chewy delights of Turkish lokum (Turkish Delight). These confections come in a variety of flavors, from classic rosewater to exotic pistachio and pomegranate.
Best Places to Make Shopping
Kaleici – the Old Town
Step back in time as you wander through the narrow streets of Antalya's Old Town. Kaleici, which means inner castle in Turkish, is the pretty old town of the city. You can start your shopping day here with a nice stroll along the trendy shops. Kaleici is also famous with the shops selling Turkish carpets, textiles and leather clothing.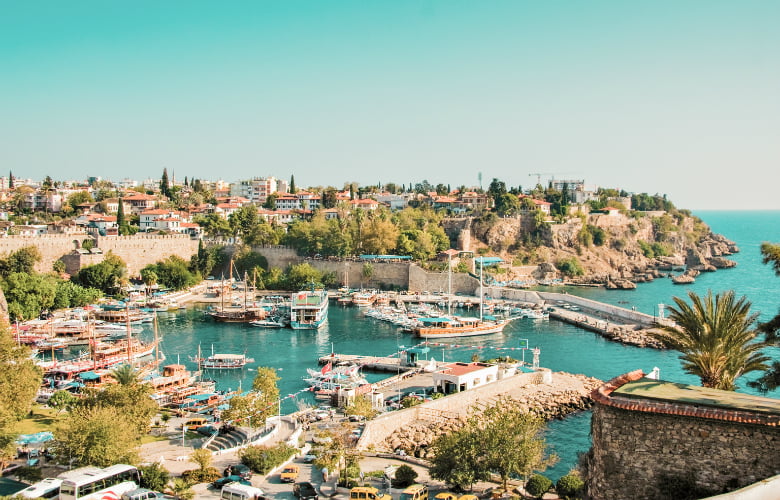 As the area is mostly pedestrianized, you'll enjoy strolling along the narrow streets with lots of great shops. In addition, art lovers can find lots of craft stalls selling embroidery, souvenirs, textiles and fabrics.
Here, you'll find an enchanting mix of traditional shops, artisanal boutiques, and cozy cafes. Some highlights include:
Hadrian's Gate: Start your shopping adventure at Hadrian's Gate, a majestic Roman triumphal arch that marks the entrance to the Old Town. Admire its architectural beauty and explore the surrounding shops and markets.
Ataturk Street: Discover the heart of the Old Town as you stroll along Ataturk Street. This bustling street is lined with shops selling everything from Turkish carpets and leather goods to traditional ceramics and textiles.
Yivli Minaret: Marvel at the iconic Yivli Minaret, a 13th-century brick minaret that serves as a symbol of Antalya. Explore the nearby shops and market stalls, where you can find unique souvenirs and handicrafts.
Marina
The Antalya Marina is a great place and popular for its quality shopping opportunities. Here you can find great boutiques and souvenir shops selling branded clothes, as well as souvenirs and crafts.
You can also reward yourself here with a cooling drink with the impressive views of the Mediterranean.
Shopping Malls
Antalya is home to several modern shopping malls that offer a mix of local and international brands, entertainment options, and dining experiences. Some popular shopping malls include:
TerraCity Shopping Mall
The TerraCity Shopping Mall is the largest and most popular shopping mall in Antalya city center. It houses more than 150 stores selling designer and local brands. Situated in the heart of Lara, one of Antalya's most vibrant districts, TerraCity Shopping Center combines the best of fashion, entertainment, and dining. This expansive shopping complex is renowned for its chic and elegant ambiance, offering a seamless fusion of style and leisure.
Here you can definitely find something that best suits your needs. You can also have a dining at the food area of the shopping mall which is home to about 30 restaurants of Turkish and International cuisine.
Mall of Antalya
Located in the heart of Antalya, Mall of Antalya is one of the largest and most popular shopping centers in the region. This modern mall boasts an impressive selection of shops, international brands, and entertainment options. From fashion and accessories to electronics and home furnishings, you'll find a wide variety of stores catering to all tastes and budgets. Mall of Antalya also features a food court offering various cuisines, a multiplex cinema, and a children's play area, ensuring a complete shopping and leisure experience for the whole family.
MarkAntalya Shopping Mall
Located in the bustling city center of Antalya, MarkAntalya Shopping Mall is a true shopaholic's paradise. This expansive mall houses a diverse range of international and local brands, making it the perfect destination for fashion lovers and trendsetters. With its modern design, spacious walkways, and vibrant atmosphere, MarkAntalya offers an unforgettable shopping experience.
Migros Supermarket
The Migros Supermarket is the largest supermarket chain in Turkey that you can find about anything here. Conveniently located in the heart of Antalya, Antalya Migros Shopping Mall is a popular destination that offers a diverse range of shops, entertainment, and dining options. This modern shopping mall provides a one-stop experience for all your shopping needs.
Bazaar & Markets
Antalya Bazaar
For a truly immersive shopping experience, head to the Antalya Bazaar. The Antalya main bazaar is situated at the Kaleici old town. It is a popular place for both tourists and locals. Here you can find plenty of local shopping, clothes, brands, traditional items, souvenirs such as Turkish sweets and delights, coffee, jewelry, leather goods, the famous evil eye (a good luck charm) and handmade crafts.
This bustling market is a feast for the senses, with its vibrant colors, aromatic spices, and lively atmosphere. Here, you can browse through a wide range of products, including:
Textiles: Explore the stalls selling an array of textiles, including fabrics, scarves, and traditional Turkish garments. Admire the intricate patterns and vibrant colors that are characteristic of Turkish textiles.
Leather Goods: Antalya is famous for its high-quality leather products. From jackets and bags to shoes and accessories, you'll find a wide selection of leather goods to choose from.
Fresh Produce: Immerse yourself in the local culture as you browse through the stalls of fresh fruits, vegetables, and spices. Experience the lively energy of the market and interact with the friendly vendors.
Laura Street Market
This is the biggest street market in the Antalya city center. It is held in every Saturdays and you can find and bargain loads of gifts, souvenirs, Turkish delight, coffee, herbs, fresh produce and food.
The Dogu Garaji (East Garage) Market
This is also a popular food and crafts market located in the city center. You can find and shop from local spices, herbs, fresh produce food and vegetables, bread, and lovely crafts, pottery and ornaments.
Conclusion
Antalya is a shopping paradise that combines traditional charm with modern style. From bustling markets and ancient bazaars to upscale malls and designer boutiques, the city offers a diverse range of shopping experiences. Whether you're searching for unique handicrafts, trendy fashion, or local delicacies, Antalya has it all. So, pack your shopping bags, unleash your inner fashionista, and embark on a retail adventure in the captivating city of Antalya. Your shopping journey awaits!