Last Updated on July 2, 2022
Find out the top best dentists and dental care clinics in Antalya, Turkey with our useful guide. Here you can read about the dental care, dental treatments, dental implants, veneers, professional teeth whitening, root canal treatment in Antalya, including what to expect, what the city offers, prices, and insider tips.
A quick look at Dental Tourism – is it worth the trip?
Health has always been one of the most important reasons for traveling over the centuries which has been increasing more and more every year. Medical tourism, a.k.a. health tourism, is described when a patient desires to travel outside of their country for medical purposes, yet take a vacation with treatment in any field, such as dental, general surgery, orthopedics, cardiovascular surgery, cancer treatment, IVF, weight loss, and more. Medical tourism has been a significant market internationally. Amongst the medical travelers is a big portion of the visitors who travel for dental treatments.
Dental health tourism started to gain popularity day by day. Patients living abroad prefer Istanbul for dental treatments because of the high cost of dental treatment in the region they live in. As such, they have the chance to both perform dental treatments and discover the historical, natural, and cultural beauties of Istanbul. Although it probably wouldn't be worth traveling to another country just for a couple of fillings, the savings can be huge if you need extensive work.
Dental Health Tourism, a.k.a. Dental Tourism shortly, has been a very popular sector and certainly become sub-medical tourism, which is defined in simple words, a type of medical tourism where the tourism and health sector work hand in hand together to help dental tourists, a.k.a. patients, keenly traveling abroad to receive dental treatment services abroad with a vacation to gorgeous holiday destinations together with a very affordable holiday package that offers a fast-paced treatment planning and cost (holiday package).
Dental tourism has an important place in niche markets has already become one of the products worldwide. Antalya Dental Tourism is a type of tourism that offers the opportunity to travel as well as be treated at attractive prices, especially in different countries that focus on dental treatment. In this way, you can have your treatment in a tourism paradise-like Turkey, and at the same time take a short vacation and return to your country.
Top Two Popular Dental Treatments in Turkey: Dental Implants & Veneers
What are Veneers and Dental Implants?
Cost savings is one of the main reasons in medical tourism for dental implants and veneers because you need extensive restorative or cosmetic work. Having your dental treatment in one of the popular destinations is such a blast!
Dental Veneers
Porcelain veneers are, a.k.a. dental veneers or dental porcelain laminates are thin, custom-made materials used to improve the appearance of the tooth. Very thin ceramic shells conceal any tooth defect; as such many people with a gap between their front teeth prefer porcelain veneers to close the gaps. Or if there are a stain or color differences on your teeth, veneers will be your best friend. Not only that, but it also improves the tooth's shape, size, etc. It is reported that the veneers can last up to 20 years.
Lumineers are, on the other hand, are very similar to veneers in terms of the materials they are made of; one can think of lumineers is a more advanced version than veneers, as they are ultra-thin. Also, in these procedures, your teeth don't have to be necessarily prepared. Still, there is one drawback which is, it is very expensive, therefore veneers are more preferred than lumineers.
How is Dental Veneer Procedure?
The procedure needs a few visits to the dentist, the first trip is all about consultation, deciding about the best for the patient's needs, the second trip is the step to make the veneers, take the measures, decide on the shape, and adjust all, and finally, the last step is to apply the veneers.
What Types of Problems Do Dental Veneers Fix?
Teeth that are worn down, chipped or broken
Teeth that are misaligned, uneven, or irregularly shaped
Teeth with gaps between them
Dental Veneer Alternatives
Veneers are always a great choice if you are looking for a nice touch on your smile if you have any crack or length or shape length differences between your teeth. However, there are always alternatives to veneers including bonding/crowns. Veneers as other medical procedures are also more affordable in Antalya, Turkey, and could be completely done in 1 or 2 days. Please bear in mind that veneers are designed and made in the labs by professionals, sometimes it may take time to complete it, because patients may request some changes in the shapes, etc.
Dental Implants
Dental implants have different materials quality and types along with some preparatory treatments such as extractions, a bone graft, or a sinus lift. Dental implants don't just happen in one day; it requires the patient to visit the dentist 2, 3, or more times.
Dental implants are titanium tooth replacements with screws permanently inserted into the jawbone when a patient loses his/her tooth by a small surgical procedure. Dental implants improves the patient's appearance; dental implants are made matching the rest of the teeth in the color and shape, therefore will surely look like natural. When a person has complete teeth, the speech quality also certainly improves. Dental implants will add more self-esteem, improved oral health to your life. It is reported that implants have long lifetime. Also, anyone can have a dental implant. Dental implant procedure requires a personalized plan and treatment by the dentists.
Initially the consultation the dentists, when the dentist decides on the procedure, or whether implants are suitable for the patient, and what kind of materials/dental implants will be good for the patients. The dental implants are placed in the jawbone.
There are 3 components in dental implants, a titanium implant thread screwed into the jawbone, a titanium extension post attached to the implant, and a dental crown, a new and permanent prosthetic tooth.
Advantages of Dental Implants
Looks like natural teeth
Long lifetime
Easy to clean, better oral health
Stable
Why seek dental implants, veneers, dental treatment in Antalya, Turkey?
It is an acknowledged fact that healthcare and dental costs are becoming higher and higher across Europe and the US, therefore, Antalya city of Turkey has placed itself in a pretty safe position where it offers affordable treatment services as well as a great vacation chance thanks to its mild climate with 4 seasons, mesmerizing coastline and cultural and historical heritage to benefit from during the treatment.
Most wanted dental procedures include implant application, zirconium treatments, porcelain and crown bridge treatments, teeth whitening, and smile design. It is frequently stated by tourists that the sum of expenses such as travel, accommodation, and dental treatment is less than the cost of dental treatment in any European country.
In addition to the quality of service provided in Oral and Dental Health Centers in Turkey, factors such as communication with the patient, examination, or treatment time are at a higher level compared to many other countries, which further increases the preference. If you want help finding a quality clinic abroad, Antalya has expert teams with many years of experience selecting reputable clinics, and with a strong emphasis on customer service. You will certainly be in caring hands in Antalya.
Antalya: the capital of tourism for dental treatment; numbers prove it all!
Turkey, as in medical tourism, has substantial clientele already, also for dental tourism. Antalya has become one of the most traveled destinations in medical tourism as well as dental tourism. According to the dental tourism evaluations, it is claimed that approximately 250,000 dental tourists visit Eastern Europe every year.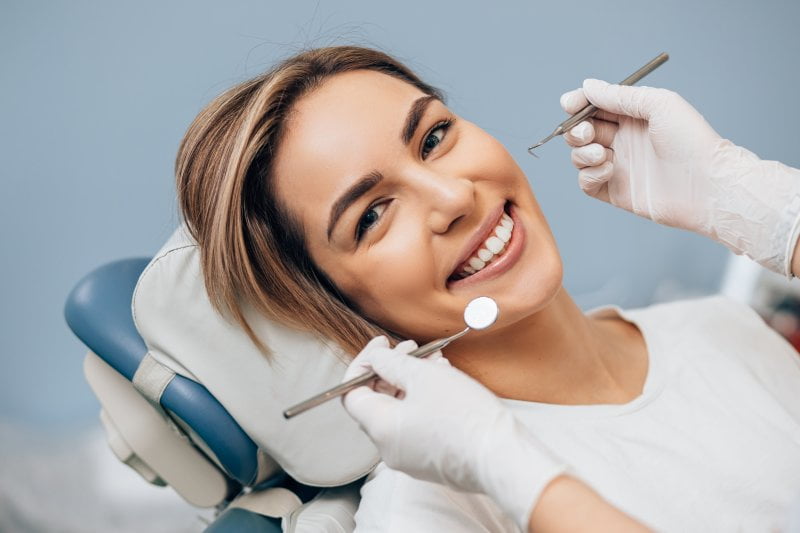 According to the data analysis of the medical tourism report of the Ministry of Health Turkey, however, when Turkey data was analyzed, hundred thousands of dental tourists received dental health services from hospitals in Turkey that have been successfully offering implant and aesthetic dentistry applications In recent years, especially to patients from France, Belgium, the Netherlands, Germany and England, even the USA and some Arab countries.
Out of all the cities, however, the province of Antalya provides successful service to many patients in terms of health tourism and dental tourism thanks to its excellent holiday resorts, gorgeous sightseeing opportunities full of history, geography, temperature climate, and gorgeous natural beauties.
Why choose Antalya for dental tourism?
Antalya is one of the top destinations where there are all kinds of opportunities that have proven themselves in terms of health tourism and dental tourism and vacation opportunities. Antalya will attract you not only in terms of health tourism but also history and culture. Turkey is a paradise stretching across two continents and experiencing 4 seasons. During your stay in Turkey, you can enjoy art, history, archeology, and nature, and feel happiness beyond hopes and wishes. Its crystal clear sea and eight thousand km of shores stretch as far as the eye can see.
Antalya is a province with a lot of experienced health specialists, doctors, surgeons, dentists in the health & dental tourism sectors. Not to mention that it is a tourism paradise situated along with the cost of the higher across the Mediterranean Sea which appeals to all seasons as well as temperate climate tourism. While you can ski up in the Taurus Mountains in winter, in the meantime, you can also swim in the city center.
Thanks to its unique cultural and historical heritage, Antalya has been gaining more and more reputation across the globe in casual and medical tourism, where there are qualified and experienced doctors around the world. With the treatment you will receive in Antalya, you will benefit from the expertise of Turkish doctors at attractive prices. The budget you need to allocate varies according to the treatment you need.
When dental treatments are considered, aesthetic dentistry services particularly laminate veneer and implant treatments top the list among the foreign visitors in Antalya. Laminate veneer treatment is applied in the department of aesthetic dentistry which takes 4-5 days. If you schedule a medical traveling package, a 5-6 day trip to Antalya will be enough. There is also a high demand for whitening and aesthetic treatments.
In recent years, our country has been successfully offering implant and aesthetic dentistry applications, especially to patients from Germany, Russia, France, Belgium, the Netherlands, Australia, Scandinavian countries, England, and some Arab countries.
The reason for this high influx of medical travelers to Turkey is the affordable prices of dental treatments in Turkey whereas abroad dental works are way more expensive and not every clinic provides the best treatment, and not all of the citizens are covered by insurance. The high costs of dental treatment abroad encourage foreigners to pick Turkey for their dental treatments.
Why Get Dental Implants in Antalya -Turkey?
Cost: Patients can save 50-70% on dental prices in Turkey compared to other countries. Cosmetic treatments like teeth whitening and even crowns, bridges, and dentures are equally affordable, too. Other dental treatments carried out in Antalya are root canals, crowns, and caps, dentures, bridges and implants, extractions, fillings and repairs, braces, gum surgery, and bonding.
Choose Antalya, thanks to its…
High-quality health service provided at a reasonable price
Amongst the top 10 most preferred countries in terms of health tourism in the world
Very short or no waiting times, shorter waiting times in comparison with Europe, America, etc.
Possibility to combine vacation & treatment
Excellent geographical location
Easy access from all over the world. Good travel connectivity with cheap and direct flights available from all parts of the world. Turkey has 6-international airports which makes travel more comfortable.
Relevant health personnel, trained physicians
Availability of safe treatment options and stable prices
State-of-the-art medical facilities & infrastructure
International standards by the sterilization principles that is indispensable for health care
Internationally trained experienced dentists
Latest medical applications in the field of Implant, Surgery, Aesthetics, and Orthodontics are being performed
Easy communication with English-speaking dentists/clinical staff
Refreshing travel destination perfect blend of nature and heritage & ideal spot to unwind with world-famous cuisines
​Location: Turkey is convenient to reach for dental patients from all over Europe with less than four flying hours. Turkey has a lot to offer in terms of history, culture, shopping, and beaches, so many dental patients choose to extend their trip into a dental holiday and make the most of their time in the country.
Best Dental Implants, Veneers & Dental Treatment Clinics & Dentists in Antalya Turkey
You are able to find top class dental treatment and care clinics and dentists in Antalya, Turkey, offering all the necessary services for their guests. We are locals and here we only recommend the proven and top rated surgeons and clinics comparing the patients' comments, affordable prices, brand value and quality of the clinics, hospitals, renowned surgeons, hair technicians, specialists, and therapists.
Dentalays Dental Center
Dentalays Dental Center is one of the most popular dental clinics in Antalya, as well as in Turkey. They have professional team of dentists and orthodontists with state-of-the art dental clinic (2 VIP and 16 fully equipped examination rooms), plus reliable dental laboratory. The clinic provided high quality dental treatments, dental implants, veneers, dental aesthetics and smile design for both domestic and foreign patients for more than 15 years.
Dentalays Dental Center is equipped with the most advanced dental technology available, as well as a surgical clinic where general anesthesia and sedation procedures are performed safely. They ensure oral health care needs of their patients with the best care possible. They also offer guarantee for the dental treatments they make.
Dentalays also provides dental travel packages for their guests worldwide including flights, all VIP airport and city transfers, accommodation at the luxury hotels, and interpreter services with very affordable prices.
Note: You can reach Dentalays Clinics and get free consultation and quote by filling out the form at the bottom of the page. Also you can get 5% discount as being our website visitor.
---
Cayra Clinic
Cayra Clinic is a trending medical tourism provider giving very professional and high class medical tourism services for its patients with its team of professionals having above 15 years of experience. The clinic aims to obtain all inclusive and perfect medical treatment in a safe environment and with significantly lower medical travel costs.

Cayra Clinic had served more than 5000 patients worldwide by giving high quality medical treatments through JCI and Turkish Ministry of Health accredited clinics, surgeons, doctors, specialists and hospitals in Istanbul and Antalya and Turkey.
They offer very good prices with all inclusive packages, personal treatment plans, after care, privacy and transparency for its patients. They also offer all medical travel package including flights, VIP airport transfers, luxury accommodation, interpreters with very affordable prices.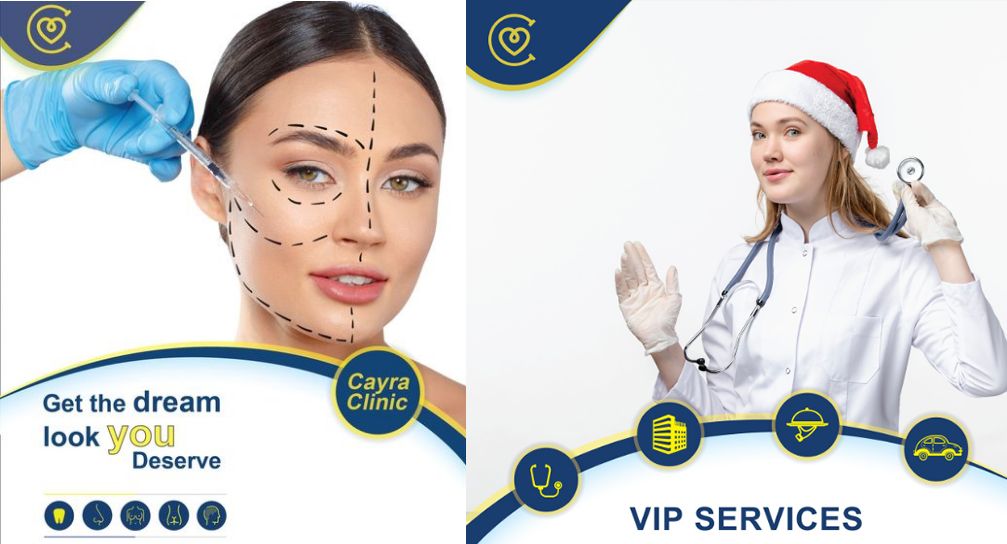 Top medical treatments offered include Hair Transplant, Dentistry, Face-Body Aesthetic Surgeries, Obesity Surgeries, Surgeries for Man, Eye Surgery, Breast Surgeries
Note: You can reach Cayra Clinic and get free consultation and quote by filling out the form at the bottom of the page. Also you can get 5% discount as being our website visitor.
---
SALUSS Medical
SALUSS is a popular medical tourism agency providing high quality medical treatments with lower medical costs for its patients. Having more than 10 years of experience in health tourism in Turkey, SALUSS offers a high quality medical treatments along with accredited surgeons & internationally well-known and awarded clinics and hospitals in Antalya and Turkey, as well as a range of luxury accommodation to suit your budget.
SALUSS provide dental treatments, hair transplantation, obesity surgeries, aesthetic & cosmetic surgeries, oncological treatments, LASIK, IVF, and organ transplantation for its patients from all over the world.
SALUSS offers Vip Airport pick up and transfer, Hospitalization procedures, blood tests,hair or beard planting (maximum number of graft applications), 3 days accommodation is included to the price (B&B), City tour, Shopping trip, Translation services, Medical reports, Certifications, Regular Controls after procedure, First medications, Neck pillow, Bandana and Lifelong warranty.
Note: You can reach SALUSS Medical and get free consultation and quote by filling out the form at the bottom of the page. Also you can get 5% discount as being our website visitor.
---
Sevil Smile Studio
Sevil Smile Studio is one of the most popular dental implants and dental care clinics in Antalya. Cosmetic Dentist Sevil Pekmezci and her team of dental professionals offer high quality dental treatments with materials and the latest digital technology.

They have a very highly skilled dental team to provide excellent results in cosmetic dentistry. Sevil Smile Studio is mostly specialized in dentistry, smile enhancement, dental implants and veneers, and general dental aesthetics.
They also provide dental travel packages for their guests from all over the world including airport transfers, accommodation at the luxury hotels, interpretter services and many more in very affordable prices.
Note: You can reach Sevil Smile Studio and get free consultation and quote by filling out the form at the bottom of the page. Also you can get 5% discount as being our website visitor.
---
DentGroup Dental Clinic Antalya
Lara: Güzeloba Mah. Barınaklar Bulvarı No:130/B , Muratpaşa, Antalya, Turkey
Konyaalti: Kuşkavağı Mah. 563. Sok. No:2/A Konyaalti, Antalya, Turkey, dentgroup.com.tr
Dent Group (DG) is one of the most popular dental treatment and dental care clinics in Turkey. They have many dental clinics along the many top cities in Turkey including Istanbul, Antalya, Ankara, and Aydin. DentGroup has two dental clinics in Antalya situated in Lara and Konyaalti.
DentGroup has recently become an institution that serves its patients with over 160 dentists and aims to take place in international platforms. They have professional team of dentists serving to provide the best results in the fileds of Digital Dentistry, Aesthetic Filling, Orthodontic Treatments, Endodonti, Pedodontics, Periodontology, Implant and Teeth Bleaching
Note: You can reach DentGroup Dental Clinic and get free consultation and quote by filling out the form at the bottom of the page. Also you can get 5% discount as being our website visitor.
---
Akdeniz University Hospital
Pınarbaşı Mahallesi Dumlupınar Bulvarı Akdeniz Üniversitesi Hastanesi, Kampüs, Antalya, akdeniz.edu.tr
Akdeniz University alone also provides treatment with the latest technological devices used in dentistry treatment in the world; there are 200 units, 3 operating rooms, and 11 beds in the surgical department, as well as clinics and R&D laboratories. It is aimed to start health tourism this year in the faculty, where the demands of patients coming from different countries for dental treatment are also met. Turkey is really strong in the field of dentistry.
---
Get a Free Quote / Book Dental Implant & Dental Care
You may get a free quote with consultation from the best dental clinics in Antalya Turkey we list above by filling out the form below. Upon submitting the form, medical and administrative teams of the surgeons and clinics will contact you and provide you all the necessary information regarding your treatment plan with procedures, pricing and travel package information. You'll also get 5% discount for being our valuable website visitor.
Dental Implants & Dental Care Request Form
---
Disclaimer
The medical content and information on this page is only for informational purposes. You should consult your doctor for any diagnosis and treatments. We don't have partnerships with the clinics, hospitals and surgeons, also and don't do any treatments. The information on this page should not be construed as medical advice or treatment recommendation, and doesn't substitute visiting a doctor.
---
---