Are you ready to embark on a unique adventure and discover the hidden treasures of Antalya's coastal beauty? Join us on a Porto Genoese Boat Trip and Mud Bath from Kemer, Belek & Antalya, where you'll dive into crystal clear waters, explore secret caves, relax in boutique-style boats, and indulge in a mud bath experience like no other. This tour promises an unforgettable day filled with excitement, relaxation, and breathtaking scenery. Read on to learn more about why you should take this tour, the highlights you'll experience, and the typical itinerary that awaits you.
Why Take the Porto Genoese Boat Trip and Mud Bath?
The Porto Genoese Boat Trip and Mud Bath offers an array of reasons why you should add this tour to your Antalya itinerary:
Crystal Clear Waters of Porto Genoese Bay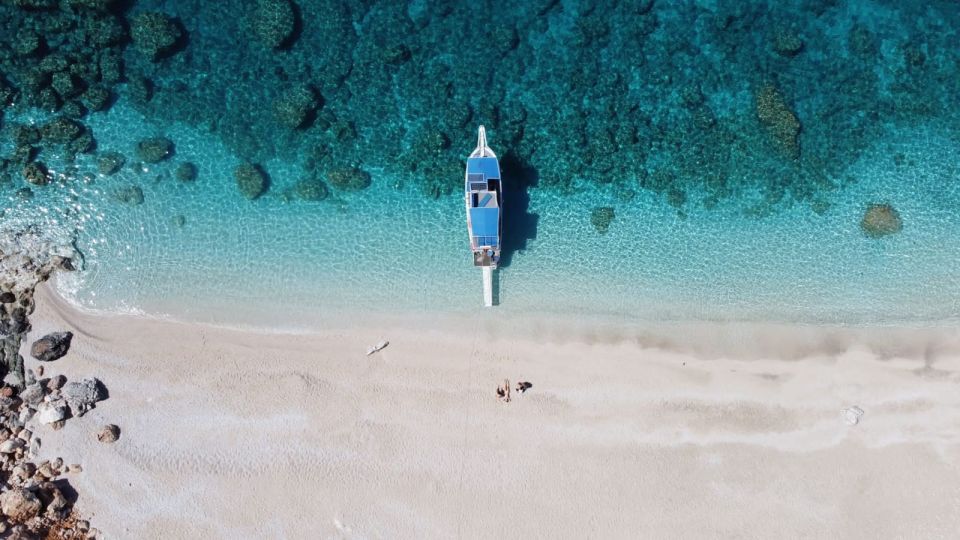 Immerse yourself in the mesmerizing turquoise waters of Porto Genoese Bay, known for its pristine beauty. Dive in, swim, and snorkel to your heart's content, surrounded by a stunning backdrop of rugged cliffs and serene coves.
Get Lost in Fosforlu Cave
Discover the secret cave of Fosforlu, a hidden gem tucked away along the coast. Enter the cave and be captivated by its mystical ambiance, as the shimmering light reflects off the phosphorescent rocks, creating a magical glow. Please note that access to the cave is subject to weather and sea conditions.
---
No Regrets Booking Advice
---
Secluded Swimming Spots
Enjoy the privilege of swimming in some of the most secluded parts of the Mediterranean Sea. These hidden coves offer tranquility and privacy, allowing you to unwind and connect with the serene beauty of nature.
Boutique-Style Boats with a Small Group
Experience a more intimate and personalized boat trip with our small group setting. With a maximum capacity of 35 people, you can relax and enjoy the journey in a boutique-style atmosphere, receiving personalized attention from the crew.
Mud Bath Experience
Indulge in a unique and rejuvenating mud bath experience. Cover yourself in mineral-rich mud, known for its therapeutic properties, and let the natural elements nourish your skin. It's a fun and refreshing way to pamper yourself during the tour.
Highlights and Typical Itinerary of the Porto Genoese Boat Trip and Mud Bath
The Porto Genoese Boat Trip and Mud Bath is carefully crafted to ensure a memorable and immersive experience. Here's an overview of the highlights and typical itinerary you can expect:
1. Departure and Breakfast Stop
You will be picked up from your hotel or designated meeting point in Antalya City Center, Lara, Belek, or other specified areas.
Embark on a comfortable journey, as you enjoy a 2-2.5 hour ride to reach the port. Along the way, there will be a stop at a breakfast restaurant, allowing you to fuel up for the day ahead.
2. Akseki Bay
The first stop of the day is at Akseki Bay, where you'll have 30 minutes of leisure time.
Take a refreshing swim in the crystal clear waters, relax on the beach, or explore the underwater world through snorkeling.
Please note that the sea bottom in this bay can be a bit wild with sea urchins, so be cautious and admire them from a distance.
3. Porto Genoese Bay and Mud Bath
Prepare to be amazed as you arrive at Porto Genoese Bay, one of the most beautiful bays in Turkey.
Spend approximately 1 hour indulging in the breathtaking scenery, swimming in the azure waters, and enjoying a delicious lunch onboard.
Dive into a mud bath experience that will leave you feeling revitalized and rejuvenated. Cover yourself in the mineral-rich mud, known for its cleansing and nourishing properties, and let your worries melt away.
4. Korsan Bay
Continue your journey to Korsan Bay, where you'll have 40 minutes to relax and enjoy another swim or engage in some fun activities.
Soak up the sun, splash in the crystal clear waters, or simply unwind on the boat's deck, taking in the beauty of the surroundings.
5. Fosforlu Cave (Subject to Conditions)
If the sea conditions permit, you may have the opportunity to explore the enchanting Fosforlu Cave.
Enter this hidden gem and marvel at the phosphorescent rocks, creating a mesmerizing glow within the cave. It's a magical experience that will leave you in awe of nature's wonders.
6. Return to Your Hotel or Address
After a day filled with adventure and relaxation, it's time to return to your hotel or designated address.
Sit back, relax, and reflect on the incredible memories you've made during the Porto Genoese Boat Trip and Mud Bath.
Book Your Porto Genoese Boat Trip and Mud Bath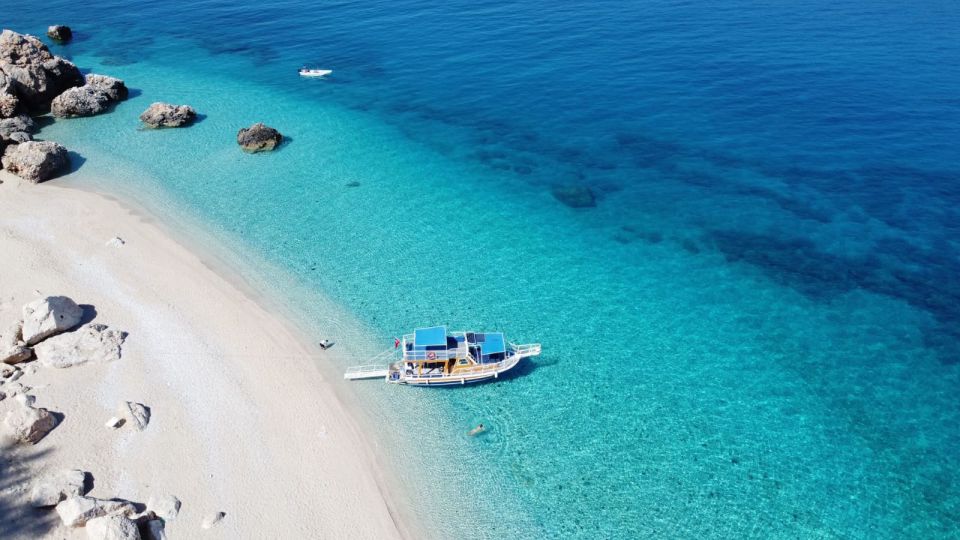 Don't miss the chance to embark on this extraordinary journey along the stunning Antalya coastline. The Porto Genoese Boat Trip and Mud Bath Antalya offer a perfect blend of natural beauty, excitement, and rejuvenation. Click here to book your tour and secure a guided experience that will leave you with cherished memories of your holiday in Kemer, Belek, Lara Beach, or Antalya.
Best Boat Tours Advice
---