Welcome to the breathtaking paradise of Lara Beach in Antalya! Lara Beach is a famous beach resort of Antalya, set on a beautiful environment with all inclusive and great hotels and having all the necessary tourist facilities. With its golden sands, crystal-clear waters, and luxurious resorts, Lara Beach is a true gem on Turkey's stunning Mediterranean coast. This blog post will take you on a virtual journey through the wonders of Lara Beach, showcasing its beauty, highlighting the top attractions, and giving you all the information you need to plan an unforgettable holiday in this idyllic resort destination.
What to Expect?
The name of the resort comes from its beautiful golden sandy beach. The resort is is also called as the Las Vegas of Turkey. Lara Beach is situated about 17,4 km. on the east of Antalya city center, and 12 km. from Antalya Airport and very ideal for the ones looking for a peaceful and quiet beach holidays.
The resort is also popular for its beautiful beaches and the biggest sandcastle competition of the world during the summer months. Known for its pristine beaches and world-class resorts, this area offers a perfect blend of natural beauty, luxury, and entertainment. Here's what you can expect when visiting Lara Beach:
Majestic Beaches
Prepare to be mesmerized by the beauty of Lara Beach's golden sands and turquoise waters. The beach stretches for miles, offering ample space for sunbathing, swimming, and beach activities.
Luxurious Resorts
Lara Beach is renowned for its impressive line-up of five-star resorts, each offering a unique experience of indulgence and relaxation. From lavish accommodations to exquisite dining options and world-class amenities, the resorts in Lara Beach ensure a truly luxurious stay.
---
No Regrets Booking Advice
---
Vibrant Atmosphere
Lara Beach boasts a vibrant atmosphere with lively beach clubs, bars, and restaurants. Whether you're looking to dance the night away, savor delicious cocktails by the sea, or enjoy live music performances, there's always something to suit your taste.
Water Sports and Activities
Adventure seekers will find plenty of exciting water sports and activities to enjoy at Lara Beach. From jet skiing and parasailing to paddleboarding and banana boat rides, there's no shortage of adrenaline-pumping fun.
Shopping Extravaganza
If you're a shopaholic, Lara Beach won't disappoint. The area is home to several shopping centers and bazaars where you can find everything from designer brands to local crafts and souvenirs.
Natural Wonders
Beyond the beach, Lara offers access to some remarkable natural wonders. Take a day trip to the stunning Duden Waterfalls, explore the fascinating Antalya Aquarium, or venture further to discover the ancient ruins of Perge and Aspendos.
Why Holiday in Lara Beach?
Lara Beach is the epitome of a dream holiday destination. Here are some compelling reasons why you should consider planning your next vacation in this idyllic resort:
Unparalleled Beauty
The pristine beaches, clear waters, and dramatic cliffs of Lara Beach create a picturesque setting that's hard to resist. The natural beauty of the area will leave you in awe and provide the perfect backdrop for a memorable holiday.
Luxurious Accommodations
Lara Beach is renowned for its luxurious resorts, many of which offer all-inclusive packages and unparalleled comfort. Immerse yourself in opulence, enjoy top-notch amenities, and indulge in first-class service.
Family-Friendly Atmosphere
Lara Beach is a fantastic destination for families. The shallow waters, soft sands, and family-oriented facilities make it an ideal place for children to play and explore. Many resorts offer kids' clubs, playgrounds, and activities tailored for young travelers.
Gastronomic Delights
Food enthusiasts will be delighted by the culinary offerings in Lara Beach. The resorts boast a diverse range of restaurants, serving both local and international cuisines. Get ready to savor delicious flavors and indulge in gourmet experiences.
Entertainment and Nightlife
Whether you're seeking vibrant nightlife, live entertainment, or cultural performances, Lara Beach has it all. From evening shows at the resorts to beach clubs and bars, the area comes alive after sunset.
Top Things to Do & See
Lara Beach resort is an ideal destination for holidaymakers searching for a relaxing and peaceful beach holidays in Turkey. Here, you'll find a nice selection of cafes, pubs, bars, restaurants, entertainment spots, as well as variety of classy shops and boutique stores. The Sultan Bazaar shopping center is a great shopping and entertainment area.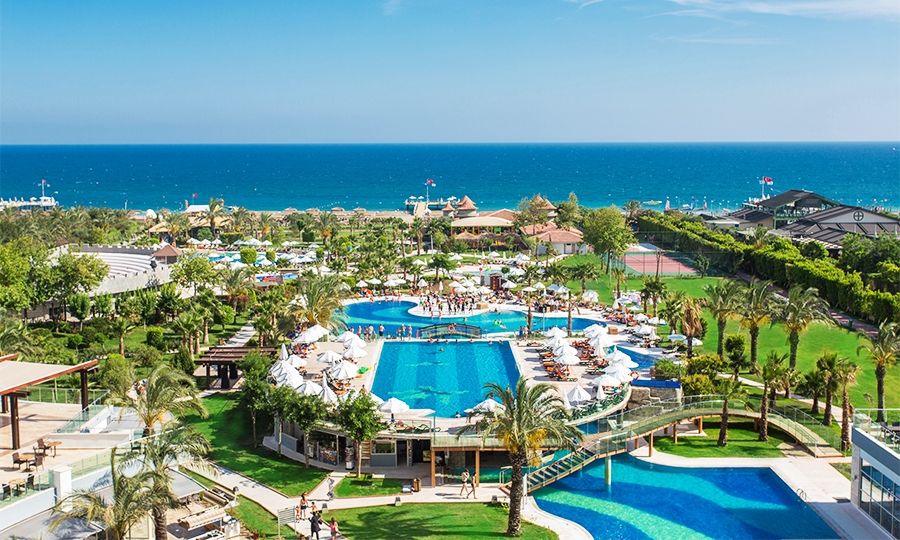 The resort has great accommodation opportunities for holidaymakers with wide range of ultra all-inclusive, all-inclusive, 5 star, 4 star, 3 star hotels lined up along the coast.
Beach
The impressive Blue Flagged beach of Lara makes the resort an ideal destination especially for families with kids. The beach is a 8 km. long sandy beach and facilities are great.
You can have a great beach day out here soaking up the sun, swim and do water sports. The sand is yellow and thin here. The waters are also more warmer than the other beaches in and around Antalya.
You can also find a range of water sports centers offering bananas, paragliding, jet-ski, kayaking and pedalos.
Explore Antalya City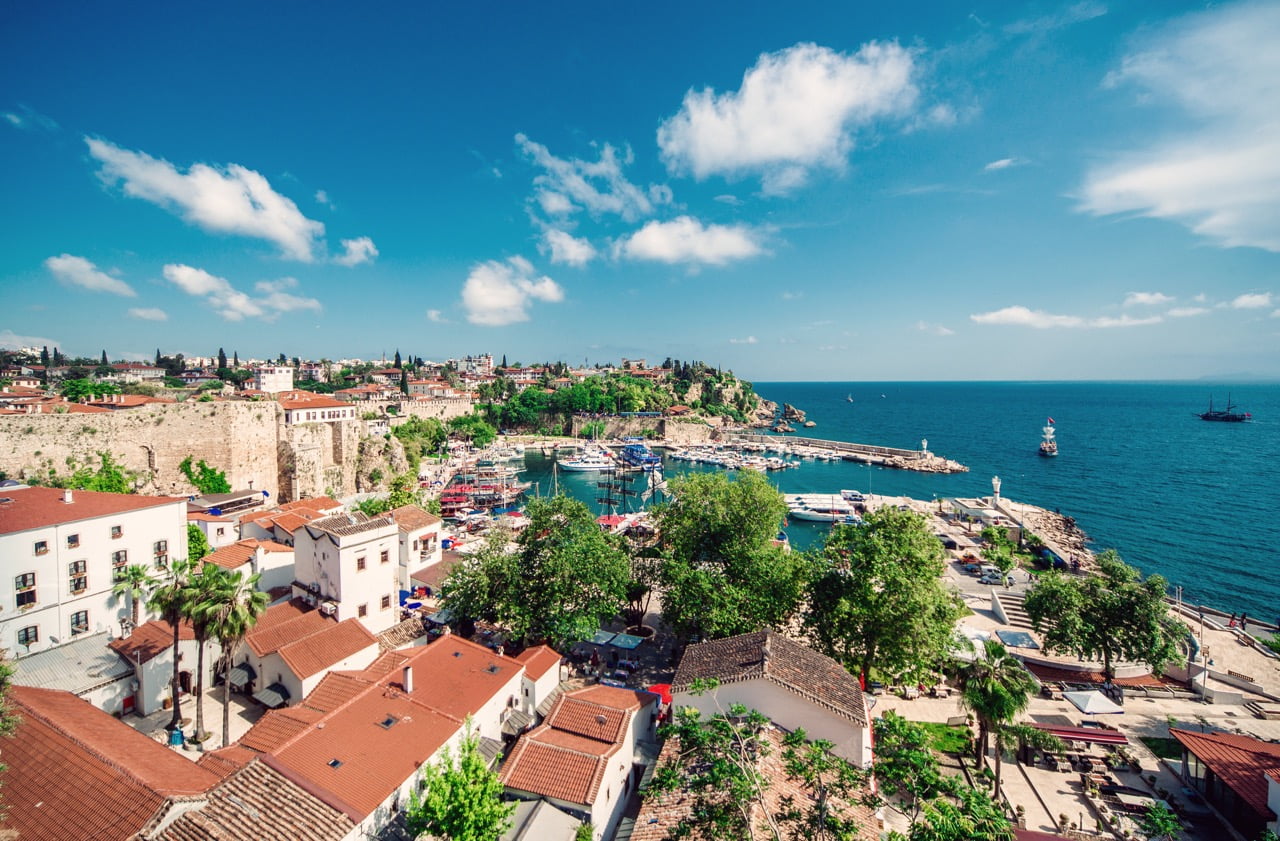 Take a day trip to the nearby city of Antalya, just a short drive away from Lara Beach. Explore the historic Kaleiçi district with its charming narrow streets, ancient Roman walls, and picturesque harbor. Visit landmarks such as Hadrian's Gate, the Clock Tower, and the Antalya Museum to immerse yourself in the region's rich history.
SANDLAND: Sand Sculpture Museum of Antalya
SANDLAND, the Sand Sculpture Museum of Antalya is one of the largest exhibitions of sand sculptures in the world. The exhibition is an international festival featuring hundreds of huge sand sculptures exhibited at the Lara Beach, covering an area of 10,000 square meters.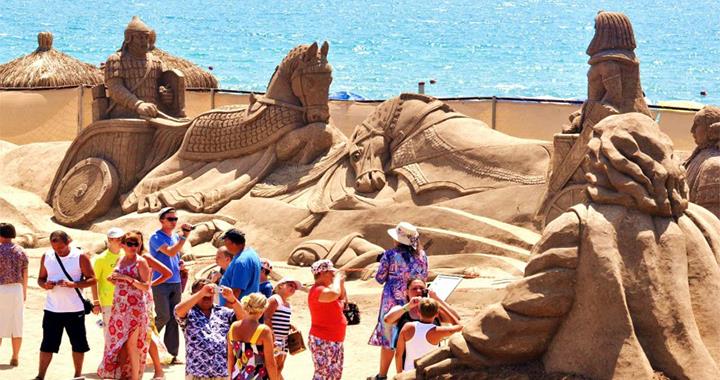 The fantastic sand sculptures are made only with water and sand (by using approximately 10,000 tons of river sand), and are created as a result of the performances of sand sculptors participating from many countries.
Duden Waterfalls
Duden Waterfalls are one of the most visited sights around Antalya city center. Located about 7 km. from the Lara Beach, it is the impressive and eye-catching part of the Duden River which runs about 10 km. from the north of the central Antalya, and meets the sea to the south east coast of the city.
The cool river waters flow from the Taurus Mountains to the Mediterranean Sea and showcase a scenic natural beauties for its visitors. The waters split into two plateaus named Upper Duden Waterfall and Lower Duden Waterfall.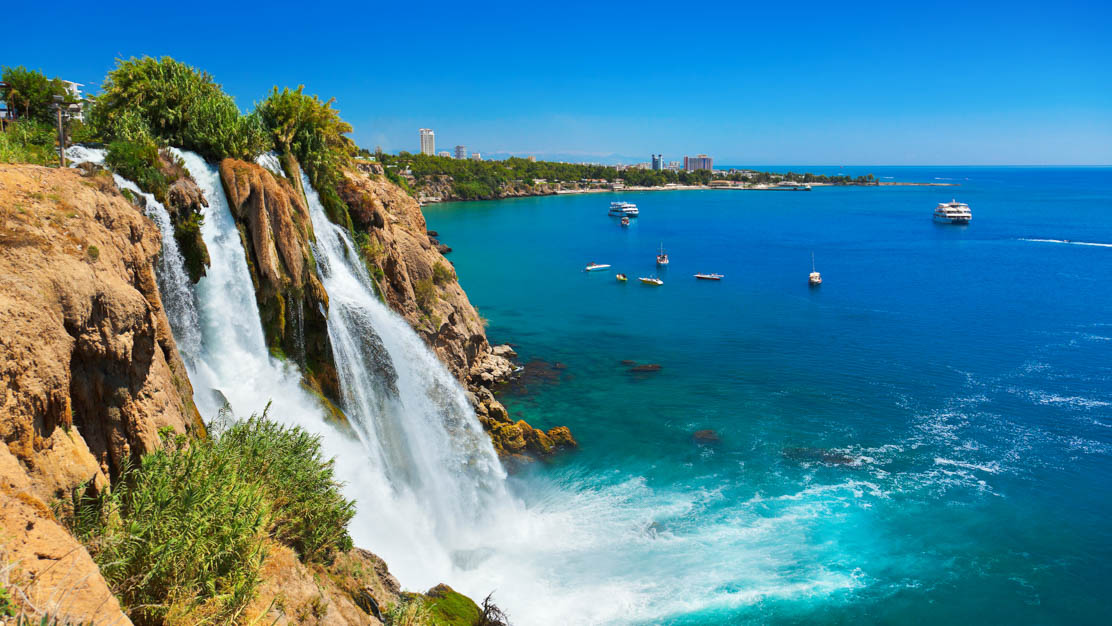 The Upper Duden waterfall is a very impressive one and visitors will feel like they are in part of a heaven. The waters here flows from 15 metres height and forms a 20 meters width very beautiful natural pool.
The Lower Duden waterfall is the place where the waters coming from the Upper Duden waterfall meets the Mediterranean Sea, flowing from about 40 metres height. The waterfall is situated close to the Antalya city center. The speed of the cascading waters form fantastic and scenic views over the sea here.
Visit Antalya Aquarium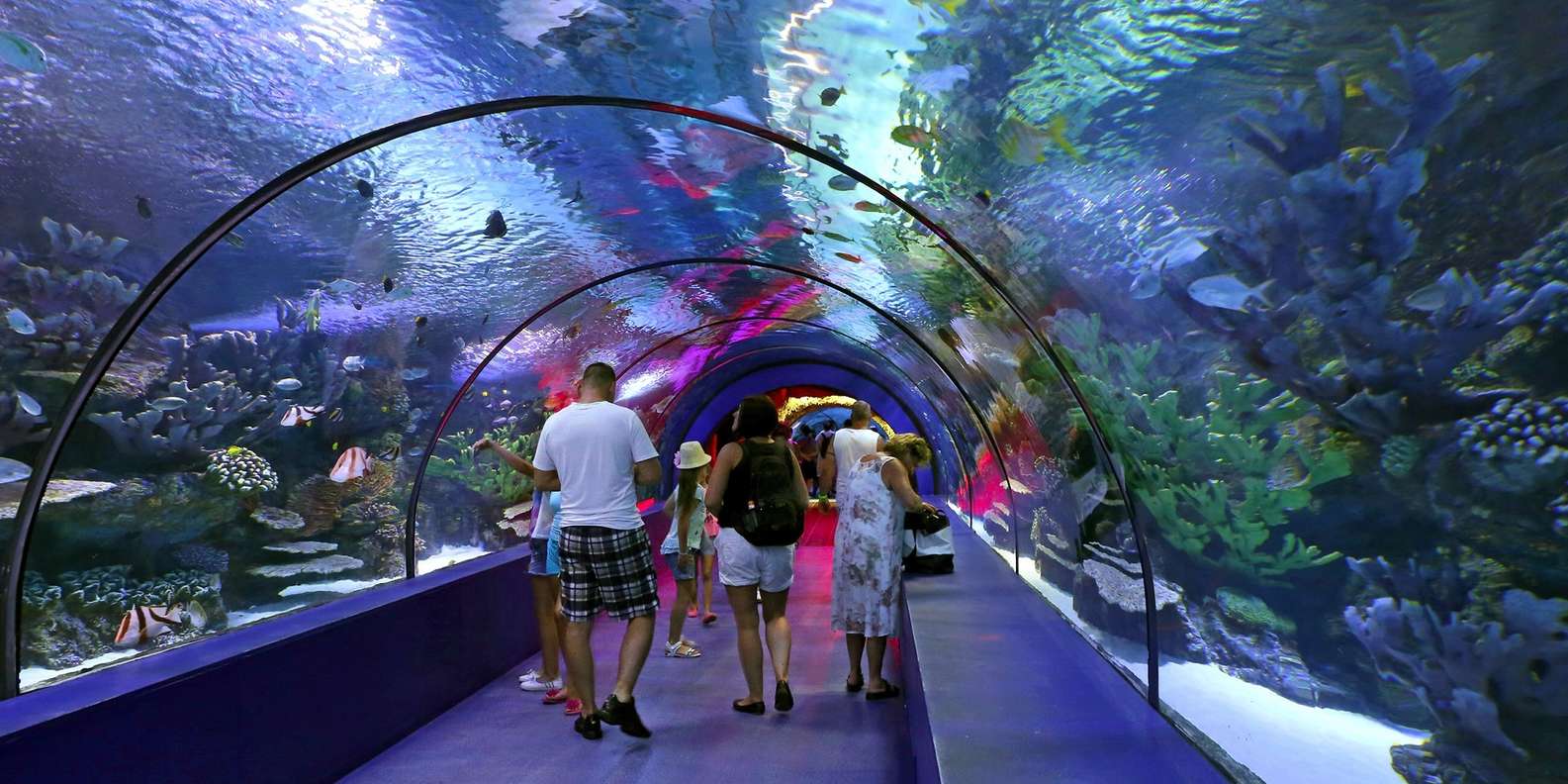 Immerse yourself in the underwater world at Antalya Aquarium. Marvel at the diverse marine life, walk through the impressive tunnel aquarium, and learn about the fascinating ecosystems of the Mediterranean and the world's oceans.
Shop at TerraCity
Indulge in some retail therapy at TerraCity, one of the largest shopping malls in Antalya. Browse through a wide range of international and local brands, explore the variety of shops, and enjoy a break at one of the many cafes and restaurants.
Experience Water Sports
Engage in thrilling water sports activities such as jet skiing, parasailing, and banana boat rides. Rent a kayak or paddleboard to explore the coastline at your own pace, or try your hand at windsurfing or diving for an unforgettable adventure.
Dine by the Sea
Sample the culinary delights of Lara Beach at the numerous beachfront restaurants and cafes. Indulge in fresh seafood, savor Turkish cuisine, and enjoy stunning views of the Mediterranean while dining al fresco.
Relax at a Spa
Treat yourself to a pampering session at one of the luxurious spa centers in Lara Beach. Enjoy rejuvenating massages, invigorating treatments, and soothing therapies that will leave you feeling relaxed and refreshed.
Take a Boat Tour
Embark on a boat tour along the stunning coastline of Lara Beach. Cruise the Mediterranean, swim in secluded bays, and admire the scenic views of the Taurus Mountains. Some boat tours even offer barbecue lunches and snorkeling opportunities.
Suluada Island Boat Trip from Antalya, Kemer or Adrasan
If you're looking for a true paradise experience during your holiday in Antalya, Kemer or Adrasan, look no further than the Suluada Island Boat Trip. This incredible excursion promises a day filled with breathtaking natural beauty, crystal clear waters, and a chance to escape the hustle and bustle of the city. Join this guided tour and embark on a memorable journey to Suluada Island, where you can immerse yourself in the stunning surroundings and create unforgettable memories.
Boat Trips to the Sunken City of Kekova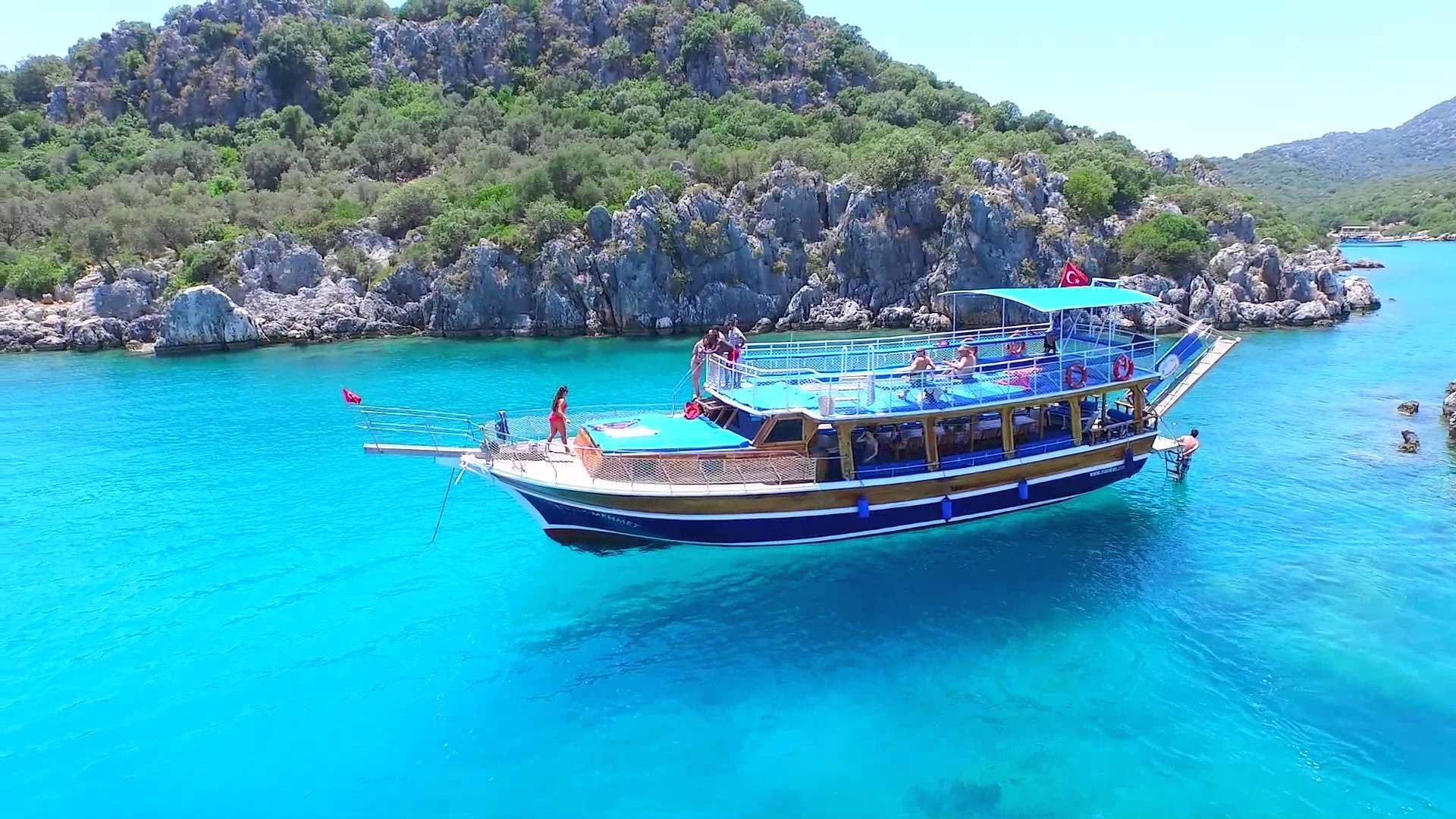 The Sunken City of Kekova is an archaeological gem located along the Turquoise Coast of Turkey. With its submerged ruins, crystal-clear waters, and fascinating history, it has become a must-visit destination for travelers seeking a unique and immersive experience. One of the best ways to explore the Sunken City is through boat trips to Sunken City of Kekova that take you on a journey through time and allow you to witness the ancient ruins up close.
Antalya Old Town Harbor Sightseeing Boat Cruise
Are you ready to embark on a journey through time and experience the captivating charm of Antalya's Old Town with Antalya Old Town Harbor Sightseeing Boat Cruise? Hop aboard a one-hour boat trip and set sail from the ancient harbor to discover the hidden treasures of Kaleici. This sightseeing cruise offers a unique perspective of the city, allowing you to witness the stunning coastline, explore the narrow streets of the old town, and immerse yourself in the rich history and culture of Antalya.
Phaselis Pirate Boat Tour with Lunch from Kemer and Antalya
If you're seeking a unique and exhilarating experience during your holiday in Antalya or Kemer, look no further than the Phaselis Pirate Boat Tour. This thrilling excursion promises a day of fun, adventure, and exploration as you set sail on a pirate ship, indulge in a foam party, swim in pristine bays, and discover the ancient ruins of Phaselis.
Full-Day Boat Tour with Lunch and Foam Party from Antalya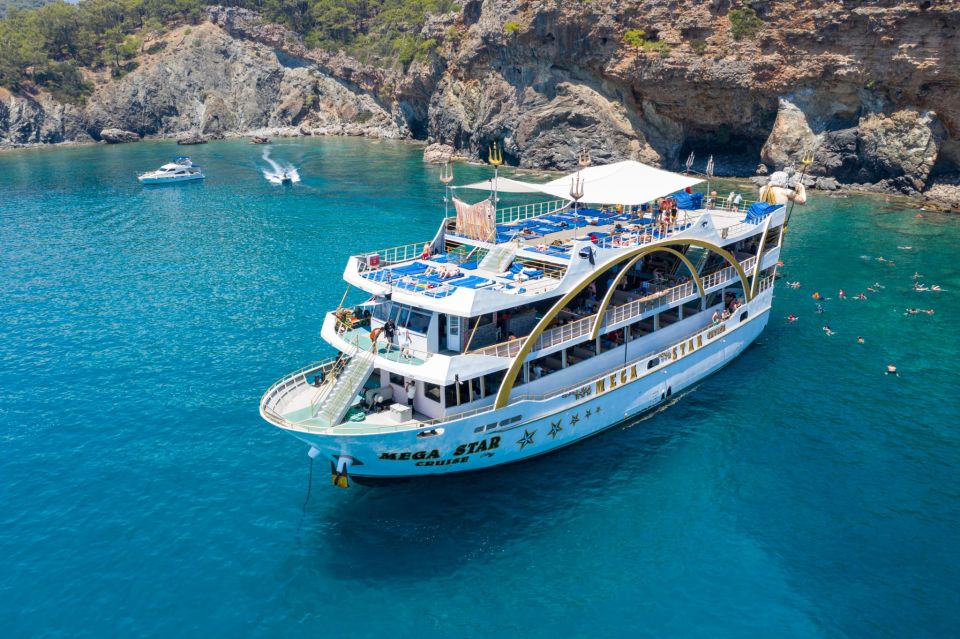 Are you ready for a day filled with sunshine, turquoise waters, and non-stop fun? Join us on a Antalya Full-Day Boat Tour with Lunch and Foam Party and experience the best of Antalya's beautiful bays. Dive into the crystal-clear sea, dance along to the DJ's mix at the foam party, and indulge in a delicious lunch on board. This tour promises a day of leisure, entertainment, and unforgettable memories.
Porto Genoese Boat Trip & Mud Bath from Kemer, Belek & Antalya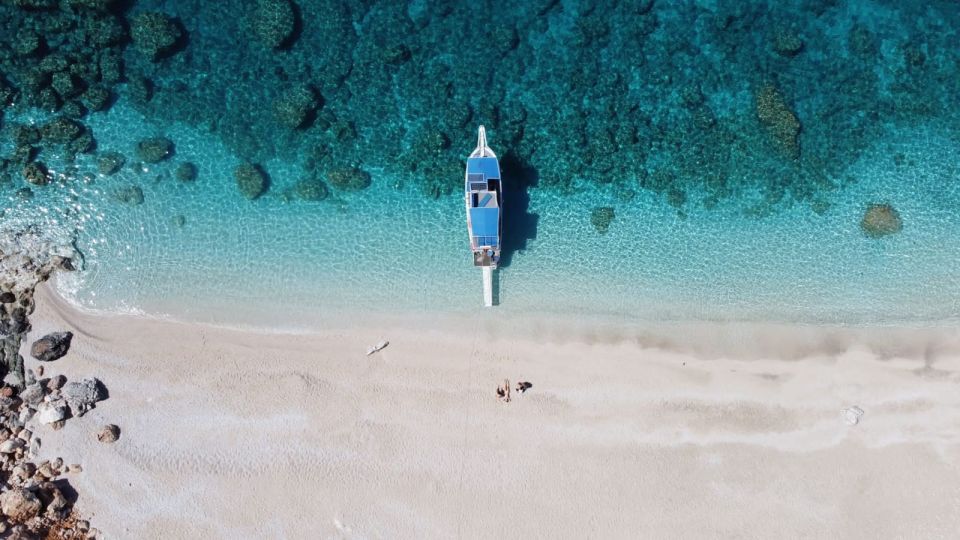 Are you ready to embark on a unique adventure and discover the hidden treasures of Antalya's coastal beauty? Join us on a Porto Genoese Boat Trip and Mud Bath from Kemer, Belek & Antalya, where you'll dive into crystal clear waters, explore secret caves, relax in boutique-style boats, and indulge in a mud bath experience like no other. This tour promises an unforgettable day filled with excitement, relaxation, and breathtaking scenery.
Daily Tours & Excursions
Eating Out
Lara Beach offers a variety of dining options that cater to every taste and preference. Here are some popular places to enjoy a delicious meal:
Beachfront Restaurants: Indulge in fresh seafood and Mediterranean cuisine at the beachfront restaurants along Lara Beach. Enjoy panoramic views of the sea while savoring grilled fish, mezes (appetizers), and traditional Turkish dishes.
International Cuisine: Discover a diverse range of international cuisine in the hotels and restaurants of Lara Beach. From Italian and Mexican to Asian and Middle Eastern, you'll find a wide selection of flavors to satisfy your cravings.
Local Eateries: Venture into the nearby neighborhoods to find small local eateries serving authentic Turkish dishes. Taste traditional kebabs, pide (Turkish pizza), and baklava in a cozy and authentic setting.
Shopping
Lara Beach offers a variety of shopping opportunities, from traditional markets to modern shopping centers. Here are some places to explore:
TerraCity: Visit TerraCity, one of the largest shopping malls in Antalya, located near Lara Beach. Browse through a wide range of international and local brands, including fashion, accessories, electronics, and more.
Lara Street Market: Experience the vibrant atmosphere of a local street market in the center of Lara. Explore stalls selling fresh produce, spices, textiles, and souvenirs. Bargaining is a common practice here, so don't be afraid to negotiate for the best prices.
Antalya Old Bazaar: Take a trip to Antalya's Old Bazaar, located in the historic Kaleiçi district. Wander through narrow streets lined with shops selling Turkish carpets, ceramics, leather goods, and traditional crafts. Don't forget to haggle to get the best deals.
Nightlife
Lara Beach offers a lively nightlife scene with a range of options for entertainment and relaxation after the sun sets. Here are some places to check out:
Beach Clubs: Experience the vibrant beach club scene along Lara Beach. Dance to the beats of renowned DJs, enjoy live music performances, and sip cocktails while enjoying the stunning views of the Mediterranean.
Bars and Lounges: Discover trendy bars and lounges in the hotels and resorts of Lara Beach. Enjoy signature cocktails, live music, and a chic ambiance as you unwind and socialize with friends.
Nightclubs: Lara Beach is home to some popular nightclubs where you can dance until the early hours of the morning. Experience the energetic atmosphere, themed parties, and a mix of music genres that cater to different tastes.
Lodging
Lara Beach boasts a wide range of accommodations to suit various budgets and preferences. From luxurious beachfront resorts to cozy boutique hotels, you'll find the perfect place to stay. Here are some options:
Luxury Resorts: Experience ultimate luxury at the beachfront resorts in Lara Beach. Enjoy world-class amenities, spacious rooms, stunning pools, private beach access, and a range of dining options.
Boutique Hotels: Choose a boutique hotel for a more intimate and personalized stay. These smaller hotels often feature unique designs, attentive service, and a cozy ambiance that adds charm to your holiday.
All-Inclusive Hotels: Opt for an all-inclusive hotel for a hassle-free stay. These resorts offer a variety of dining options, entertainment, and activities within the property, allowing you to enjoy a comprehensive holiday experience without leaving the premises.
Budget-Friendly Accommodations: If you're traveling on a budget, Lara Beach also offers affordable options such as guesthouses and budget hotels. These accommodations provide basic amenities and comfortable rooms at a more affordable price point.
Plan Your Trip to Lara Beach
Best Time to Visit
Consider the best time to visit Lara Beach Antalya based on your preferences. The peak tourist season is during the summer months (June to August), when the weather is hot and sunny. If you prefer milder temperatures and fewer crowds, consider visiting in the shoulder seasons of spring (April to May) and autumn (September to October).
Book Your Accommodation
Select the type of accommodation that suits your needs and budget. Whether you prefer a luxurious beachfront resort or a cozy boutique hotel, make your reservations in advance to secure the best rates and availability.
Plan Your Activities
Research the top things to do and see in Lara Beach and create a list of activities that interest you. Prioritize the attractions you don't want to miss and allocate enough time for each. Consider booking any necessary tickets or tours in advance to ensure availability.
Pack Accordingly
Check the weather forecast for your travel dates and pack appropriate clothing. Don't forget to bring beachwear, sunscreen, comfortable shoes for walking, a hat, sunglasses, and any specific items you may need for planned activities.
Transportation
Determine the most convenient transportation options for reaching Lara Beach. If you're arriving by air, Antalya Airport is the closest airport. From there, you can arrange airport transfers or rent a car for more flexibility. Public transportation, such as buses or taxis, is available for getting around Lara Beach and exploring nearby attractions.
Safety and Health
Familiarize yourself with local safety guidelines and any health-related precautions before your trip. Check if you need travel insurance and ensure you have necessary documents such as passports and visas.
Currency and Language
The currency in Turkey is the Turkish Lira (TRY). It's a good idea to have some cash on hand for small expenses, although credit cards are widely accepted. Learn a few basic Turkish phrases or carry a translation app to facilitate communication with locals.