Are you ready for an unforgettable experience in Antalya? Look no further than The Land of Legends Theme Park, a world of fantasy and excitement that will transport you to a realm of wonder and adventure. This captivating destination offers a unique blend of thrilling rides, captivating shows, interactive experiences, and much more. Join us as we explore the enchanting world of The Land of Legends and discover why it's a must-visit attraction in Belek, Antalya, including best the Land of Legends Antalya tickets, prices, day tours, advice.
An Immersive Theme Park Experience: A Magical Adventure in Antalya
At The Land of Legends, every step you take brings you closer to a world of magic and fantasy. With its sprawling 800,000 square meters of space, the park offers a wide range of attractions and entertainment options for visitors of all ages. Here are some of the highlights that await you:
Chimera Fountain Show
Witness a mesmerizing display of water, light, and music at the Chimera Fountain Show. The choreographed water jets and colorful lights create a magical ambiance, captivating audiences of all ages.
Musical Boat Parade Show
Experience the enchantment of the Musical Boat Parade Show, where illuminated boats glide across the park's stunning lake. The synchronized music and vibrant colors make for a captivating spectacle that shouldn't be missed.
Opening Ceremony Show
Be part of the grand opening ceremony at The Land of Legends, where a dazzling performance sets the stage for an unforgettable adventure. The show features a combination of live performers, special effects, and pyrotechnics, creating an atmosphere of excitement and anticipation.
Thrilling Rides and Water Slides
---
No Regrets Booking Advice
---
Get your adrenaline pumping on the park's exhilarating rides and water slides. From heart-pounding roller coasters to twisting water slides, there's no shortage of excitement at The Land of Legends. Brave the twists and turns of the Hyper Coaster, feel the rush of the Typhoon Coaster, or take a plunge on the Rapids Water Coaster. With attractions suitable for both thrill-seekers and families, there's something for everyone.
Water Park Fun
Cool off and make a splash at the park's water park. Dive into crystal-clear pools, ride the waves in the wave pool, or float lazily along the lazy river. With a variety of slides, pools, and water attractions, the water park offers endless hours of fun and relaxation for visitors of all ages.
Dolphin Show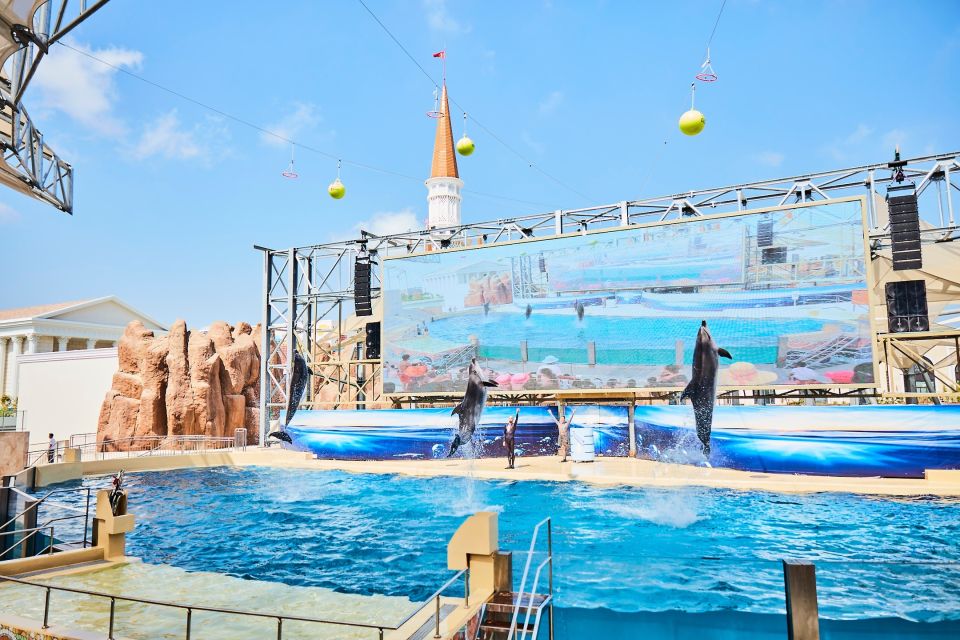 Witness the grace and beauty of dolphins in the spectacular Dolphin Show. Watch in awe as these intelligent creatures perform acrobatic stunts, dance, and interact with their trainers. It's a mesmerizing experience that will leave you with a newfound appreciation for these incredible marine animals.
Live Performances and Entertainment
Prepare to be dazzled by the park's captivating live performances. From vibrant musicals to high-energy dance shows, the entertainment lineup at The Land of Legends is nothing short of extraordinary. Immerse yourself in the world of fantasy and be swept away by the talent and creativity of the performers.
Shopping and Dining
Indulge in a little retail therapy at the park's shopping district. Browse through a variety of stores offering everything from fashion and accessories to souvenirs and local crafts. Afterward, satisfy your appetite at one of the park's many dining establishments, ranging from casual eateries to fine dining options. Treat your taste buds to a delightful culinary experience while enjoying the vibrant ambiance of the park.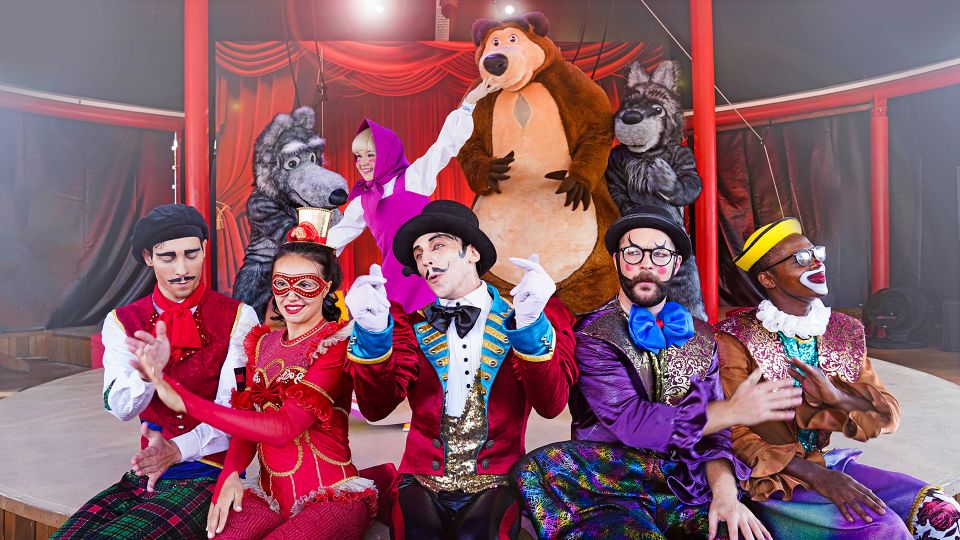 Tips for an Unforgettable Visit
To make the most of your visit to The Land of Legends, here are some tips to keep in mind:
Plan Ahead and Book Land of Legends Antalya Tickets Online
To ensure a smooth and hassle-free experience, it's advisable to book your tickets in advance. The park offers online ticket booking, allowing you to secure your entry and avoid long queues at the entrance. By planning ahead and book your Land of Legends Antalya tickets in advance, you'll have more time to enjoy the attractions and make the most of your visit.
by Getyourguide
by Viator
Visit During Weekdays or Non-Peak Hours
To avoid large crowds, consider visiting The Land of Legends during weekdays or non-peak hours. This will allow you to enjoy the attractions with shorter queues and a more relaxed atmosphere.
Dress Comfortably
Given the park's extensive offerings and the potential for long hours of walking and exploring, it's important to dress comfortably. Here are some clothing and footwear suggestions to ensure a pleasant visit:
Wear lightweight and breathable clothing to stay cool in the warm Antalya weather. Opt for comfortable shorts, t-shirts, or dresses.
Choose comfortable walking shoes that provide adequate support. You'll be spending a significant amount of time on your feet, so it's important to have footwear that can handle the demands of the park.
Don't forget to bring a hat, sunglasses, and sunscreen to protect yourself from the sun's rays. Antalya can get quite hot, and it's essential to stay protected while enjoying the outdoor attractions.
Capture Your Memories
Make sure to bring a camera or smartphone to capture the magical moments during your visit. The Land of Legends provides countless photo opportunities, from breathtaking views to memorable encounters with characters and performers. Take advantage of the beautiful surroundings and create lasting memories of your time at the park.
Explore Nearby Attractions
While visiting The Land of Legends, consider exploring the surrounding area. Take the opportunity to visit nearby attractions such as Belek or Aspendos Theater. Extend your stay and make the most of your time in this beautiful region of Turkey.
Follow Park Rules and Guidelines
To ensure a safe and enjoyable experience for all visitors, it's important to adhere to the park's rules and guidelines. Familiarize yourself with the safety instructions provided at each attraction and follow the instructions of the park staff. By doing so, you'll help maintain a positive and secure environment for everyone.
Plan Your Visit to The Land of Legends
When planning your visit to The Land of Legends, consider the following:
Ticket Booking: Visit the official website or authorized ticket vendors to purchase your tickets in advance. This will save you time and allow you to enter the park smoothly.
Transportation: The Land of Legends is located in Serik, approximately 30 kilometers from Antalya city center. Consider the transportation options available, such as taxi services or organized transfers, to reach the park conveniently.
Operating Hours: Check the park's operating hours before your visit, as they may vary depending on the season. Arrive early to maximize your time and experience all the attractions at your own pace.
Accommodation: If you're planning to spend multiple days at The Land of Legends, there are nearby hotels and resorts that offer convenient access to the park. Consider booking your accommodation in advance for a seamless experience.
Book Your Adventure at The Land of Legends
Don't miss the opportunity to embark on a thrilling adventure at The Land of Legends Theme Park in Antalya. With its captivating attractions, live entertainment, and immersive experiences, it's a destination that promises fun and excitement for visitors of all ages. Book your Land of Legends Antalya tickets, plan your visit, and get ready for a day filled with unforgettable memories at this extraordinary theme park.
Land of Legends Antalya Tickets on Calendar
Belek: The Land Of Legends Theme Park Entrance Ticket
Experience endless fun and excitement on a day trip to the Land of Legends Theme Park which boasts over 40 water slides and over 20 fun rides. Enjoy a fantastic day out perfect for entertaining your friends and family.
---
Antalya: The Land of Legends Theme Park with Transfer
Excitement and adventure await you at The Land of Legends Theme Park. Enjoy thrilling rides and rollercoasters, get up close with the park's friendly animals and witness spectacular entertainment shows. Explore the excitement at 2 unique zones, the Land of Aqua and the Waterfront Kingdom, for a day of family-friendly fun.