Are you ready to embark on a sensational shopping journey in the vibrant city of Antalya and its surrounding region? From high-end fashion boutiques to local markets teeming with traditional crafts, the Antalya region offers a plethora of shopping options to suit every taste and budget. Whether you're a fashionista, a souvenir hunter, or simply looking to indulge in retail therapy, these top shopping centers in the Antalya region are sure to fulfill your shopping desires. Get ready to discover a world of luxury, style, and cultural treasures as we delve into the best shopping destinations in the area.
Best Shopping Centers in the Antalya Region: Where Retail Therapy Meets Luxury and Variety
When it comes to shopping in Antalya, shopping centers are a must-visit. Whether you're seeking luxury fashion, traditional crafts, or an authentic Turkish shopping experience, the Antalya region has something for everyone. Explore these top shopping centers and markets, immerse yourself in the vibrant atmosphere, and discover unique treasures that will leave you with lasting memories of your time in this beautiful region of Turkey. Happy shopping!
1. MarkAntalya Shopping Mall: A Shopper's Paradise in the Heart of Antalya
Located in the bustling city center of Antalya, MarkAntalya Shopping Mall is a true shopaholic's paradise. This expansive mall houses a diverse range of international and local brands, making it the perfect destination for fashion lovers and trendsetters. With its modern design, spacious walkways, and vibrant atmosphere, MarkAntalya offers an unforgettable shopping experience. Here's what you can expect:
Fashion Haven: Discover a plethora of fashion-forward stores, from renowned global brands to local Turkish designers. Unleash your inner fashionista and explore the latest trends, stylish apparel, footwear, and accessories.
Lifestyle and Home Decor: MarkAntalya is not just about fashion. It also boasts a wide range of stores specializing in home decor, furniture, electronics, and lifestyle products. Transform your living space into a sanctuary of style with unique pieces from this shopping center.
Entertainment and Dining: After an exciting shopping spree, take a break and indulge in a variety of dining options, from international cuisines to local delicacies. You can also catch a movie at the cinema complex or enjoy live performances and events that take place within the mall.
2. TerraCity Shopping Center: Where Style Meets Entertainment
Situated in the heart of Lara, one of Antalya's most vibrant districts, TerraCity Shopping Center combines the best of fashion, entertainment, and dining. This expansive shopping complex is renowned for its chic and elegant ambiance, offering a seamless fusion of style and leisure. Here's why TerraCity deserves a spot on your shopping itinerary:
Fashion Capital: Explore an extensive range of high-end fashion boutiques, including renowned international brands. From designer clothing to luxury accessories, TerraCity is a haven for fashion enthusiasts seeking the latest trends and timeless elegance.
Home and Lifestyle: Enhance your living space with a visit to the home decor stores at TerraCity. Discover unique furniture, decorative items, and exquisite household goods to add a touch of sophistication to your home. You'll also find a variety of lifestyle products, electronics, and gadgets.
Family-Friendly Entertainment: TerraCity is not just for shoppers; it caters to the entire family. Kids can enjoy a fun-filled experience at the indoor play area, while adults can unwind at the cinema or bowling alley. The shopping center also hosts live events, fashion shows, and exhibitions, ensuring there's something for everyone.
3. Deepo Outlet Center: Where Bargains and Brands Meet
If you're a savvy shopper looking for great deals and discounts, Deepo Outlet Center is the ultimate destination. Situated near Antalya Airport, this outlet center is a haven for bargain hunters, offering famous brands at significantly reduced prices. Here's why Deepo Outlet Center should be on your shopping radar:
---
No Regrets Booking Advice
---
Outlet Shopping Extravaganza: Browse through a wide selection of outlet stores, including top international and Turkish brands. From clothing and footwear to accessories and home goods, Deepo Outlet Center has everything you need to fulfill your shopping desires while keeping your wallet happy.
Fashion for Less: Explore a multitude of fashion outlets offering stylish apparel, footwear, and accessories at discounted prices. From renowned designer brands to popular high-street labels, you'll find incredible deals on the latest trends and wardrobe essentials.
Home and Lifestyle: Deepo Outlet Center isn't just about fashion. It also boasts a range of stores specializing in home decor, furniture, electronics, and lifestyle products. Spruce up your living space or find unique items to enhance your daily life without breaking the bank.
Sports and Outdoor Gear: If you're an outdoor enthusiast or a sports lover, Deepo Outlet Center has you covered. Discover a variety of stores dedicated to sports apparel, equipment, and accessories, allowing you to pursue your favorite activities with top-notch gear at discounted prices.
Cosmetics and Beauty Products: Pamper yourself with discounted beauty products and cosmetics from well-known brands. Whether you're looking for skincare essentials, makeup, or fragrances, you'll find a wide range of options to suit your preferences and budget.
Family-Friendly Atmosphere: Deepo Outlet Center caters to families with its child-friendly facilities and entertainment options. Kids can enjoy play areas and activities while parents browse the stores, ensuring an enjoyable shopping experience for the whole family.
4. Antalya Migros Shopping Mall: Where Convenience Meets Variety
Conveniently located in the heart of Antalya, Antalya Migros Shopping Mall is a popular destination that offers a diverse range of shops, entertainment, and dining options. This modern shopping mall provides a one-stop experience for all your shopping needs. Here's what sets Antalya Migros apart:
Extensive Retail Selection: Antalya Migros is home to a wide range of shops, covering fashion, electronics, home goods, and more. From popular international brands to local favorites, you'll find an array of choices to suit your preferences.
Hypermarket Convenience: The shopping mall houses a hypermarket where you can shop for groceries, household items, and daily essentials. This makes it convenient to fulfill your everyday shopping needs while exploring the rest of the mall.
Entertainment and Leisure: Antalya Migros offers a variety of entertainment options to complement your shopping experience. Catch a movie at the cinema, challenge your friends to a game of bowling, or enjoy interactive experiences at the arcade, ensuring a fun-filled day for all.
Dining Delights: Refuel and satisfy your cravings at the mall's food court and restaurants. From international cuisines to local specialties, there's something to please every palate. Enjoy a leisurely meal or grab a quick snack before continuing your shopping adventure.
5. Antalya Bazaar: An Authentic Turkish Shopping Experience
No visit to Antalya is complete without immersing yourself in the vibrant atmosphere of the traditional Antalya Bazaar. Located in the historic center of Antalya, this bustling market is a treasure trove of Turkish culture, handicrafts, and local products. Here's why the Antalya Bazaar is a must-visit:
Authentic Turkish Crafts: The Antalya Bazaar is a haven for those seeking unique souvenirs and traditional Turkish handicrafts. Explore the narrow streets filled with stalls selling handmade ceramics, carpets, textiles, spices, and more. Engage with local artisans and learn about the rich cultural heritage behind each item.
Bargaining and Haggling: Bargaining is a common practice in the Antalya Bazaar, allowing you to test your negotiation skills and secure the best deals. Don't hesitate to haggle with the friendly vendors, as it's part of the experience and can lead to great savings.
Turkish Delights and Culinary

Delights: As you wander through the Antalya Bazaar, be sure to indulge in the delectable flavors of Turkish cuisine. Sample traditional Turkish delights, aromatic spices, dried fruits, nuts, and freshly brewed Turkish tea. You can also find local specialties such as baklava, Turkish coffee, and savory snacks, providing a true feast for your taste buds.
Textiles and Clothing: The Antalya Bazaar is a treasure trove of textiles and clothing, showcasing a wide variety of Turkish fabrics, garments, and accessories. From colorful Turkish rugs and kilims to handwoven scarves, traditional Ottoman-style clothing, and contemporary fashion pieces, you'll discover a vibrant tapestry of choices to suit your personal style.
Jewelry and Souvenirs: Adorn yourself with the beauty of Turkish jewelry and accessories found in the Antalya Bazaar. Explore stalls offering exquisite silver pieces, unique Anatolian designs, and beautiful gemstones. Don't forget to browse through the array of souvenir shops, where you can find small trinkets, decorative items, and keepsakes to commemorate your visit to Antalya.
Cultural Immersion: Beyond shopping, the Antalya Bazaar provides an opportunity to immerse yourself in Turkish culture and interact with the locals. Engage in friendly conversations, learn about the stories behind the products, and gain insight into the rich heritage of the region. It's a chance to experience the warmth and hospitality of the Turkish people.
6. Mall of Antalya: A Shopper's Paradise
Located in the heart of Antalya, Mall of Antalya is one of the largest and most popular shopping centers in the region. This modern mall boasts an impressive selection of shops, international brands, and entertainment options. From fashion and accessories to electronics and home furnishings, you'll find a wide variety of stores catering to all tastes and budgets. Mall of Antalya also features a food court offering various cuisines, a multiplex cinema, and a children's play area, ensuring a complete shopping and leisure experience for the whole family.
7. Agora Antalya: Where History Meets Shopping
For a unique shopping experience, head to Agora Antalya. Situated in the Kepez district in Antalya, this shopping center is a harmonious blend of ancient ruins and modern shops. As you stroll through the open-air complex, you'll encounter archaeological remains such as ancient columns and walls, creating a fascinating ambiance. Agora Antalya houses a mix of local boutiques, souvenir shops, and specialty stores selling handicrafts, textiles, and traditional Turkish products. It's the perfect place to find authentic keepsakes and immerse yourself in the rich history of Antalya.
8. Land of Legends Shopping Avenue: Retail Magic
Located within the renowned Land of Legends theme park, the Land of Legends Shopping Avenue offers a unique shopping experience. This open-air shopping street features a charming atmosphere, lined with boutique shops, trendy fashion outlets, and international brands. The avenue also hosts regular fashion shows and entertainment events, adding a touch of excitement to your shopping trip. After a day of retail therapy, you can unwind at one of the nearby cafes or restaurants, or explore the various attractions within the theme park.
9. Forsa Mall Belek: Fashion and More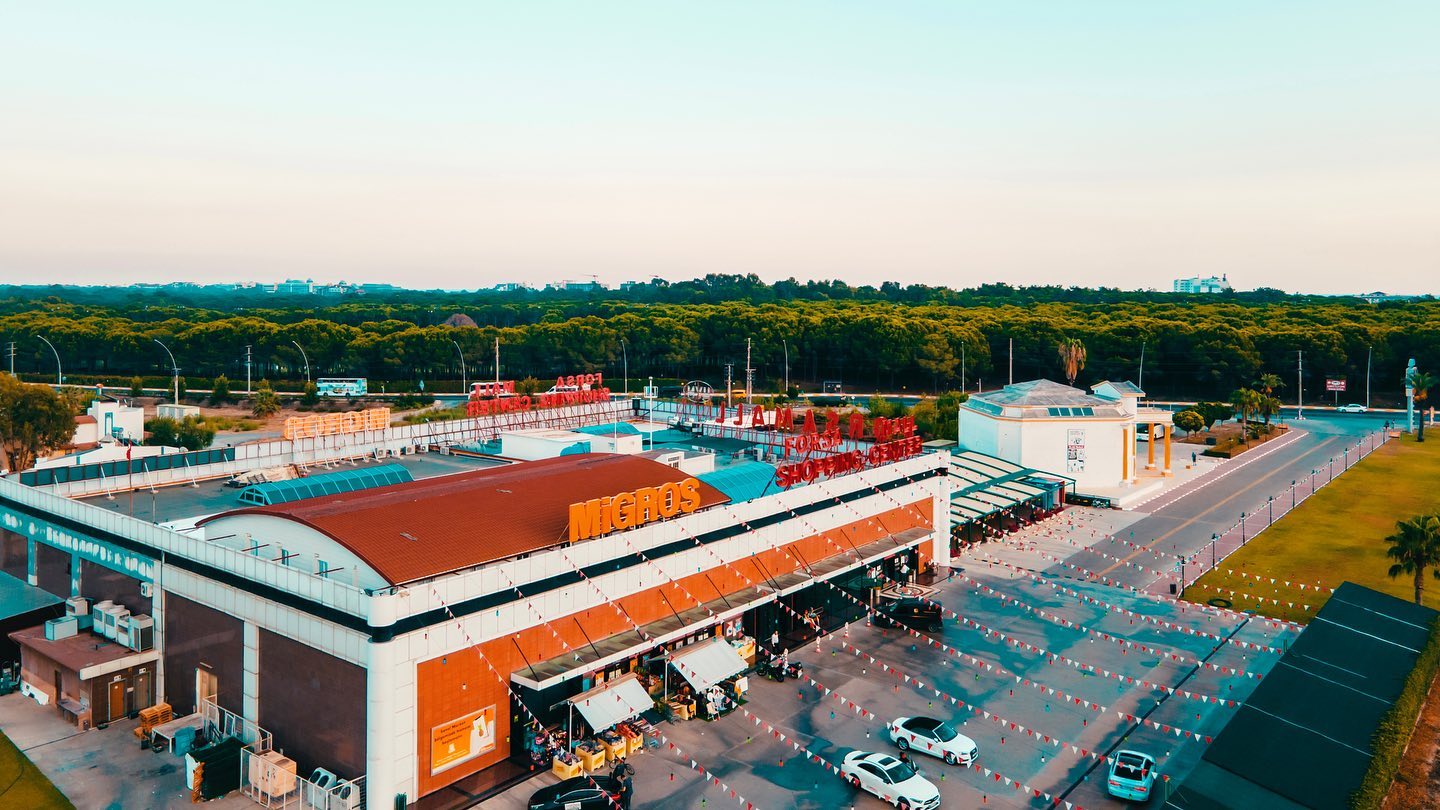 Situated in Belek, Forsa Mall is a stylish shopping center catering to fashion enthusiasts. With a sleek and modern design, this mall offers a range of high-end and affordable fashion brands, as well as accessories, footwear, and beauty products. You'll also find a variety of cafes and restaurants where you can take a break and enjoy a meal or a cup of coffee. Forsa Mall is an excellent destination for those looking to elevate their style or simply enjoy a day of browsing through the latest fashion trends. A great place to go on shopping in Belek.
10. Novamall Manavgat: Retail Therapy in Manavgat
Novamall is a popular shopping center located in Manavgat, just a short distance from the stunning Manavgat Waterfall. This mall offers a diverse mix of stores, including clothing boutiques, electronics shops, home decor outlets, and supermarkets. Novamall also features a food court serving a variety of cuisines, ensuring you won't go hungry during your shopping spree. With its convenient location and extensive range of products, Novamall is a go-to destination for both locals and visitors in the Manavgat area.
11. Özdilek Park: Shop, Dine, and Unwind
Özdilek Park is a popular shopping destination located in the heart of Antalya. With its modern design and wide range of shops, this shopping center offers a comprehensive retail experience. From high-street fashion brands to electronics, home furnishings, and sporting goods, Özdilek Park has it all. The mall also features a spacious food court where you can enjoy a variety of local and international cuisines, as well as numerous cafes and restaurants. After a day of shopping, you can relax and unwind at the cinema complex or indulge in a pampering session at the spa and wellness center.
12. Time Center Konaklı: A Local Gem
Situated in the charming town of Konaklı, Time Center is a delightful shopping center that caters to both locals and visitors. This smaller-scale mall offers a more intimate and relaxed shopping experience, with a variety of shops and boutiques selling clothing, accessories, and souvenirs. Time Center also features a supermarket, making it convenient for everyday shopping needs. The center has a cozy atmosphere, and the friendly staff are always ready to assist you in finding the perfect item or recommending local products.
13. Alanyum Shopping Center: Retail Haven in Alanya
Alanyum Shopping Center is a must-visit destination for shoppers in the Alanya area. This multi-level mall boasts a wide selection of stores, ranging from fashion and beauty to electronics and home decor.
With its spacious layout and comfortable ambiance, Alanyum offers a pleasant shopping experience. The center also features a food court, cafes, and a supermarket, ensuring you have everything you need in one place. Alanyum is known for its regular events and promotions, making it a fantastic spot to score some great deals. A great place to go on shopping in Alanya.
These are just a few of the best shopping centers in the Antalya region. Whether you're seeking high-end fashion, local handicrafts, or everyday essentials, these malls and centers provide a variety of options to suit every taste and budget. From the bustling city center to the coastal towns, Antalya offers a diverse and exciting shopping scene that is sure to leave you satisfied. So, grab your shopping bags and get ready for an unforgettable retail adventure in the beautiful Antalya region. Happy shopping!
Note: It's always a good idea to check the opening hours and any specific regulations or guidelines before visiting these shopping centers, as they may vary.