Welcome to Alanya, a breathtaking coastal city located on the southern coast of Turkey's Antalya province. With its stunning beaches, rich history, vibrant culture, and warm Mediterranean climate, Alanya has become a sought-after destination for travelers seeking a perfect blend of relaxation, adventure, and cultural experiences. In this guide, we will take you on a virtual journey through the enchanting city of Alanya, highlighting its top attractions, things to do, and why it should be at the top of your holiday list.
What to Expect?
Alanya is a superb holiday resort of Antalya where it has also been a settling place for foreigners for many years. With its history, sea, sand, sun and modern hotels, Alanya has become a brand not only in the country but also in the worldwide tourism sector. Here you'll find a quick travel guide to Alanya including top things to do, sights to visit, best places to stay, eat, drink, and all tourist info you need plus insider advice.
For the ones who are seeking for a relaxing and calm holidays with some scenic views, historical sites, as well as beautiful beaches, Alanya will be a great choice for sure. You'll find loads of fantastic Alanya excursions. The resort is situated about 133 km. on the east of Antalya city center, and 124 km. from Antalya Airport.
The resort is also a combination of old and new with plenty of lively bars, clubs, restaurants and shops in the new town, and a gorgeous castle in the old town.
Why Holiday in Alanya?
Alanya offers a unique blend of natural beauty, cultural heritage, and modern amenities that make it an ideal holiday destination. Here are some compelling reasons why you should choose Alanya for your next getaway:
---
No Regrets Booking Advice
---
Breathtaking Beaches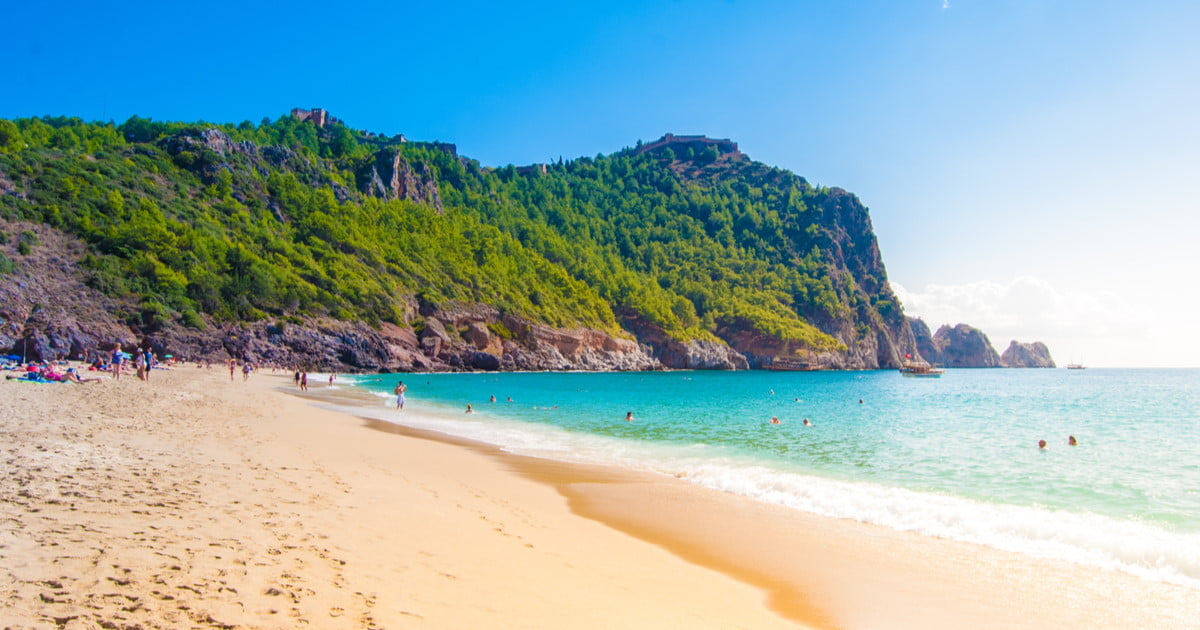 Alanya is renowned for its pristine beaches, where you can soak up the sun, swim in crystal-clear waters, and indulge in various water activities. With its Blue Flag status, you can be assured of clean and well-maintained beaches that offer a safe and enjoyable environment for all.
Rich History and Culture
Alanya is steeped in history, with traces of its ancient past visible throughout the city. Explore its fascinating historical sites, including ancient ruins, fortresses, and museums, and immerse yourself in the vibrant culture that blends Turkish traditions with modern influences.
Outdoor Paradise
From the majestic Taurus Mountains to the azure Mediterranean Sea, Alanya is a haven for outdoor enthusiasts. Engage in a wide range of activities such as hiking, biking, diving, fishing, and boat tours. The natural landscapes and stunning vistas will leave you in awe at every turn.
Warm Hospitality
Experience the renowned Turkish hospitality in Alanya, where locals welcome visitors with open arms. The people of Alanya are known for their warm and friendly nature, making you feel like a part of their community from the moment you arrive. Whether you need directions, recommendations, or simply a friendly conversation, the locals are always ready to assist and ensure that your stay in Alanya is memorable and enjoyable.
Delightful Shopping
Alanya is a paradise for shopaholics, offering a wide range of shopping experiences. Explore the bustling local markets, known as "pazars," where you can find fresh produce, spices, textiles, and traditional crafts. Visit the modern shopping centers and boutiques for the latest fashion trends, designer brands, and unique souvenirs to take back home.
Fascinating Nightlife
When the sun sets, Alanya comes alive with its vibrant nightlife scene. From chic beach clubs and rooftop bars to lively pubs and music venues, there's no shortage of entertainment options. Dance to the beats of live music, enjoy performances by local artists, or simply relax with a drink and soak in the energetic atmosphere.
Video Tour
History
Alanya has been home to Klikya, Pamfilya, Hittites, Greeks and Romans during the ancient times. During the Byzantine period, it was named "Kolonoros" which means beautiful mountain and changed to "Alaiye" during the Seljuk period.
The town was the winter capital of the state during the Seljuk period, than joined the Ottomans lands during the reign of Fatih Sultan Mehmet.
Top Things to Do & See
Alanya is a lively and modern town. You'll find wide range of quality shops, designer boutiques, bars, clubs and restaurants and bars to make your holidays great here.
You'll also find monumental buildings such as old city walls, Kizilkule, Tersane, Tophane, the old Alanya houses that were restored and used in the castle that worth a visit and see.
The old town of Alanya is very impressive with its lovely narrow streets and traditional stone houses. In some of these old houses, weaving is done in old looms or food service is provided in their gardens.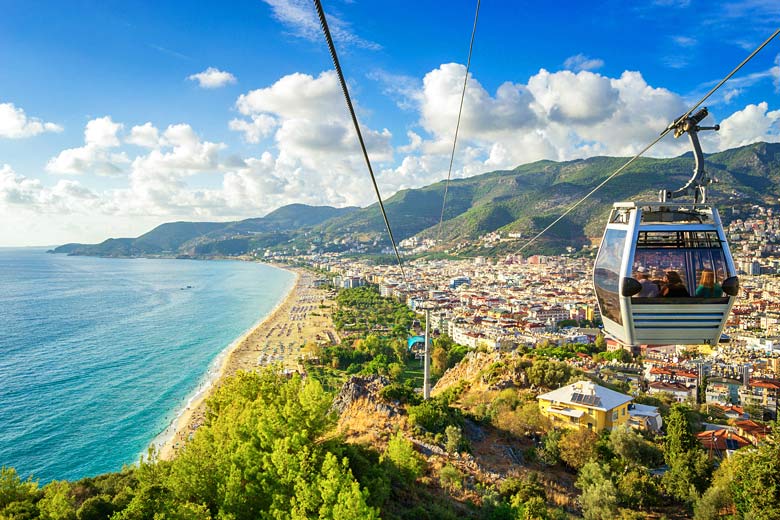 The Konakli town is a popular place situated about 16 km. from Alanya town center where both locals and tourist spend a great day out at its range of cafes, bars, restaurants, shops plus a big sandy beach.
Alanya City Tour with Cable Car, Boat Trip, Dim River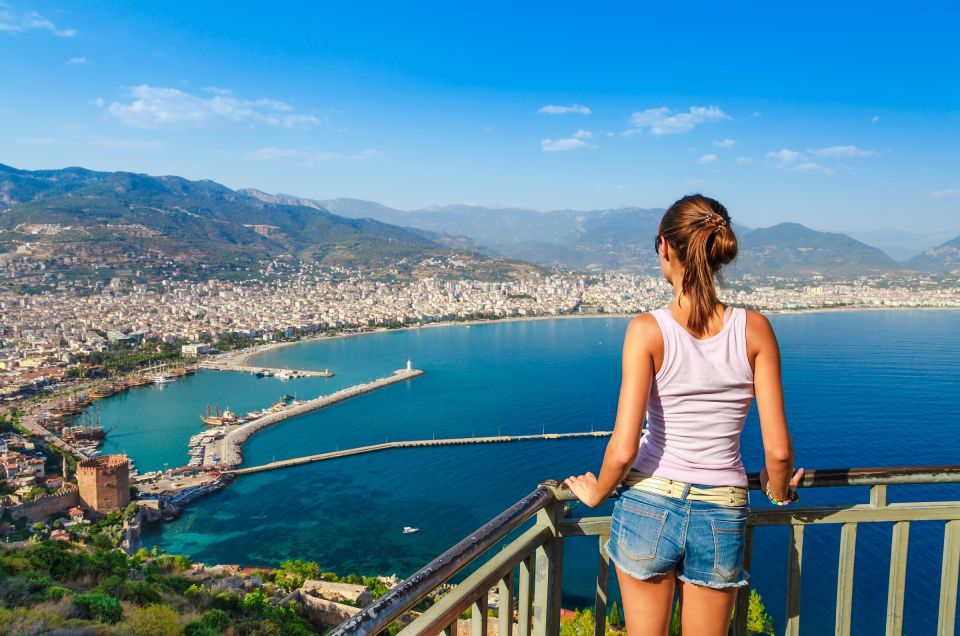 Embark on an unforgettable journey through the enchanting city of Alanya, where history, natural beauty, and panoramic views come together. The Alanya City Tour is the perfect way to discover the highlights of this captivating destination, offering a mix of cultural exploration, breathtaking landscapes, and relaxation. With a carefully crafted itinerary that covers must-visit attractions, this guided tour ensures that you make the most of your time in Alanya.
Alanya Castle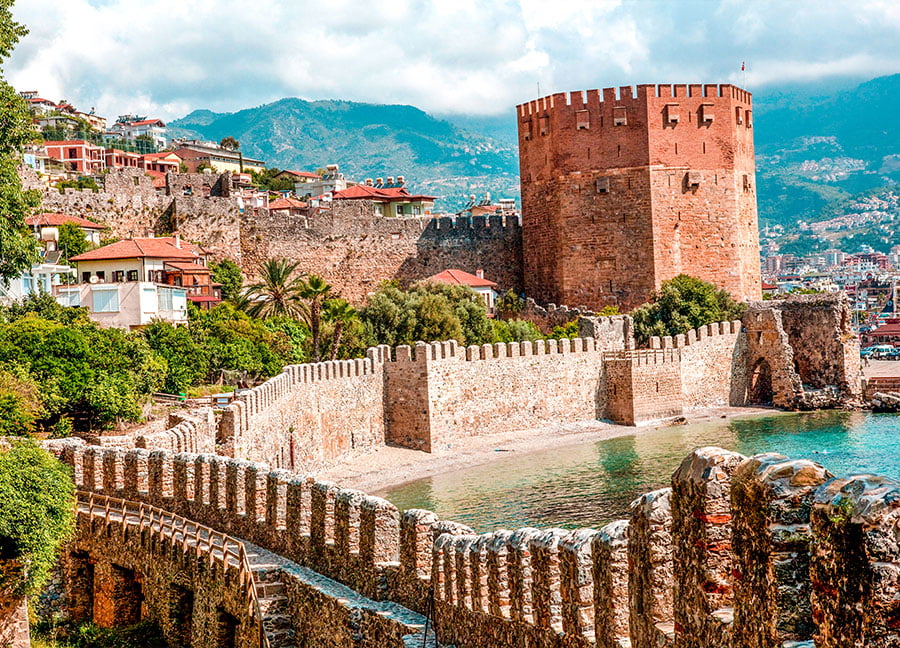 Alanya Castle is the famous landmark of the town and so for Antalya. A must see place. The castle is situated on a hill-top overlooking the beautiful Mediterranean coast. You can access there by a 3,5 km. long road that is also a very ideal for hiking and trekking lovers.
When you reach the castle, you'll definitely admire the panoramic views of Alanya, as well as the well-preserved ruins and the shell of Byzantine church dating back to 11th century.
Alanya Archaeological Museum
The Archeological Museum of Alanya is a must for art and history lovers. The museum has 14 closed halls and one open exhibition hall. Several archaeological artifacts are exhibited in the first section of the museum.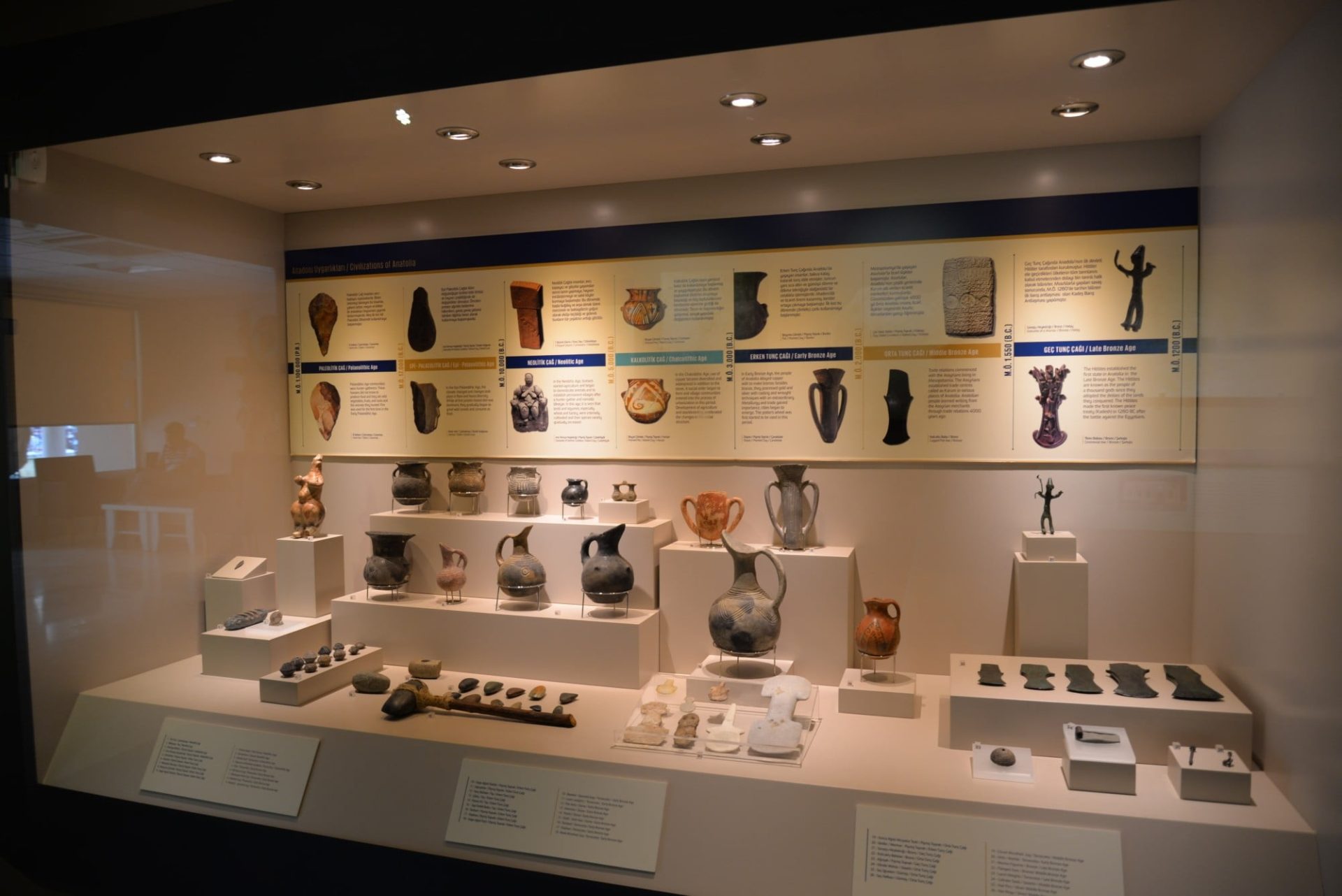 In this section, you can admire numerous works belonging to Phrygia, Lydia, Greek and Byzantines who lived before and after, as well as the rich collection of coins from various eras that many kings and emperors issued in their own names, and the bronze cast Heracles statue of the 2nd century after Christ, the symbol of the museum.
In the second section where ethnographic works are exhibited, artifacts from the Seljuk and Ottoman periods and an old Alanya house room are worth seeing.
You'll also see different plant, fruit and animal species in the museum garden, where Bronze Age, Urartian, Phrygian and Lydian artifacts and Hellenistic pottery and rich Roman archaeological artifacts are exhibited.
Alanya Pirate Boat Trip with Lunch and Drinks
If you're seeking a unique and exhilarating experience during your holiday in Alanya, look no further than the Alanya Pirate Boat Trip. This 6-hour adventure combines stunning coastal views, visits to enchanting caves, refreshing swims in turquoise waters, and a delectable BBQ lunch on board.
Tandem Paragliding Experience
Are you ready to experience the ultimate adrenaline rush and witness the breathtaking beauty of Alanya from a whole new perspective? Look no further than tandem paragliding! This thrilling activity offers an unparalleled opportunity to soar through the sky, feel the wind in your hair, and marvel at the stunning coastal scenery of Alanya. Whether you're seeking a moment of serenity or an adrenaline-fueled adventure, tandem paragliding is an experience that will leave you with unforgettable memories.
Green Canyon Boat Trip from Antalya, Manavgat, Side, Alanya
Are you ready to escape the hustle and bustle of city life and immerse yourself in the tranquil embrace of nature? Join us on a Green Canyon Boat Trip from Manavgat, Side, Antalya and embark on a journey of breathtaking beauty and relaxation. Cruise along the emerald green lake, be captivated by the rare brown fish owls, and marvel at the stunning Taurus Mountains.
Damlatas Cave
Damlatas Cave was found in 1948 during the pit opening for the stone to be used in the construction of the harbor. The cave is situated on the west coast of the historical peninsula. There is a 50-meter passage at the entrance of the cave. After the passage reaching 15 meters in height, a cylindrical cavity is reached.
From here you can go down to the floor of the cave. The stalactites and stalagmites of the cave, which is located in semi-crystalline limestone, were formed in 15 thousand years. The cave is named Damlatas (drop stone in Turkish) because of the drops of water that continue to drip from the stalactites.
In addition to its enchanting beauty, the cave is famous for its air that is good for asthma patients. You'll find many patients who sit in the cave for a certain period of time under the supervision of a doctor and apply a treatment cure for 21 days.
There is an entrance fee to the cave. There is also a small market around, and the Damlatas beach at the coast.
Boat Tour
Embark on a boat tour along the coastline of Alanya, where you can relax on deck, swim in secluded bays, and admire the stunning views of the Mediterranean Sea.
Beaches
Cleopatra Beach
The Cleopatra beach is the main and famous beach of Alanya. It was famous for the Egyptian Queen Cleopatra coming to the Mediterranean every year to come here and swim, and this place was later named after Cleopatra.
It is a 2 km. long blue-flagged and fine sandy beach that is starting from the end of the nearby Damlatas beach. The beach has shallow and crystal clear waters. Its fine golden sands, shallow and warm sea attracts holidaymakers.
Entrance is free of charge. You'll find a range of buffets and fast food on the beach promenade.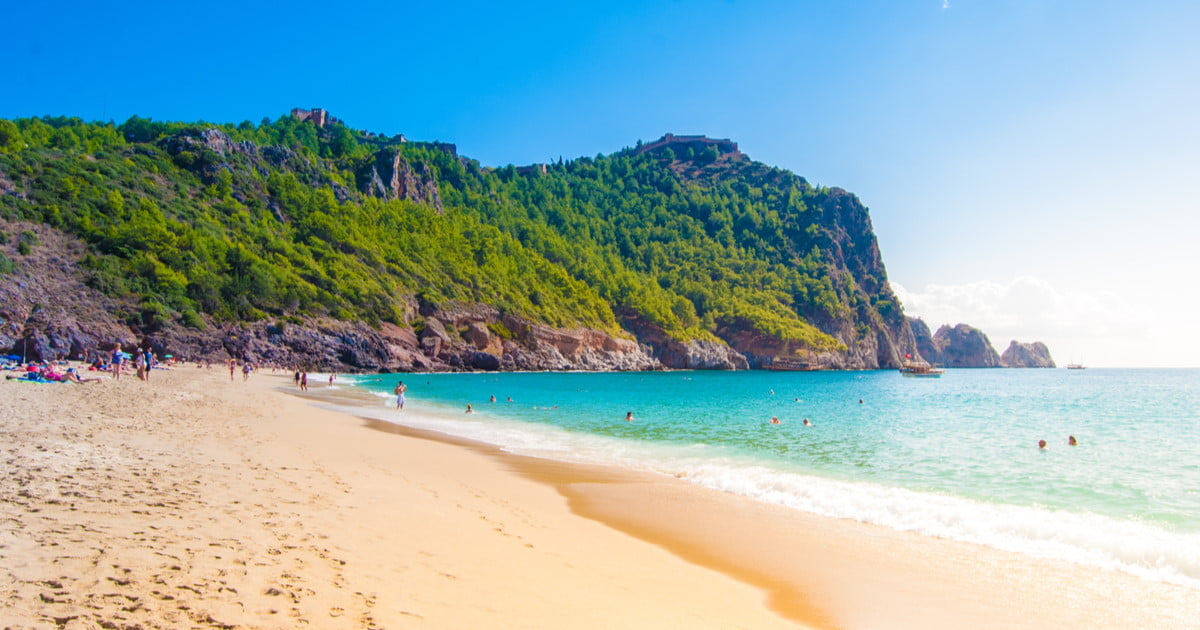 Damlatas Beach
Situated at the western end of the historic Alanya peninsula, Damlataş beach is one of the most renowned beaches in the area. This Blue Flag beach, known for its fine, pristine sand and shallow, crystal-clear waters, offers an enchanting setting for sunbathing and swimming.
Incekum Beach
Situated approximately 23 kilometers west of Alanya, Incekum Beach is known for its golden sands and crystal-clear waters. The name "Incekum" translates to "fine sand" in Turkish, which perfectly describes the beach's soft and powdery sand. This spacious beach stretches for about 1.5 kilometers and is surrounded by pine forests, creating a picturesque setting.
The beach is a 1 km. long fine sandy and blue-flagged beach. It has shallow waters which attracts its visitors and very ideal for camping lovers, and especially families with kids.
See all best beaches in Alanya >>
Sealanya Dolphinpark Seapark
Sealanya Dolphinpark Seapark offers an unforgettable experience where you can witness the magic of dolphins, seals, and other marine creatures up close. Immerse yourself in the captivating shows, interact with the animals, and enjoy thrilling water attractions at the Aquapark.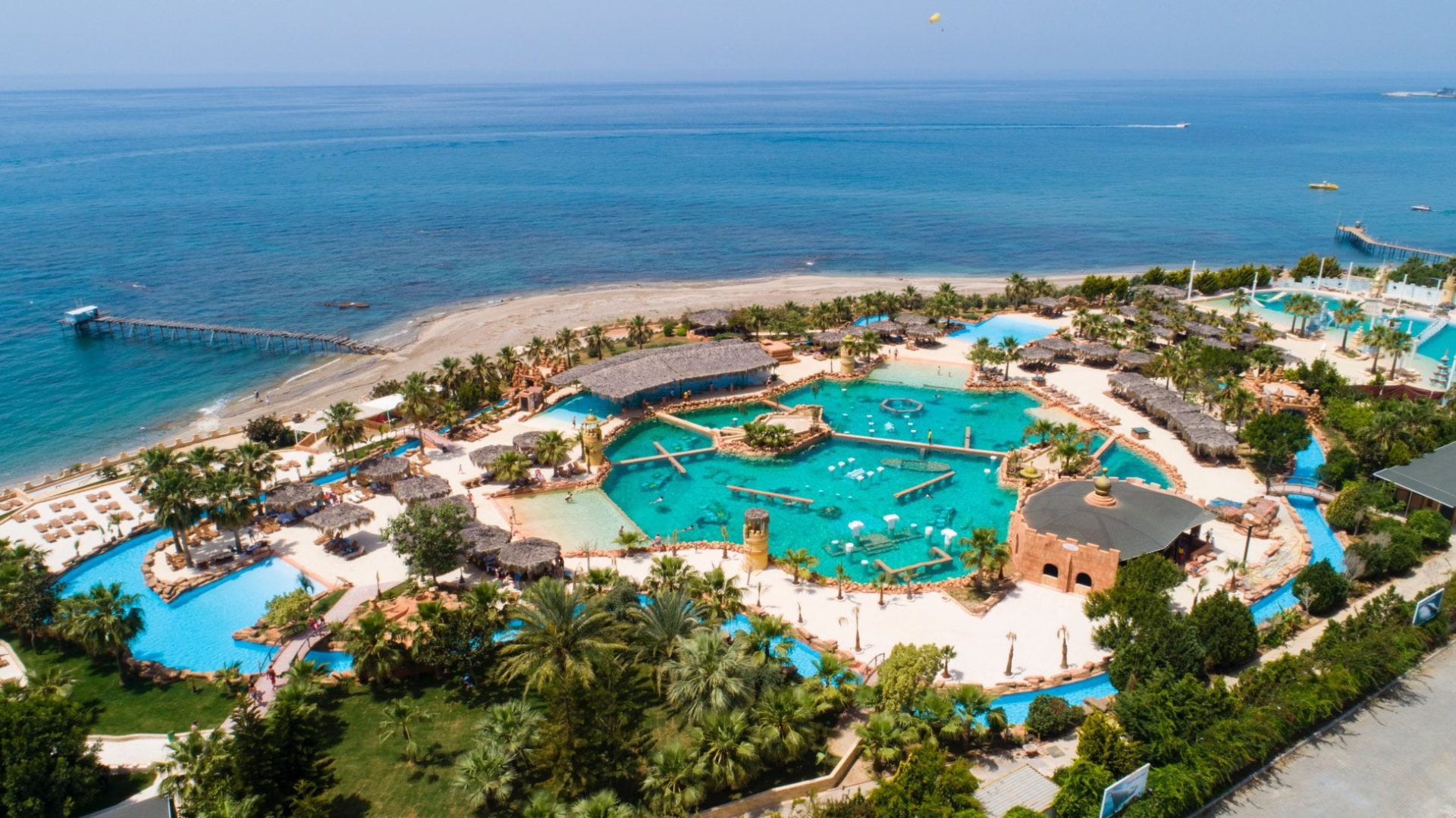 With its dedication to education, conservation, and entertainment, Sealanya Dolphinpark Seapark guarantees a day filled with wonder, joy, and lifelong memories. So, during your visit to Alanya, make sure to dive into the enchanting world of Sealanya Dolphinpark Seapark for an experience that will leave you inspired and in awe of the remarkable marine life.
Daily Tours & Excursions from Alanya
Dine & Wine
Alanya is a food lover's paradise, offering a wide array of dining options that cater to all tastes and preferences. Whether you're a fan of traditional Turkish cuisine or looking for international flavors, you'll find something to satisfy your cravings. Here are some popular options:
Turkish Cuisine: Experience the authentic flavors of Turkish cuisine by indulging in local dishes such as kebabs, mezes (appetizers), pide (Turkish pizza), and fresh seafood. Don't miss the opportunity to try traditional desserts like Turkish delight and baklava.
Seafood Restaurants: Being a coastal city, Alanya is renowned for its fresh seafood. Head to the waterfront restaurants and enjoy a variety of fish, shrimp, calamari, and other delicious seafood specialties.
International Cuisine: Alanya also boasts a vibrant international food scene. You'll find restaurants serving Italian, Mexican, Asian, and other global cuisines, ensuring that there's something to please every palate.
Street Food: For a quick and flavorful bite, explore the local street food stalls and try favorites like gözleme (savory stuffed pancakes), simit (sesame bread rings), and döner kebabs.
Shopping
Shopping enthusiasts will be delighted by the variety of shopping experiences available in Alanya. From bustling markets to modern shopping centers, you'll find plenty of opportunities to shop for souvenirs, fashion, local crafts, and more. Here are some notable shopping destinations:
Alanya Bazaar: Immerse yourself in the vibrant atmosphere of Alanya's bazaar, where you'll find a wide range of goods including textiles, spices, ceramics, leather goods, and traditional Turkish crafts.
Alanya Shopping Centers: Visit modern shopping centers like Alanyum and TerraCity, which house a mix of local and international brands, boutiques, and department stores. Explore the stores, grab a coffee, and enjoy a day of retail therapy.
Local Handicrafts: Discover unique handmade crafts at shops and stalls scattered throughout Alanya. Look for items such as carpets, jewelry, ceramics, and intricately designed Turkish lamps to bring home as souvenirs.
Nightlife
When the sun goes down, Alanya's nightlife comes alive with a vibrant atmosphere and entertainment options to suit all preferences. Whether you prefer a laid-back evening or a lively night out, Alanya has something for everyone. Here are some options:
Beach Clubs: Experience the ultimate beachside nightlife by visiting the lively beach clubs along the coastline. Dance to the beats of live DJs, sip on refreshing cocktails, and enjoy the energetic ambiance.
Bars and Pubs: Alanya is home to numerous bars and pubs catering to different tastes. Whether you're into sports bars, Irish pubs, or cocktail lounges, you'll find a variety of venues to enjoy a night out with friends or unwind after a long day of exploring.
Nightclubs: Dance the night away at Alanya's nightclubs, where you can enjoy a mix of music genres, live performances, and themed parties. Experience the vibrant atmosphere and create unforgettable memories on the dance floor.
Lodging
In Alanya, you'll find a wide range of accommodation options to suit every budget and preference. From luxurious resorts to cozy boutique hotels and budget-friendly hostels, there's something for everyone. Here are some popular lodging choices:
Resorts and All-Inclusive Hotels: Alanya is known for its stunning beachfront resorts offering luxurious amenities, spa facilities, and breathtaking views of the Mediterranean Sea. These resorts often provide all-inclusive packages, allowing guests to enjoy meals, drinks, and various activities within the resort premises.
Boutique Hotels: For a more intimate and personalized experience, consider staying at one of Alanya's boutique hotels. These smaller-scale accommodations offer unique charm, stylish décor, and personalized services, ensuring a memorable stay.
Budget-Friendly Hotels and Guesthouses: If you're traveling on a budget, there are plenty of affordable hotel options and guesthouses in Alanya. These accommodations provide comfortable rooms, essential amenities, and a warm and welcoming atmosphere.
Holiday Apartments and Villas: For those seeking more space and privacy, renting a holiday apartment or villa can be a great option. Alanya offers a variety of rental properties with amenities such as fully equipped kitchens, private pools, and stunning sea views.
Hostels: Backpackers and budget-conscious travelers can find affordable and sociable accommodation options in Alanya's hostels. These provide shared dormitory-style rooms or private rooms at a reasonable price, along with communal spaces where you can meet fellow travelers.
No matter where you choose to stay in Alanya, you can expect warm hospitality, comfortable accommodations, and easy access to the city's attractions and amenities. Make your stay in Alanya even more memorable by selecting a lodging option that suits your preferences and needs.
With a diverse range of dining options, shopping experiences, vibrant nightlife, and comfortable lodging choices, Alanya offers a complete holiday experience for all types of travelers. Embark on an unforgettable journey and create lasting memories in this captivating coastal city.
Plan your Visit to Alanya
Planning a trip to Alanya? Here are some essential tips to help you make the most of your visit:
Best Time to Visit
The best time to visit Alanya is during the spring (April to June) and autumn (September to November) when the weather is pleasant and temperatures are mild. Summers can be hot and crowded, while winters are mild but may have limited tourist activities.
Duration of Stay
A typical visit to Alanya can range from a few days to a week, depending on your interests and available time. This allows you to explore the city's attractions, enjoy the beach, and take day trips to nearby destinations.
Getting to Alanya:
By Air: The nearest airport to Alanya is Gazipaşa-Alanya Airport (GZP), which is approximately 45 kilometers away. Another option is Antalya Airport (AYT), located about 125 kilometers from Alanya. From the airport, you can arrange private transfers, take a taxi, or use public transportation to reach Alanya.
By Road

: Alanya is well-connected by road, and you can reach the city by bus or car. The main bus station in Alanya is the Alanya Otogar, which offers regular services from various cities in Turkey.
Transportation in Alanya:
Public Transportation: Alanya has an efficient and affordable public transportation system, including buses and dolmuş (shared taxis). These are convenient options for getting around the city and exploring nearby areas.
Taxis

: Taxis are readily available in Alanya and can be hailed on the street or booked through a taxi company. Make sure the meter is running or negotiate the fare before starting your journey.

Car Rental: Renting a car gives you the flexibility to explore Alanya and its surrounding areas at your own pace. Many car rental companies operate in the city, and you can book in advance or upon arrival.
Currency and Language
The official currency in Turkey is the Turkish Lira (TRY). Most businesses in Alanya accept credit cards, but it's advisable to carry some cash for smaller establishments. The official language is Turkish, but English is widely spoken in tourist areas.
Safety
Alanya is generally a safe city for tourists. However, it's always a good practice to take basic safety precautions, such as being aware of your surroundings, avoiding isolated areas at night, and securing your belongings.