Alanya is a superb holiday resort of Antalya where it has also been a settling place for foreigners for many years. With its history, sea, sand, sun and modern hotels, Alanya has become a brand not only in the country but also in the worldwide tourism sector. Here you'll find a quick travel guide to Alanya including top things to do, sights to visit, best places to stay, eat, drink, and all tourist info you need plus insider advice.
For the ones who are seeking for a relaxing and calm holidays with some scenic views, historical sites, as well as beautiful beaches, Alanya will be a great choice for sure. You'll find loads of fantastic Alanya excursions. The resort is situated about 133 km. on the east of Antalya city center, and 124 km. from Antalya Airport.
The resort is also a combination of old and new with plenty of lively bars, clubs, restaurants and shops in the new town, and a gorgeous castle in the old town.
Video Tour
History
Alanya has been home to Klikya, Pamfilya, Hittites, Greeks and Romans during the ancient times. During the Byzantine period, it was named "Kolonoros" which means beautiful mountain and changed to "Alaiye" during the Seljuk period.
The town was the winter capital of the state during the Seljuk period, than joined the Ottomans lands during the reign of Fatih Sultan Mehmet.
Things to Do & See
Alanya is a lively and modern town. You'll find wide range of quality shops, designer boutiques, bars, clubs and restaurants and bars to make your holidays great here.
You'll also find monumental buildings such as old city walls, Kizilkule, Tersane, Tophane, the old Alanya houses that were restored and used in the castle that worth a visit and see.
The old town of Alanya is very impressive with its lovely narrow streets and traditional stone houses. In some of these old houses, weaving is done in old looms or food service is provided in their gardens.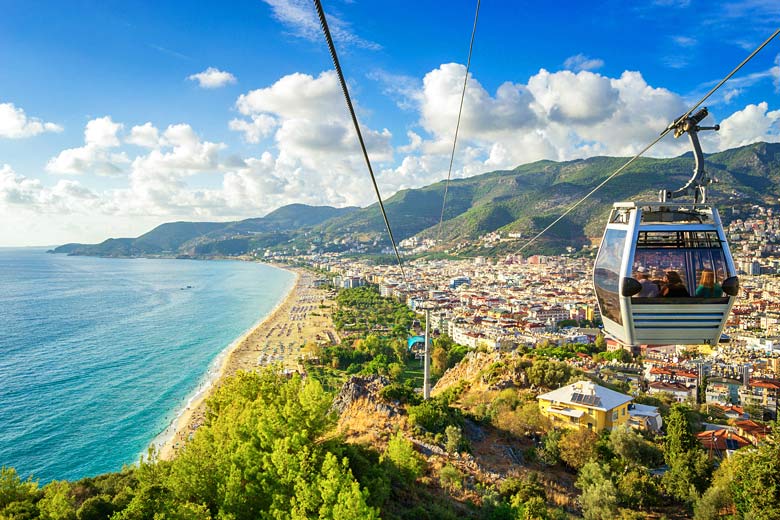 The Konakli town is a popular place situated about 16 km. from Alanya town center where both locals and tourist spend a great day out at its range of cafes, bars, restaurants, shops plus a big sandy beach.
Alanya Castle
Alanya Castle is the famous landmark of the town and so for Antalya. A must see place. The castle is situated on a hill-top overlooking the beautiful Mediterranean coast. You can access there by a 3,5 km. long road that is also a very ideal for hiking and trekking lovers.
When you reach the castle, you'll definitely admire the panoramic views of Alanya, as well as the well-preserved ruins and the shell of Byzantine church dating back to 11th century.
Alanya Archaeological Museum
The Archeological Museum of Alanya is a must for art and history lovers. The museum has 14 closed halls and one open exhibition hall. Several archaeological artifacts are exhibited in the first section of the museum.
In this section, you can admire numerous works belonging to Phrygia, Lydia, Greek and Byzantines who lived before and after, as well as the rich collection of coins from various eras that many kings and emperors issued in their own names, and the bronze cast Heracles statue of the 2nd century after Christ, the symbol of the museum.
In the second section where ethnographic works are exhibited, artifacts from the Seljuk and Ottoman periods and an old Alanya house room are worth seeing.
You'll also see different plant, fruit and animal species in the museum garden, where Bronze Age, Urartian, Phrygian and Lydian artifacts and Hellenistic pottery and rich Roman archaeological artifacts are exhibited.
Damlatas Cave
Damlatas Cave was found in 1948 during the pit opening for the stone to be used in the construction of the harbor. The cave is situated on the west coast of the historical peninsula. There is a 50-meter passage at the entrance of the cave. After the passage reaching 15 meters in height, a cylindrical cavity is reached.
From here you can go down to the floor of the cave. The stalactites and stalagmites of the cave, which is located in semi-crystalline limestone, were formed in 15 thousand years. The cave is named Damlatas (drop stone in Turkish) because of the drops of water that continue to drip from the stalactites.
In addition to its enchanting beauty, the cave is famous for its air that is good for asthma patients. You'll find many patients who sit in the cave for a certain period of time under the supervision of a doctor and apply a treatment cure for 21 days.
There is an entrance fee to the cave. There is also a small market around, and the Damlatas beach at the coast.
Beaches
Cleopatra Beach
The Cleopatra beach is the main and famous beach of Alanya. It was famous for the Egyptian Queen Cleopatra coming to the Mediterranean every year to come here and swim, and this place was later named after Cleopatra.
It is a 2 km. long blue-flagged and fine sandy beach that is starting from the end of the nearby Damlatas beach. The beach has shallow and crystal clear waters. Its fine golden sands, shallow and warm sea attracts holidaymakers.
Entrance is free of charge. You'll find a range of buffets and fast food on the beach promenade.
Damlatas Beach
The Damlatas beach is a beautiful one that is situated right in front of the historical Damlatas Cave. It is also a blue-flagged one and very popular around Alanya region.
Incekum Beach
The Incekum Beach is situated very close to Alanya, in a lovely environment and shaded by pine trees. The beach area is also a popular camping place.
The beach is a 1 km. long fine sandy and blue-flagged beach. It has shallow waters which attracts its visitors and very ideal for camping lovers, and especially families with kids.
Dine & Wine
You'll find plenty of authentic and great restaurants and have excellent dining experiences in Alanya. Majority of the both authentic and modern cafes, bars and restaurants are situated at the old town and harbor area with magnificent views of the Mediterranean.
Traditional Turkish cuisine is a must and are on offer with range of soups and dishes from fresh caught fish, meat, grilled kebabs, vegetable dishes, as well as fresh salads and delicious desserts.
You can also find the distinguished flavors of world and European cuisine here. For those who want to have fun after dinner, Alanya nightlife offers a wide range of quality options for clubbers.