Welcome to Side, a picturesque town located on the southern coast of Turkey in the beautiful province of Antalya. With its blend of ancient ruins, stunning beaches, and vibrant culture, Side offers a unique holiday experience that combines history, relaxation, and natural beauty. In this guide, we will take you on a virtual tour of Side, highlighting its attractions, activities, and reasons why it should be at the top of your travel list.
What to Expect?
Side is a famous holiday resort of Antalya, famous for its great historical sites, its old town with pretty stone houses, ancient walls, Roman amphitheater and Temple of Apollo & Athena, lovely beaches, cafes and restaurants. The resort is situated about 72,5 km. on the east of Antalya city center, and 63,4 km. from Antalya Airport.
When you visit Side, you can expect a delightful mix of history, natural beauty, and a relaxed coastal ambiance. Here's what you can look forward to:
Ancient Ruins
Side is renowned for its well-preserved ancient ruins that showcase the town's rich history. You'll find impressive landmarks such as the Temple of Apollo, the Theater, and the Roman Baths that transport you back in time.
Stunning Beaches
Side is blessed with beautiful beaches that stretch along the turquoise Mediterranean Sea. Whether you prefer long sandy stretches or secluded coves, Side offers a range of beaches to suit every preference.
---
No Regrets Booking Advice
---
Charming Old Town
The heart of Side is its charming old town, where you can wander through narrow streets lined with historic buildings, browse boutique shops, and sample delicious local cuisine.
Water Sports and Activities
Side is a haven for water sports enthusiasts. From snorkeling and scuba diving to jet skiing and parasailing, there are plenty of thrilling activities to keep you entertained.
Boat Trips
Take a boat trip from Side's harbor to explore the stunning coastline, swim in crystal-clear waters, and discover hidden caves and bays. It's a fantastic way to enjoy the beauty of the region from a different perspective.
If you're seeking adventure, relaxation, and the opportunity to explore the stunning coastline of Side and Manavgat, look no further than the daily boat trips available in the region.
History
History of Side dates back to 8th century BC. The ancient city had its own language and its name means "pomegranate".
The region was under the rule of the Lydians, Persians and finally Alexander the Great until the 7th century.
Later on, the city used to had pirate attacks for decades and finally has become a province of the Romans.
And after the 7th century, the city was weakened by the Arab attacks and crusades, and than completely abandoned from the beginning of the 12th century.
Why Holiday in Side?
There are numerous reasons why Side should be your next holiday destination. Here are just a few:
Rich History
Side boasts a fascinating history that dates back thousands of years. As you wander through the ancient ruins and walk along the streets, you'll feel the weight of history and experience the unique charm of a town steeped in antiquity.
Beach Paradise
With its idyllic beaches and crystal-clear waters, Side is a dream destination for beach lovers. Relax on golden sands, soak up the sun, and take refreshing dips in the turquoise sea.
Cultural Experiences
Side offers a range of cultural experiences, from exploring ancient ruins to watching traditional Turkish performances. Immerse yourself in the local culture and discover the vibrant traditions that make Side so special.
Natural Beauty
Surrounded by stunning natural landscapes, Side is a paradise for nature enthusiasts. From the lush greenery of the Taurus Mountains to the picturesque Manavgat River, the region offers breathtaking vistas at every turn.
Warm Hospitality
The friendly and welcoming locals of Side are known for their warm hospitality. You'll be greeted with open arms and made to feel like a part of the community, creating a memorable and enjoyable holiday experience.
Top Things to Do & See
Side offers great attractions for every kid of traveler. From ancient city remnants, history and art attractions to lovely beaches and lively nights, choices are endless here. You'll find loads of fantastic Side excursions.
The Ancient City of Side & the Old Town
The ancient city of Side is accepted as one of the most visited and best historical sights in the Antalya region. The site dates back to the 2nd century AD and situated on a very visible place, on the end of the peninsula of Side resort.
The site is situated on the Side peninsula just by the coast, and along a very well preserved Old Town, and consists of an Agora, a Roman Amphitheater, a Roman Bathhouse (now serving as Side Museum), a monumental fountain, and world famous Temple of Apollo & Athena.
The old town of Side is situated on a headland of the region, right by the sea. The region also houses several beautiful beaches, impressive beachfront and some high quality hotels.
You can start your day here by strolling along the narrow streets and head up to the Roman amphitheater that is a unique part of the ancient city of Side. The structure has a half moon shape and features good samples of the Roman architecture.
The Roman bathhouse is a 2nd century structure and comes next. It was converted into Side Museum in 1959-1961. The Museum exhibits variety of artifacts and findings from the excavations made on the archaeological site.
Following the road to the coast along the peninsula, you'll reach to the world famous temple of Apollo & Athena.
The Temple of Apollo and Athena is the most visited and the most popular landmark here. It dates back to the 2nd century and has been dedicated to the Greek god of light and sun.
The area is also great place to watch the sunset. Many visit here, sit between the marble arches and watch the sunset in the company of scenic views of the Mediterranean and take photos.
The Roman bathhouse is a 2nd century structure and comes next. It was converted into Side Museum in 1959-1961. The Museum exhibits variety of artifacts and findings from the excavations made on the archaeological site.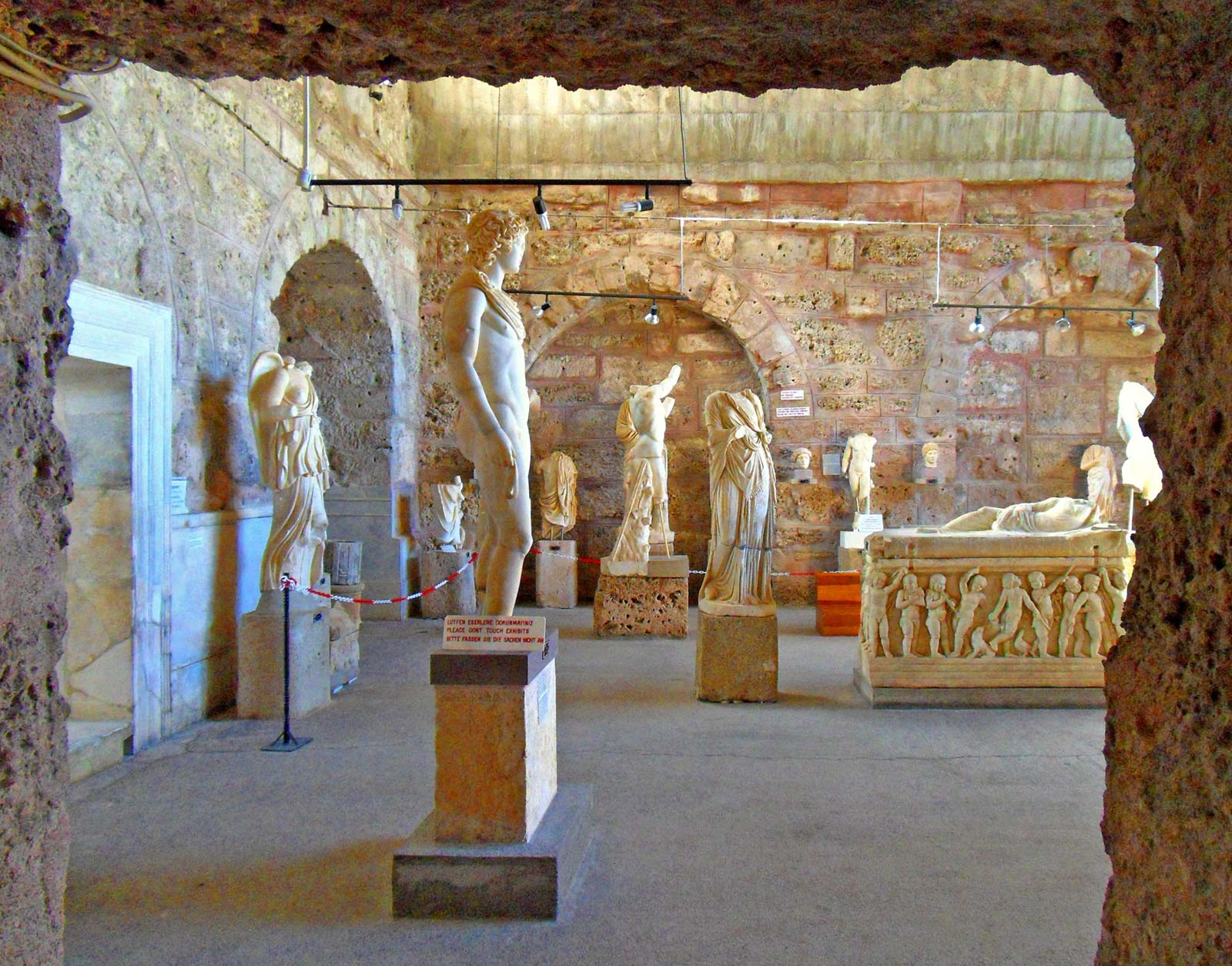 The Three Beauties Sculpture dating back to 2nd century is a must see piece at the museum. It symbolizes the elegance, beauty and abundance, and represents Hera, Aphrodite and Athena.
After the museum visit, the road will take you back to the Roman amphitheater. Here, you can enjoy the beautiful views of the Mediterranean on one side and the view of the Old Town on the other.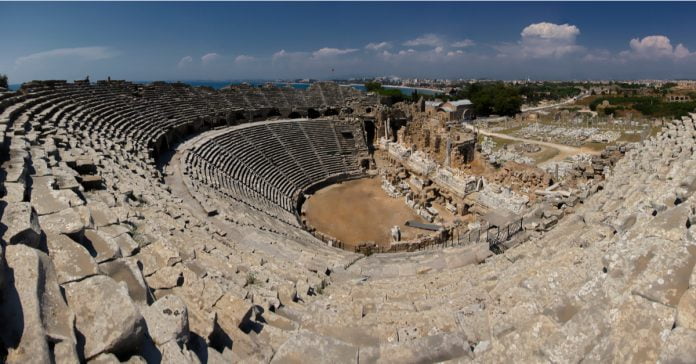 When you're done with exploring the historical sites here, you can reward yourself with a very nice meal with some authentic Turkish mezze, or have a resting drink in one of the beach cafes and restaurants around the old town.
Beaches & Water Sports
Besides its historical heritage and lively town center, Side has over 10 km. stretch of beautiful beaches, offer lots of water sports activities and boat excursions.
You can find about 6 beautiful beaches in Side and nearby districts. They include the Side Big and Small public beaches, Seaside Beach Lounge, Sorgun beach, Kumkoy beach, Evrenseki beach and Colakli beach.
Wanna read more on Side beaches?
Stroll through the Old Town
Take a leisurely stroll through Side's charming Old Town, known as Kaleiçi. Admire the well-preserved Roman and Byzantine architecture, browse the boutique shops selling handicrafts and souvenirs, and stop at a traditional tea house to savor a cup of Turkish tea.
Dine on Fresh Seafood
Indulge in a culinary delight by trying the fresh seafood dishes that Side is famous for. From grilled fish to shrimp casserole, there are plenty of restaurants offering mouthwatering seafood options. Don't forget to sample other traditional Turkish dishes like kebabs and mezes.
Sunset Views at the Harbor
Take a leisurely walk along Side's picturesque harbor and witness a breathtaking sunset over the Mediterranean Sea. Find a cozy cafe or waterfront restaurant to enjoy the view while sipping on a refreshing drink.
Green Canyon Boat Trip
Are you ready to escape the hustle and bustle of city life and immerse yourself in the tranquil embrace of nature? Join us on a Green Canyon Boat Trip from Manavgat, Side, Antalya and embark on a journey of breathtaking beauty and relaxation. Cruise along the emerald green lake, be captivated by the rare brown fish owls, and marvel at the stunning Taurus Mountains.
Manavgat River Cruise and Market Tour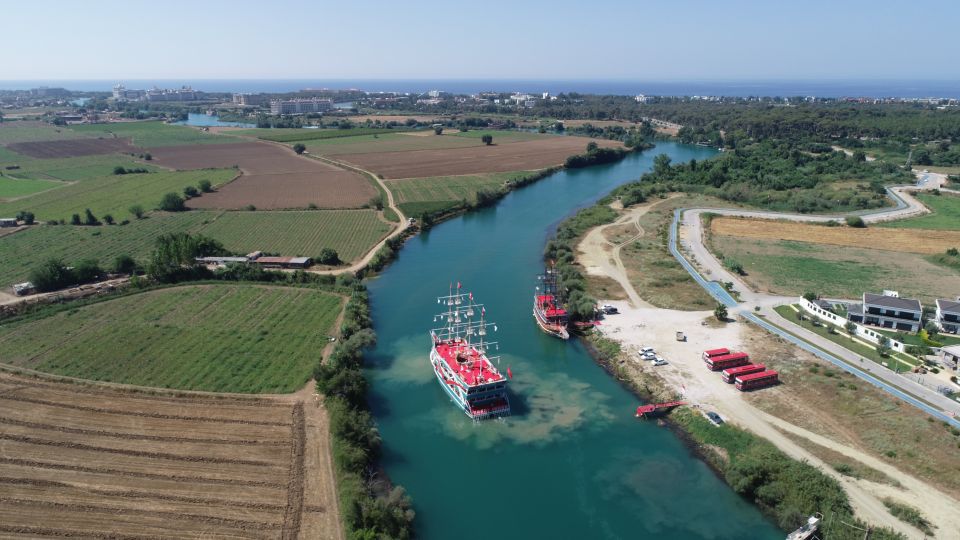 If you're looking for a unique and immersive experience during your holiday in Side and Manavgat, the Manavgat River Cruise and Market Tour is an absolute must-do. This full-day excursion combines breathtaking natural landscapes, cultural exploration, and a taste of local life.
Nearby Sights
Manavgat, Sorgun and Colakli are the nearby places to explore and admire, that are all situated close to Side.
Manavgat is a famous town with its world famous Manavgat Waterfall and natural parks. Sorgun is a lovely place with great natural beauties and pine forests. Colakli is a nice place where you can enjoy a good range of cafes, bars, restaurants and shops.
Manavgat Waterfall
Manavgat Waterfall is one of the most popular waterfalls in Turkey. Located in the pretty town of Manavgat in Antalya, here you can have a fantastic and fun day out with the spectacular views of waters cascading from a height of about 5 meters from the river bed.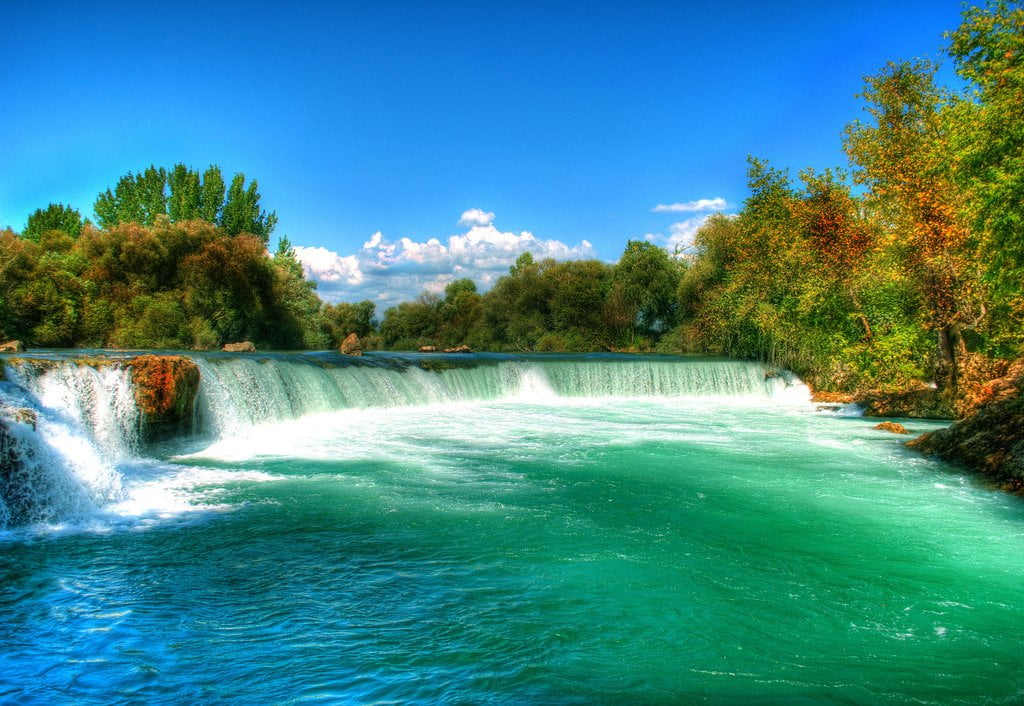 Just a short distance from Side, the Manavgat Waterfall offers a refreshing escape into nature. Witness the cascading waters as they flow down the rocks, and enjoy a boat ride on the river to fully appreciate the natural beauty of the area.
Visit the Manavgat Market
Immerse yourself in the vibrant atmosphere of the Manavgat Market, where locals and tourists alike gather to shop for fresh produce, spices, textiles, and handicrafts. Experience the colors, scents, and flavors of the local culture as you explore the bustling stalls.
Day Trip to Aspendos
Just a short drive from Side, visit the ancient city of Aspendos, famous for its remarkably well-preserved Roman theater. Marvel at the impressive architecture and imagine the grand performances that once took place within its walls.
Daily Tours & Excursions from Side
Dine & Wine
Side offers a wide range of dining options, from traditional Turkish cuisine to international dishes. Here are some notable places to try:
Side Harbor Restaurants: Enjoy fresh seafood at the waterfront restaurants in Side Harbor, where you can savor grilled fish, calamari, and other delicious seafood specialties while enjoying the picturesque views.
Kaleiçi Restaurants: Explore the narrow streets of Side's Old Town, Kaleiçi, and discover charming restaurants serving traditional Turkish dishes. Sample mezes (appetizers), kebabs, and authentic Turkish desserts for a true culinary experience.
Rooftop Restaurants: For a romantic dinner or a scenic dining experience, head to one of the rooftop restaurants in Side. These establishments offer stunning views of the sea and the town, creating a memorable setting for your meal.
Shopping in Side
Side is a shopper's paradise, offering a variety of shopping experiences. Here are some places to explore:
Side Shopping Center: Located in the heart of the town, Side Shopping Center is a modern mall where you can find a range of shops selling clothing, accessories, electronics, and more.
Side Market: Wander through the vibrant stalls of Side Market, where you can browse and haggle for souvenirs, textiles, spices, and local handicrafts. Don't forget to try your bargaining skills to secure the best deals.
Boutique Shops: Take a stroll along the streets of Side's Old Town, Kaleiçi, and discover charming boutique shops selling unique items such as handmade jewelry, ceramics, and leather goods.
Nightlife in Side
Side offers a vibrant nightlife scene with various bars and clubs catering to different tastes. Here are some options:
Beachfront Bars: Enjoy a cocktail or a cold beer at one of the beachfront bars in Side. Relax on comfortable loungers while listening to music and taking in the lively atmosphere.
Music Bars and Clubs: Dance the night away at one of Side's music bars and clubs, where you can enjoy live performances, DJs, and a mix of genres, including pop, rock, and Turkish music.
Lodging in Side
Side offers a wide range of accommodations to suit different budgets and preferences. Here are some popular options:
All-Inclusive Resorts: Experience luxury and convenience by staying at one of the all-inclusive resorts in Side. These resorts offer a range of amenities, including pools, spa facilities, and various dining options.
Boutique Hotels: Opt for a charming boutique hotel in Side's Old Town, Kaleiçi, where you can enjoy personalized service, unique decor, and a cozy atmosphere.
Beachfront Hotels: Choose a beachfront hotel for easy access to Side's beautiful sandy beaches. Wake up to stunning views of the sea and enjoy the convenience of being just steps away from the water.
Plan Your Trip to Side
To make the most of your time in this beautiful coastal town, here are some tips and recommendations to help you plan your trip:
Best Time to Visit
Side enjoys a Mediterranean climate, with hot summers and mild winters. The peak tourist season is during the summer months (June to September) when the weather is hot and the beaches are bustling. Spring (April to May) and autumn (October to November) offer milder temperatures and fewer crowds, making them great times to visit if you prefer a more relaxed atmosphere.
Getting There
The nearest airport to Side is Antalya International Airport, which is well-connected to major cities in Turkey and various international destinations. From the airport, you can take a taxi, arrange a private transfer, or use public transportation to reach Side. Buses and minibusses run regularly between Antalya and Side.
Duration of Stay
A typical visit to Side can range from a few days to a week, depending on your preferences and available time. If you're interested in exploring the historical sites, relaxing on the beaches, and enjoying the local cuisine, a five to seven-day stay would be ideal. However, even a shorter stay can provide a glimpse into the beauty and charm of Side.
Transportation
Side is a compact town that can easily be explored on foot. The main attractions, including the ancient ruins and the harbor, are within walking distance from each other. To venture further or explore nearby areas, you can rent a car, hire a taxi, or use public transportation such as buses and minibusses.
Safety
Side is generally a safe destination for travelers, but it's always wise to take basic precautions. Keep an eye on your belongings, especially in crowded areas, and be cautious when dealing with street vendors or engaging in any financial transactions.
Currency and Language
The official currency in Turkey is the Turkish Lira (TRY), and English is widely spoken in tourist areas. However, learning a few basic Turkish phrases can go a long way in enhancing your experience and showing respect to the local culture.