Antalya Aquarium is a great leisure area situated in Antalya city center. A nice entertainment place especially for families with kids. It is the biggest tunnel aquarium in the world, showcases the diverse life of the Indian Ocean, Red Sea, Atlantic Ocean, and Pacific Ocean in 4 different thematic aquariums, Snow World and Ice Museum, tropical reptile house named WildPark, Oceanride XD Cinema, restaurant and cafes.
What to Expect?
You'll definitely enjoy world's marine life here in Antalya Aquarium. You'll explore and enjoy;
40 thematic aquariums,
the rivers of Asia as well as the Nile and Amazon,
the Tropical Reef section with living corals, clown fish, seahorses, lion fish, octopus and giant morays,
the thematic section named the shark tank.
The first section of the tunnel displays one of the largest tropical reef decorations of the world.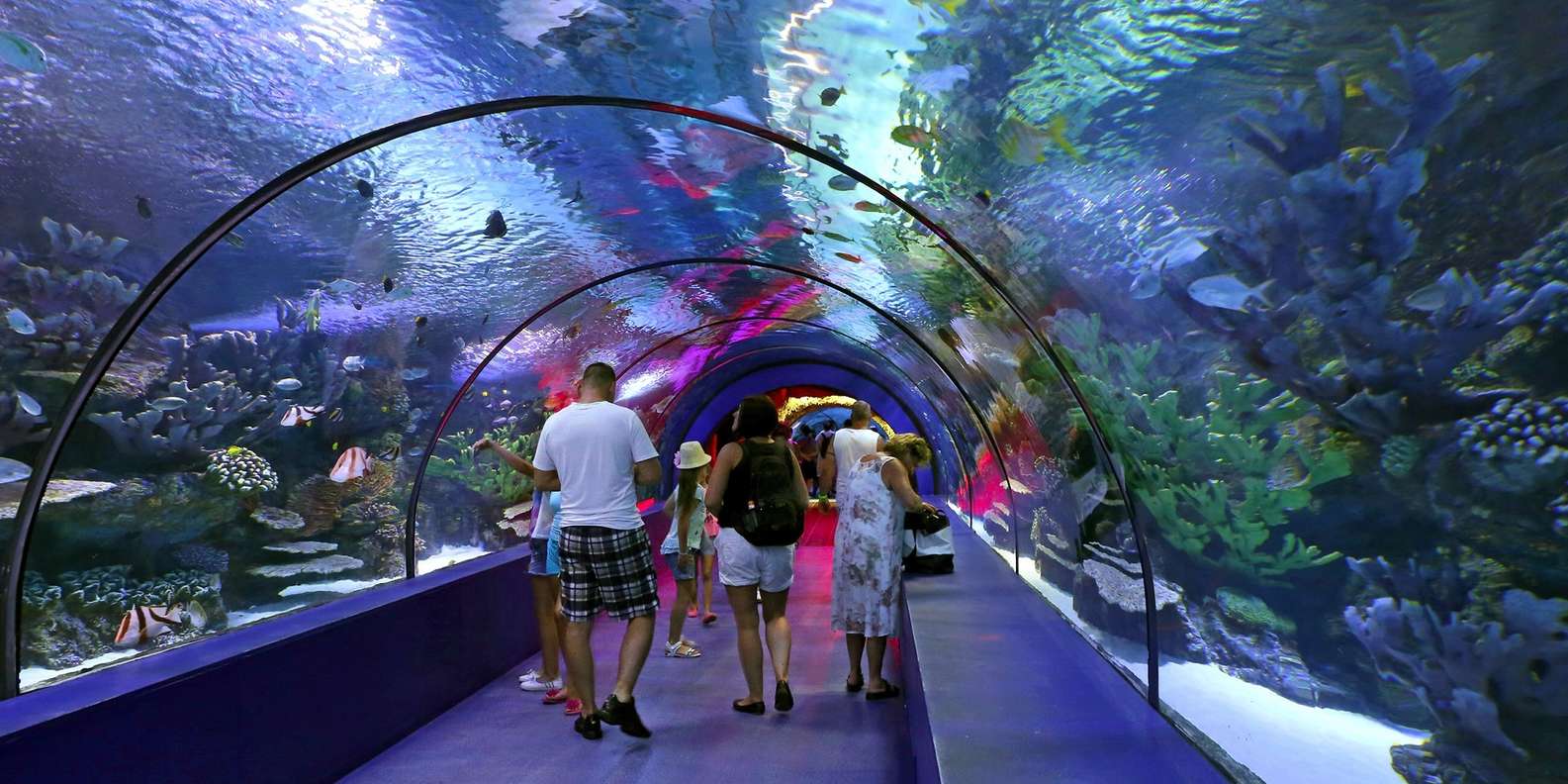 The second section of the tunnel displays the lost city of Atlantis, and than leads to the pirate shipwreck observation point.
At the Snow World section, you can make snow balls from real snow, while you'll be excited among the most poisonous and very strange species at the Wild Park (a tropical reptile house).
You can enjoy sailing through the seas with the multi-dimensional movie technology in the Oceanride XD Cinema.
And at the souvenirs section, you can collect your memories to photos using Hollywood green screen backgrounds.
Visiting Hours & Admissions
Opening Hours
Open every day (Sunday – Thursday: 10:00 – 20:00, Friday, Saturday: 10:00 – 21:00)
Ticket Price
starting from €29,98
How to Get There?
Location
Antalya Aquarium is situated between the Migros 5M Shopping Mall, Minicity and Hillside Su Hotel on the eastern corner of the Konyaalti beach, in central Antalya. See location map
Contact Details
Address: Arapsuyu, Dumlupinar Boulevard. No: 502, Konyaalti/Antalya
Tel: +90 242 245 65 65, Web: antalyaaquarium.com