Here on this page, you can find useful information and answer to the frequently asked question, "How to get from Antalya Airport (AYT) to Belek, and vice versa?". We put together all the transportation options including insider tips to help you plan your trip between Antalya Airport (AYT) and Belek easily.
Some Practical Info & Advice
* Antalya Airport (AYT) is situated on the north easterly Antalya city center. Average distance from airport to Belek is about 32,8 km.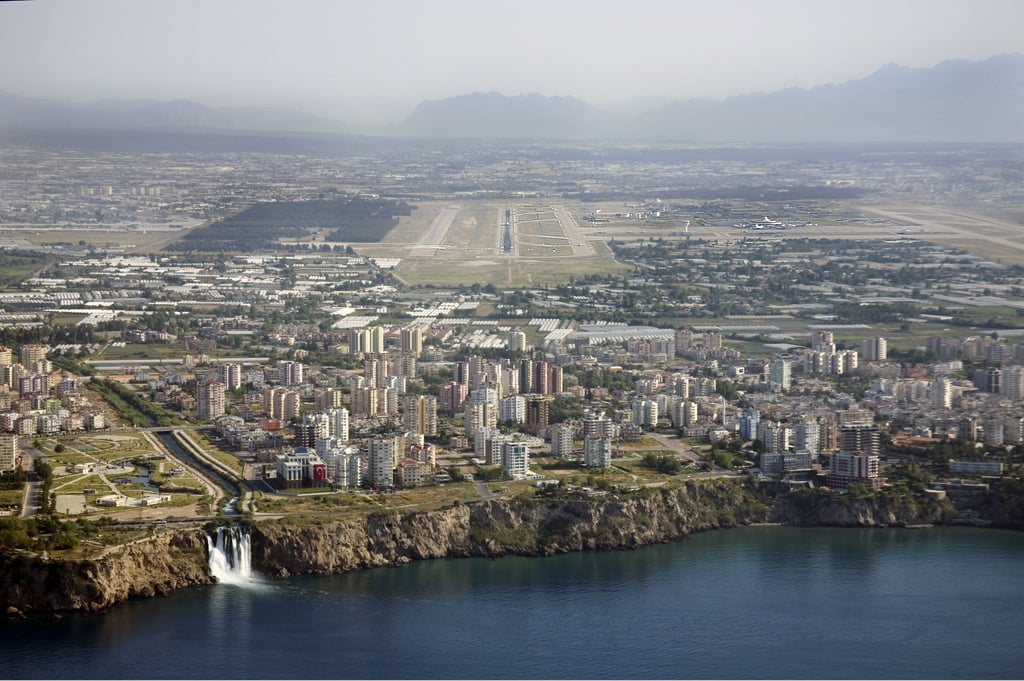 * Antalya Airport Code is AYT, Tel: +90 242 444 74 23 , Web : antalya-airport.aero
* It takes about 30 minutes to get to Belek from AYT by taxi or private shuttle.
* You can travel between Antalya Airport and Belek directly by taxi or private shuttle.
---
No Regrets Booking Advice
---
* When getting to Antalya Airport (AYT) from city center or any resort that you are on holiday, we highly recommend you schedule your time to be at the airport at least 1,5 hours for domestic flights and 2,5 hours for international flights.
* When we count the minimum transfer time of average 1,5 hours plus 30 minutes possible traffic, you should arrange your transfer in between airport and your hotel/resort at least 3 to 3,5 hours before your flight.
* Turkish Liras – You can obtain currency exchange before traveling to Antalya or on arrival. We recommend you to obtain Turkish Liras (TRY ot TL) in Turkey as the exchange rates are usually better in Turkey and you can find exchange offices in Antalya airport and through whole Antalya resorts. You can get TL from the many ATM machines located inside the Antalya Airport's arrival, departure terminals and parking area. When you get Turkish liras we also recommend you to also have small banknotes like 5 TL, 10 TL, 20 TL or 50 TL.
* Your Hotel's Address – We recommend you to have your accommodation address and telephone number with you. There is big number of hotels in the Antalya region so that you or taxi drivers may get confused. You may need to check your hotel address or call your hotel.
Antalya Airport to/from Belek FAQs
How far is Belek from Antalya Airport?
Belek is located about 32,8 km. on the south eastern of Antalya Airport (AYT).
How long does it take to get to Belek from Antalya Airport?
It takes about 30 minutes to get to Belek by taxi or private shuttle. If you take buses from the Intercity Bus terminal, you should expect 30 minutes from the airport to city center and 45 minutes by midibuses to Belek from bus terminal.
What is the best way to get from Antalya Airport to Belek?
The Private Shuttle is the most comfortable, fastest and convenient way to travel between the airport and Belek, especially if you are traveling with kids and luggage.
How much is taxi from Antalya airport to Belek?
Taxi would cost at least 405 TL from Antalya Airport to Belek. It may cost more regarding your hotel's location and waiting time due to possible traffic.
How to Get to/from Antalya Airport to your hotel in Belek?
You'll find several good options to get to from the Antalya Airport (AYT) to Belek or vice versa. Below we gathered all the information and options and tried to explain them to help you make your decision regarding on your needs and budget.
Option 1: Tram/Public Bus/HAVAS Airport Shuttle + Midibus
With this option, you'll get from the Antalya Airport to Intercity Bus Terminal in the Antalya city center. From there you'll need to change vehicle and take midibuses operating in every 30 minutes to Belek. We don't recommend this as it will be difficult with ones taveling with families and with luggage.
The Antray Tram, Antobus public buses, and HAVAS Airport Shuttles operate in between Antalya Airport and Antalya city center.
The Antray Tram line is the light rail system operated by the Antalya Municipality, and consists of two lines including Airport Line and Expo Line.
The Airport Line operates between Antalya Airport and Fatih station along the city center. You can easily get to city center with this line.
There are several public bus services (Tel: +90 242 444 3 708) from the Antalya Airport. The public bus shuttle (No:600) operates in every 30 minutes between Antalya Airport and Antalya Intercity Bus Terminal (Otogar).
Public Bus Line 600
You can take the Public Bus 600 for getting to Intercity Bus Terminal from the airport. It takes about 45-60 minutes to get to there.
Route/Stops: Antalya Airport – TEDAS – Topcular – Meydan – Mevlana – Markantalya – 100. Yil – State Hospital – Meltem – Akdeniz University – Tip Fakultesi – Ogretmenevi – Erasta Shopping Mall – Intercity Bus Terminal
Check the timetables from antalya-ulasim.com
The HAVAS Airport Shuttles operate on a regular fixed route to Antalya city center and Intercity Bus Terminal. The shuttles depart in every hour (during day time) front of the Domestic Arrivals.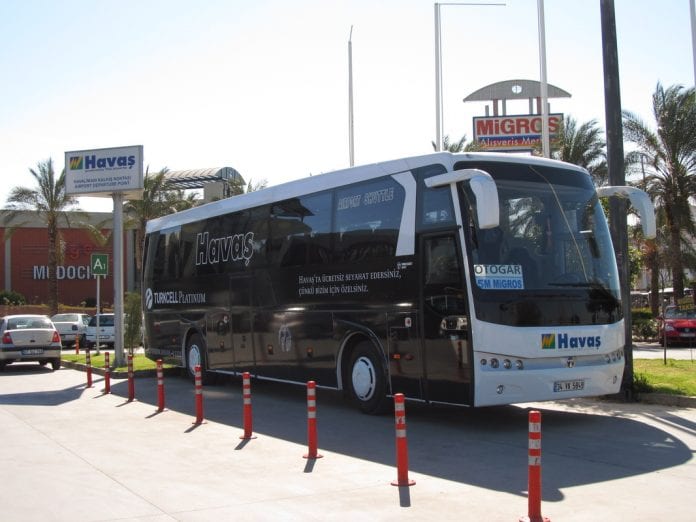 From the Antalya Intercity Bus Terminal to Belek, you'll need to take the minibuses operating in every 30 minutes.
Please check prices from havas.net
Option 2: Taxi
Taking a taxi to get to your hotel is another option. Taxi ranks are located outside the terminal so you should walk some. You should know that Antalya Airport is far away from Belek. According to the 2023 taxi fares for Antalya, the taxi-meter switch on price is 10 TL and 12 TL per kilometer.
There is no day and night difference. If we make a calculation, regarding you will take a local taxi from the Antalya airport to Belek within an average distance of 33 km, the taxi fare for will be around 405 TL. It may also cost you more depending where your hotel is, possible traffic and the taxi driver's possible drive to your hotel from different long routes.
Option 3: Private / Shared Shuttle Transfer (Recommended)
If you are a group or a family with kids or having lots of luggage with you, than we highly recommend you to take private transfers for your hotel as they offer a fixed rate, comfortable and safe transfer to your hotel in Lara beach.
The public bus/tram/HAVAS airport shuttle will bring you to Antalya Intercity Bus Terminal and from there you'll need to take a midibus or taxi for Belek, which will be very hard for you with your kids and luggage. But private transfers drives you just to the entrance of your hotel.
When you take private transfers, the driver also meets you inside the airport terminal with your name written on a plate. And he accompanies you for the transfer and also he helps you with your luggage like where to take them and even carry them to the shuttle. And as there is a fixed price, you will not have to worry or deal with price calculations.
Private Shuttles to/from Antalya Airport – Belek
As for private airport shuttle transfers, there are 2 options to consider. We highly recommend Tranigo and Airporttransfer.com (partnered with renowned names like Hertz, Thrifty, Budget, and many reliable and efficient local suppliers) as we recently booked with them had a great trip to our hotel.
Tranigo
Tranigo is a Turkish company operating since 1996. They have variety of different and good models of cars ranging from Micro for 3 passengers to Minibuses for 19 passengers and also offer child seats. They met us inside the airport, helped with our luggage, brought us in front of the hotel and there also helped us with our luggage.
* Below you can click on the destination you need an airport transfer or make a search from the search box under to entire Antalya region to find the prefect private shuttle and transfer service from Antalya Airport (ATY) to your hotel in any Antalya resort and vice versa.
Faster and more comfortable than shuttles, buses and taxis. Free cancellation. All prices include fees & tip.
Book Shuttle for Antalya Airport –> Belek
Book Shuttle for Belek –> Antalya Airport
---
Airporttransfer.com
Airporttransfer.com is another very good airport transfer company. You are able to find many transport options with very affordable prices. You can book a private airport transfer from Antalya airport to Antalya city centre and all surrounding resorts of Antalya with a 100% refund privilege!
Airporttransfer.com offers a hassle-free transfer service for all airport passengers. Below you can make a search from the search box under to find your prefect private or shared shuttle transfer service in between Antalya Airport and your hotel.



---