If you are planning a holiday to Antalya region, you can be sure that you'll find great holiday resorts and towns that all offer a combination of sea, sun, beaches, relaxation, history, culture and nightlife. All are a must for having a lively beach holiday and on the list of top tourist attractions. Antalya definitely has something for everyone looking for a perfect family and beach holidays.
Here you can find our pick of top-rated tourist attractions in Antalya region including the best Antalya excursions, tours and day trips, all the best things to do and see when you're exploring the huge Mediterranean resort.
Top Excursions & Day Tours from Antalya
There are plenty of attractions, tours, and excursions in Antalya to suit all types of travelers, from families with kids to adventure seekers.
Antalya Old Town (Kaleici)
Antalya Old Town, also known as Kaleici, is the heart of the city's history and culture. This charming old quarter is home to narrow streets, traditional Ottoman houses, and ancient Roman ruins.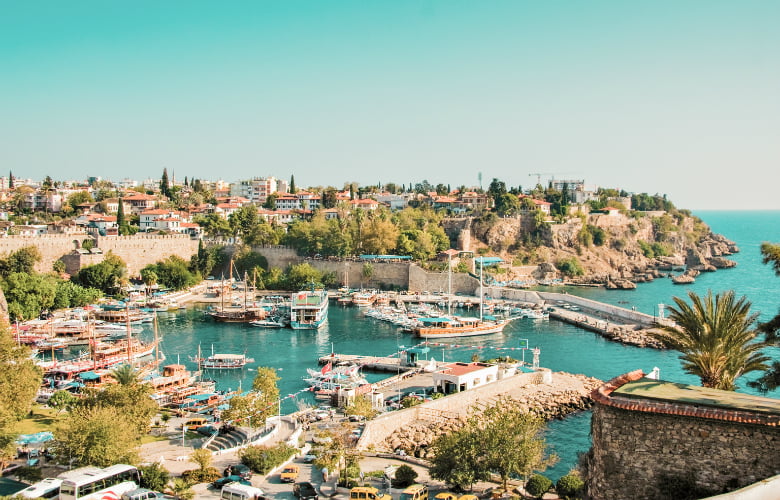 The historic harbor, Hadrian's Gate, and the Antalya Museum are just a few of the attractions you'll find here. You can also take a stroll through the old bazaar, where you can shop for souvenirs and enjoy traditional Turkish cuisine.
---
No Regrets Booking Advice
---
Duden Waterfalls
The Duden Waterfalls are a must-see attraction for anyone visiting Antalya. Located just outside the city, these stunning waterfalls cascade down over cliffs into the Mediterranean Sea.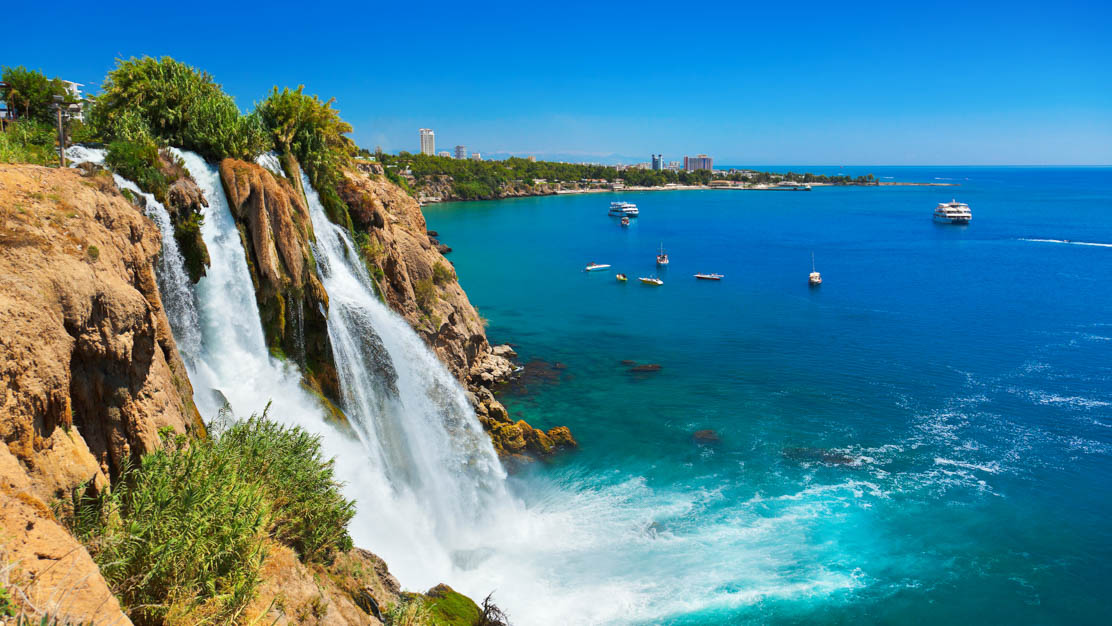 You can take a boat tour or simply walk around the falls to enjoy the spectacular views. There are also plenty of restaurants and cafes nearby where you can enjoy a meal or a drink while taking in the natural beauty.
Perge Ancient City
Perge Ancient City is one of the best-preserved ancient sites in Turkey. Located just a short drive from Antalya, this ancient city was once a thriving commercial center during the Roman Empire.
Today, visitors can explore the ancient ruins, including the city walls, the Roman theater, and the Temple of Artemis. There's also a museum on site where you can learn more about the history of the city.
Antalya Aquarium
The Antalya Aquarium is one of the largest aquariums in Europe and a great attraction for families with kids.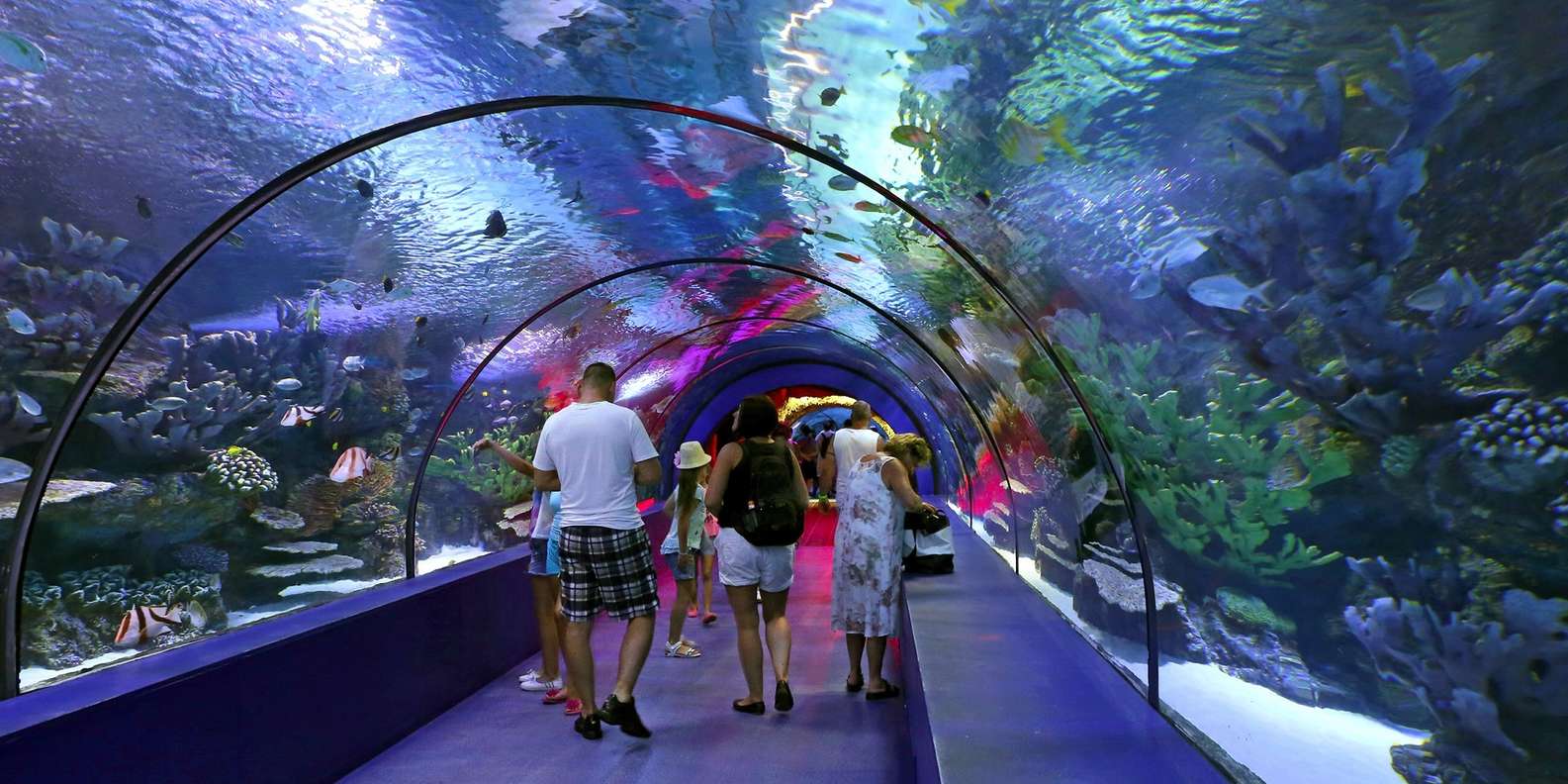 This modern aquarium features over 40 themed aquariums, including a tunnel aquarium where you can walk through a tank full of sharks and other sea creatures. There's also a 5D cinema, a snow world, and a tropical reptile house.
Quad Safari Tour
For adventure seekers, a Quad Safari Tour is a great way to explore the rugged terrain around Antalya. These off-road tours take you through forests, rivers, and mountains, with plenty of opportunities to take in the stunning scenery. Whether you're an experienced quad rider or a beginner, there are plenty of tour options to choose from.
Turkish Bath (Hamam) & Spa Experience
No trip to Turkey is complete without a visit to a traditional Turkish bath, or hamam. There are plenty of hamams in Antalya, where you can relax and unwind with a traditional steam bath, scrub, and massage. This is a great way to experience Turkish culture and indulge in a bit of pampering.
Boat Tour
A boat tour is a great way to explore the coastline and see Antalya from a different perspective. You can take a traditional wooden gulet boat tour, where you can swim in crystal-clear waters, enjoy a BBQ lunch, and take in the stunning scenery. There are also catamaran tours and luxury yacht tours for those looking for a more upscale experience.
Taurus Mountains Jeep Safari
For a truly unique experience, take a Taurus Mountains Jeep Safari tour. You'll travel off-road through the Taurus Mountains, taking in stunning views of the landscape and stopping at local villages to experience Turkish traditions and hospitality.
Koprulu Canyon Rafting & Hiking Tours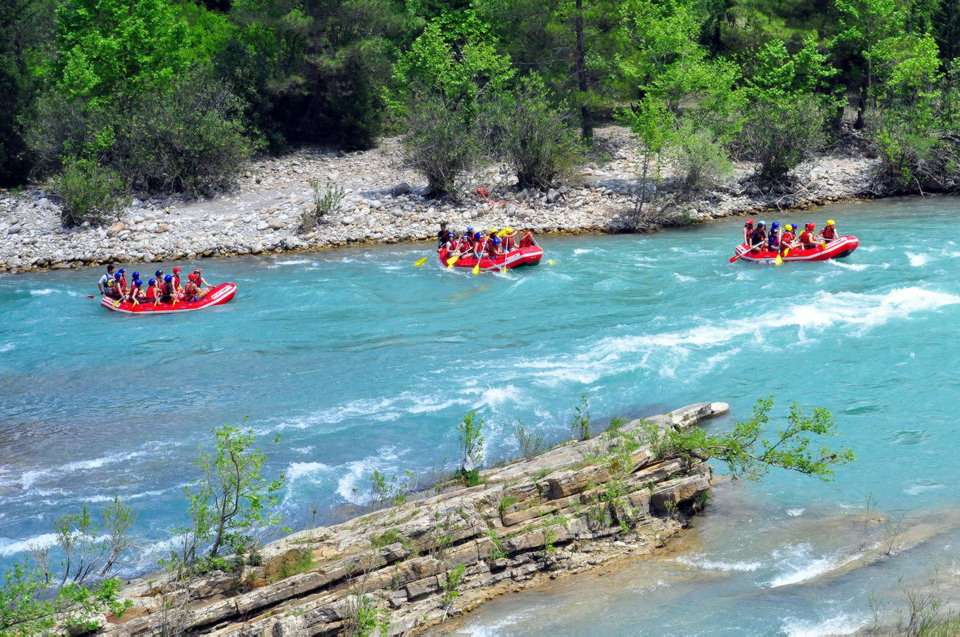 Are you looking for an adrenaline-packed adventure that will take your breath away? Look no further than Koprulu Canyon, located just a short drive from Antalya. Known for its white water rafting and trekking, Koprulu Canyon offers an unforgettable experience for those seeking a rush of excitement and a chance to explore the stunning natural beauty of the area.
Demre, Myra & Kekova Tour
Travel back in time with a full-day tour of the ancient cities of Demre and Myra, as well as the sunken city of Kekova. Explore the well-preserved ruins of these fascinating historical sites, including the famous rock-cut tombs of Myra.
Antalya Cable Car
Are you looking for a unique and breathtaking experience during your trip to Antalya? Look no further than Mount Tahtali and the Sea to Sky Cable Car! This adventure offers stunning views of the surrounding mountains and the Mediterranean Sea, and is an experience you won't soon forget.
Parasailing Adventure
Get a bird's eye view of Antalya's coastline with a parasailing adventure. Soar high above the Mediterranean Sea and enjoy breathtaking views of the mountains, beaches, and historic landmarks.
Top Selling in Antalya