Welcome to the charming coastal town of Kas, where the delights of shopping await you. Nestled along the turquoise shores of the Mediterranean Sea, Kas offers a unique and captivating shopping scene that is sure to entice any visitor. From traditional handicrafts to trendy fashion, Kas has something to suit every taste and style. Join us as we embark on a shopping adventure through the enchanting streets of Kas, discovering the hidden treasures and must-visit shopping destinations that make this town a shopper's paradise.
Shopping Scene of Kas
A Quaint Haven for Shopaholics
Kas may be a small town, but it packs a big punch when it comes to shopping. The town's narrow cobblestone streets are lined with an array of boutique stores, art galleries, and souvenir shops, creating a vibrant and eclectic shopping scene. With its relaxed atmosphere and friendly locals, shopping in Kas becomes a delightful experience where you can immerse yourself in the town's unique charm.
Authentic Turkish Souvenirs
Kas is the perfect place to find authentic Turkish souvenirs that reflect the rich cultural heritage of the region. From handcrafted ceramics to intricately woven textiles, these treasures make for meaningful keepsakes or gifts for loved ones. Embrace the local craftsmanship and take home a piece of Kas with you.
What to Buy in Kas
1. Handicrafts and Artwork
Kas is renowned for its local artisans who create stunning handicrafts and artwork. Here are some of the must-buy items:
Ceramics: Explore the exquisite collection of hand-painted ceramics, including decorative plates, bowls, and tiles. These colorful pieces showcase the traditional Turkish artistry and make for stunning home decor.
Textiles: Discover the intricate weavings and patterns of Turkish textiles, such as kilims and carpets. These handwoven pieces are not only beautiful but also serve as a tangible reminder of the region's cultural heritage.
2. Jewelry and Accessories
Kas offers a range of unique jewelry and accessories that are sure to catch your eye. Consider these items:
Silver Jewelry: Admire the craftsmanship of Turkish silversmiths as you browse through the exquisite silver jewelry. From delicate necklaces and bracelets to ornate rings and earrings, these pieces are both timeless and elegant.
Turkish Evil Eye: The Turkish Evil Eye, or "Nazar Boncugu," is a traditional talisman believed to bring good luck and protect against negative energy. You'll find a variety of Evil Eye jewelry, keychains, and decorative items in Kas.
Best Areas & Places to Make Shopping in Kas
1. Uzun Carsi (Long Market Street)
---
No Regrets Booking Advice
---
Uzun Carsi is the main shopping street in Kas, where you'll find a wide range of shops, boutiques, and cafes. Stroll along this charming street and explore the diverse offerings, including:
Fashion Boutiques: Discover trendy fashion boutiques that showcase the latest Turkish and international designs. From bohemian-inspired dresses to chic swimwear, you'll find fashionable pieces to enhance your wardrobe.
Souvenir Shops: Browse through the souvenir shops lining Uzun Carsi and find unique mementos to remember your time in Kas. From handmade trinkets to traditional Turkish tea sets, there's a treasure waiting for everyone.
2. Local Markets
Immerse yourself in the lively atmosphere of Kas's local markets, where you can experience the authentic flavors and vibrant colors of the town. Some popular markets include:
Friday Market: Every Friday, Kas comes alive with the bustling Friday Market. This vibrant market offers a wide variety of fresh produce, aromatic spices, and local delicacies. It's the perfect place to immerse yourself in the local culture and indulge in delicious treats.
Artisans' Market: Held on specific days, the Artisans' Market brings together local artisans and craftsmen who showcase their unique creations. From handmade jewelry and pottery to traditional textiles and leather goods, this market is a treasure trove of local talent.
3. Kas Marina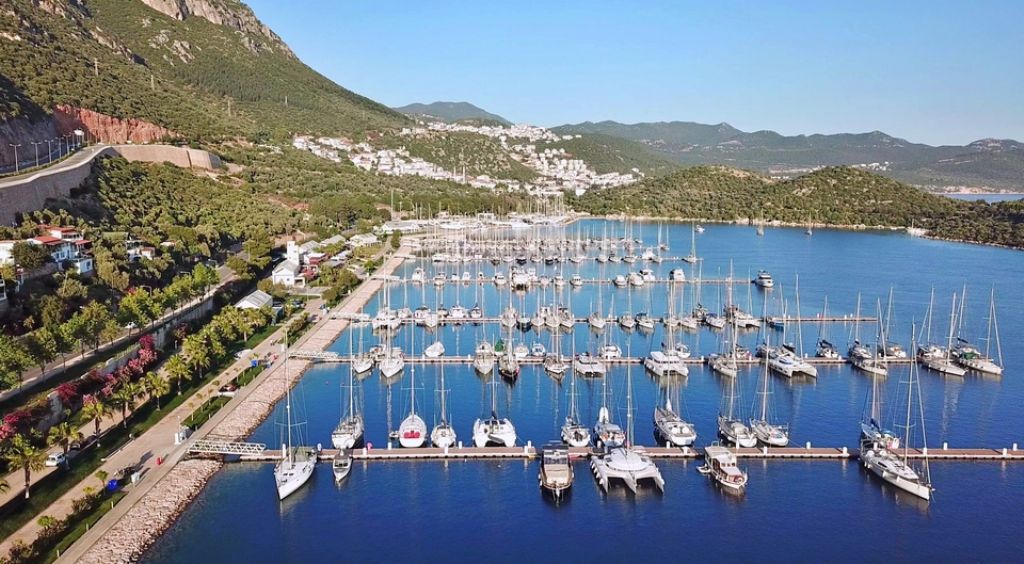 For a touch of luxury shopping, head to Kas Marina. Here, you'll find upscale boutiques offering high-end fashion, accessories, and home decor. Take a leisurely stroll along the marina and treat yourself to a little indulgence.
Conclusion
Kas is a hidden shopping gem on the Turkish Riviera, where you can uncover unique treasures and experience the warmth of Turkish hospitality. With its diverse range of shops, markets, and boutiques, Kas offers a shopping experience like no other. Whether you're in search of authentic handicrafts, stylish fashion, or one-of-a-kind souvenirs, Kas has it all. So, venture into the charming streets, immerse yourself in the local culture, and let the magic of Kas guide you to unforgettable shopping discoveries. Happy shopping!