Antalya, known as the Pearl of the Mediterranean and the Turkish Riviera, is one of the most popular tourist destinations in both Turkey and Europe. Situated on the Mediterranean coast of southern Turkey, the Antalya region is home to great holiday resorts and towns that all offer a combination of sea, sun, beaches, relaxation, history, culture and nightlife. The region is very ideal for family or beach holidays as it has a year-round sunshine.
Welcome to Antalya – the Ancient Megacity!
If there is a fascinating spot on Earth where ancient and modern times beautifully merged along its 440 kilometers coastline of the mesmerizing Mediterranean Sea, a.k.a. Akdeniz, which housed countless civilizations that had once emerged on the stage for centuries – it is the city of Antalya – la Perle du Turkey!
Surrounded by enormous mountains which are beautifully unified with blue-flag beaches and the mesmerizing Mediterranean Sea along with its historical texture and natural beauties, Antalya – the ancient paradise and global holiday spot for tourism is one of the must-visit gems on Earth. Hosted countless ancient civilizations that were continuously inhabited by Romans, Persians, Egyptians, Byzantines, Greek, and Ottomans for thousands of years, it was also under the rule of Lycia, Lydia, Pamphylia, Pergamon, Seljuk, and the Republic of Turkey.
The buzz all across the city is hard to calm down where millions of tourists flock together to explore this impressive paradise full of accessible bays, canyons, caves, buffs, idyllic beaches, gorgeous waterfalls, awesome ancient cities, traditional houses with preserved structures straddled around the narrow streets leading to the harbor with entertainment and dining options, and so much more.
Today, there are ceaseless reasons to explore this unique city of Antalya which draws significant attention with its hotels, restaurants, bars, souvenirs, museums, galleries, dozens of historic and entertainment venues with fascinating shows every night of the week.
Whether you're visiting Antalya in summer, winter, fall, or spring, make sure you'll have plenty of experiences and won't miss a thing on your worthy trip to make the most of the season in its lovely natural setting harmonized elegantly with ample historical sites and monuments. Spare your time to visit any sort of entertainment you might desire; world-class museums, famous landmarks, nightlife, and taste the truly international myriad of cuisines!
---
No Regrets Booking Advice
---
In Antalya, everyone fits in – and it is a way of life! There is no other place that delivers such unforgettable family experiences quite like Antalya! All the inspiration, family-friendly itineraries, and practical details you'll need to choose your adventure are waiting for your company to cherish!
What to Expect?
Majority of the holiday resorts and towns in Antalya region, and together with the Antalya city are all set along beautiful Mediterranean coasts with pine forested mountains at the backdrop.
The region hosts wide range accommodation opportunities from ultra all inclusive and all inclusive hotels, 5 star, 4 star, 3 star hotels to boutique hotels, apartments, holiday villas and bungalows.
The region also has a rich Roman history that you can see and explore at the many archaeological sites and ancient cities spread through both inland and coast.
If you want to do something different during your hotel stay, you can simply visit these historical sites, explore the ancient ruins, temples, theaters and have a great day out in the company of the ancient world.
Antalya Region's Facts
Here you'll find;
One of the best holiday resorts to have a great family or beach holidays such as Kemer, Side, Belek, Alanya, and Lara beach,
Very impressive archaeological sites and ancient cities to explore such as Perge, Side, Phaselis, Olympos and Demre,
Great cultural attractions to experience and enjoy such as Aspendos Opera and Ballet Festival and Golden Orange Film Festival,
Natural wonders and charming places to admire such as Tahtali Monutain, Chimaera, Duden, Manavgat and Kursunlu Waterfalls, Goynuk and Koprulu Canyons,
Range of active tourism opportunities such as trekking, canyoning and skiing in and around the Taurus mountain range.
Antalya Region
The whole Antalya region is home to a more than 500 km. of great sandy and pebbled shorelines, Blue Flagged beaches with crystal clear waters and pine forested mountains at the background.
The lively beach resorts, yacht marinas, day time attractions plus after dark entertainment activities with plenty of bars, clubs, restaurants, designer boutiques and shops make the region an ideal holiday place in both Turkey and Europe.
The region is also home to range of ancient cities and archaeological sites dating back from the 2nd century Roman times that definitely will attract the visitors.
Antalya region also has the best climate for all year round with more than 300 days of sunshine, which is very ideal for family and beach holidays.
Top Destinations & Resorts
Antalya City Center
Antalya city is the main center on the Mediterranean coast of Turkey. Being one of the most popular town and resort of the Turkish Riviera, it boasts a scenic old quarter and an impressive harbor.
Kaleici, which means inner castle in Turkish, is the pretty old town of the city. It is the historic center of the city surrounded by a Roman wall. A must see place.
You can start your Antalya city center day out with a nice stroll along the old town. Here, you'll explore and enjoy the pretty narrow streets and the old stone houses. Many of these houses have been converted into boutique hotels and trendy shops.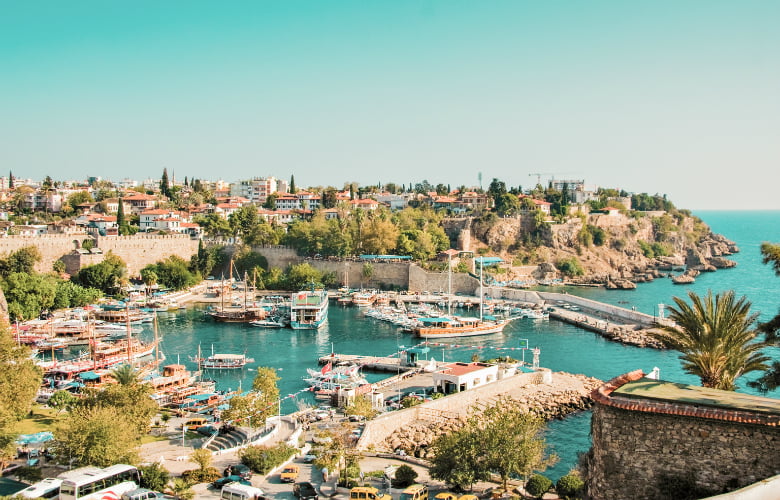 When you continue wandering through the shore, you'll come up to a slope of the cliffs and witness the famous Roman harbor. The harbor is now serving as a marina for yachts and daily excursion boats.
Here you can enjoy the amazing panoramic views, take photos and enjoy your drink or meal in one of the surrounding tea gardens, cafes, bars and restaurants.
Kemer
Kemer can be considered as the most popular holiday destination along the Antalya region. And we definitely recommend Kemer if you are looking for a great beach holiday experience with natural wonders, beaches and intense nightlife.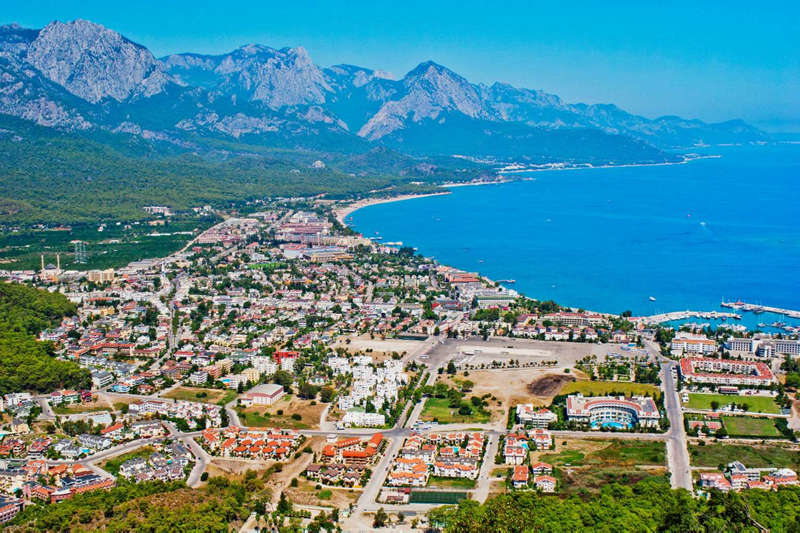 While the town center of Kemer is a huge holiday resort itself, there are also 8 holiday resorts spread along the coasts.
These resorts surrounding Kemer include;
Beldibi, Goynuk, Kiris, Camyuva and Tekirova that are lined with wide range of luxury hotels with Beydaglari mountains and pine tree forests at the backdrop,
Cirali, Olympos and Adrasan that are situated along beautiful bays, protected nature parks, and with less infrastructure, several boutique hotels, bungalows and tree houses.
These resorts are popular very ideal destinations for those who are looking for more relaxing and peaceful holidays.
Side
Side is a famous holiday resort of Antalya, famous for its great historical sites, its old town with pretty stone houses, ancient walls, Roman amphitheater and Temple of Apollo & Athena, lovely beaches, cafes and restaurants. A great place for travelers looking for beach holidays in the company of history, culture and art.
It has a very well preserved Old Town, and consists of an Agora, a Roman Amphitheater, a Roman Bathhouse (now serving as Side Museum), a monumental fountain, and world famous Temple of Apollo & Athena.
Alanya
Alanya is a superb holiday resort of Antalya where it has also been a settling place for foreigners for many years.
For the ones who are seeking for a relaxing and calm holidays with some scenic views, historical sites, as well as beautiful beaches, Alanya will be a great choice for sure.
The resort is also a combination of old and new with plenty of lively bars, clubs, restaurants and shops in the new town, and a gorgeous castle in the old town.
Lara Beach
Lara Beach is a famous beach resort set on a beautiful environment with all inclusive and great hotels and having all the necessary tourist facilities. The name of the resort comes from its beautiful golden sandy beach.
The resort is also popular for its beautiful beaches and the biggest sandcastle competition of the world during the summer months.
Belek
Belek is famous for its being the golfing paradise in the Antalya region. The resort has world-class golf courses and resorts.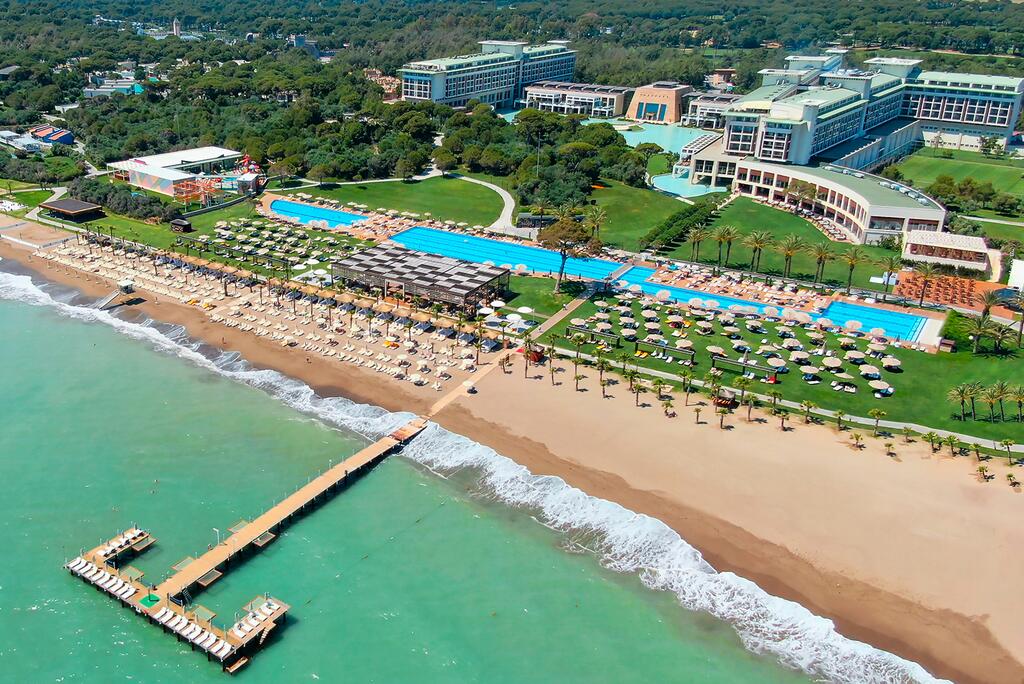 If you are golf lover and looking an alternative golf holidays than in Spain coasts, then we highly recommend to head to the Belek resort.
In addition to golf holidays, Belek also has lovely beaches and lively center with lots of trendy cafes, bars, clubs, restaurants and boutique shops.
Beautiful Beaches
Antalya region is famous for its beautiful beaches with breathtaking landscapes and coasts. It is also called as the Turquoise Coast. You'll find wide range of beautiful bays and coves with impressive beaches and spend a great day out. And where some are pebbled one while others are golden sandy.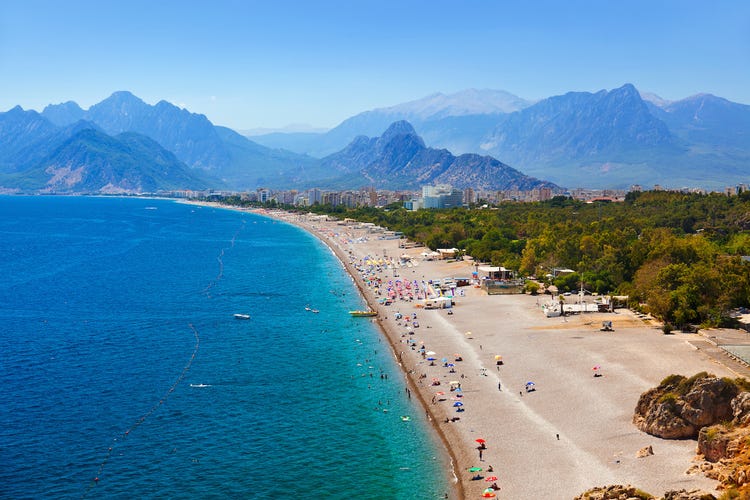 Visiting these beautiful Antalya beaches should be the number one attraction on your Antalya things to do list. The whole Antalya region is home to a more than 500 km. of great sandy and pebbled shorelines, Blue Flagged beaches with crystal clear waters and pine forested mountains at the background.
Historical Sites
If you are history and art lover, or want to do something different during your hotel stay in Antalya, you can simply visit the world-famous historical sites in Antalya and explore the ancient ruins, temples, theaters and experience the traditional side of Turkey.
Antalya region is also home to many ancient cities and archaeological sites. Some of them dates back to 2nd century Roman times. The whole region can be considered as a paradise of ancient cities and historical sites.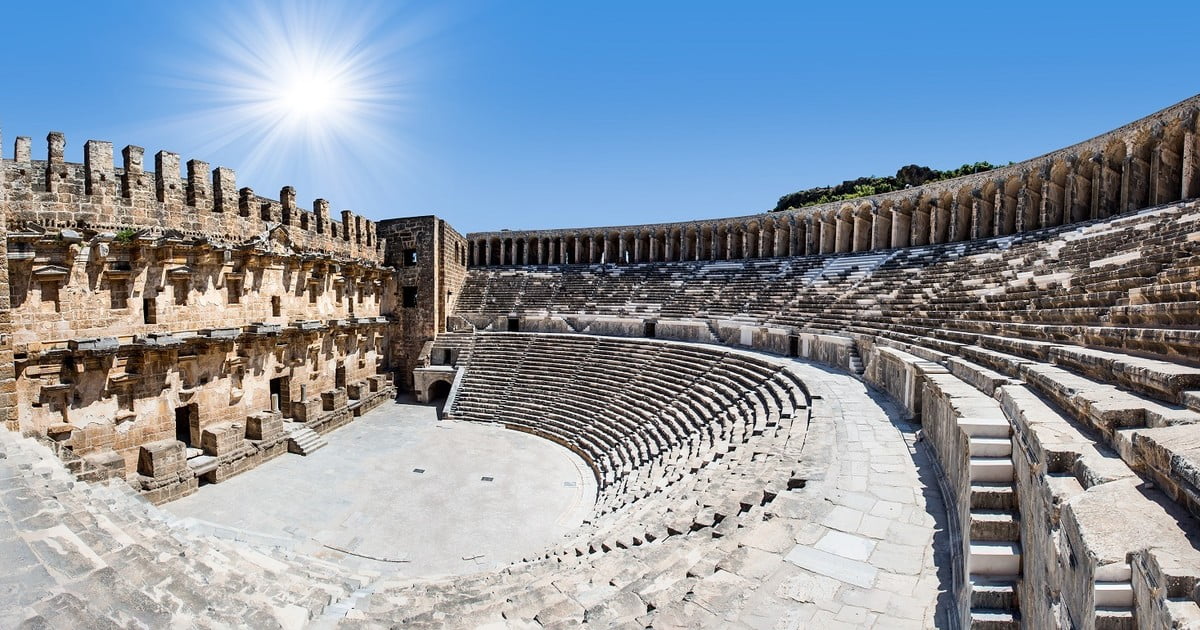 From the old towns of the several resorts, ancient cities of Aspendos, Perge, Phaselis, Olympos to the Temple of Apollo in Side, you'll find lots of impressive sites to explore in Antalya region.
Shopping
Shopping in Antalya is definitely a fantastic experience for travelers. Antalya offers great and fantastic opportunities and experiences for shopaholics.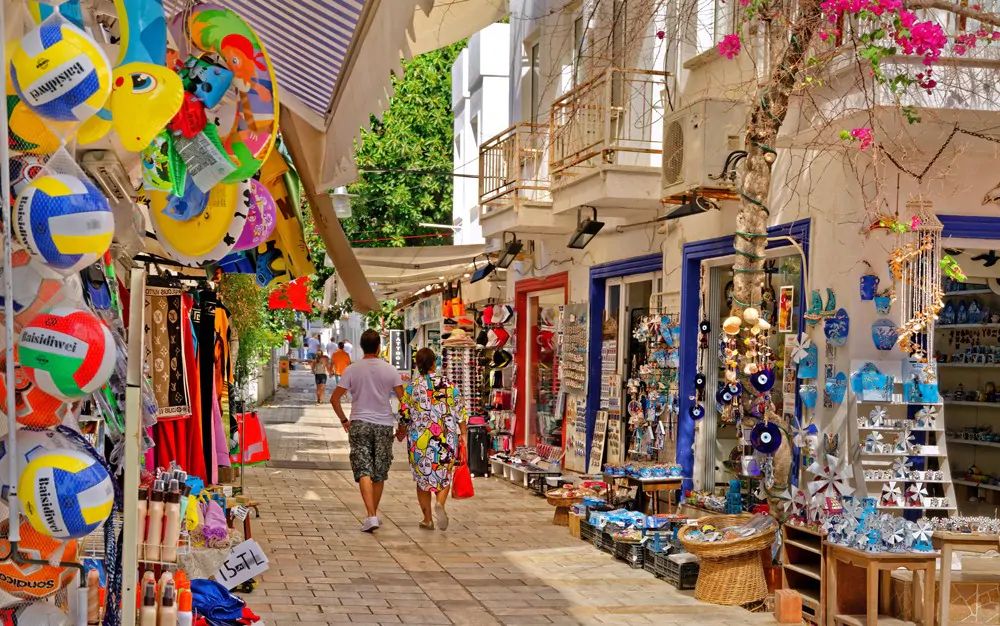 From big shopping malls, supermarkets, popular outdoor flea and street markets, antique, souvenir and handicraft shops to great stores, you'll find plenty of shopping opportunities in this metropolitan Turkish Riviera.
Entertainment & Nightlife
Nightlife in Antalya is one of best in Turkey's southern coasts. Antalya region has an intense nightlife where you'll find lots of bars and night clubs to enjoy and get entertained after dark.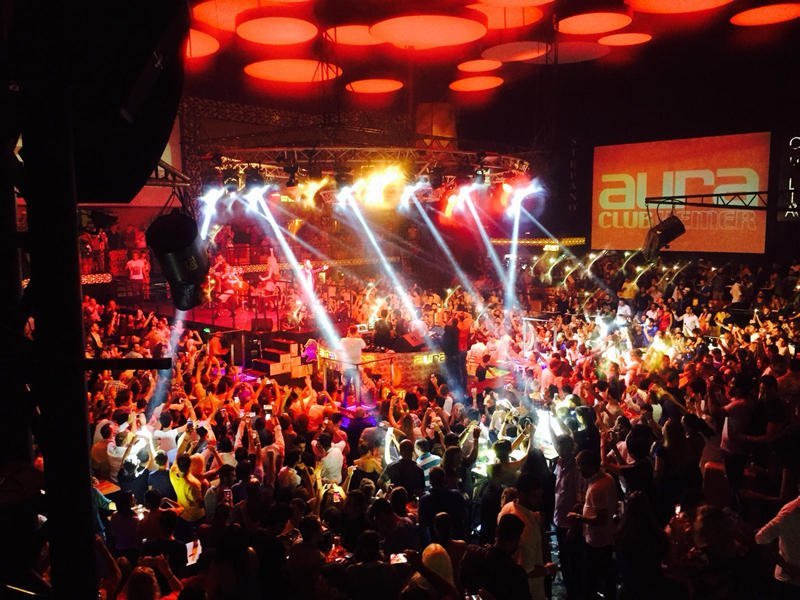 Lively bars, night clubs and restaurants all offer different nightlife themes with live music, cocktails and shows. In addition, majority of the hotels also have their own night time entertainment.
Gastronomy & Eating Out
Traditional Turkish cuisine is a must and are on offer with range of soups and dishes from fresh caught fish, meat, grilled kebabs, vegetable dishes, as well as fresh salads and delicious desserts.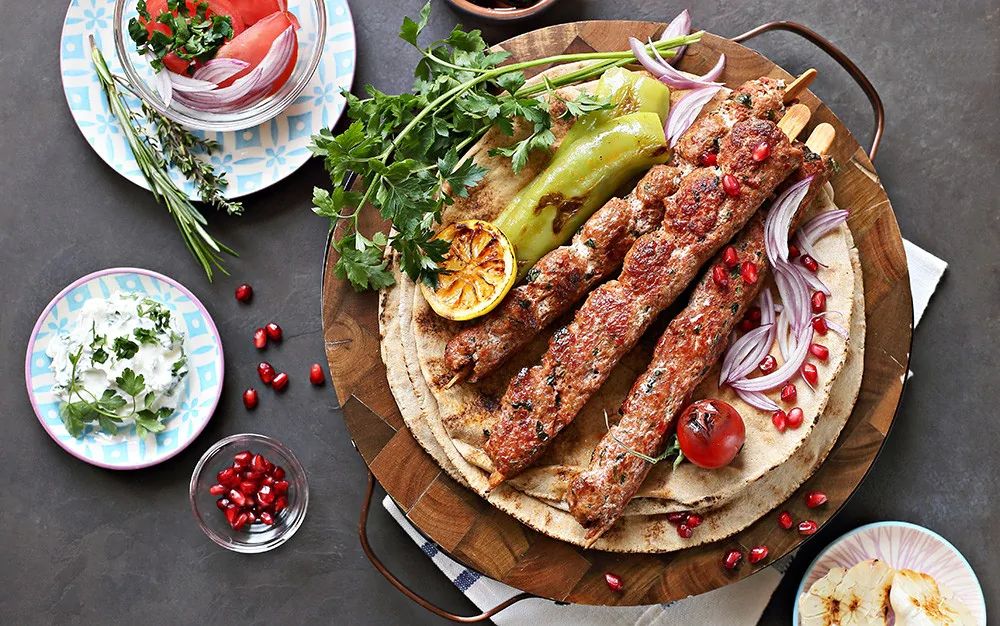 You'll definitely find and enjoy lots of excellent dining experiences throughout Antalya and surrounding resorts.
Weather & Climate
Weather in Antalya is a perfect Mediterranean climate. Antalya enjoys a long, sunny and hot summers, while having a milder weather in winter. You'll find rain from November till March.
January is the coolest month with an average temperature of around 11 °C and July is the warmest month with an average temperature of 29 °C. July and August can provide temperatures of up to 40°C.
The region boats a more than 300 days of sun each year, which makes this Turkish Riviera a great holiday destination and choice for all year round.
Plan your trip to Antalya ASAP if …
You experience any of the following issues, immediately contact your travel agent, book a flight for Antalya, and prepare your luggage ASAP!
You have a bucket list full of best-to-do's in Antalya and you don't want to miss a thing.
You want to have the finest dining at the latest trendsetting restaurant to explore the world's cuisines.
If you want to get treatment and have an unforgettable holiday at the same time.
If your country is cold, gloomy, or always rainy, and you want to be somewhere always sunny with a temperate climate, and full of greeneries, beaches, museums, history!
If you want to experience other cultures, learn more about their heritage, taste their local foods, and drink their drinks, walk on their soil, dance with their music, and have fun.
If you want the best health service, however, you can't afford it in your home country.
If you want to get your medical treatment without waiting in lines for so long and enjoy your vacation at the same time, then, well you know what to do – contact your travel agent, book a flight for Antalya, and prepare your luggage ASAP!
Must-Have checklist before onboarding to Antalya
You have made your choice to benefit from health services and a holiday, and now that you have decided to come to Antalya which, of course, will wow you!… Now, the next thing to do before boarding, let's make sure you have everything at hand with this checklist!
Please keep in mind that you also have your lifelong gift to spend a lovely holiday in Antalya while receiving your health treatment. Get your camera ready to capture the city's most spectacular natural and historical attractions! There will surely be so many incredible moments that you won't want to miss.
Check the weather forecast before your departure to ensure you have suitable clothing, even during the mild winter months, the temperature stays around 10-15 °C.
All the hotels in Antalya will provide you with the comfort and convenience you are looking for at a reasonable price; therefore, no worries you won't have any difficulty with the choice of hotels!
Carefully discuss all your details with your travel agent to see if everything is in order.
Plan ahead. Research thoroughly when choosing your hospital and doctor. Assess your alternatives.
Inform your local physician about your upcoming visit. Consider his/her advice about your selection of the hospital and the doctor.
Have all the information available about your medical history. Inform your physician about your medical history when you arrive in Antalya.
Check your bank account.
Don't forget that your maximum stay in Turkey as a tourist is 3-months. Please bear in mind this 3-month limit during your treatment.