Welcome to Belek, a hidden gem nestled along the stunning Turkish Riviera. This idyllic coastal town is a perfect destination for those seeking a blend of natural beauty, luxurious resorts, and a wealth of recreational activities. In this blog post, we'll delve into what makes Belek such a sought-after holiday spot and explore the top things to do and see in this charming seaside paradise.
What to Expect?
Belek offers a picturesque setting with its pristine sandy beaches, crystal-clear turquoise waters, and lush green landscapes. The town boasts a Mediterranean climate, ensuring warm and sunny weather throughout the year. Belek's coastal location provides the perfect backdrop for relaxation, rejuvenation, and adventure. Whether you're seeking a serene beach getaway, thrilling water sports, or cultural exploration, Belek has it all.
Belek is famous for its being the golfing paradise in the Antalya region. The resort has world-class golf courses and resorts. If you are golf lover and looking an alternative golf holidays than in Spain coasts, then we highly recommend to head to the Belek resort. In addition to golf holidays, Belek also has lovely beaches and lively center with lots of trendy cafes, bars, clubs, restaurants and boutique shops. You'll find loads of fantastic Belek excursions.
The resort belongs to the Serik district of Antalya and situated about 41 km. on the east of Antalya city center, and 32,9 km. from Antalya Airport. You can access Belek within a 50-minute journey from the Antalya city center. The popular Side resort is located in the east, Mediterranean in the south, Serik in the north and Antalya city center in the west.
Why Holiday in Belek?
There are countless reasons why Belek is the perfect holiday destination. Here are a few highlights:
---
No Regrets Booking Advice
---
Luxurious Resorts
Belek is renowned for its world-class resorts and hotels that offer exceptional hospitality and a wide range of amenities. From lavish beachfront properties to all-inclusive resorts, there's an accommodation option to suit every taste and budget.
Golfers' Paradise
Belek is a golfer's dream come true, with its collection of championship golf courses. Designed by renowned architects, these courses provide breathtaking views and challenges for golfers of all skill levels.
Water Sports and Beach Activities
Dive into the refreshing waters of the Mediterranean Sea and indulge in a variety of water sports, such as snorkeling, jet skiing, parasailing, and windsurfing. The beaches of Belek offer the perfect playground for sunbathing, beach volleyball, or simply relaxing with a good book.
Rich Cultural Heritage
Immerse yourself in the region's rich history by visiting ancient ruins and archaeological sites. Belek is located close to important historical sites such as Aspendos Theater, Perge, and Side, where you can explore the remnants of ancient civilizations.
Nature and Adventure
Explore the breathtaking natural beauty of Belek by embarking on hiking and biking trails that wind through scenic landscapes. Discover hidden waterfalls, lush forests, and picturesque villages, all within reach of Belek.
Top Things to Do & See
Belek is situated on beautiful coast with pine forest and gorgeous Taurus mountains at the background. The resort promises a fantastic beach and golf holidays including all tastes and colors, from modern accommodation facilities suitable for every budget, to lively town center and surrounding areas offering unlimited shopping opportunities, countless dining and wining places, entertainment venues and great array of superb golf facilities.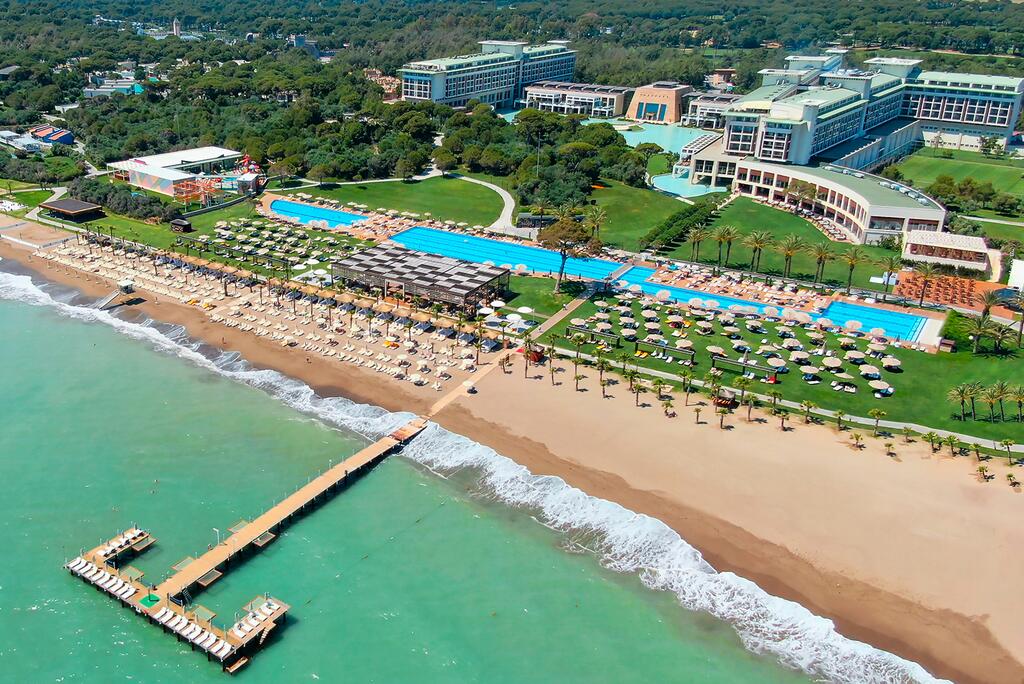 The two small towns named Kadriye and Belek forms the Belek resort. Both are situated about 1 km. from the coast and connected with each other via 8 km. road. The Belek town center is very lively where you can enjoy days along the good selection of cafes, bars, clubs, restaurants, shops and bazaars.
Enjoy Water Sports and Beach Activities
Indulge in a range of water sports, such as snorkeling, diving, jet skiing, and paddleboarding.
Relax on the pristine sandy beaches of Belek and soak up the sun while enjoying the tranquil waters of the Mediterranean Sea.
Join a boat tour and cruise along the coast, exploring hidden coves and secluded beaches.
Play Golf on World-Class Courses
As for golf, Belek has all the necessary services for golf lovers. Belek was also rewarded as "the Best Golf Destination" by the Golf Journal Travel Awards and by Golf Magazine.
Tee off at one of Belek's championship golf courses, designed by legendary architects.
Enjoy breathtaking views of the Mediterranean Sea and lush green landscapes as you navigate the fairways and greens.
While Belek is famous its world-class golf courses and golf clubs, the beautiful beaches and its historical past also attract the travelers.
Visit the Belek Town Center
The Belek Town Center is the heart of the town, where you can immerse yourself in the local culture and experience the vibrant atmosphere. Here are some highlights of what you can do in the town center:
Shop for Local Crafts and Souvenirs
Stroll through the bustling streets and browse the shops and market stalls that offer a variety of handicrafts, textiles, jewelry, and traditional Turkish goods. Take home a unique souvenir to commemorate your time in Belek.
Indulge in Culinary Delights
Belek is a haven for food lovers, with a wide range of restaurants, cafes, and eateries to satisfy your taste buds. Sample traditional Turkish dishes, such as kebabs, mezes, and baklava, or explore international cuisines. Don't forget to try the famous Turkish tea or strong Turkish coffee.
Relax in Cafes and Bars
Take a break from your explorations and unwind in one of the cozy cafes or trendy bars in the town center. Sip on a refreshing beverage, enjoy a slice of Turkish delight, and soak in the lively ambiance as you watch the world go by.
Attend Local Festivals and Events
Belek hosts various festivals and events throughout the year, showcasing the vibrant culture and traditions of the region. Check the local event calendar to see if there are any festivals or cultural performances taking place during your visit. It's a wonderful opportunity to immerse yourself in the local festivities.
Visit the Belek Mosque
Pay a visit to the Belek Mosque, a beautiful example of Turkish Islamic architecture. Admire the intricate details of the mosque's design and take a moment for quiet reflection and contemplation.
Explore the Surrounding Nature
Just a short distance from the town center, you'll find beautiful natural landscapes waiting to be discovered. Take a leisurely walk along the scenic trails, enjoy a picnic in a lush green park, or rent a bicycle and explore the surrounding areas at your own pace.
Fun Day out at the Land of Legends Theme Park
For an adventure-filled day, head to the Land of Legends Theme Park. This expansive entertainment complex offers a variety of thrilling rides, water slides, and attractions. Experience the excitement of roller coasters, go-karting, and virtual reality adventures. The park also features a shopping avenue, a wide selection of restaurants, and a spectacular evening fountain show. A must-see places to visit in Belek.
Admire the Fire of Anatolia Dance Show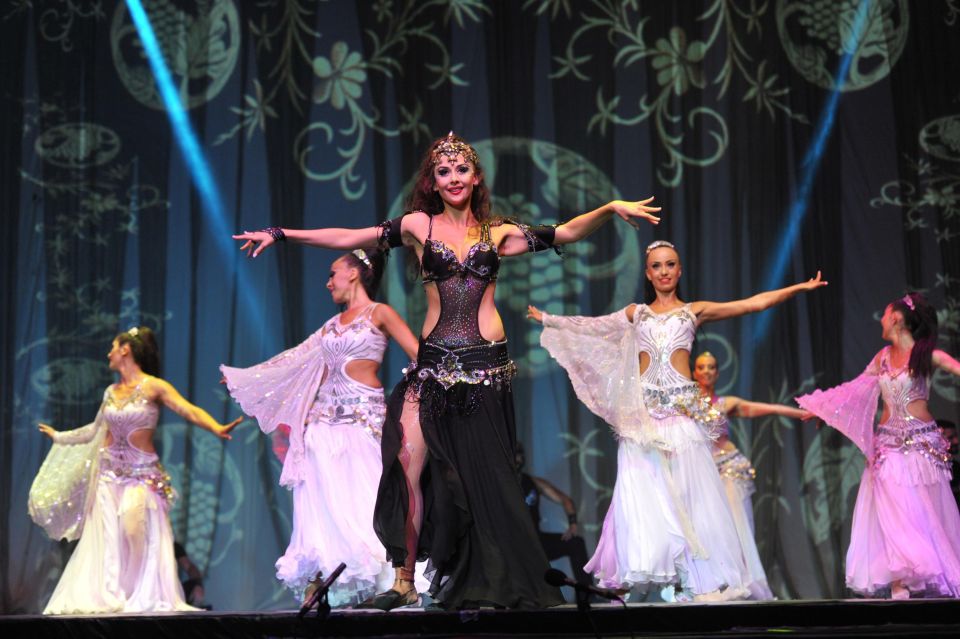 The Fire of Anatolia Dance Show is an internationally acclaimed performance that combines traditional Turkish folk dances with modern choreography, stunning costumes, and mesmerizing music. The show takes place in the magnificent Gloria Aspendos Arena, a state-of-the-art open-air amphitheater that provides the perfect backdrop for this grand production. A must-see.
Porto Genoese Boat Trip & Mud Bath from Kemer, Belek & Antalya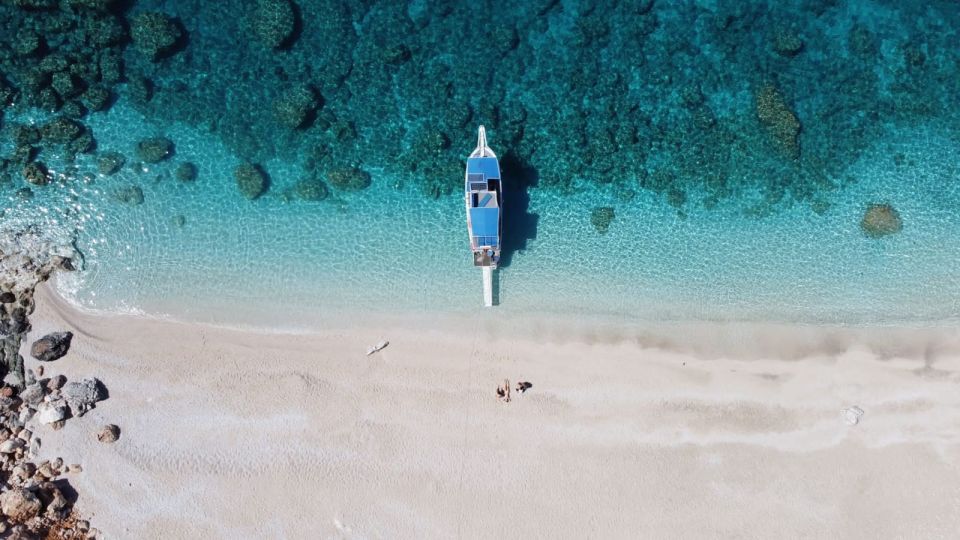 Are you ready to embark on a unique adventure and discover the hidden treasures of Antalya's coastal beauty? Join us on a Porto Genoese Boat Trip and Mud Bath from Kemer, Belek & Antalya, where you'll dive into crystal clear waters, explore secret caves, relax in boutique-style boats, and indulge in a mud bath experience like no other. This tour promises an unforgettable day filled with excitement, relaxation, and breathtaking scenery.
Explore the Historical Sites & Ancient Ruins
Take Day Trips to Nearby Attractions
Belek serves as an excellent base for exploring the wider Antalya region. Here are a few day trip options from Belek:
Antalya Old Town
Venture into the enchanting streets of Antalya's Old Town, known as Kaleici. Wander through the narrow alleys lined with Ottoman-era houses, visit historical sites like Hadrian's Gate and the Antalya Museum, and experience the vibrant atmosphere of the city.
Koprulu Canyon National Park
Embark on an adventure to Koprulu Canyon, where you can go whitewater rafting on the stunning Koprulu River. Enjoy the thrill of navigating the rapids while surrounded by breathtaking natural scenery.
Termessos Ancient City
Discover the ancient ruins of Termessos, a city perched high in the Taurus Mountains. Explore the well-preserved remnants of the city's temples, theaters, and agora, and take in the panoramic views of the surrounding landscape.
Duden Waterfalls
Witness the beauty of Duden Waterfalls, located just outside of Antalya. Marvel at the cascading waterfalls as they plunge into the sea, and take a leisurely walk along the pathways that wind through the lush greenery.
Relax and Unwind in Luxury Resorts
Belek is renowned for its luxurious resorts that offer a wide range of amenities and activities to ensure a memorable stay. From sprawling swimming pools to world-class spa facilities, you'll find everything you need for relaxation and rejuvenation. Enjoy the impeccable service, dine in exquisite restaurants, and indulge in spa treatments for a truly blissful experience.
Top Daily Tours & Excursions from Belek
Eating Out in Belek
You'll find plenty of authentic and great restaurants and have excellent dining experiences in Belek. Majority of the both authentic and modern cafes, bars and restaurants are situated around the old town with magnificent views of the Mediterranean. Traditional Turkish cuisine is a must and are on offer with range of soups and dishes from fresh caught fish, meat, grilled kebabs, vegetable dishes, as well as fresh salads and delicious desserts. Here are some dining options to explore:
Local Turkish Cuisine: Sample traditional Turkish dishes like kebabs, mezes (appetizers), and baklava at local restaurants and taverns. Don't miss out on the delicious flavors of Turkish tea and Turkish coffee.
International Cuisine: Belek is also home to various international restaurants, including Italian, Mediterranean, Asian, and seafood. You'll find a wide range of options to satisfy your cravings.
All-Inclusive Resorts: If you're staying at one of the all-inclusive resorts, you'll have access to a variety of restaurants and cuisines within the resort premises. Enjoy buffet-style meals and themed dining experiences.
Local Markets: Explore local markets to experience the vibrant atmosphere and try fresh produce, spices, and traditional snacks. Belek also has a weekly market where you can find local delicacies and handcrafted goods.
Shopping in Belek
While Belek is more known for its golf courses and beaches, there are still some shopping opportunities to explore:
Belek Town Center: Visit the town center for a selection of shops, boutiques, and souvenir stores. You can find traditional Turkish handicrafts, textiles, jewelry, and local products.
Belek Market: The weekly market in Belek is a great place to browse and shop for fresh produce, spices, textiles, and souvenirs. It's an excellent opportunity to immerse yourself in the local culture and find unique items to take home.
Nightlife in Belek
Belek offers a more relaxed and low-key nightlife compared to some other popular tourist destinations. However, there are still options for those seeking evening entertainment:
Bars and Pubs: Enjoy a drink and a casual evening at one of the bars or pubs in Belek. Many resorts also have their own bars where you can unwind and enjoy live music or entertainment.
Nightclubs: If you're looking for a lively nightlife scene, head to nearby Antalya, which offers a variety of nightclubs, discos, and live music venues.
Lodging in Belek
Belek is renowned for its luxury all-inclusive resorts that offer a wide range of amenities and services. Here are some lodging options to consider:
All-Inclusive Resorts: Belek is famous for its high-end all-inclusive resorts that provide everything you need for a comfortable and enjoyable stay. These resorts often have multiple restaurants, pools, spa facilities, and access to the beach.
Boutique Hotels: If you prefer a more intimate and personalized experience, consider staying at one of the boutique hotels in Belek. These smaller establishments offer unique charm and attentive service.
Golf Resorts: Belek is a golfer's paradise, and there are several golf resorts in the area that cater to golf enthusiasts. These resorts offer world-class golf courses, luxurious accommodations, and additional amenities for a memorable golf vacation.
Villas and Apartments: For a more independent stay, there are also options to rent private villas or apartments in Belek. This can be a great choice for families or larger groups looking for more space and privacy.
Plan Your Visit to Belek
To make the most of your trip to Belek, here are some tips to help you plan your visit:
Best Time to Visit
Belek enjoys a Mediterranean climate, with hot summers and mild winters. The peak tourist season is during the summer months, from June to September, when the weather is perfect for beach activities and outdoor exploration. However, if you prefer milder temperatures and fewer crowds, consider visiting in the spring or fall when the weather is still pleasant.
Weather & Climate
Belek offers a superb Mediterranean climate for holidaymakers. You'll find typical Mediterranean climate here. While the summer months are quite hot, the winter months are rainy. The hottest month is July, and it gets the most rain in December. The average temperature is between 30 and 34 degrees during summer months.
Getting There
Belek is conveniently located just 30 kilometers east of Antalya International Airport (AYT). You can easily reach Belek by taxi or private transfer from the airport. Alternatively, if you're already in Antalya, there are regular bus services that connect Antalya with Belek.
Getting Around
Belek is a relatively compact town, and most attractions are within walking distance. However, if you prefer to explore the surrounding areas or visit nearby attractions, renting a car or using local transportation options like buses or taxis can be convenient.
Accommodation Options
Belek offers a wide range of accommodation options to suit different preferences and budgets. From luxury beachfront resorts to cozy boutique hotels, you'll find something that fits your needs. Consider staying at one of the all-inclusive resorts that offer a plethora of amenities and activities for a hassle-free holiday experience.
Duration of Stay
The ideal duration of your stay in Belek depends on your interests and the activities you wish to experience. A minimum of 3 to 4 days is recommended to explore the town center, enjoy the beaches, visit nearby attractions, and indulge in leisure activities. However, if you want to immerse yourself in the region's history and take day trips to places like Antalya Old Town or Termessos, consider extending your stay to a week or more.
Safety and Etiquette
Belek is a safe destination for travelers, but it's always advisable to take standard precautions. Be mindful of your belongings, avoid isolated areas at night, and follow any local regulations or guidelines. Respect the local customs and traditions, dress modestly when visiting religious sites, and be considerate of the local culture.
Booking Tickets and Activities
To ensure a seamless experience, consider booking tickets and activities in advance. Many attractions and tours offer online booking options, allowing you to secure your spot and save time during your visit. Check the official websites or reputable travel platforms for the best deals and availability.
Get Ready for an Unforgettable Stay in Belek
With its stunning natural landscapes, rich history, and a myriad of activities to enjoy, Belek offers a perfect blend of relaxation and adventure. From lounging on pristine beaches to exploring ancient ruins, every moment spent in Belek will be a treasure. Start planning your trip to this Turkish paradise and get ready to create memories that will last a lifetime.