Are you ready to soak up the sun, feel the sand beneath your toes, and dive into the crystal-clear waters of Kas? Look no further! Nestled on the stunning Mediterranean coast of Turkey, Kas offers an array of breathtaking beaches that will leave you captivated. Whether you're a thrill-seeker, a nature lover, or simply seeking tranquility, Kas has a beach that caters to every taste. Join me on a virtual tour of the best beaches in Kas, and get ready to embark on an unforgettable beach day during your Antalya holiday!
Exploring the Best Beaches in Kas: A Beachgoer's Paradise
1. Kaputaş Beach: Where Nature's Artistry Unfolds
Kaputaş beach, a must-visit beach for both locals and tourists, beckons with its unique location at the mouth of a stunning canyon. Its mesmerizing turquoise waters are incredibly clean, earning it the status of a first-degree protected site.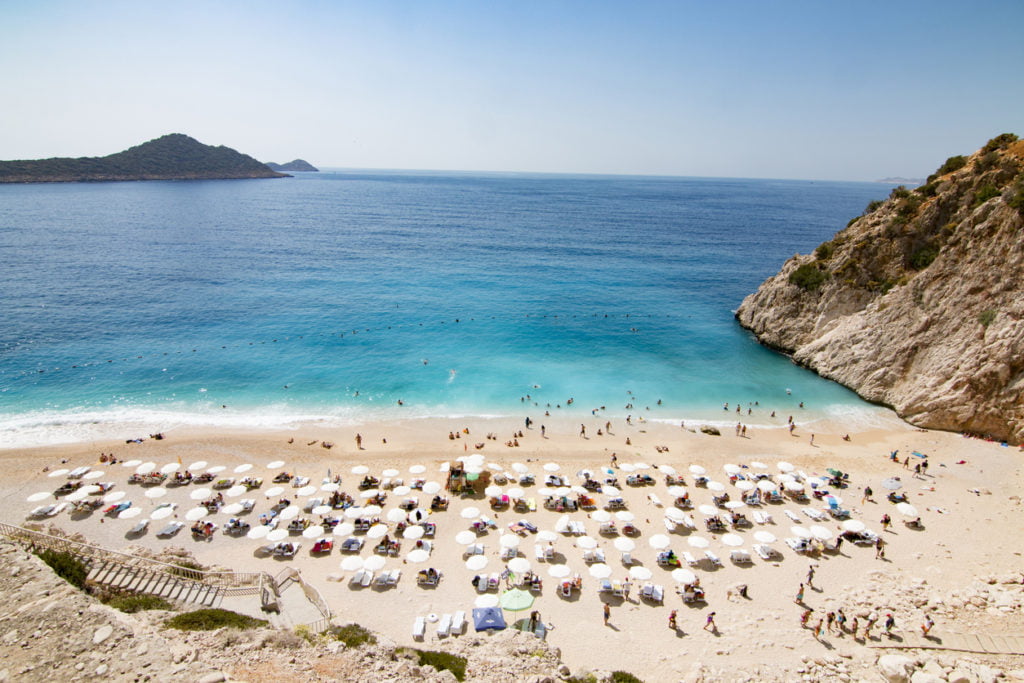 What makes Kaputaş beach truly special is the natural blending of the sea with freshwater springs flowing from the mountains. This extraordinary combination gives the water its magnificent color. Although the beach features a mix of pebbles and sand, the pebbles are not sharp enough to cause discomfort.
Prepare to witness the grandeur of the sea at Kaputaş Plajı, where powerful waves crashing onto the shore create a spectacle of foam and froth. To reach the beach, you'll need to descend a set of 187 steps, which have recently been reduced in number for easier access. Along the way, you'll find a facility that offers services such as a café, sun loungers, and umbrellas.
While visiting Kaputaş beach, don't miss the opportunity to indulge in a romantic dinner at one of the beachfront restaurants. Picture yourself sitting at a table right by the sea, surrounded by the gentle sound of waves and the enchanting ambiance of the pebble-strewn shoreline. It's a magical experience that will create memories to last a lifetime. One of the best beaches in Kas to relax.
2. Akçagerme beach: Where Beauty Meets Convenience
Located just 3 kilometers from Kas, Akçagerme beach is a hidden gem that shouldn't be missed. This Blue Flag beach, with its 200-meter stretch of pebbles and gravel, is also known as "Altın Plaj" (Golden Beach) due to its sandy areas. Its pristine and shallow waters make it a popular choice for families with children and inexperienced swimmers.
---
No Regrets Booking Advice
---
Operated by the Kaş Anatolian Hotel Management and Tourism Vocational High School, Akçagerme beach offers all the amenities you need for a perfect beach day. The on-site facilities include a cozy cafe serving quick bites like toasts, hamburgers, and sandwiches. The proceeds from your purchases go directly to supporting the school. So, not only do you have a fantastic time, but you also contribute to a great cause!
3. Kaş Public Beach: The Epitome of Convenience
Situated in the Çukurbağ Peninsula, Kaş Municipality Public Beach is a clean and spacious beach that caters to all your needs. With a combination of sandy areas and grassy patches, you have the freedom to choose your ideal spot to soak up the sun. Please note that the deep blue sea demands good swimming skills, so don't forget to bring your goggles to enjoy the underwater aquarium-like scenery.
From cafes to restaurants and even a children's playground, this beach offers a range of services to ensure you have a memorable time. You'll find the prices at the cafe and restaurant to be quite reasonable, and there's ample parking space available for those arriving by private vehicle.
4. Büyük Çakıl Beach: A Serene Haven by the Town Center
Büyük Çakıl beach, one of the closest beaches to the center of Kaş, is a peaceful retreat located just 1.3 kilometers away. Surrounded by trees on three sides, this cove is often chosen by visitors seeking a quiet and serene atmosphere to unwind and relax.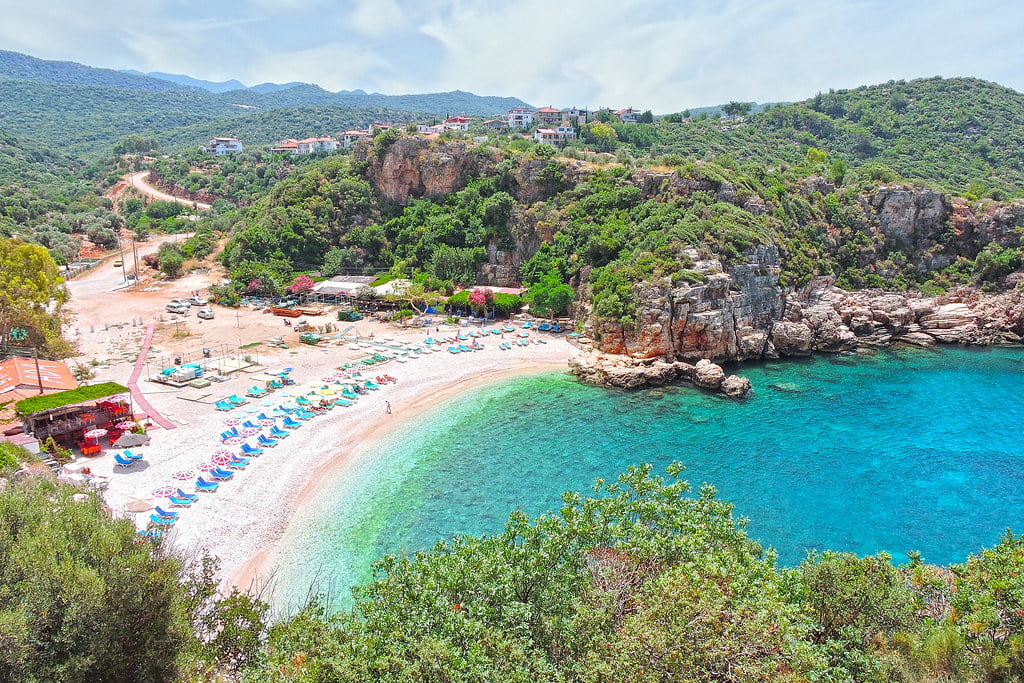 While the sea water here may be slightly cooler due to the natural spring water flowing from the nearby mountains, its mesmerizing turquoise color and pristine nature will make you forget about the temperature. The beach itself consists of a mixture of pebbles and sand, and the shallow depth of the sea makes it perfect for swimming and enjoying the beauty of the underwater world. Don't forget to bring your water shoes to protect your feet from the pebbles.
Büyük Çakıl Beach area is home to six beach clubs and restaurants lined up along the shore. These establishments provide everything from food and drinks to sun loungers and umbrellas. If you choose to dine at one of the beachfront restaurants, you'll have the opportunity to indulge in a delicious meal while enjoying the stunning view. As the sun sets, the atmosphere becomes even more magical, creating the perfect setting for a memorable evening.
With its capacity to accommodate approximately 1000 people, Büyük Çakıl beach offers various amenities, including showers, toilets, and a private parking area. It's important to note that the prices for food and drinks are quite reasonable, allowing you to enjoy a delightful beach experience without breaking the bank. To avoid the crowds and secure a sun lounger, it's advisable to arrive before 10:00 am or consider visiting on weekdays for a more peaceful ambiance.
5. Küçük Çakıl Beach: A Tranquil Oasis in the Heart of Kaş
Located in the center of Kaş, Küçük Çakıl beach is a charming beach just a short 5-10 minute walk away. True to its name, the beach is small and covered in pebbles. The cool spring water that flows from the nearby source keeps the temperature refreshing. With calm waters perfect for swimming, it's an ideal spot to enjoy a peaceful beach experience.
The beach is home to two beach clubs and restaurants situated on either side of the rocky coastline. One of them is Derya Beach, and the other is Çınarlar Beach. Both offer easy access to the sea, allowing you to swim and sunbathe with convenience. The beach clubs provide showers, toilets, and changing cabins, ensuring your comfort throughout your visit. The best part is that there's no entrance fee, and you can enjoy the sun loungers and umbrellas without any additional charges. However, do keep in mind that if you consume food and drinks at the establishments, you'll need to pay for those.
The beach's picturesque setting and crystal-clear waters make it a truly remarkable place to spend a day in the sun. It's an oasis of tranquility, allowing you to escape the hustle and bustle of the town center while still being conveniently located nearby.
6. İnceboğaz Beach: Where Nature and Beauty Converge
Offering a breathtaking view of the islands, İnceboğaz is a rare gem where you can both swim in the sea and immerse yourself in its stunning surroundings. Situated in the narrowest section of the Çukurbağ Peninsula, İnceboğaz features two separate beaches: an open area and a sheltered cove.
Both beaches are serviced by Çınar Beach, a beach club that provides sun loungers and umbrellas free of charge when you purchase food and drinks. However, if you prefer not to dine at the club, you can rent a sun lounger and umbrella for a small fee.
The open area of İnceboğaz is often windy and has some waves, making it ideal for those who enjoy a bit of excitement in the water. On the other hand, the sheltered cove offers calm and warmer waters, making it suitable for families with children. Don't forget to bring your beach shoes, as the shoreline consists of pebbles.
7. Hidayet Cove: Where Nature Paints a Picturesque Canvas
Nestled in the Çukurbağ Peninsula, Hidayet Cove is a true hidden paradise, located 3 kilometers from the center of Kaş. This secluded cove, enveloped by olive groves, boasts a mesmerizing blend of blue and green hues. If I were to describe it in one word, it would be an "aquarium." Its clear and pristine waters make it one of the most beautiful beaches in Kas.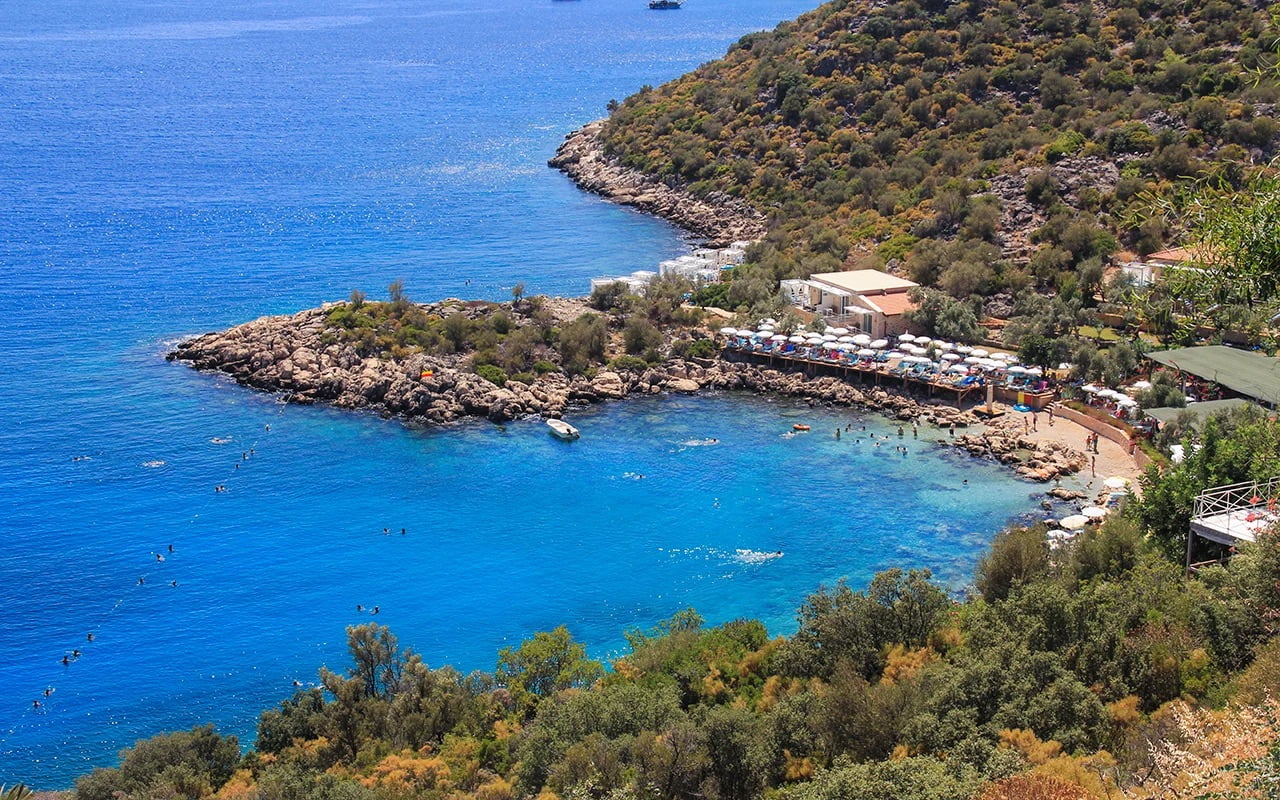 Hidayet Cove doesn't have a sandy beach; instead, you'll find a rocky shoreline. Dive into the waters and discover the fascinating marine life, including the magnificent Orfoz and Caretta Caretta turtles. Recently, the opening of Blanca Beach Hotel, offering restaurant, accommodation, and beach services, has transformed this once-remote area into a more accessible destination.
8. Patara Beach: Where History and Nature Unite
Located approximately 43 kilometers from Kaş, Patara beach holds the distinction of being the longest beach in the world, stretching 12 kilometers in length and 1.5 kilometers in width. Named after the nearby ancient city of Patara, this beach is a natural wonder protected as a designated nature reserve. With its untouched beauty and pristine atmosphere, it's a paradise for nature lovers.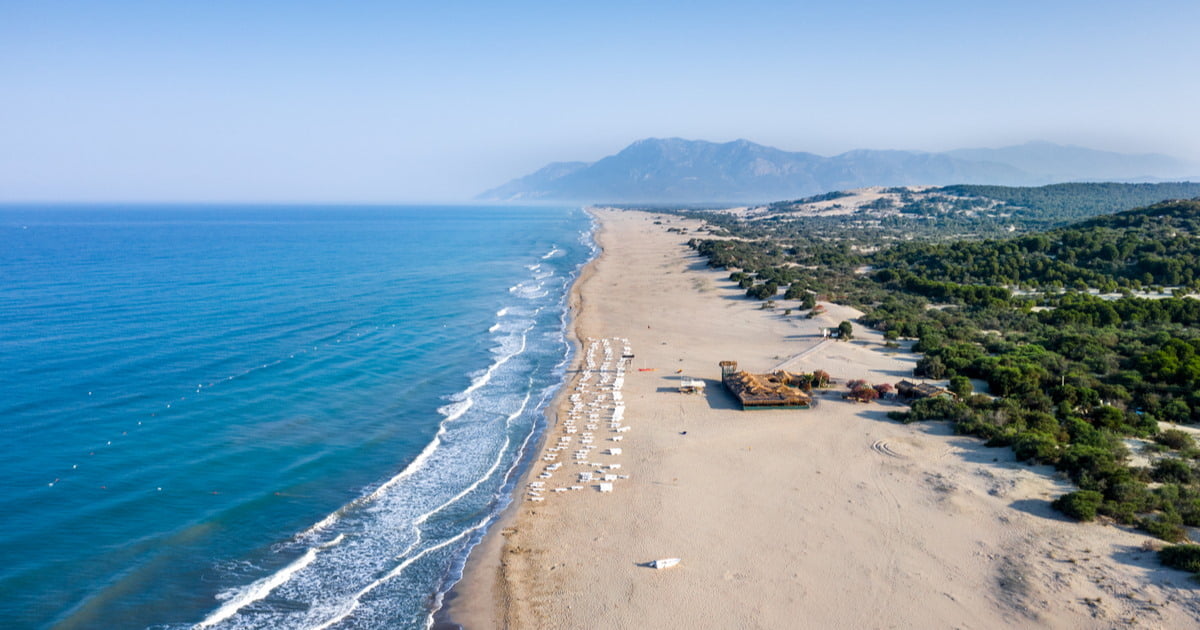 As a beach renowned for its surf-friendly conditions, Patara beach is a popular destination for water sports enthusiasts. Its open and exposed nature makes it ideal for windsurfing and other thrilling activities. Additionally, the beach is an important nesting site for sea turtles, with efforts from Hacettepe University focused on ensuring the survival and reproduction of these magnificent creatures.
Beyond its natural marvels, Patara beach also boasts a unique claim to fame in the world of cinema. Additionally, you can take a stroll along the Lycian Way, a famous hiking trail, and explore the scenic path leading to Patara beach.
9. Limanağzı Cove: A Hidden Gem for Serenity Seekers
Situated just a 15-minute drive from the center of Kaş, Limanağzı Cove is a pristine cove that exudes tranquility. The beach boasts calm, turquoise waters and a striking white appearance that adds to its allure. Thanks to its location, Limanağzı Cove enjoys an extended period of sunshine, making it perfect for sunbathing and immersing yourself in nature's beauty.
As a designated natural protected area, Limanağzı offers a total of four beach clubs: Bilal's Place, Delos Beach, Nuri's Beach, and La Moda Beach. These establishments provide services such as sun loungers, umbrellas, and private seating areas on their wooden platforms. Relaxation and comfort are guaranteed as you indulge in the breathtaking views and soothing sounds of the sea.
Limanağzı Cove is proud to hold the Blue Flag award, a testament to its commitment to maintaining high environmental standards. The beach remains unspoiled, with limited accessibility by land, preserving its natural beauty.
10. Seyrekçakıl Beach: A Hidden Gem in Nature's Embrace
Seyrekçakıl beach is a hidden gem tucked away on an access road, embraced by lush greenery. This secluded beach offers a tranquil atmosphere and allows you to enjoy a peaceful escape from the bustling city. Its crystal-clear waters and untouched natural surroundings make it a favorite spot for those seeking solitude and serenity.
Despite its secluded location, Seyrekçakıl beach is not completely isolated. It features a beach club with a range of amenities to enhance your beach experience. The club provides sun loungers, umbrellas, and various services, ensuring your comfort during your visit. While the beach club offers these conveniences, it still maintains a peaceful ambiance, allowing you to connect with nature and unwind.
The breathtaking beauty of the beach lies in its captivating turquoise waters, which invite you to take a refreshing swim. The absence of strong waves allows for a calm and relaxing experience, making it an ideal destination for swimming and floating in the gentle embrace of the sea. The beach's fine pebble composition adds to its charm, and the lack of crowds ensures that you can fully immerse yourself in the tranquil surroundings.
Summary of All
In conclusion, Kas boasts a remarkable array of beautiful beaches, each with its own unique characteristics and charm. From the vibrant and lively beaches to the secluded and serene ones, there is a beach in Kas to suit every preference. Whether you're seeking adventure, relaxation, or a combination of both, Kas has it all. So, when you plan your next beach getaway, make sure to explore the breathtaking beaches of Kas, and let the beauty of the Turkish Riviera mesmerize you.