Welcome to Kas, a charming coastal town nestled on the Mediterranean coast of Antalya, Turkey. With its picturesque landscapes, crystal-clear turquoise waters, and rich history, Kas is a paradise waiting to be explored. Whether you're a nature enthusiast, history buff, or simply seeking relaxation, Kas offers a multitude of attractions that will leave you mesmerized. In this blog post, we'll unveil the top 15 places to visit in Kas, ensuring an unforgettable sightseeing experience during your Antalya holidays.
Top 15 Best Places to Visit in Kas
1. Ancient Theater of Kas
Start your journey in Kas by visiting the well-preserved Ancient Theater, dating back to the 1st century BCE. Marvel at the grandeur of this Roman amphitheater and imagine the performances that once took place on its stage. Climb to the top for panoramic views of the town and the surrounding landscape.
2. Republic Square: Embrace the Charming Turkish Town Vibe
One of the must-visit places when you first arrive in Kaş is the Cumhuriyet Meydanı (Republic Square). It offers a classic Turkish town ambiance and serves as the perfect starting point for a leisurely stroll. The vibrant atmosphere and colorful surroundings of Cumhuriyet Meydanı create delightful spaces where visitors can take a break, enjoy a meal, or indulge in a refreshing drink.
The square, with its serene and lively environment, often hosts public events that capture attention. If you happen to be there during one of these events, we highly recommend spending some time to immerse yourself in the festive atmosphere. One of the best places to visit in Kas.
---
No Regrets Booking Advice
---
3. Kas Marina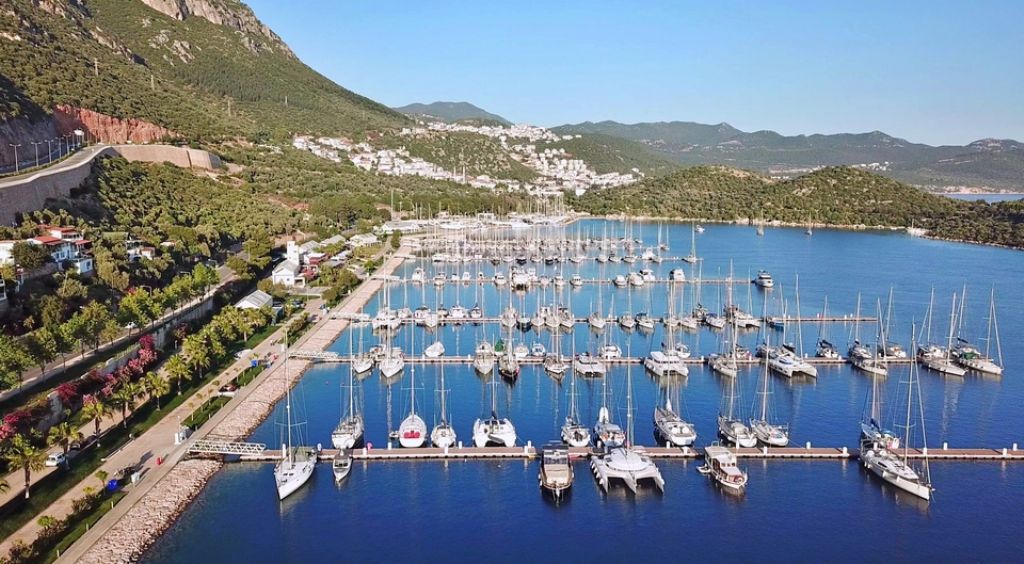 Indulge in a maritime experience at Kas Marina, where luxury yachts gracefully dock against the backdrop of the town's colorful buildings. Take a leisurely stroll along the promenade, savoring the serene atmosphere and enjoying the beauty of the surrounding landscapes.
4. Kas Peninsula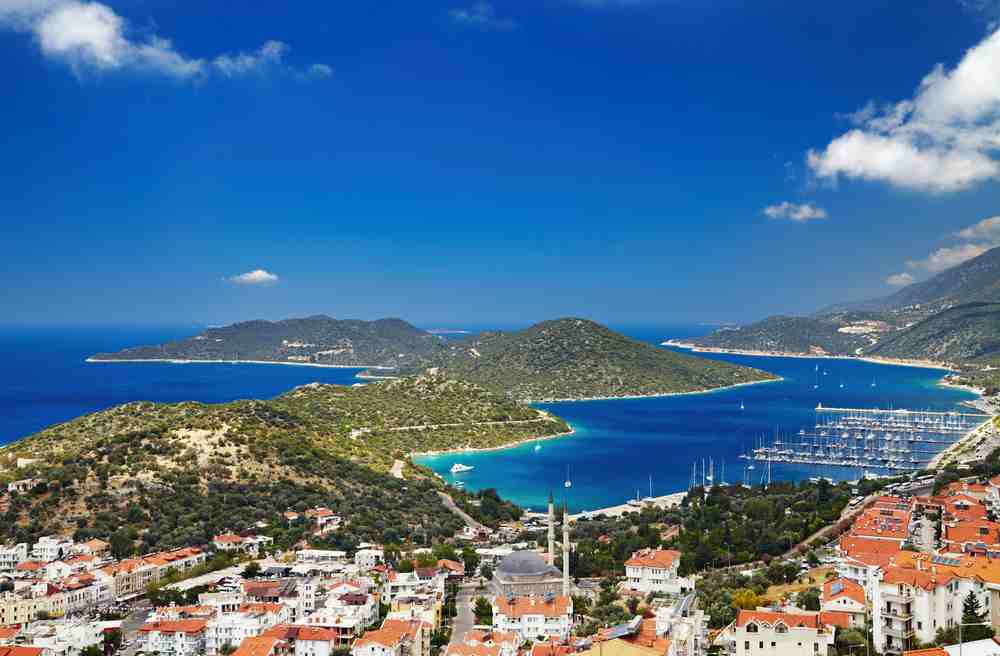 Embark on a journey of natural beauty as you explore the Kas Peninsula. Hike along its rugged trails, offering breathtaking views of the coastline and hidden coves. Don't miss the chance to swim in the pristine waters of Limanagzi Bay or visit the captivating Incebogaz Cave.
Limanagzi Bay
Take a dip in the crystal-clear waters of Limanagzi Bay.
Relax on the pebble beach and soak up the Mediterranean sun.
Incebogaz Cave
Discover the mystical Incebogaz Cave, known for its mesmerizing rock formations.
Explore the underwater world through snorkeling or diving.
5. Kaputaş Beach: Where Nature's Artistry Unfolds
Kaputaş beach, a must-visit beach for both locals and tourists, beckons with its unique location at the mouth of a stunning canyon. Its mesmerizing turquoise waters are incredibly clean, earning it the status of a first-degree protected site.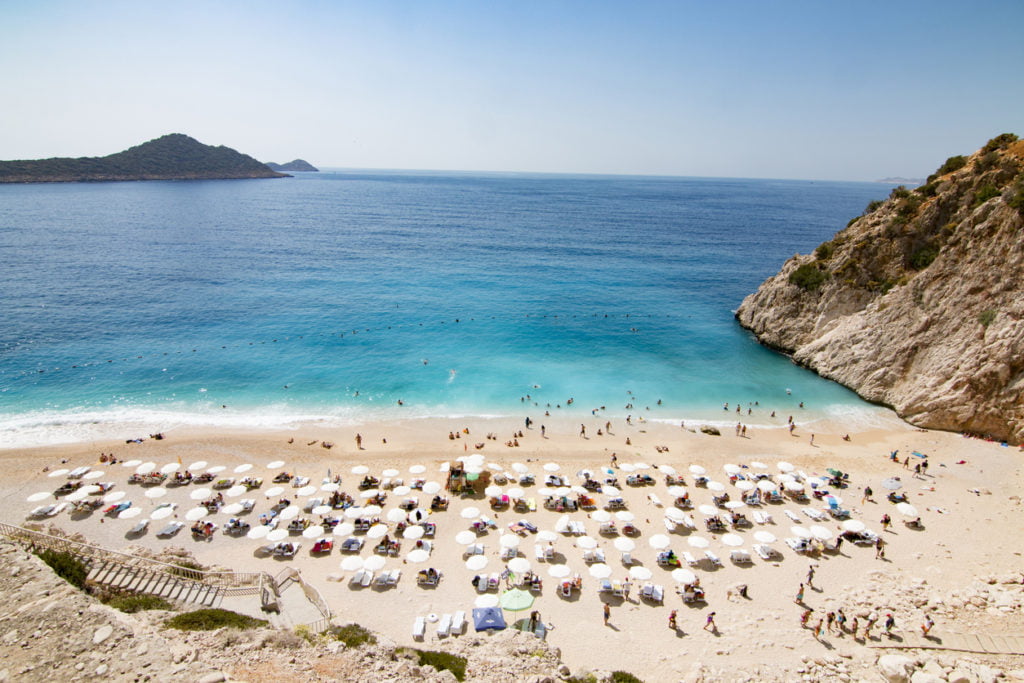 What makes Kaputaş beach truly special is the natural blending of the sea with freshwater springs flowing from the mountains. This extraordinary combination gives the water its magnificent color. Although the beach features a mix of pebbles and sand, the pebbles are not sharp enough to cause discomfort.
Prepare to witness the grandeur of the sea at Kaputaş Plajı, where powerful waves crashing onto the shore create a spectacle of foam and froth. To reach the beach, you'll need to descend a set of 187 steps, which have recently been reduced in number for easier access. Along the way, you'll find a facility that offers services such as a café, sun loungers, and umbrellas.
6. Patara Beach: Where History and Nature Unite
Located approximately 43 kilometers from Kaş, Patara beach holds the distinction of being the longest beach in the world, stretching 12 kilometers in length and 1.5 kilometers in width. Named after the nearby ancient city of Patara, this beach is a natural wonder protected as a designated nature reserve. With its untouched beauty and pristine atmosphere, it's a paradise for nature lovers.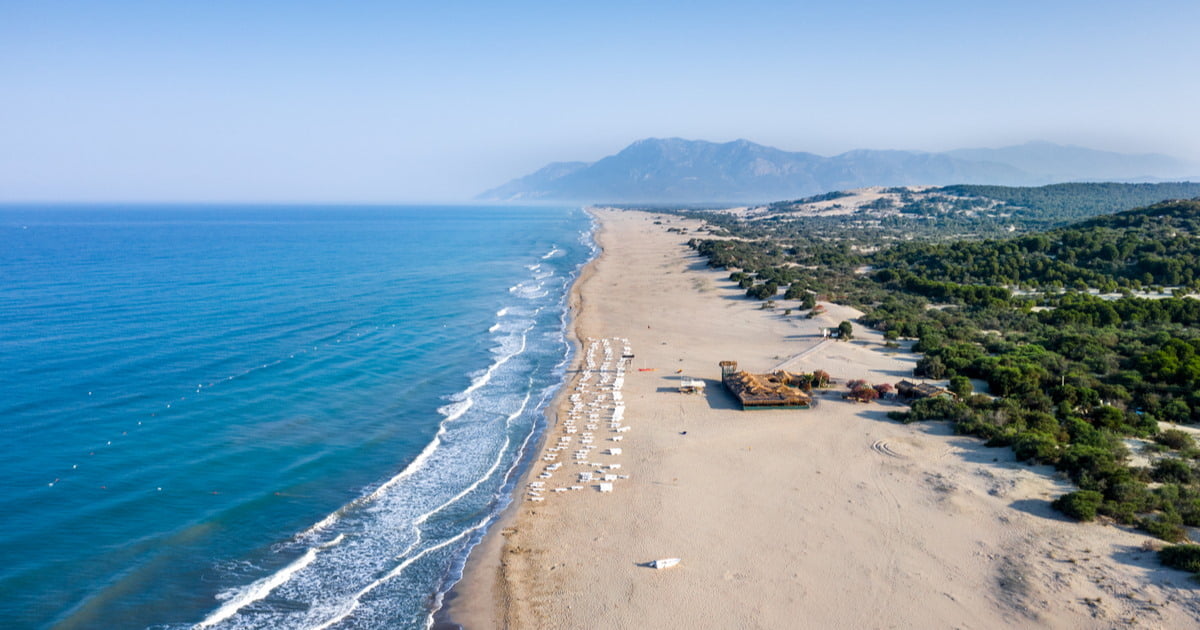 As a beach renowned for its surf-friendly conditions, Patara beach is a popular destination for water sports enthusiasts. Its open and exposed nature makes it ideal for windsurfing and other thrilling activities. Additionally, the beach is an important nesting site for sea turtles, with efforts from Hacettepe University focused on ensuring the survival and reproduction of these magnificent creatures.
Beyond its natural marvels, Patara beach also boasts a unique claim to fame in the world of cinema. Additionally, you can take a stroll along the Lycian Way, a famous hiking trail, and explore the scenic path leading to Patara beach.
7. Kas Market (Uzun Carsi)
Immerse yourself in the vibrant local culture by visiting the Kas Market. Wander through the bustling stalls filled with fresh produce, traditional crafts, and local delicacies. Don't forget to sample the flavorsome Turkish street food and mingle with friendly locals. One of the best places to visit in Kas.
Uzun Çarşı, also known as Kaş Market, is one of the main shopping and walking areas located on Doğruyol Caddesi in the Old Town. This pedestrian street, made of unique concrete, meanders along an inclined slope and is adorned with colorful shops, boutiques, and stalls offering a wide variety of products.
The sellers in Kaş Çarşısı showcase a range of items, from fashion and locally handmade products to Turkish kilims and Lycian carpets, providing visitors with a diverse shopping experience. Besides enjoying a delightful shopping spree and practicing the art of bargaining, wandering through the wooden balconies and traditional houses adds to the charming ambiance of the area.
8. Lycian Way
Embark on an unforgettable hiking adventure along the Lycian Way, a historic trail that winds through ancient ruins, olive groves, and awe-inspiring coastal cliffs. Experience the breathtaking beauty of nature as you traverse this 540-kilometer long path.
Cukurbag Peninsula
Discover the unspoiled beauty of the Cukurbag Peninsula.
Enjoy panoramic views from the peak of Mount Asar, the highest point in the area.
Kas to Limanagzi
Take a scenic hike from Kas to Limanagzi, enjoying stunning views along the way.
Explore the hidden bays and coves that dot the coastline.
9. Big Pebble Beach (Buyukcakil Plaji)
Escape the crowds and find tranquility at Big Pebble Beach, also known as Buyukcakil Plaji. This hidden gem offers a peaceful atmosphere and is adorned with smooth pebbles that create a unique shoreline. Spend a relaxing day sunbathing, swimming, or simply enjoying the soothing sound of the waves.
Büyük Çakıl beach, one of the closest beaches to the center of Kaş, is a peaceful retreat located just 1.3 kilometers away. Surrounded by trees on three sides, this cove is often chosen by visitors seeking a quiet and serene atmosphere to unwind and relax.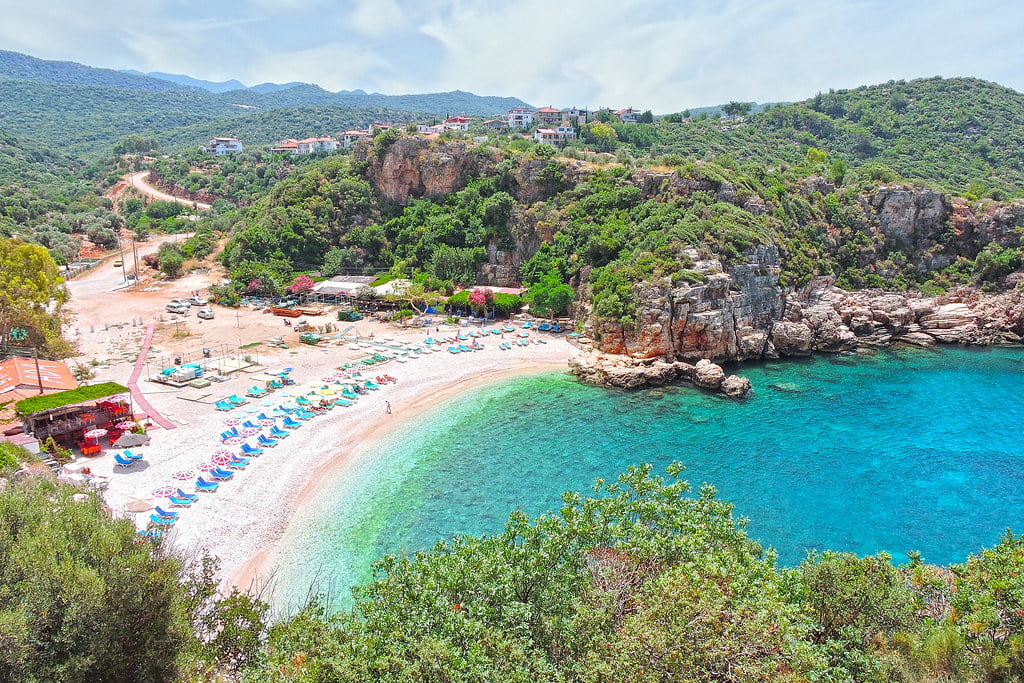 While the sea water here may be slightly cooler due to the natural spring water flowing from the nearby mountains, its mesmerizing turquoise color and pristine nature will make you forget about the temperature. The beach itself consists of a mixture of pebbles and sand, and the shallow depth of the sea makes it perfect for swimming and enjoying the beauty of the underwater world. Don't forget to bring your water shoes to protect your feet from the pebbles.
10. Kas Yacht Club
For a touch of elegance and maritime charm, visit the Kas Yacht Club. Marvel at the luxurious yachts docked in the marina and indulge in a delectable meal at one of the waterfront restaurants. As the sun sets, the Yacht Club transforms into a vibrant spot where you can sip cocktails, dance to live music, and embrace the lively ambiance. One of the best places to visit in Kas.
11. Kekova Island and Sunken City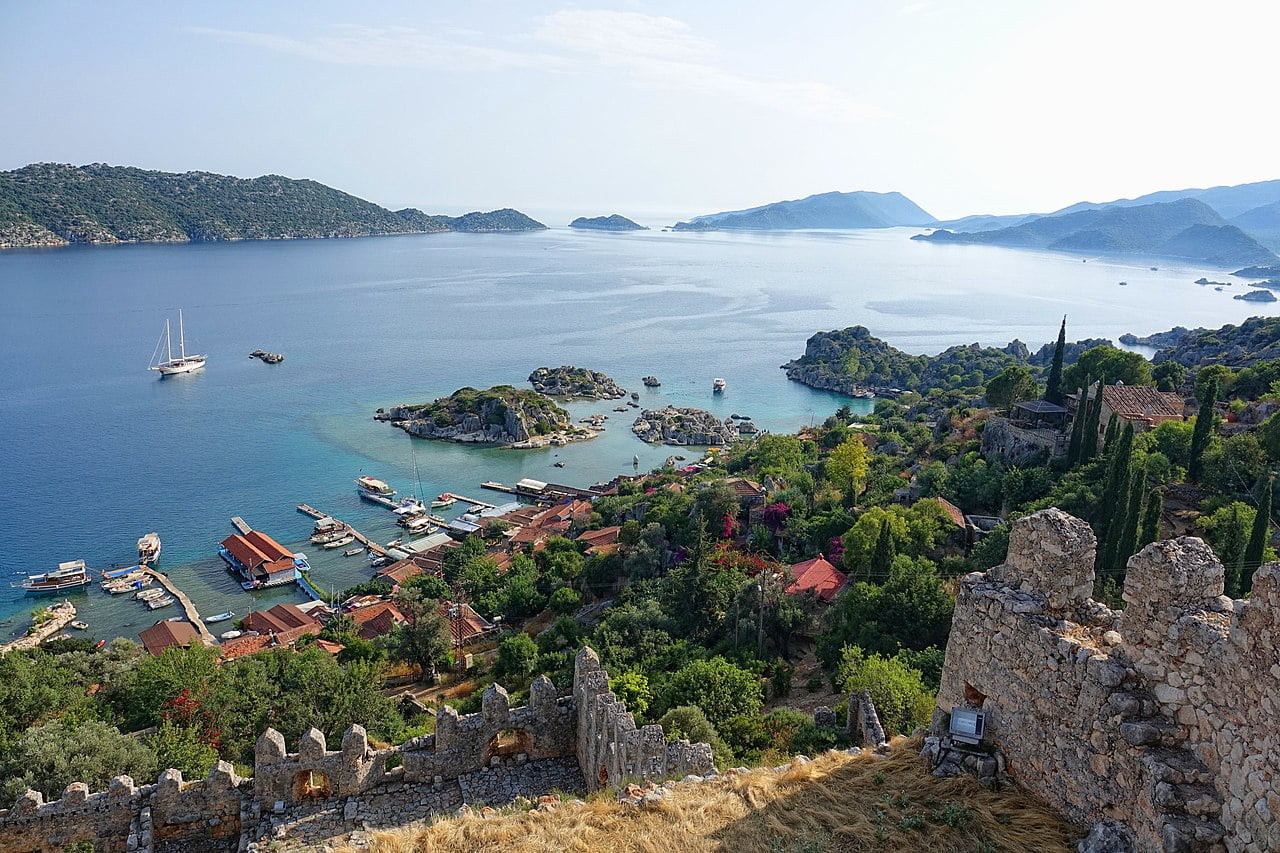 Embark on a boat tour to Kekova Island, a place where history and natural beauty converge. Explore the Sunken City of Kekova, an ancient Lycian settlement partially submerged in the clear turquoise waters. Witness the remnants of ancient walls, staircases, and even an underwater sarcophagus, all surrounded by stunning marine life. One of the best places to visit in Kas.
12. Meis Island: A Greek Paradise Just 2 Kilometers Away
Meis Island, also known as Kastellorizo, is a settlement belonging to the Twelve Islands, located just 2 kilometers from Kaş and under the administration of Greece. With a population of 425 people, many of the island's residents migrate to Greece during the winter months. However, they return during the summer to contribute to the local tourism industry and welcome visitors from Kaş.
Meis Island, also referred to as Kızılhisar, has a rich history that includes periods of rule by the Knights of St. John, Egypt, Naples, and the Ottoman Empire. Before World War I, the island was under French control, followed by Italian rule. However, after World War II, along with the Twelve Islands, it became part of Greece.
The connection between Kaş and Meis Island is unique, as the two complement each other like an eye and eyebrow, with Kaş deriving its name from this relationship. Being the closest Greek island to Turkey, Meis Island invites visitors with its warm hospitality, Italian-inspired architecture, and a range of attractions.
While at the harbor, you can take a short break at the surrounding restaurants and cafes. It is also highly recommended to visit the ethnography museum, St. George Beach, and Aya Savvas Church, all of which were constructed during the Ottoman Empire.
13. Hidayet Bay (Aquarium Bay)
Nestled in the Çukurbağ Peninsula, Hidayet Cove is a true hidden paradise, located 3 kilometers from the center of Kaş. This secluded cove, enveloped by olive groves, boasts a mesmerizing blend of blue and green hues. If I were to describe it in one word, it would be an "aquarium." Its clear and pristine waters make it one of the most beautiful beaches in Kas.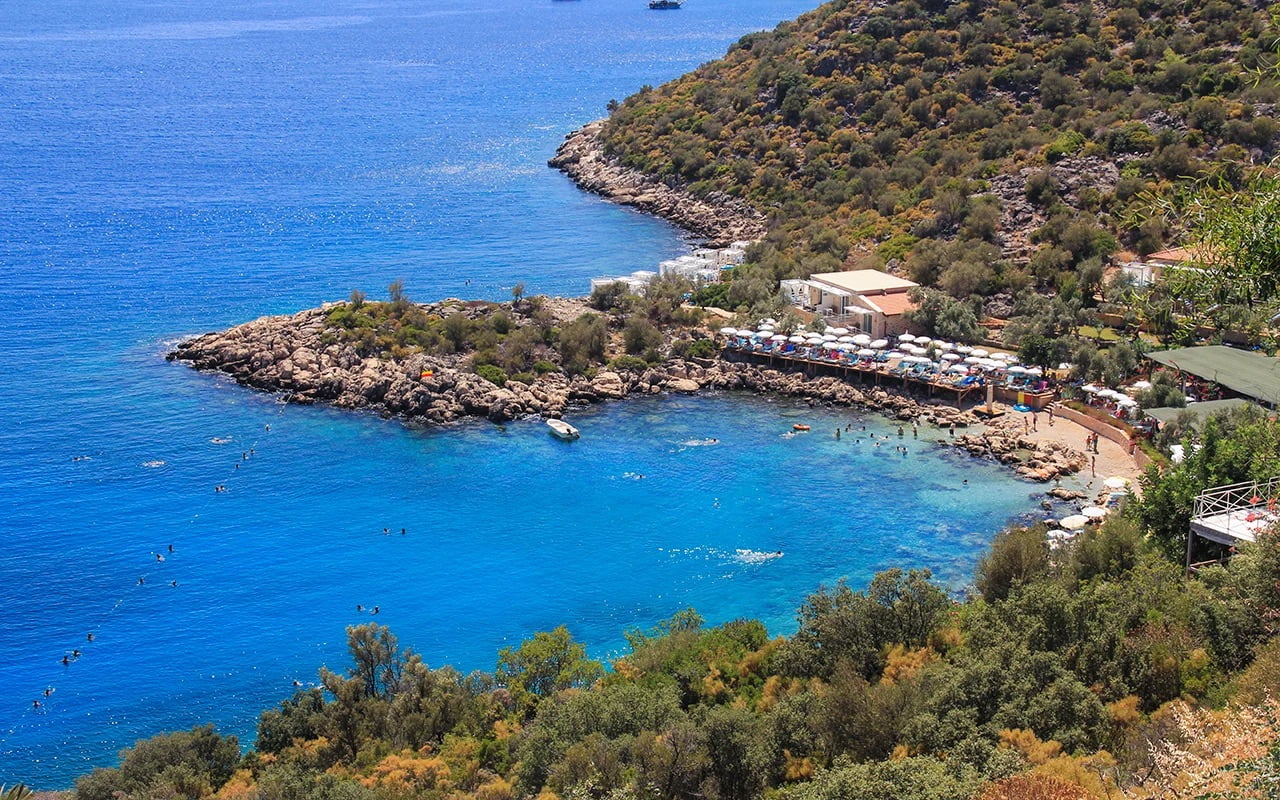 Hidayet Cove doesn't have a sandy beach; instead, you'll find a rocky shoreline. Dive into the waters and discover the fascinating marine life, including the magnificent Orfoz and Caretta Caretta turtles. Recently, the opening of Blanca Beach Hotel, offering restaurant, accommodation, and beach services, has transformed this once-remote area into a more accessible destination.
14. Islamlar Village: A Tranquil Retreat in Untouched Nature
İslamlar Village creates a beautiful holiday destination with its unique atmosphere and unspoiled nature. Situated approximately between Kaputaş and Patara, this village offers a refreshing environment filled with abundant oxygen. It's a place where you can savor the beauty of nature amid the melodies of chirping birds. With a history spanning 300 years, the village also holds remnants of the once-thriving Rum civilization.
While strolling through the village, you'll encounter numerous ancient rock tombs, especially between Bezirgan Village and İslamlar Village, where ornate sarcophagi are particularly fascinating. Additionally, İslamlar Village is in close proximity to two beautiful beaches, Kaputaş and Patara Beaches, making it an ideal base for those who wish to enjoy both the tranquility of the village and the refreshing waters of the nearby coastline.
15. Kalkan: A Captivating Seaside Haven
Located just 25 kilometers west of Kaş, Kalkan is a mesmerizing seaside resort that truly comes to life during the summer months. With its narrow streets paved with traditional Albanian cobblestones, Kalkan offers a unique charm. The town has been beautifully restored, with historic wooden houses transformed into boutique hotels, authentic cafes, craft shops, and fantastic restaurants where you can indulge in the flavors of the Mediterranean and savor delicious seafood dishes.
Kalkan, being in close proximity to Kaş, is renowned for its day-long yacht excursions. Additionally, the area boasts one of its most notable attractions: the magnificent Kaputaş Beach, which stretches along a four-kilometer coastline.
As you explore Kalkan, you'll be enchanted by the blend of old-world charm and modern amenities. The captivating architecture, intertwined with the natural beauty of the surrounding landscape, creates a picturesque setting that will leave a lasting impression.
Conclusion
Kas in Antalya, is a treasure trove of natural wonders, ancient history, and warm Turkish hospitality. From exploring ancient theaters and archaeological sites to relaxing on pristine beaches and immersing yourself in vibrant local markets, Kas offers a multitude of experiences that will leave you captivated.
Whether you're seeking adventure, relaxation, or cultural immersion, Kas has it all. So, pack your bags, embark on a journey to Kas, and let this coastal paradise enchant you with its beauty and charm. Your unforgettable sightseeing day awaits in Kas, the jewel of Antalya.