Kemer can be considered as the most popular holiday destination and resort in the Antalya region. Here you'll find a quick travel guide to Kemer including top things to do, sights to visit, best places to stay, eat, drink, and all tourist info you need plus insider advice. Kemer is situated about 43,5 km. on the west of Antalya city center, and 57,2 km. from Antalya Airport.
Kemer is a lively resort located at the foot of the Taurus Mountains and surrounded by scenic views with impressive pine trees at the backdrop. Kemer town center is the main resort and stretches to the east and west with 8 more holiday resorts. You'll find loads of fantastic Kemer excursions.
Kemer is a very ideal holiday destination in the Antalya region and Turkey for the ones searching for an excellent family and beach holidays. You'll find lots of fun things to do plus natural wonders and historical that every holidaymaker would like to have on their holidays.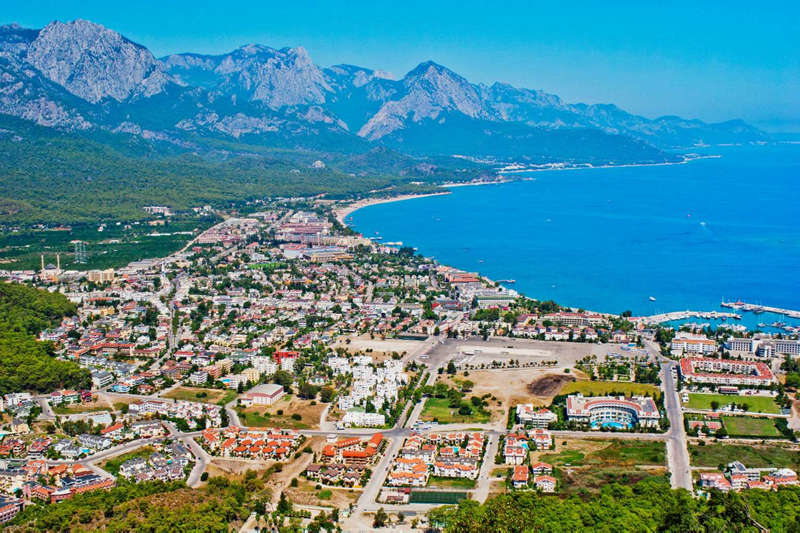 History & Culture
The resort was once a small fishing village but now a modern holiday town having all the necessary tourist facilities, a nice selection of cafes, pubs, bars, restaurants, entertainment spots, as well as variety of classy shops and boutique stores along the pedestrian walkway in the town center and on the coast.
While the Antalya region has a rich Roman history with plenty of archaeological sites and ancient cities, you can find several of them in the Kemer region. Phaselis and Olympos ancient cities are the popular ones that you can explore and enjoy.
Kemer Resorts
While the town center of Kemer is a huge holiday resort itself, there are also 8 more holiday resorts spread along the coasts.
These resorts surrounding Kemer include;
Beldibi, Goynuk, Kiris, Camyuva and Tekirova that are lined with wide range of luxury hotels with Beydaglari mountains and pine tree forests at the backdrop,
Cirali, Olympos and Adrasan that are situated along beautiful bays, protected nature parks, and with less infrastructure, several boutique hotels, bungalows and tree houses.
These resorts are popular very ideal destinations for those who are looking for more relaxing and peaceful holidays.
Top Things to Do + Places to See
Kemer Town Center
The town center of Kemer is a very lively place. You'll find lots of cafes, pubs, bars, restaurants, entertainment spots, as well as variety of classy shops and boutique stores.
You can have great town walking tour from the famous Watch Tower located through the pedestrian shopping street inland, and than head to the coast to explore and enjoy the Kemer G-Marina, Nomad Theme Park and Moonlight Park.
You can visit the famous Moonlight Beach & Park, home to variety of great attractions such as trendy bars, restaurants, classy beach clubs, and designer shops.
You can spend time at the Kemer's G-Marina or head to the north and relax on the long stretches of great beaches.
Just a short walk from the Kemer marina and the Moonlight Beach, you'll find the Nomad Theme Park. It is a unique attraction and worth visiting for its scenic views across Kemer Bay. Here, you'll experience and enjoy the culture of Nomads at the open air museum, and have a rest with a drink or snack along with the stunning views of the bay.
Beaches
Kemer is famous for its beautiful beaches with breathtaking landscapes and coasts. You'll find wide range of beautiful bays and coves to choose from and spend a great day out. And where some are pebbled one while others are golden sandy.
There are also many Blue Flag beaches in whole Kemer and the coasts of the surrounding resorts, which means that you can be sure to have sunbath and swimming along crystal clear waters.
The Mediterranean is also shallow and calm which means you'll be able to have great for water sports activities, and while families can paddle together safely.
Moonlight Beach & Park
The Moonlight beach (Ayisigi beach) is the main beach of Kemer city center. It is located right behind the Marina and has a golden sand beach with crystal clear waters. The beach is very ideal for soaking up for all year round sunshine.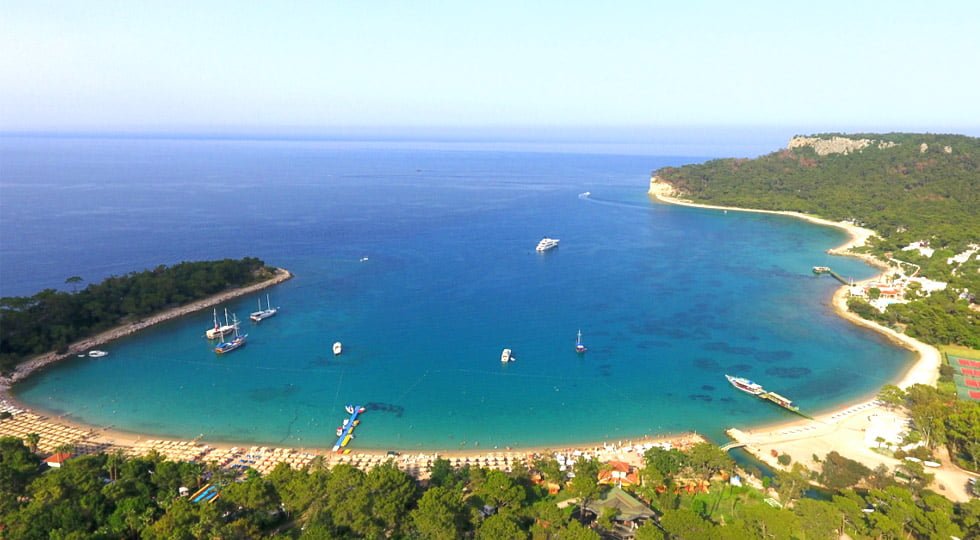 The Moonlight park is the entertainment and leisure day out place located just behind the Moonlight beach. It is set in a lively green area with lots of pine, gum and palm trees.
The park is home to a Dolphinarium, a shopping center with 4 shops, a mini zoo, tennis and basketball courts, several recreation and green areas.
Jeep Safari + Quad Safari
If you are an adventure lover and want to do something fun during your hotel stay in Kemer Antalya, than we recommend the 4×4 off-road jeep safari tours. You'll enjoy travelling on dirt, dust and stone paved roads along the Taurus Mountains and have a great day out for sure.
During the tour, you'll give several breaks at the many places with great views from above, visit local villages and see the rural life of the villagers in their traditional houses.
You'll also give cool down swim breaks along the mountain streams and waterfalls.
Quad safari is another great attraction for the ones who are looking for adrenaline and adventure. You'll definitely enjoy the rugged landscapes along the Taurus Mountains while marveling through the challenging mountain paths on a quad bike safari.
Traveling along the dusty mountain tracks, pine-forested beautiful trails, scenic views, with several swim breaks along the mountain streams will cheer up your hearts for sure.
Daily Boat Trips + Scuba Diving
You can participate daily boat trips, as well as snorkelling and scuba diving, and explore the great dive spots, bays and coves around Kemer Bay and the many other dive sites along this paradise coasts.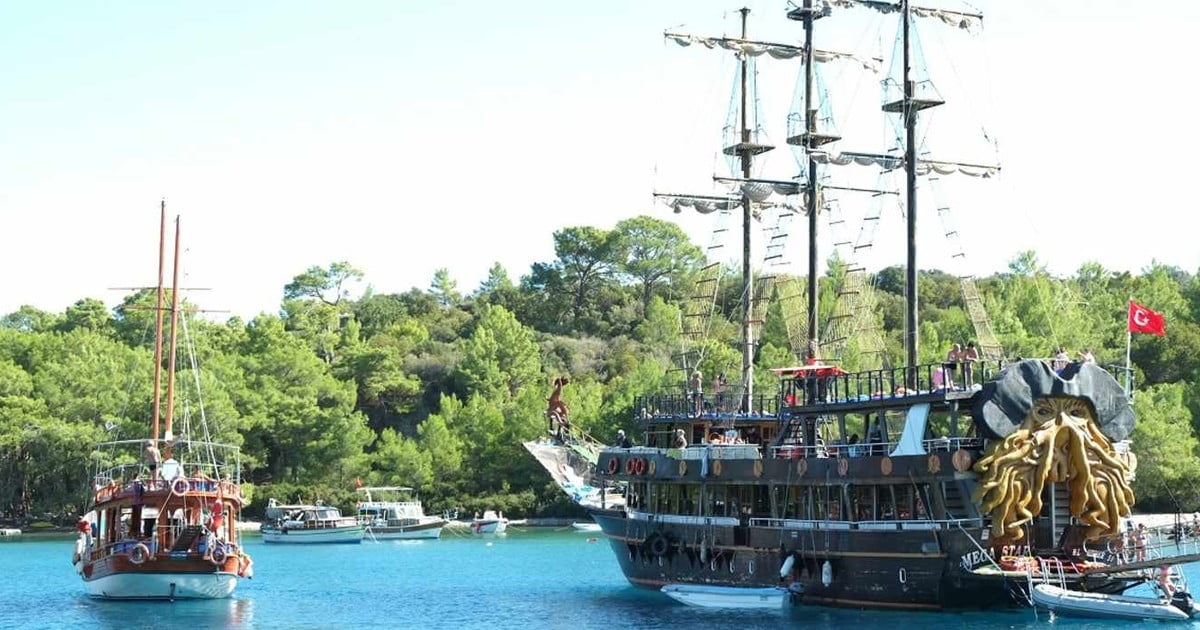 While you are on board, you'll definitely enjoy the stunning coasts of the Mediterranean, have a great sunbath on deck, with fun boat parties and swim breaks along several unspoilt coves, hidden waterfalls or excellent islands. Majority of the boats set sail from the marina at the Kemer town center.
Natural Beauties + Ancient Cities
If you want a break during from your hotel days, you should take a day out, hop on the Mount Tahtali cable car and access the summit.
You'll really have fun with the 10 minutes aerial cable car (Olympos Telererik), enjoy the mountain breezes, watch sunset and sunrise, do hiking, trekking, climbing, paragliding, and have a romantic dinner on the hilltop restaurant. You can even have a great ski experience here in winter.
For the adrenaline lovers, cooling off at the waters of Goynuk Canyon is a great attraction through Kemer. The Canyon is an amazing place for nature lovers. The canyon is famous for its nature, pine forests, waterfalls and natural pools. Here, you can have a fun trekking day out along the 4,5 km. long canyoning track.
If you like trekking and hiking, than you can also visit the Ucoluk Plateau. With an altitude of 1500 metres, here you'll definitely have a great day out with spectacular views.
If you want to explore the historical sites and do something different during your lazy hotel days in Kemer, than you visit the Olympos and Phaselis ancient cities.
Phaselis is the ancient Lycian city, archaeological site and open-air museum set in a very impressive natural environment by the coast and Taurus Mountain range at the background.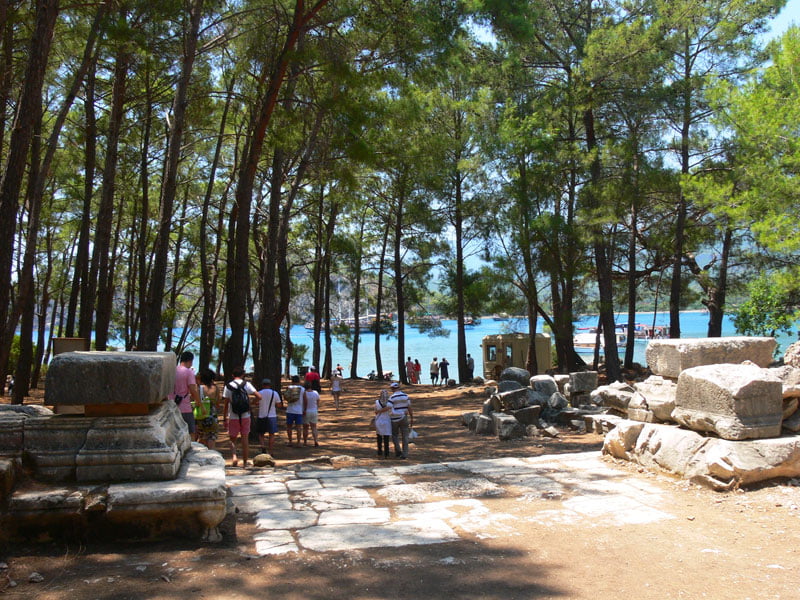 The archaeological site is very famous and attracts hundred thousands of visitors every year for its historical remains, amphitheater, wonderful beaches and picnic areas. You can access to the site within 15 minutes drive from Kemer town center.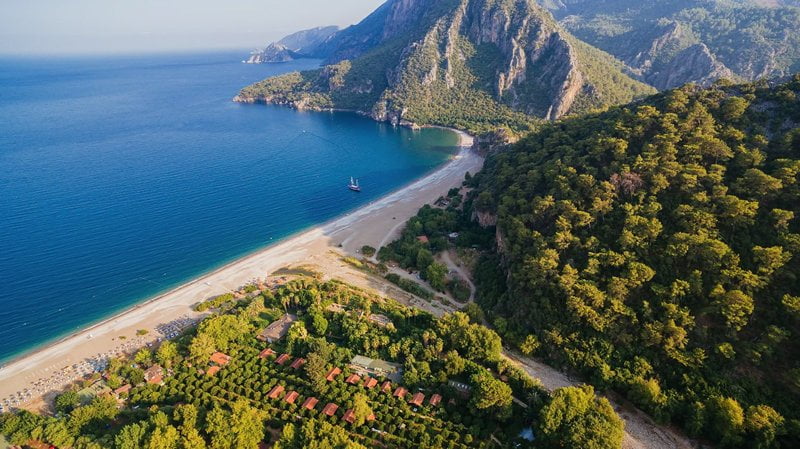 Olympos is the ancient Lycian city and one of the natural wonders of Antalya region, situated on a very beautiful environment by the Mediterranean coast along the pine forests and Beydaglari mountains at the background. It is a unique place nearby the famous resort of Cirali and also known as the city of gods.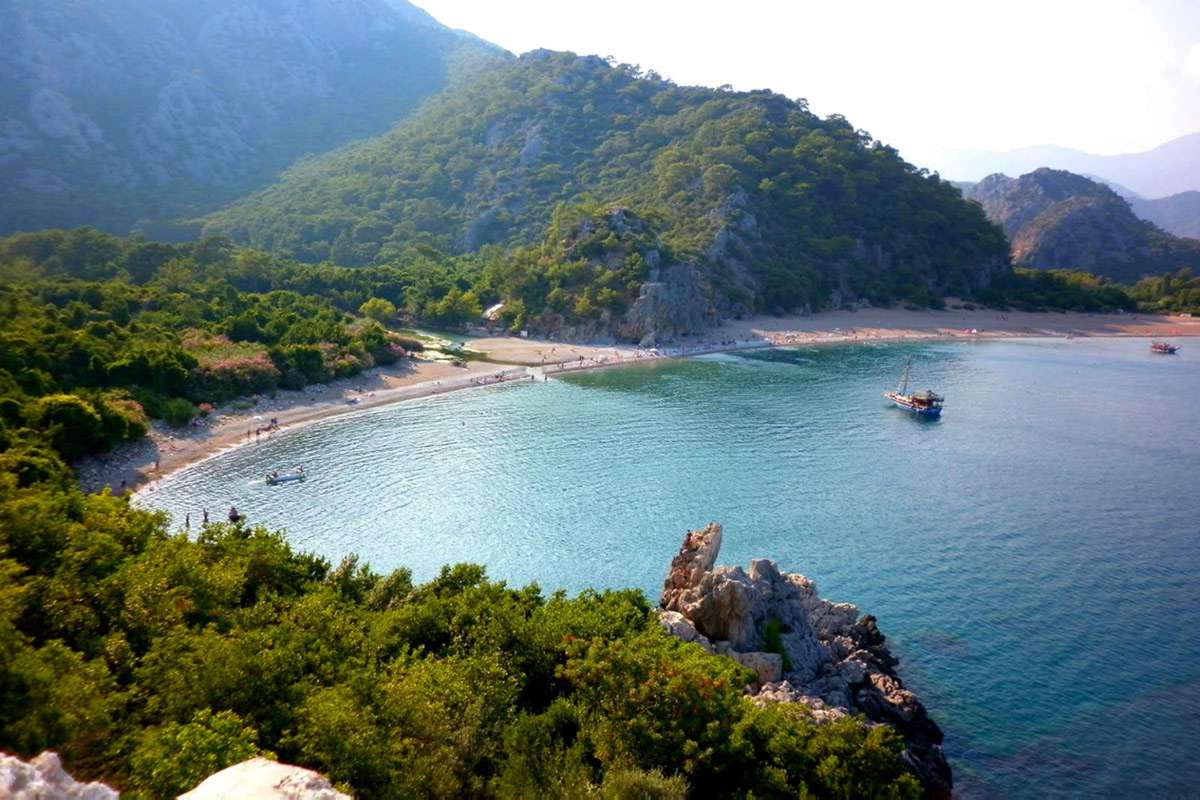 The ancient city dates back to the Helenistic era on the 1st and 2nd century AC. It was the biggest city of the Lycian region. Here, you'll see variety of ruins such as fortified castles, roman bath, etc.
Yanartas Chimaera, known as "the Eternal Flames" is a very supernatural place are where you'll see flames burn right on the rocks without any apparent fuel or heat source. It is situated on the sloped of the Mount Chimaera, near the famous Olympos Valley and Cirali resort of Kemer.
You can take an evening hike through this amazing place along with its pine forests with scenic views. The region is also a popular trekking trail along the Lycian Way.
You can enjoy the picturesque views of the Cirali coast, take beautiful photos, and have a fantastic moments here.
Shopping
You'll find great shopping opportunities from popular outdoor markets, antique, souvenir and handicraft shops to great stores in Kemer town center and all surrounding resorts. The pedestrianized street of central Kemer is the most popular place to make shopping in Kemer.
You can also have fun and enjoy the village market days that are held in Goynuk town. You'll definitely love this place and shop from lots of local products including fresh fruits, vegetables, to textiles, clothes, shoes, and a range of different handcrafts at very reasonable prices.
Intense nightlife
Kemer has an intense nightlife where you'll find lots of bars and night clubs to enjoy and get entertained after dark. You can find the best nightlife activities in the Antalya region at Kemer.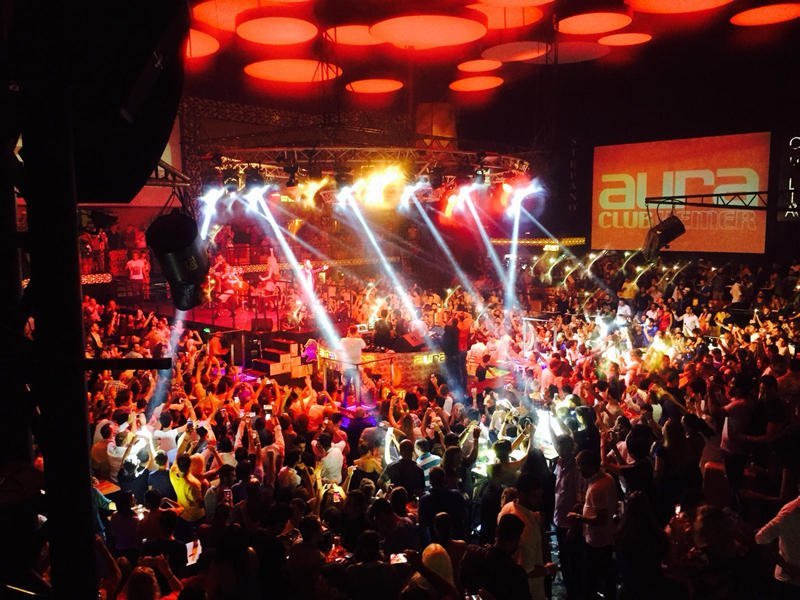 The Kemer town center is a lively place and home to a lively bars, night clubs and restaurants that all has different themes with live music and shows. Majority of the hotels in Kemer and surrounding resorts also have their own night time entertainment.