Antalya region is famous for its beautiful beaches with breathtaking landscapes and coasts. It is also called as the Turquoise Coast. You'll find wide range of beautiful bays and coves with impressive beaches and spend a great day out. And where some are pebbled one while others are golden sandy.
What to Expect?
As one of the most popular tourist destinations in Turkey, Antalya boasts an incredible coastline with crystal clear waters, golden sands, and stunning landscapes. Whether you're looking for a quiet spot to relax or a lively beach with plenty of activities, Antalya has a beach for everyone.
Visiting these beautiful beaches should be one of the top things to do in Antalya. The whole Antalya region is home to a more than 500 km. of great sandy and pebbled shorelines, Blue Flagged beaches with crystal clear waters and pine forested mountains at the background. And so called the Turquoise Coast.
You can enjoy the fine sandy beaches and crystal clear waters of the Mediterranean, take a romantic walk, or do variety of water sports such as banana boat rides, jet ski, paragliding, and lots of space to sunbath.
Top 16 Best Beaches in Antalya
Konyaalti Beach
Konyaalti Beach is a popular choice for both locals and tourists. It's a long pebble beach located west of Antalya with crystal clear waters and stunning views of the Taurus Mountains. The beach is the main city beach that is extending for about 7 km from the Antalya harbor. The beach is a 1,5 km. long blue-flagged and pebbled beach. The waters are crystal clear and like an aquarium especially in the mornings.
---
No Regrets Booking Advice
---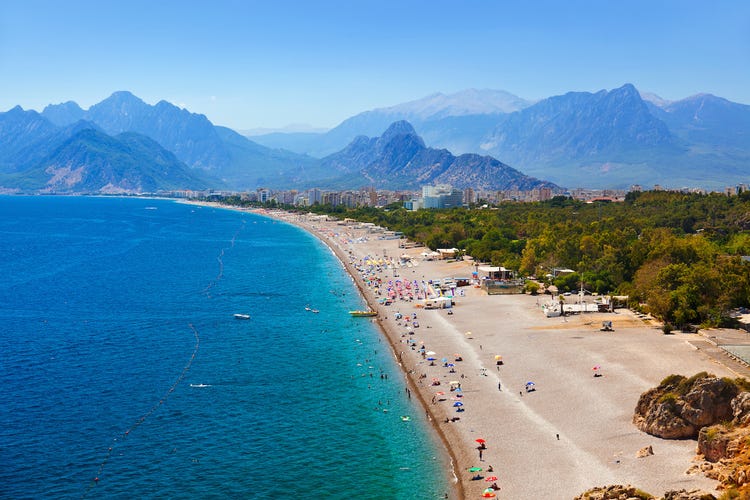 You can simply jump on the tram heading west from the town center and easily access this lovely beach at the last stop. There are plenty of sun loungers and umbrellas for rent, as well as beach bars and cafes. If you're interested in water sports, you can try kayaking, paddleboarding, or even scuba diving.
Mermerli Beach
The Mermerli beach is a pretty beach located just in the historic center of Antalya, at the end of the marina, Kaleici Harbor. This beach is a popular city beach and has calm waters.
Inciralti Beach
The Inciralti beach is another popular one located next to the Lara beach. It is a public beach, and has calm waters.
Kemer Moonlight Beach
This enchanting destination offers a unique blend of natural beauty, serene ambiance, and a touch of magic that comes alive under the moonlit sky. Join us on a journey as we uncover the wonders of Moonlight Beach & Park, revealing the top things to do and see, along with invaluable advice to make the most of your visit. Get ready to immerse yourself in a world of tranquility, where the moon casts its gentle glow upon the glistening waters, and nature invites you to indulge in its embrace.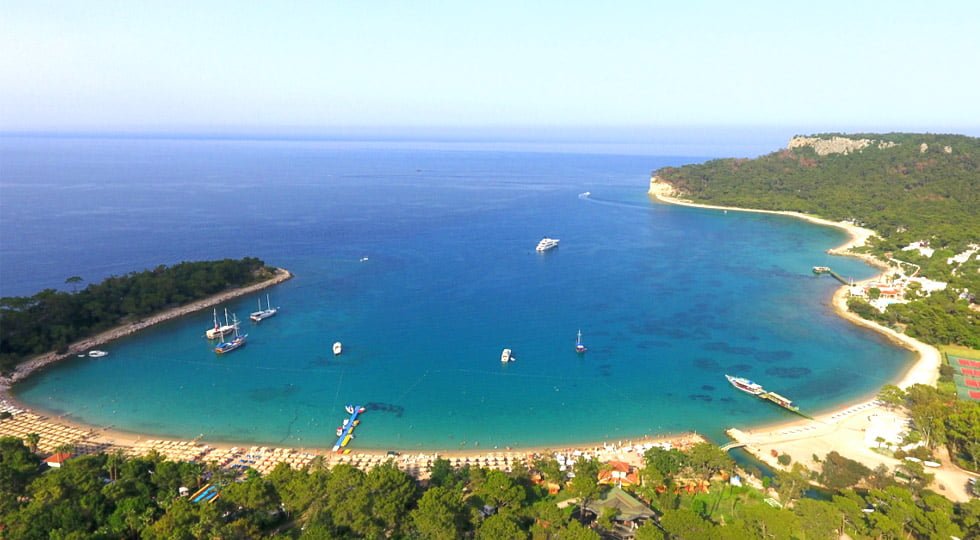 Moonlight beach is a beautiful and popular beach located in the town of Kemer, which is about 40 kilometers from Antalya. The beach is a 500 meters long and golden sandy one and situated right by the Kemer marina, in an impressive bay.
It is a Blue Flag beach, which means that it meets strict criteria for cleanliness, safety, and environmental management. The beach is characterized by its crystal-clear waters, fine sand, and lush green surroundings. It offers a perfect place for relaxation, sunbathing, and swimming. The beach promenade is very attractive with lots of classy beach clubs, cafes, restaurants and boutique shops. You'll also find variety of water sport activities.
Lara Beach
The blue-flagged beach of Lara beach resort is a 8 km. long sandy beach located east of Antalya, and facilities here are great. You can have a great beach day out here soaking up the sun, swim and do water sports. The sand is yellow and thin here. The waters are also more warmer than the other beaches in and around Antalya.
The beach is surrounded by high-end hotels and offers plenty of water sports and activities, including parasailing, jet-skiing, windsurfing, bananas, paragliding, kayaking and pedalos. You can also find beach clubs and bars to enjoy a refreshing drink or a delicious meal while enjoying the sun and the sea. You can also find a range of water sports centers offering.
Cleopatra Beach
The Cleopatra beach is the famous beach of the Alanya resort of Antalya. The name is given after the legend that Cleopatra and Antonius swam here. It is a 2 km. long blue-flagged and fine sandy beach that is starting from the end of the nearby Damlatas beach. The beach has shallow and crystal clear waters.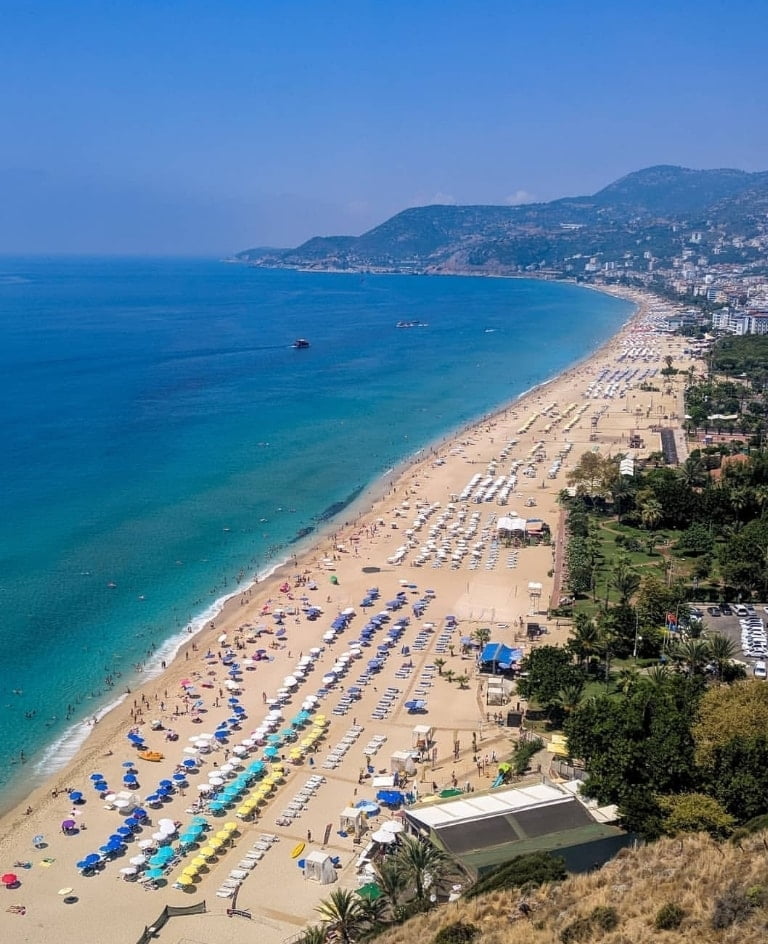 This magnificent beach, with its golden sands, crystal-clear waters, and intriguing legends, offers a perfect escape for beach lovers seeking a blend of relaxation and cultural exploration.
Damlataş Beach
Situated at the western end of the historic Alanya peninsula, Damlataş beach is one of the most renowned beaches in the area. This Blue Flag beach, known for its fine, pristine sand and shallow, crystal-clear waters, offers an enchanting setting for sunbathing and swimming.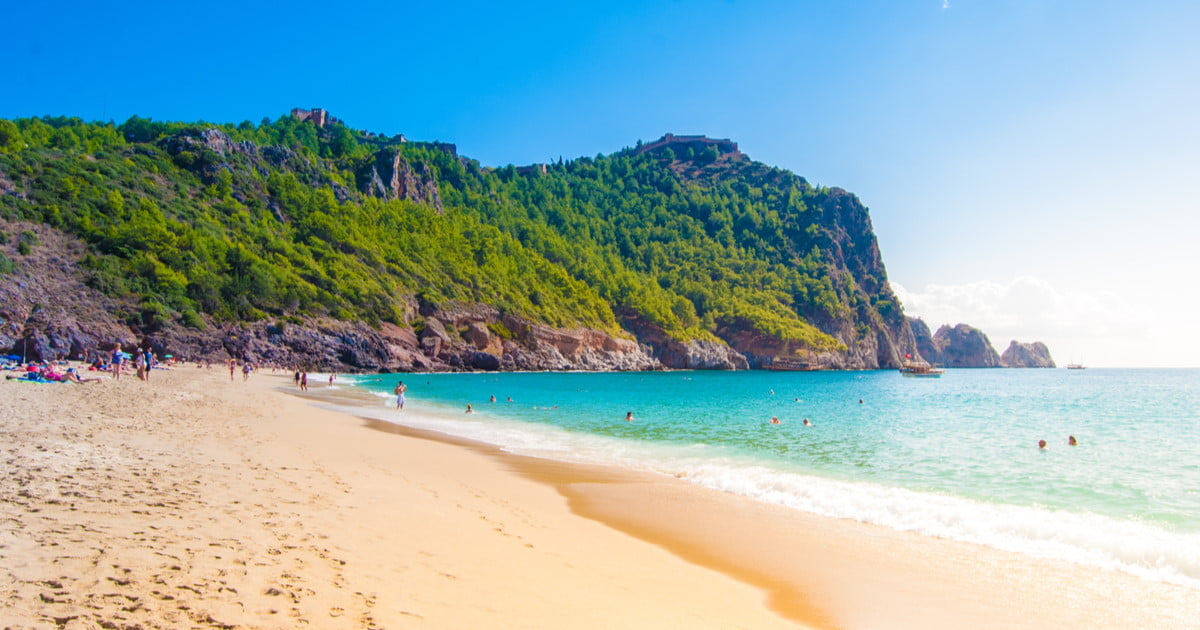 While it's a perfect spot for enjoying the sea, you can also explore nearby attractions. After a refreshing swim, you can visit Damlataş Cave, located just behind the beach, or venture along the coastline to Fosforlu Cave if you're a fan of underwater exploration. While entry to the beach is free, you can rent sun loungers, umbrellas, and satisfy your food and beverage needs at the surrounding establishments.
Incekum Beach
Situated approximately 23 kilometers west of Alanya, Incekum Beach is known for its golden sands and crystal-clear waters. The name "Incekum" translates to "fine sand" in Turkish, which perfectly describes the beach's soft and powdery sand. This spacious beach stretches for about 1.5 kilometers and is surrounded by pine forests, creating a picturesque setting.
Incekum Beach offers a shallow and calm sea, making it an ideal choice for families with children. The gently sloping seabed allows for safe and enjoyable swimming. The water is exceptionally clear, making it a popular spot for snorkeling and observing marine life. Along the beach, you can find beachside facilities that offer sun loungers, umbrellas, and water sports activities.
Evrenseki & Kumkoy Beaches
The Evrenseki and Kumkoy beaches are the popular beaches of Side resort of Antalya. Evrenseki is the public beach of the region. Both beaches are sandy ones and has all the necessary services for beach-goers.
Phaselis Beach
The ancient city of Phaselis has lovely beaches through its three ancient harbors. It is located between the Tekirova and Camyuva resorts of Kemer. Phaselis Beach is a stunning pebble beach located about 1 hour south of Antalya. It's surrounded by lush greenery and crystal clear waters.
The beach is part of the ancient city of Phaselis, which you can also explore. You can also find beach bars and restaurants to enjoy a refreshing drink or a delicious meal while enjoying the views.
The beach at the south harbor is the most popular and excellent one with beach facilities like WC and showers. The beach and the panorama is very impressive. The beach is a mixture of sand and pebbles.
The coastline is very beautiful with sunbathing and camping area. You'll see lots of yachts moored and daily boat trips' visitors.
Cirali Beach
Cirali beach is a 3,5 km. long blue flagged one and has crystal clear water. It extends to the nearby famous Olympos beach. You'll see lots of boats and yachts moored here. You'll also find many beach cafes and restaurants lined up at the beachfront.
It's a quiet and secluded spot, surrounded by nature and mountains. The beach is also home to loggerhead turtles that come to lay their eggs during the summer months. You can also explore the nearby ruins of the ancient city of Olympos.
Olympos Beach
Olympos resort of Kemer is situated just right after Cirali, and the Olympos beach is situated just after the Cirali beach. The beach is also a secluded one located near the ancient city of Olympos. The beach is surrounded by lush greenery and offers stunning views of the Mediterranean Sea. It's a great spot for swimming and sunbathing, and you can also explore the nearby ruins of Olympos.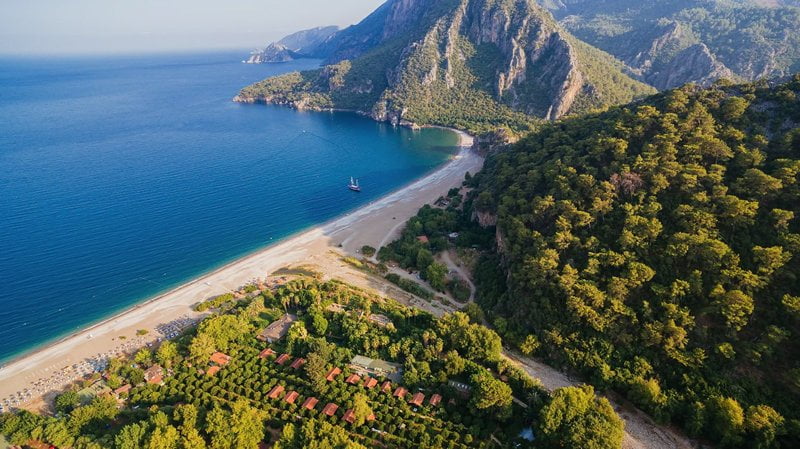 With pine forests, ancient city ruins and Beydaglari mountain range at the background, the Olympos beach is about 400 meters long, golden sandy one and very ideal for swimming and sunbathing. The area is famous with the hippies.
Adrasan Beach
Adrasan resort of Kemer has an impressive beach situated in a wonderful cove. The region is a naturally protected area.
The Adrasan beach is a 2 km. long and blue flagged one and offers several water sports and beach activities. You'll see lots of boats and yachts moored.
The Adrasan cove is also a popular destination for scuba diving and deep sea fishing lovers. The crystal clear waters and underwater environment make Adrasan one of the best diving locations in through Antalya.
Kaputas Beach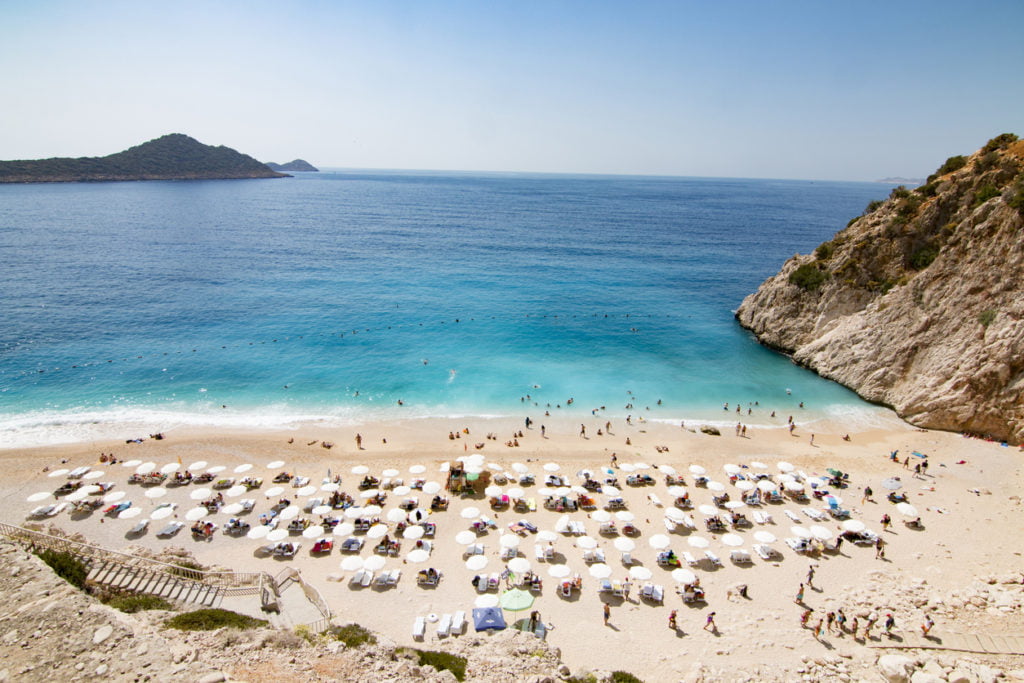 Kaputas Beach is a true gem of the Antalya region, nestled in the charming town of Kas, offering a serene and picturesque beach experience. With its pristine sand, turquoise waters, and stunning surroundings, it's no wonder why visitors are drawn to this idyllic spot. Whether you're seeking relaxation, adventure, or simply a day in nature's embrace, Kaputas Beach has it all.
İnceboğaz Beach: Where Nature and Beauty Converge
Offering a breathtaking view of the islands, İnceboğaz is a rare gem where you can both swim in the sea and immerse yourself in its stunning surroundings. Situated in the narrowest section of the Çukurbağ Peninsula, İnceboğaz features two separate beaches: an open area and a sheltered cove.
Both beaches are serviced by Çınar Beach, a beach club that provides sun loungers and umbrellas free of charge when you purchase food and drinks. However, if you prefer not to dine at the club, you can rent a sun lounger and umbrella for a small fee of 10 TL.
The open area of İnceboğaz is often windy and has some waves, making it ideal for those who enjoy a bit of excitement in the water. On the other hand, the sheltered cove offers calm and warmer waters, making it suitable for families with children. Don't forget to bring your beach shoes, as the shoreline consists of pebbles.
Patara Beach: Where History and Nature Unite
Located approximately 43 kilometers from Kaş, Patara beach holds the distinction of being the longest beach in the world, stretching 12 kilometers in length and 1.5 kilometers in width. Named after the nearby ancient city of Patara, this beach is a natural wonder protected as a designated nature reserve. With its untouched beauty and pristine atmosphere, it's a paradise for nature lovers.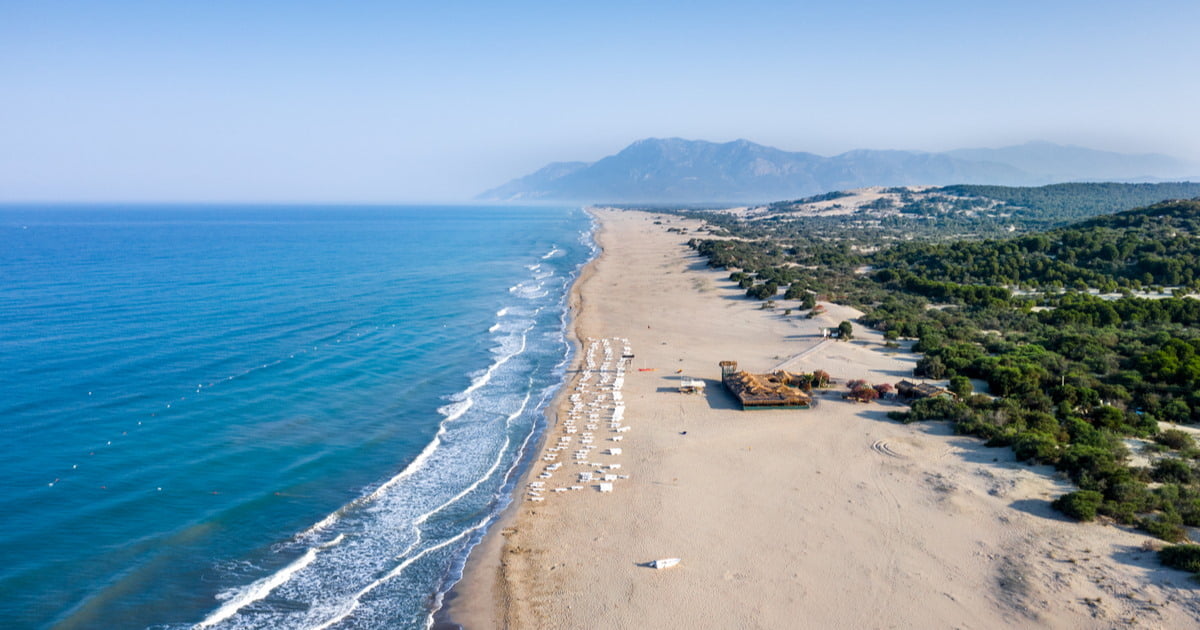 As a beach renowned for its surf-friendly conditions, Patara beach is a popular destination for water sports enthusiasts. Its open and exposed nature makes it ideal for windsurfing and other thrilling activities. Additionally, the beach is an important nesting site for sea turtles, with efforts from Hacettepe University focused on ensuring the survival and reproduction of these magnificent creatures.
Beyond its natural marvels, Patara beach also boasts a unique claim to fame in the world of cinema. Additionally, you can take a stroll along the Lycian Way, a famous hiking trail, and explore the scenic path leading to Patara beach.