The Duden Waterfalls are one of the most visited sights around Antalya city center. It is the impressive and eye-catching part of the Duden River which runs about 10 km. from the north of the central Antalya, and meets the sea to the south east coast of the city.
What to Expect?
Duden Waterfalls are very spectacular. The cool river waters flow from the Taurus Mountains to the Mediterranean Sea and showcase a scenic natural beauties for its visitors. The waters split into two plateaus named Upper Duden Waterfall and Lower Duden Waterfall.
Upper Duden Waterfall
The Upper Duden waterfall is a very impressive one and visitors will feel like they are in part of a heaven. The waters here flows from 15 metres height and forms a 20 meters width very beautiful natural pool.
You can have a peaceful moments and refresh yourself in the company of green forests, birds' chirps and the sound of the cascading waters.
According to a legend, Alexander the Great have visited this area and watered his horses here. And so some people call the area as "Alexander Waterfall".
You can also find several places with wooden benches to enjoy a picnic. You can bring your food and drink or buy from the facilities here.
Lower Duden Waterfall
The Lower Duden waterfall is the place where the waters coming from the Upper Duden waterfall meets the Mediterranean Sea, flowing from about 40 metres height. The waterfall is situated close to the Antalya city center.
The speed of the cascading waters form fantastic and scenic views over the sea here.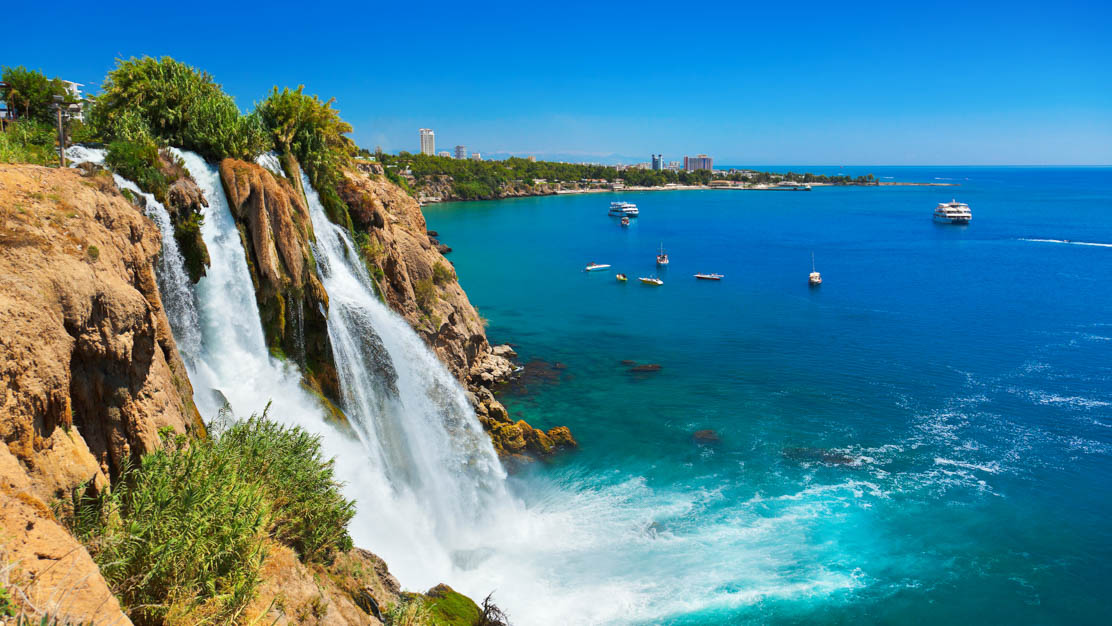 Many locals and tourists come here to spend a great day out watching the breathtaking views, taking photos and strolling around the park near the waterfall.
You'll also find variety of boat trips from Antalya visiting the Duden waterfall. An alternative way of seeing this impressive wonder of nature.
Top-Rated Waterfalls Tours from Antalya
How to Get There?
The Upper Duden (see location map) is located on the north of Antalya, about 10 km. (20 minute journey) from central Antalya, and Lower Duden (see location map) is located 9 km. on the south coast of the city, just a short bus ride or about a 10 minute drive from Lara Beach.
You can hire a car, take a public bus or daily tour to get to Duden Waterfalls.