Rhinoplasty in Antalya is a popular and affordable option for those seeking high-quality plastic surgery. With experienced surgeons, high-quality facilities, a beautiful location, and a welcoming culture, Antalya is an ideal destination for rhinoplasty. By choosing Antalya, you can save money while still receiving the best possible care and achieving your desired results. Here you can read about general information about rhinoplasty (nose job), including what to expect, the procedures, advantages, candidates, things to know before and after, prices, top best plastic surgeons and clinics for rhinoplasty in Antalya, Turkey and insider tips.
What is Rhinoplasty?
Before explaining what exactly an rhinoplasty is, let's first learn what rhinoplasty is. Rhinoplasty, in its simple definition, means "nose job''. It is a medical surgery performed not only to change the shape, size, angle, and narrowness of the nose but also helps correct the breathing problems, or some birth defects or deformations by modifying the bone or cartilage.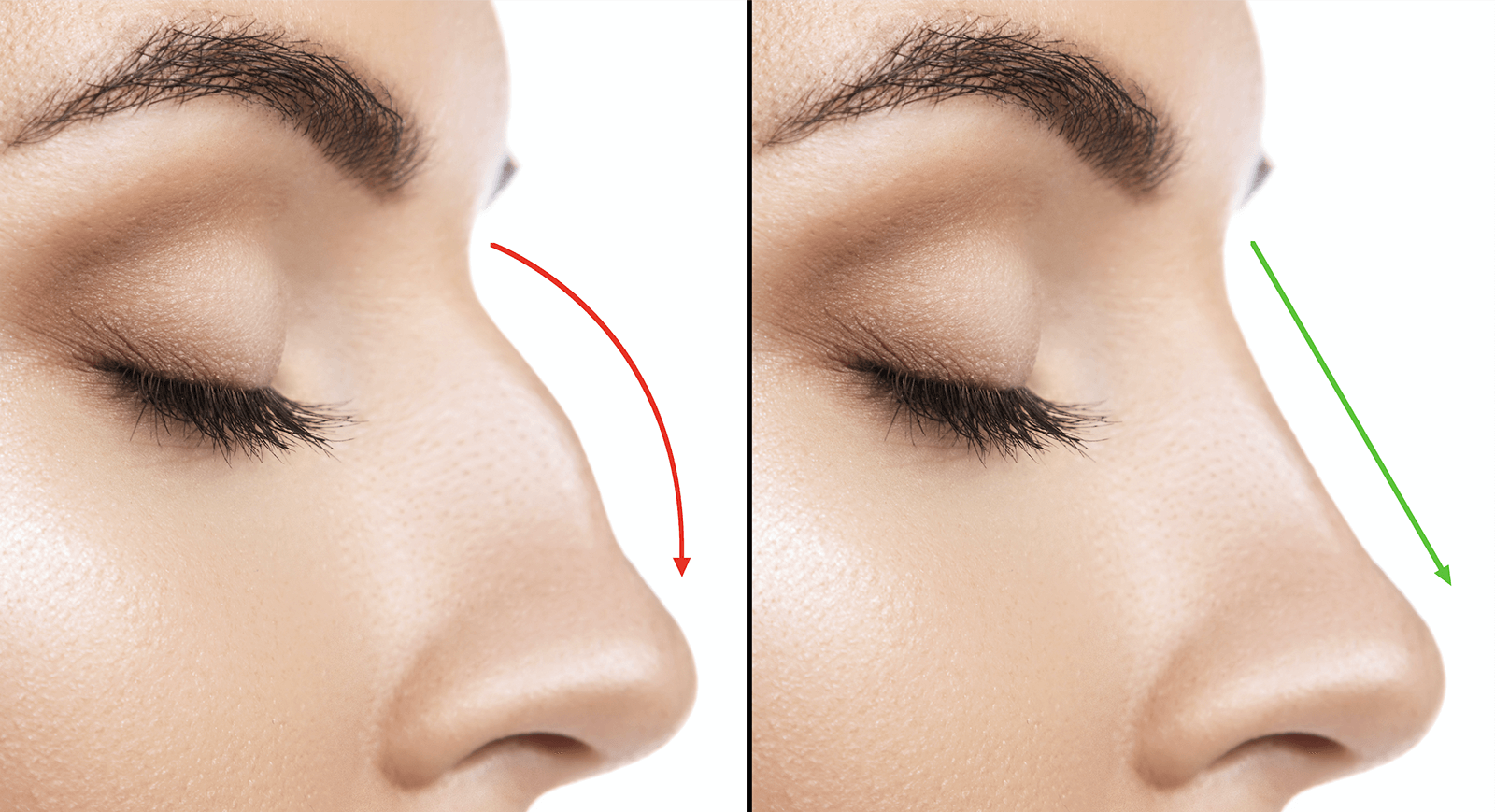 It is reported that rhinoplasty is one of the most common types of plastic surgery. Today it is possible to have a makeover in your appearance; you can augment your appearance as little or as much as you like to enhance the aesthetics of your face.
Nose surgery, also known as rhinoplasty, is one of the highly demanded surgeries globally and depends upon how the underlying nasal skeleton affects the nose's shape and contour, and is performed in two different ways; open and closed, both of which are dependent on reshaping and adjusting the appearance of the nose. Surgeons are applying both techniques.
When deciding on a suitable technique, the nasal structure of the patient plays a great role in this. Closed rhinoplasty, on the other hand, is simpler and less invasive, and is good for severely asymmetrical noses involving breathing issues.
---
No Regrets Booking Advice
---
Closed rhinoplasty has shorter recovery periods. It can be used to minimize the surgical incisions, correct bumps, dorsal humps, or reshape the nose bridge, bulb, or tip. In open rhinoplasty, more profound modifications may be required and it is a more involved procedure with more swelling and scarring and a longer recovery time. Please read on to learn more about open rhinoplasty.
What does a rhinoplasty procedure treat and how?
Traditional rhinoplasty is an invasive operation to correct the shape, size, angle, bump, and cosmetic breathing concerns of the nose. Rhinoplasty creates an incision along the width of the columella (with inverse "V" cuts from the bottom part of the nose, or a small Z-shaped incision on the columella) and the surgeon can see the fundamental intranasal structures by cutting the area between nostrils and lifting the nasal skin.
The operation takes about 2 or 2.5 hours, however, the duration may get longer if the cartilage is taken from the spine or if there are other problems. However, after the open rhinoplasty, a scar on the tip of the nose may be visible from the outside.
Why is rhinoplasty preferred?
The doctor decides to decide on which technique would be best after a thorough examination. Traditional open rhinoplasty is preferred under the following conditions. If there are significant nose tip problems, advanced nasal bone curvature, large nasal cartilage, persistent physical or functional problems after a previous rhinoplasty, cartilage gaps, or dents, then, open rhinoplasty is performed.
What are the advantages of open rhinoplasty?
Planning of an open rhinoplasty is easier because it has a direct view with all bone and cartilage structures on the nose visible and it is possible to see how much cartilage is removed or left behind.
In open rhinoplasty, surgeons have access to the internal part of the nose, it improves and corrects the shape and the function of the nose in less time and in reduced recovery times. Of course, the surgery leads to some bruising, swelling, but they will be healed in time. There are some cons of open rhinoplasty, too.
For instance, visible scarring due to the incision along columella occurs, but because it is a 2-3 mm cut from the bottom part of the nose, it is invisible most of the time. It will fade away within 6 months or a year.
How is the open rhinoplasty procedure?
The open rhinoplasty is performed under general anesthesia or milder sedation, and the patients are required to stay in the hospital overnight; however, they can walk or stand up 3-4 hours after the surgery.
Because solid food might damage the sutures on the nose, therefore, the patients may not be able to chew, therefore they must consume only liquid food for the first couple of days. The patients are required to take a rest for 1 week after the surgery. If the sutures in rhinoplasty are aesthetic sutures will dissolve on their own and there is no need to remove them. Non-aesthetic sutures must be removed after one week.
Potential side effects of an open rhinoplasty include but are not limited to significant swelling, bruising, and tenderness after open rhinoplasty; however, they will disappear in 4 or 5 days, sometimes it may take longer.
After the surgery, it is normal to have slight pain, edema, and swelling. However, it is possible to be back to work in 1 week. However, during this period, it is advised the patients stay away from high-intensity sports. Patients can take a bath after 3-4 days of the surgery, but they must avoid long hot baths. Also, they must wait for at least 2 months for fitness, swimming, and pilates.
There may be some bleeding after the surgery, therefore blood thinning foods, and blood thinners aren't recommended. Furthermore, the patients must protect themselves at all times, mustn't use sunglasses or shades until the doctor says otherwise. Patients must wear hats when they go outside if it is sunny, they must stay away from direct sunlight, but sunscreen is recommended for one month. Patients must use two pillows after the surgery and keep their noses high.
In an open rhinoplasty procedure, recovery time for the acute healing phase is from 2 to 3 weeks. The nose will continue to heal over 12 to 18 months, and the results of the surgery will finalize within 1 year. You can go back to your normal life and daily activities within the first month.
Who is the ideal candidate for an open rhinoplasty procedure?
Anyone, over 18 years old, who has nasal deformities, concerns, dissatisfactions, or works that need to be done to change the nasal tip, can have a rhinoplasty. There are some exceptional situations for those under 18 years, if there is a specific need because of an injury or important health issue, then the surgery may be carried out. Cosmetic surgery is a huge decision and one that certainly shouldn't be taken lightly.
How to prepare yourself for your rhinoplasty?
Manage your expectations, any surgery may go wrong. Keep in mind that surgery cannot give you something so new and anew. Surgeries are carried out to improve or enhance your look or what you already have. There is no such thing as 'perfect'. Remember, it's not about becoming or copying someone or anyone else, it is about you.
Do your research. Make sure you're in good hands and are going to get the natural result you want, you need to make sure you've conducted plenty of research. Read the reviews written about the surgeon and the clinics online.
Give yourself time to recover. There will be some side effects, such as swelling, bruising, etc. of course, get ready for it and be prepared. and you may have swelling and bruising.
Give yourself enough time to heal completely and properly. Find a reputable doctor you trust. This is paramount to find your surgeon carefully.
Make sure your doctor is a skilled board-certified plastic surgeon who will prioritize your care.
Be specific about what you want to be different, be realistic, and have self-confidence in you.
Pre-Rhinoplasty Procedure
– To achieve good results, consult with your surgeon to see whether you're a good fit for a Have an open mind and mutual communication and tell your doctor what your expectations exactly are and how you want your nose or whether you have any underlying medical issues, deformations, etc that prevent your breathing properly. Then, your doctor will look closely into your medical history and will ask you some questions. And, he/she may even ask you for some blood tests, etc.
– There will be a physical exam performed by your surgeon to examine the skin on the inside and outside of your nose to see if the surgery will be possible. Some blood tests or other lab tests may be required, too.
– During consultations, generally, some photographs are taken to see your nose from different angles.
If you are on medications, or smoking, inform your doctor about it, too.
Rhinoplasty Procedure
Open rhinoplasty is performed, generally under general anesthesia, in a hospital, clinic, or outpatient surgical facility. The operation is initiated when your surgeon's incision between or inside your nostrils. The reshaping on your nose starts when the skin is separated from the cartilage or bone.
Recovery from Rhinoplasty
A plastic or metal splint will be placed on the patient's nose after the surgery to help shape the nose in its new form. The patient is required to stay in the hospital the same night of the surgery to be monitored.
Sometimes, some patients may be confronted with bleeding, drainage, swelling as well as bruising, for a few days, and it is recommended to use high pillows to rest the head.
Some patients experience headaches, therefore the doctor prescribes some pain killers and medications. For a swift recovery, avoid swimming, excessive chewing activities, physical activities, laughing, smiling, wearing sunglasses, swimming, etc. Make sure you don't stay under the hot sun exposure and make sure you use sunscreen.
How about Rhinoplasty in Antalya Turkey?
A large number of tourists, primarily from the Balkans, the Middle East, Russia, Western Europe, North Africa, Turkic Republics and Arab countries prefer Turkey for non-compulsory medical operations (cosmetic surgery), such as hair transplantation and plastic surgery, which stands out in health tourism, medical tourism and tourism for the elderly and disabled. Rhinoplasty Turkey has recently become one of the most popular in the world. Today Antalya has taken its place in the global market with a high share it deserves.
Although the cosmetic surgery costs are different based on geography, however, developing countries have been attracting more and more international travelers thanks to their state-of-the-art facilities, hospitals, services, discounted health services, and of course, plastic surgery is a major, invasive procedure everywhere in the world. Therefore, patients weigh their options with utmost care. It is important to choose an accredited, trusted, skilled, and board-certified plastic surgeon with high educational and training standards.
Cost of Rhinoplasty in Antalya
The cost of rhinoplasty in Antalya varies depending on the type of method, and the surgeon's and clinic's experience and reputation. On average, the cost of rhinoplasty in Antalya ranges from $1,500 to $3,000.
Comparison with Other Countries:
UK: The cost of rhinoplasty in the UK ranges from £4,000 to £7,000
USA:

The cost of rhinoplasty in the USA ranges from $5,000 to $15,000

Germany:

The cost of rhinoplasty in Germany ranges from €3,500 to €8,000

Russia:

The cost of rhinoplasty in Russia ranges from 100,000 to 200,000 RUB

Australia:

The cost of rhinoplasty in Australia ranges from AUD 8,000 to AUD 20,000

Canada:

The cost of rhinoplasty in Canada ranges from CAD 6,000 to CAD 15,000

Poland:

The cost of rhinoplasty in Poland ranges from €1,500 to €5,000

Hungary:

The cost of rhinoplasty in Hungary ranges from €2,500 to €5,500

Albania:

The cost of rhinoplasty in Albania ranges from €2,000 to €4,000
Rhinoplasty in Antalya is significantly more affordable than in many other countries, including the UK, USA, Germany, Australia, and Canada. Patients can save a lot by choosing Antalya for a rhinoplasty. The high-quality plastic surgery clinics, experienced surgeons, and affordable prices make Antalya a superb choice in rhinoplasty procedure. However, it is critical to select a qualified and skilled plastic surgeon and make a good research.
Rhinoplasy Antalya FAQs
How much does it cost a rhinoplasty in Antalya, Turkey?
Average cost of a rhinoplasty (nose job) surgery in Antalya is around €1500. In addition it often ranges between €1500-€3000 with thee reputation of the rhinoplasty surgeon and the quality of the hospital/clinic.
Is Antalya good for rhinoplasty?
Antalya boasts high-quality medical infrastructure with its top doctors and state-of-the-art health facilities. There are 26 private hospitals, 2 of which are accredited, 18 medical centers, 22 poly-clinics, 6 branch centers, 9 physiotherapy centers, and 23 dialysis centers in the city.
A large number of tourists, primarily from the Balkans, the Middle East, Russia, Western Europe, North Africa, Turkic Republics and Arab countries prefer Turkey for non-compulsory medical operations (cosmetic surgery), such as hair transplantation and plastic surgery, which stands out in health tourism, medical tourism and tourism for the elderly and disabled. Today Antalya has taken its place in the global market with a high share it deserves.
Is rhinoplasty (nose job) safe in Antalya, Turkey?
Yes, definitely. Antalya and Turkey with its excellent and affordable health services can provide medical tourism services to millions of people from all over the world and primarily from neighboring countries. The hospitals – equipped with cutting-edge medical equipment and highly trained physicians – are regularly audited by JCI and other independent accreditation bodies.
Also easy access to world-class facilities and opportunities in Antalya will be at the visitors' disposal as soon as they land. Luxurious and modern hotels, well-equipped hospitals, specialists, and agency representatives will be at your service.
Why rhinoplasty (nose job) is cheap in Antalya, Turkey?
Medical tourists choose Antalya and Turkey for various reasons; including price, quality, technical conditions, short waiting periods, and high-end facilities. When compared to EU, UK and US, prices are very low because the minimum wage, cost of living, accommodation, rentals, utility and management costs are cheaper.
Top Best Surgeons for Rhinoplasty in Antalya Turkey
You are able to find top class plastic surgeons & aesthetic clinics for rhinoplasty (nose job) in Antalya, Turkey, offering all the necessary services for their guests. We are locals and here we only recommend the proven and top rated surgeons and clinics comparing the patients' comments, affordable prices, brand value and quality of the clinics, hospitals, renowned surgeons, technicians, specialists, and therapists.
---
Get a Free Quote / Book Rhinoplasty in Antalya Turkey
You may get a free quote with consultation from the best surgeons and clinics in Antalya Turkey we list above by filling out the form below. Upon submitting the form, medical and administrative teams of the surgeons and clinics will contact you and provide you all the necessary information regarding your treatment plan with procedures, pricing and travel package information. You'll also get 5% discount for being our valuable website visitor.
Rhinoplasty Turkey Request Form
---
Disclaimer
The medical content and information on this page is only for informational purposes. You should consult your doctor for any diagnosis and treatments. We don't have partnerships with the clinics, hospitals and surgeons, also and don't do any treatments. The information on this page should not be construed as medical advice or treatment recommendation, and doesn't substitute visiting a doctor.