Here you will find all the necessary and useful information about Fraport TAV Antalya Airport (AYT), including the airport services, flights, terminals, arrivals, departures, connections, nearby hotels, transportation to city center options such as Public Bus, Airport Shuttle, Shared or Private Shuttles with useful insider tips and advice.
Some Practical Information for AYT
Antalya Airport is the main international airport for the Antalya region of Turkey.
The airport is situated about 14,5 km. on the north-eastern part of the city center.
It is a huge one that covers a total area of 168.000 sqm.
About 150.000 travelers arrive or depart from the terminals per day in high (summer) season.
Antalya Airport Code is AYT, Tel: +90 242 444 74 23 , Web : antalya-airport.aero
You can travel between Antalya Airport and city center (including intercity bus terminal) directly by Tram (Antray), Public Bus (Antobus), HAVAS Airport Shuttle, Taxi, Shared or Private Shuttles.
The HAVAS Airport Shuttle is the most practical way (operating only to city center), the Private Shuttle (see on bottom page) is the most comfortable and convenient way to travel between the airport and city center, as well all holiday resorts of Antalya.
You'll find short and long-term parking areas at the airport.
There is a direct TRAM line operation between the airport and city center.
There is NO METRO line to the airport.
Where is Antalya Airport?
Antalya Airport (AYT) is situated on the north easterly Antalya city center. Average distance from the city center is about 14,5 km.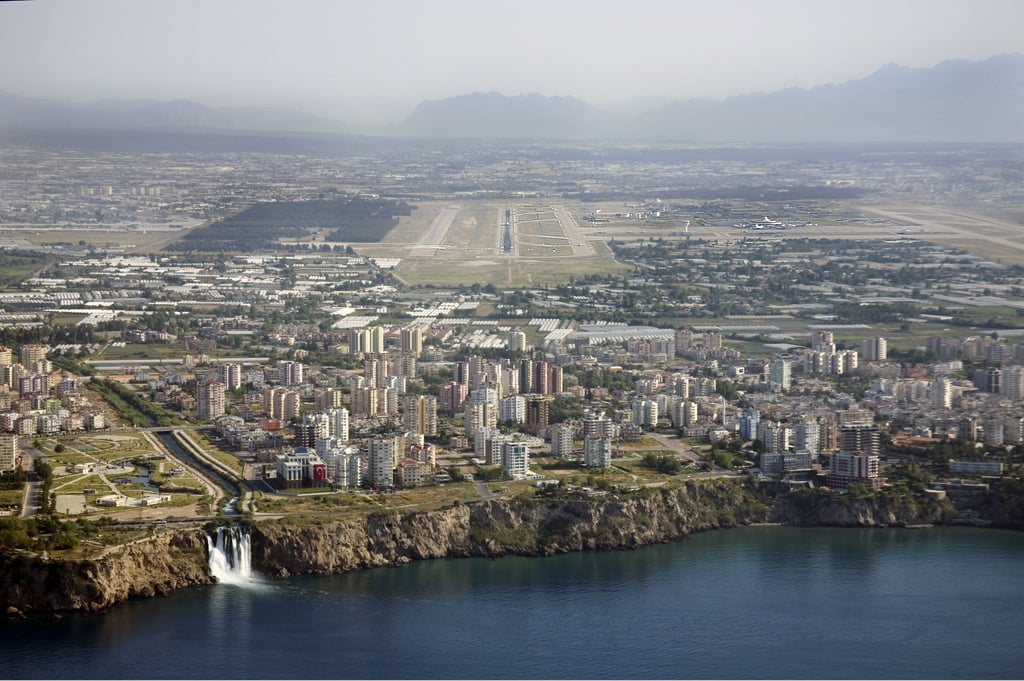 Some distances to the major holiday resorts and towns from the Antalya airport:
City Center (Muartpasa, Kaleici): 14,5 km.
Konyaalti: 20,6 km.
Lara beach: 22,3 km.
Beldibi: 43,7 km.
Goynuk: 50 km.
Kemer town center: 58,6 km.
Tekirova: 75 km.
Olympos: 101 km.
Belek: 37,3 km.
Side: 69,3 km.
Manavgat: 67,3 km.
Alanya: 124 km.
Location Map
AYT Flights – Live Arrivals & Departures Info
Covid-19 Measures
Please check antalya-airport.aero to read the precautions taken at the airport against COVID-19, including PCR tests
---
No Regrets Booking Advice
---
AYT Passenger Rights
If you have an event of flight cancellation, delay, upgrading or downgrading, and any cases of inconvenience, the airlines should provide you information with all these unexpected events, and they used to do it by law. You can ask information at the airlines' or tour operators' desks for sure.
You can read your rights when you travel by air in the European Union from europa.eu/youreurope/
You can read your rights at the Antalya Airport on antalya-airport.aero
You may also call Civil Aviation General Directorate for detailed information.
Telephone: + 90 (312) 203 60 00
Insider Advice for AYT Departures
When getting to Antalya Airport (AYT) from city center or any resort that you are on holiday, we highly recommend you schedule your time to be at the airport at least 1,5 hours for domestic flights and 2,5 hours for international flights.
Note that you will need to wait in the queue on the airport's main entrance, the airline's counter, and check-in process. And when it is high season, you'll need to be in race with thousands of travelers.
You should expect at least 15 minutes walking inside the airport.
You should complete your check-in within 60 minutes for international flights, and 45 minutes for domestic flights before the scheduled departure time. Otherwise you may lose all rights on the ticket and flight.
Therefore, we highly recommend you to be at the airport as early as possible.
When we count the minimum transfer time of average 1,5 hours plus 30 minutes possible traffic, you should arrange your transfer in between airport and your hotel/resort at least 3,5 to 4,5 hours before your flight.
Airport Terminals
AYT is spread through arrivals and departures terminals, and include shops, duty free, cafes, restaurants, exchange offices, banks, rent a car, information counters, desks and left luggage facilities.
Antalya Airport has two terminals for international flights and one terminal for domestic flights, plus CIP (Commercial Important Person) terminal.
Check the Airport Plans Interactive Maps from below.
Airport Parking
The Airport has a parking capacity of 2.000 vehicles. While the parking area is situated about 3 minutes walking distance so you will not need a shuttle.
Transportation Alternatives
You can read our below pages with specific "how to get" guides.
Tram (Antray)
The Antray Tram line is the light rail system operated by the Antalya Municipality, and consists of two lines including Airport Line and Expo Line.
The Airport Line operates between Antalya Airport and Fatih station along the city center. You can easily get to city center with this line.
The Antray Tram stop at the airport is located just opposite the Domestic Terminal and the 1st International Terminal (T1).
Public Bus (Antobus)
There are several public bus services (Tel: +90 242 444 3 708) from the Antalya Airport.
The public bus line 600 operates in every 30 minutes between the airport and Antalya Intercity Bus Terminal (Otogar).
The public bus line 800 operates in every 2 hours between airport and Antalya Lara district.
You can find minibuses from the Antalya Intercity Bus Terminal to Kemer, neighboring resorts, plus all Antalya holiday resorts like Belek, Side, Manavgat, Alanya operating in every 30/45 minutes.
Airport Shuttle (HAVAS)
The HAVAS Airport Shuttles operate on a regular fixed route to Antalya city center and Intercity Bus Terminal. The shuttles depart in every hour (during day time) front of the Domestic Arrivals.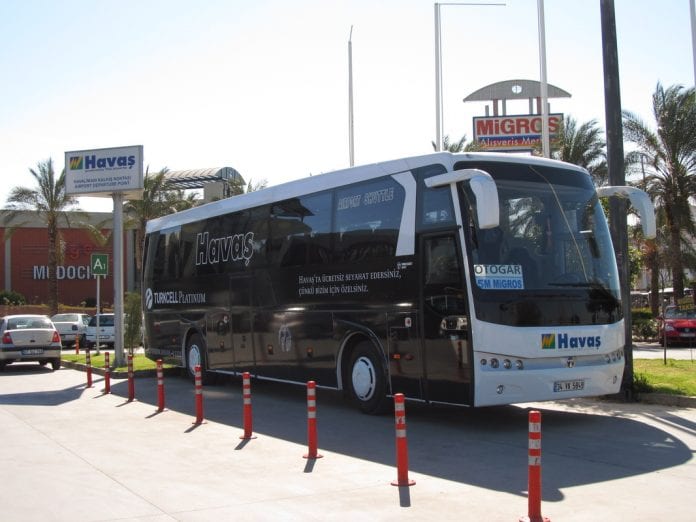 It takes about 35 minutes to get to the city center.
Private / Shared Shuttle
If you are a group or a family with kids or having lots of luggage with you, than we highly recommend you to take private shuttle transfers for your hotel as they offer a fixed rate, comfortable and safe transfer that include meet-and-greet airport pickups and luggage assistance to your hotel from the airports or vice versa.
The Tram, Public Bus or HAVAS airport shuttles will drop you off at the city center or Intercity Bus Terminal, and you'll need to take a taxi or buses from there again to get to your hotel which will harder for you with your kids and luggage. But private transfers drives you just to the entrance of your hotel.
As for private shuttle transfers, we highly recommend Tranigo (a Turkish company operating since 1996, and partnered with renowned names like Hertz, Thrifty, Budget, and many reliable and efficient local suppliers) as we recently booked with them had a great trip to our hotel.
It offers low-priced, fixed rate private shuttles that include meet-and-greet airport pickups and luggage assistance. Their large selection of comfortable taxis, minivans, luxurious cars and 6-19+ passenger minibuses can match any need while ensuring quick and safe travels to and from Antalya Airport (AYT). And they are faster and more comfortable than shuttles, buses and taxis.
COVID-19 Coronavirus Prevention and Safety Measures
The safety and health of the guests and the drivers is a top priority. They guarantee that all the vehicles are cleaned and disinfected in accordance with the World Health Organization's guidelines against COVID-19.
Below you can click on the destination you need an airport transfer or make a search from the search box under to entire Antalya region to find the prefect private shuttle and transfer service from Antalya Airport (ATY) to your hotel in any Antalya resort and vice versa.
Faster and more comfortable than shuttles, buses and taxis. Free cancellation. All prices include fees & tip.