When it comes to breathtaking beaches in Antalya, Adrasan Beach stands out as a true gem. Located in the picturesque village of Adrasan, this pristine stretch of coastline offers a tranquil escape from the bustling city life. With its golden sand, crystal-clear waters, and idyllic surroundings, Adrasan Beach is a paradise waiting to be discovered. In this blog post, we'll delve into the captivating beauty of Adrasan Beach, explore its unique features, and provide you with all the essential information you need to plan an unforgettable beach day.
The Allure of Adrasan Beach
The Adrasan beach is a 2 km. long and blue flagged one and offers several water sports and beach activities. You'll see lots of boats and yachts moored.
The Adrasan cove is also a popular destination for scuba diving and deep sea fishing lovers. The crystal clear waters and underwater environment make Adrasan one of the best diving locations in through Antalya.
Nestled between the Taurus Mountains and the azure Mediterranean Sea, Adrasan Beach boasts a setting of unparalleled natural beauty. Here's why Adrasan Beach should be on every beachgoer's radar:
Fine Golden Sand
As you set foot on Adrasan Beach, you'll be greeted by soft, golden sand that stretches for approximately 2 kilometers. This fine sand is perfect for leisurely strolls, building sandcastles, or simply lounging under the warm sun. Let the soft grains caress your feet as you take in the mesmerizing coastal views.
---
No Regrets Booking Advice
---
Crystal-Clear Waters
Dive into the refreshing waters of Adrasan Beach, and you'll be enchanted by the clarity and shades of blue that surround you. The calmness of the sea makes it ideal for swimming, snorkeling, and various water activities. Discover the vibrant underwater world and witness colorful fish and marine life as you explore the hidden treasures beneath the surface.
Serenity and Tranquility
Adrasan Beach offers a serene and tranquil atmosphere, making it a haven for those seeking relaxation and a break from the crowded tourist spots. Find your own secluded spot along the shoreline, unwind on a beach towel, and let the gentle sounds of the waves lull you into a state of pure bliss.
Beach Facilities and Amenities
To ensure a comfortable and enjoyable beach experience, Adrasan Beach provides a range of facilities and amenities that cater to your needs. Here's what you can expect:
Sunbeds and Umbrellas
Forget the hassle of carrying bulky beach equipment. Adrasan Beach offers sunbeds and umbrellas for rent, allowing you to relax in comfort and shade. Find your perfect spot, settle in, and let the beach attendants take care of your needs.
Beachfront Cafes and Restaurants
Take a break from the sun and indulge in a delightful culinary experience at one of the beachfront cafes and restaurants. From traditional Turkish delicacies to international cuisine, satisfy your taste buds with a range of mouthwatering dishes while enjoying stunning sea views.
Water Sports Activities
For the adventure enthusiasts, Adrasan Beach offers an array of water sports activities to add excitement to your beach day. Engage in thrilling experiences such as jet skiing, paddleboarding, or parasailing, and create lasting memories as you embrace the adrenaline rush.
Shower and Changing Facilities
Freshen up after a dip in the sea with the convenient shower and changing facilities available at Adrasan Beach. Stay comfortable and prepare for your next beach adventure without worrying about sand or saltwater.
Getting to Adrasan Beach
Adrasan Beach is easily accessible, and reaching this coastal paradise is part of the adventure. Here are the options for getting to Adrasan:
By Car
If you're traveling by car, you can reach Adrasan by taking the D400 highway from Antalya. Follow the signs to Kumluca, and then
continue along the road until you reach the Adrasan junction. Take the turn and follow the signs leading to Adrasan Beach. The drive from Antalya takes approximately 1.5 to 2 hours, depending on traffic conditions.
Public Transportation
For those who prefer public transportation, there are regular bus services from Antalya to Adrasan. You can catch a bus from the Antalya Bus Terminal (known as Antalya Otogar) to Kumluca, and then transfer to a minibus or dolmuş that will take you directly to Adrasan. The bus journey takes around 2.5 to 3 hours, allowing you to enjoy the scenic beauty along the way.
Organized Tours
If you prefer a hassle-free experience, joining an organized tour to Adrasan Beach is a great option. Many tour operators in Antalya offer day trips or excursions to Adrasan, providing transportation and guided services. This allows you to sit back, relax, and soak in the beauty of the journey without worrying about logistics.
Exploring the Surroundings
Adrasan Beach is not just a destination for sunbathing and swimming. The area surrounding the beach offers a wealth of natural and cultural attractions to explore. Here are a few highlights:
Olympos Ancient City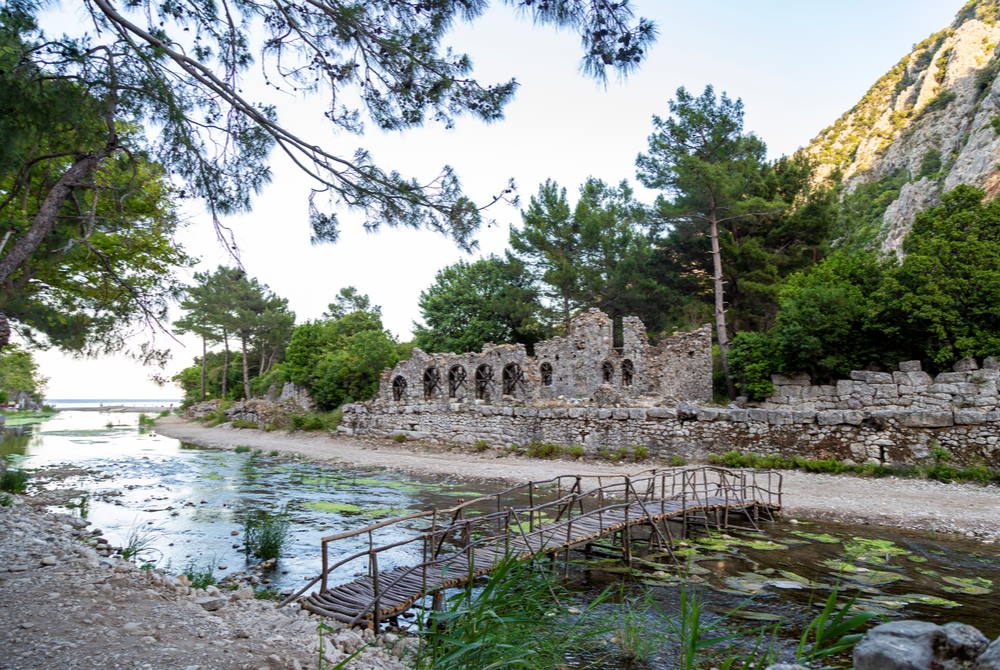 Just a short drive from Adrasan, you'll find the ancient city of Olympos. Step back in time as you wander through the ruins of this once-thriving Lycian city. Marvel at the well-preserved structures, such as the Roman theater and the Temple of Hephaestus, and learn about the fascinating history of the region.
Chimaera (Yanartaş)
Venture into the nearby mountains, and you'll discover the mythical Chimaera, also known as Yanartaş. This natural phenomenon consists of eternal flames that emerge from the ground, creating an otherworldly atmosphere. Enjoy a hike to the flames and witness the mesmerizing sight as they dance in the darkness.
Boat Trips and Blue Cruise
Experience the beauty of the Mediterranean Sea by embarking on a boat trip or joining a Blue Cruise from Adrasan. Explore hidden coves, swim in secluded bays, and sail along the stunning coastline. These trips offer a unique perspective of the region's natural wonders and allow you to relax and unwind on the turquoise waters.
Conclusion: Paradise Found
Adrasan Beach in Antalya is a true paradise for beach lovers and nature enthusiasts. With its pristine sand, crystal-clear waters, and serene atmosphere, it offers an escape from the ordinary and a chance to connect with nature's beauty. Whether you're seeking a tranquil day of relaxation or an adventure-filled exploration of the surrounding attractions, the beach has something for everyone.
So, pack your beach essentials, put on your sun hat, and embark on a journey to Adrasan Beach. Discover the magic of this hidden gem, immerse yourself in the stunning surroundings, and create memories that will last a lifetime. Your perfect beach day awaits at Adrasan Beach, where nature's wonders unfold before your eyes.
Don't miss the opportunity to experience the tranquility and charm of Adrasan Beach. Click here to read more about Adrasan Beach and start planning your dream beach getaway in Antalya today!