Welcome to the sun-kissed shores of Antalya, where pristine turquoise waters meet golden sandy beaches. Among the many coastal gems that adorn this Mediterranean paradise, Konyaalti Beach stands out as a true haven for beach lovers and sun worshippers. In this blog post, we invite you to join us on a journey to discover the allure and beauty of Konyaalti Beach. From its breathtaking scenery to its vibrant atmosphere, we guarantee that a visit to Konyaalti Beach will be an unforgettable experience that will leave you longing for more.
Unveiling the Beauty of Konyaalti Beach
A Coastal Oasis
Nestled on the western side of Antalya, Konyaalti Beach stretches for approximately 7 kilometers, offering a spacious and idyllic setting for beachgoers. With its soft sands, crystal-clear waters, and a backdrop of majestic mountains, Konyaalti Beach presents a picturesque paradise that will captivate your senses from the moment you set foot on its shores.
Blue Flag Status
Konyaalti Beach proudly boasts the prestigious Blue Flag status, an internationally recognized symbol of cleanliness, safety, and environmental quality. This accolade ensures that you can bask in the sun, swim in the sea, and enjoy the beach's facilities with confidence, knowing that they meet the highest standards of excellence.
The Wonders of Konyaalti Beach
Endless Sunshine and Clear Waters
At Konyaalti Beach, you'll find yourself immersed in a paradise of sunshine and crystal-clear waters. Take a refreshing dip in the cool sea, swim along the shoreline, or simply relax on the beach and soak up the warm Mediterranean sun. The calm and gentle waves make Konyaalti Beach an ideal spot for families, children, and those seeking a tranquil beach experience.
---
No Regrets Booking Advice
---
A Beach for Every Mood
Konyaalti Beach offers a variety of areas, each with its own distinct charm and atmosphere. Whether you're looking for a vibrant and lively beach scene or a peaceful and secluded spot to unwind, Konyaalti Beach has something to suit every mood:
Main Beach Area
The main beach area is the heart of Konyaalti Beach, bustling with energy and excitement. Here, you'll find a vibrant atmosphere with beach clubs, restaurants, and a range of water sports activities to keep you entertained.
Beach Park Area
If you're seeking a more serene and laid-back ambiance, head towards the Beach Park area. Nestled amidst lush greenery, this tranquil section offers shaded picnic areas, walking paths, and a sense of serenity away from the bustling crowds.
Spectacular Scenery
One of the most enchanting aspects of Konyaalti Beach is its backdrop of breathtaking natural beauty. Towering mountains, including the iconic Beydaglari, provide a stunning contrast to the azure sea and golden sands. Take a leisurely stroll along the promenade that runs parallel to the beach, or find a comfortable spot to sit and enjoy the magnificent views that surround you.
Beachfront Facilities and Amenities
Konyaalti Beach offers a range of amenities and facilities to enhance your beach experience. From convenient parking areas to showers and changing rooms, the beach has you covered. Additionally, beach chairs and umbrellas are available for rent, allowing you to relax in comfort and style. Grab a refreshing beverage or a delicious snack from the beachside cafes and kiosks, ensuring you stay energized throughout your beach day.
Exciting Water Sports and Activities
For those seeking an adrenaline rush, Konyaalti Beach has an array of exciting water sports and activities to satisfy your adventurous spirit. Dive into the clear waters and explore a world of thrilling experiences:
Jet Skiing
Feel the wind in your hair as you speed across the water on a jet ski. Experience the exhilaration of gliding over the waves and enjoy the adrenaline rush that comes with this thrilling water sport.
Parasailing
Take to the skies and soar above Konyaalti Beach with parasailing. Strap into a harness, attach yourself to a colorful parachute, and let the gentle breeze carry you high above the sparkling waters. Enjoy the panoramic views of the coastline and feel a sense of freedom like never before.
Banana Boat Rides
Gather your friends or family and hop on a banana boat for a fun-filled adventure. Hold on tight as the boat zips across the water, providing laughter and excitement as you try to stay balanced and avoid being thrown into the sea.
Paddleboarding
For a more relaxed water activity, try paddleboarding along the tranquil shores of Konyaalti Beach. Stand on a sturdy board, paddle through the calm waters, and enjoy a unique perspective of the beach and surrounding scenery.
Scuba Diving and Snorkeling
Immerse yourself in the vibrant underwater world of Konyaalti Beach through scuba diving or snorkeling. Explore the depths to discover a kaleidoscope of marine life, including colorful fish, coral reefs, and maybe even encounter some fascinating underwater artifacts.
Beach Sports and Activities
For those seeking a bit of excitement and adventure, Konyaalti Beach offers an array of beach sports and activities to keep you entertained:
Beach Volleyball
Gather your friends or join a pickup game of beach volleyball. Feel the sand between your toes as you engage in friendly competition and enjoy the thrill of this energetic sport.
Beach Soccer
Channel your inner athlete and showcase your soccer skills on the sandy pitch of Konyaalti Beach. Challenge friends or participate in a friendly match with fellow beachgoers, all while enjoying the stunning beachfront scenery.
Yoga and Meditation
Find inner peace and rejuvenate your body and mind with a yoga or meditation session on the beach. With the soothing sound of the waves as your backdrop and the fresh sea breeze caressing your skin, this is the perfect environment to reconnect with yourself and find harmony amidst nature.
Beyond the Beach: Exploring the Surroundings
While Konyaalti Beach is undoubtedly a paradise in itself, the area offers additional attractions and opportunities for exploration. Extend your visit and discover the wonders that await just beyond the sandy shores:
Antalya Aquarium
Located near the entrance of Konyaalti Beach, the Antalya Aquarium is a fascinating destination for those intrigued by marine life. Explore its impressive exhibits, including a tunnel that takes you through an underwater world, where sharks and other sea creatures swim gracefully overhead.
MiniCity Antalya
Just a short distance from Konyaalti Beach, MiniCity Antalya offers a unique experience for both children and adults. This miniature city showcases scaled-down replicas of famous landmarks from around Turkey, allowing you to explore the country's rich cultural heritage in a single location.
Antalya Old Town (Kaleici)
Take a break from the sun and venture into the historic heart of Antalya. Wander through the narrow cobblestone streets of Kaleici, where you'll find an array of charming shops, restaurants, and ancient landmarks. Lose yourself in the enchanting ambiance of this well-preserved old town.
Practical Tips for a Perfect Beach Day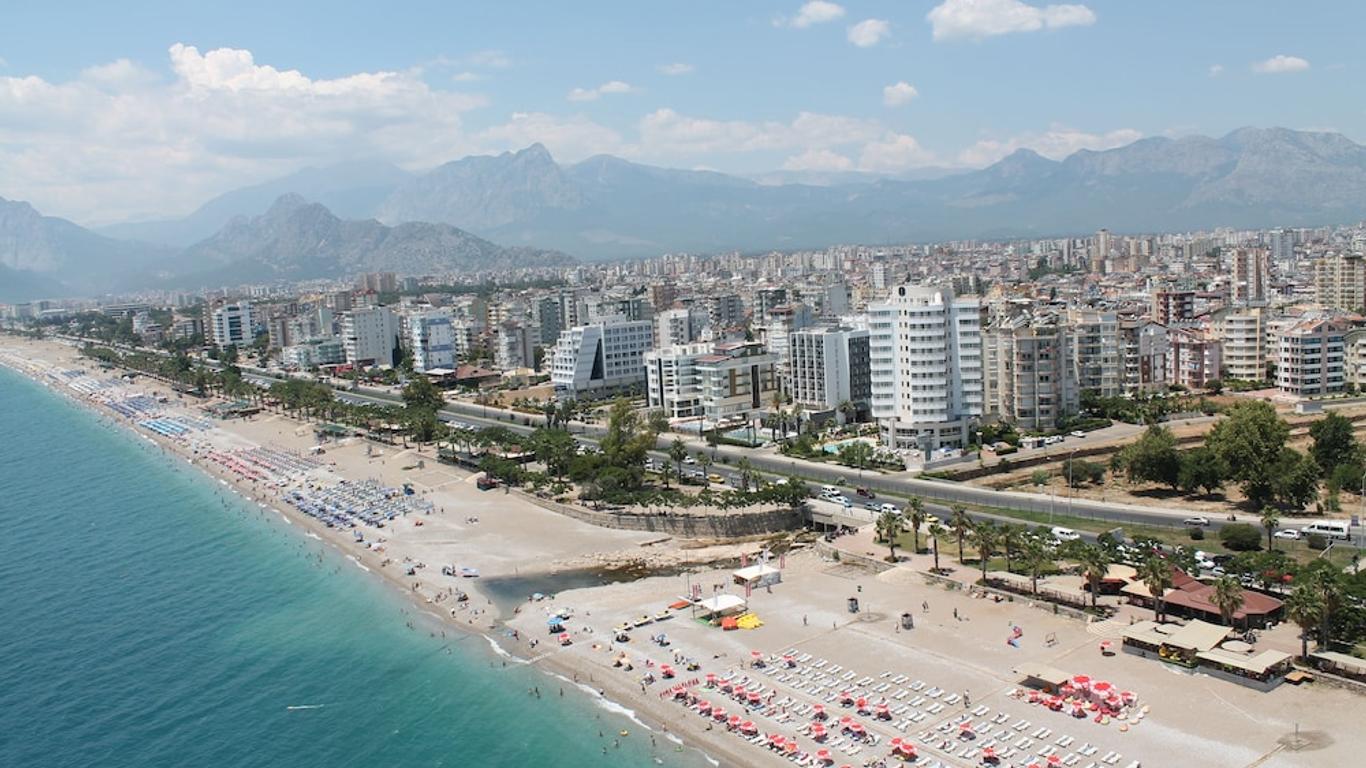 To make the most of your visit to Konyaalti Beach, here are some practical tips to keep in mind:
Sun Protection
Apply sunscreen generously to protect your skin from the sun's rays.
Wear a hat, sunglasses, and a cover-up for added protection.
Seek shade during the hottest hours of the day to avoid sunburn and heat exhaustion.
Stay Hydrated
Drink plenty of water throughout the day to stay hydrated in the warm climate.
Consider bringing a reusable water bottle to minimize plastic waste.
Beach Essentials
Pack a beach bag with towels, extra clothes, and a waterproof bag for your valuables.
Don't forget your beachwear, flip-flops, and a beach hat for comfort.
Getting to Konyaalti Beach
Konyaalti Beach is easily accessible from various parts of Antalya. Here are a few transportation options:
Public Transportation
Take advantage of the efficient public bus system, known as "Antalya Belediye Otobüsü," which offers routes connecting the city center to Konyaalti Beach.
Private Transportation
If you prefer the convenience of private transportation, you can opt to take a taxi or rent a car to reach the beach. There are several parking areas available near the beach where you can safely leave your vehicle.
Walking or Cycling
If you're staying in the city center or a nearby hotel, consider taking a leisurely walk or renting a bicycle to reach Konyaalti Beach. Enjoy the scenic views along the way and embrace the beach vibe as you make your way to this coastal paradise.