If you're seeking adventure, relaxation, and the opportunity to explore the stunning coastline of Side and Manavgat, look no further than the daily boat trips available in the region. These boat tours offer a fantastic way to experience the beauty of the Mediterranean, discover hidden gems, and create lasting memories. Join us as we dive into the world of daily boat trips from Side, providing valuable information, highlighting the reasons why you should embark on this tour, and offering a typical itinerary to give you a taste of the incredible experiences that await.
Why Take a Daily Boat Trip from Side?
Taking a daily boat trip from Side is an absolute must-do during your holiday in the region. Here are some compelling reasons why you should consider booking this tour:
Breathtaking Coastal Landscapes
Side is blessed with stunning coastal landscapes, featuring pristine beaches, crystal-clear waters, and dramatic cliffs. A boat trip allows you to witness the beauty of the region from a unique perspective, showcasing the picturesque scenery that will leave you in awe.
Explore Hidden Coves and Bays
One of the main highlights of a daily boat trip is the opportunity to discover hidden coves and secluded bays that are inaccessible by land. These secret spots offer tranquility, privacy, and a chance to unwind in a truly idyllic setting.
Swim in the Turquoise Waters
The Mediterranean Sea boasts turquoise waters that are irresistible to swimmers. During a boat trip, you'll have the chance to dive into these refreshing waters, snorkel alongside colorful marine life, and enjoy the ultimate beach experience.
---
No Regrets Booking Advice
---
Relaxation and Serenity
As you sail along the coast, the gentle rocking of the boat and the soothing sound of the waves create a peaceful and serene atmosphere. It's a perfect opportunity to relax, recharge, and escape from the hustle and bustle of everyday life.
Our Pick of the Best Daily Boat Trips from Side
Manavgat River Cruise and Market Tour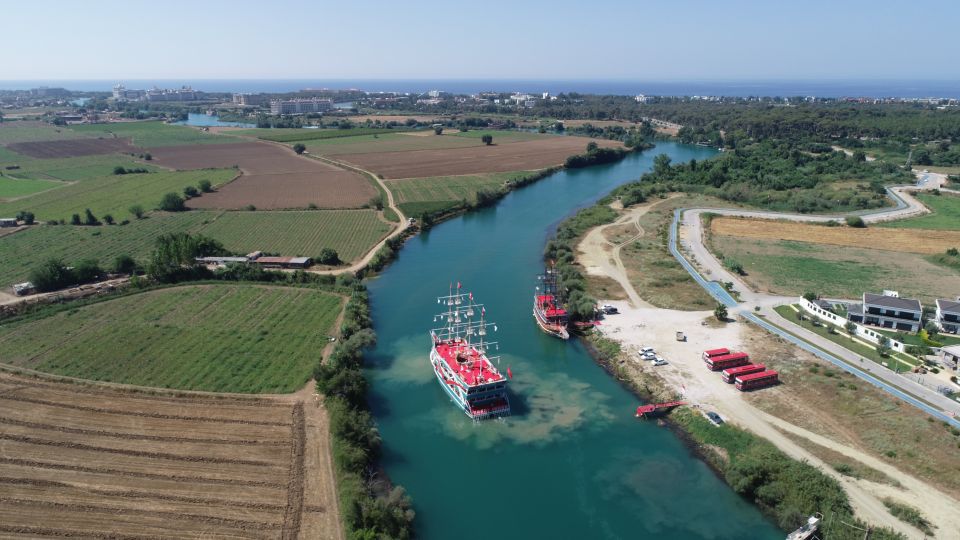 If you're looking for a unique and immersive experience during your holiday in Side and Manavgat, the Manavgat River Cruise and Market Tour is an absolute must-do. This full-day excursion combines breathtaking natural landscapes, cultural exploration, and a taste of local life.
Green Canyon Boat Trip from Antalya, Manavgat, Side
Are you ready to escape the hustle and bustle of city life and immerse yourself in the tranquil embrace of nature? Join us on a Green Canyon Boat Trip from Manavgat, Side, Antalya and embark on a journey of breathtaking beauty and relaxation. Cruise along the emerald green lake, be captivated by the rare brown fish owls, and marvel at the stunning Taurus Mountains.
Book Your Daily Boat Trip from Side Today
Ready to embark on an unforgettable journey along the mesmerizing coastline of Side and Manavgat? Book your daily boat trip now and get ready for a day filled with exploration, relaxation, and unforgettable moments. Immerse yourself in the beauty of the Mediterranean, discover hidden coves, and create memories that will last a lifetime. Don't miss out on this incredible opportunity to experience the best of Side's boat tours.
Get ready to set sail, immerse yourself in nature's wonders, and create cherished memories that will stay with you forever.
---