If you're looking to make the most of your holiday in Kemer, there's no better way to explore the stunning coastline and crystal-clear waters than by taking a daily boat trip. With a range of options available, you can embark on a voyage of adventure, relaxation, and discovery. Join us as we dive into the world of best daily boat trips from Kemer, highlighting the reasons why you should take this tour, the captivating highlights you'll experience, and a typical itinerary to give you a glimpse of the adventure that awaits.
Why Take a Daily Boat Trip from Kemer?
A daily boat trip from Kemer is an experience that should not be missed during your stay. Here's why you should consider taking this tour:
Discover Breathtaking Coastline
Kemer boasts some of the most picturesque coastal landscapes in Turkey. A boat trip allows you to soak in the beauty of the region, with its rugged cliffs, hidden coves, and turquoise waters. It's a visual feast that will leave you in awe.
Swim in Crystal-Clear Waters
With numerous swimming stops along the way, you'll have ample opportunities to dive into the crystal-clear waters of the Mediterranean. Whether you're snorkeling, swimming, or simply floating, the refreshing embrace of the sea will rejuvenate your senses.
Escape the Crowds
Leave the crowded beaches behind and venture into the open sea. Boat trips provide a sense of freedom and tranquility as you sail away from the bustling shorelines and immerse yourself in a serene and peaceful environment.
Uncover Hidden Gems
Boat tours take you to secluded spots and hidden gems that are inaccessible by land. Discover secret caves, remote bays, and untouched beaches that will make you feel like you've discovered a slice of paradise.
---
No Regrets Booking Advice
---
Highlights and Typical Itinerary of Daily Boat Trips from Kemer
While each boat tour may have its unique offerings, here's an overview of the highlights and a typical itinerary you can expect during a daily boat trip from Kemer:
1. Departure from Kemer Marina
Your day begins with a departure from Kemer Marina, where you'll board a comfortable and well-equipped boat.
Settle into your chosen spot on the boat, whether it's on the sundeck soaking up the sun or in a shaded area for a more relaxed experience.
2. Sail Along the Stunning Coastline
As the boat sets sail, get ready to be mesmerized by the breathtaking coastline of Kemer. Admire the rugged cliffs, lush greenery, and sparkling blue waters that surround you.
Take in the panoramic views and capture memorable photos of the picturesque scenery.
3. Swimming and Snorkeling Stops
The boat will make several stops at idyllic swimming spots and snorkeling locations. Dive into the crystal-clear waters and explore the vibrant underwater world.
Snorkeling equipment will be provided, allowing you to discover the colorful marine life and underwater treasures.
4. Delicious On-Board Lunch
Enjoy a delicious lunch on board, freshly prepared by the friendly crew. Feast on a variety of local dishes, including freshly caught seafood, salads, and traditional Turkish delicacies.
Indulge in the flavors of the Mediterranean while taking in the stunning views around you.
5. Exploring Hidden Coves and Caves
Venture into hidden coves and caves that can only be accessed by boat. Discover secret passages and marvel at the natural formations created by the forces of nature.
The crew will provide information and interesting facts about the geology and history of these unique locations.
6. Relaxation and Sunbathing
Take advantage of the ample sunbathing areas on the boat and unwind as you bask in the warm Mediterranean sun. Feel the gentle breeze and let your worries drift away.
Lounge on comfortable sunbeds or find a cozy spot in the shade to enjoy a moment of tranquility.
7. Return to Kemer Marina
After a full day of exploration and relaxation, the boat will make its way back to Kemer Marina. Reflect on the memories you've created and cherish the moments spent in this beautiful corner of the world.
Disembark from the boat with a sense of fulfillment and the desire to return for more adventures in the future.
Our Pick of the Best Daily Boat Trips from Kemer
Suluada Island Boat Trip from Antalya, Kemer or Adrasan
If you're looking for a true paradise experience during your holiday in Antalya, Kemer or Adrasan, look no further than the Suluada Island Boat Trip. This incredible excursion promises a day filled with breathtaking natural beauty, crystal clear waters, and a chance to escape the hustle and bustle of the city. Join this guided tour and embark on a memorable journey to Suluada Island, where you can immerse yourself in the stunning surroundings and create unforgettable memories.
Kemer Full-Day Pirate Boat Trip with Lunch
Are you ready to embark on a thrilling adventure in the stunning coastal town of Kemer? Join us on a full-day Kemer Pirate Boat Trip and set sail to discover the ancient city of Phaselis, swim in crystal-clear waters, and indulge in a delicious BBQ lunch on board. This unique excursion promises an unforgettable experience filled with history, relaxation, and fun. Get ready to make lifelong memories as you explore the treasures of Kemer.
Porto Genoese Boat Trip & Mud Bath from Kemer, Belek & Antalya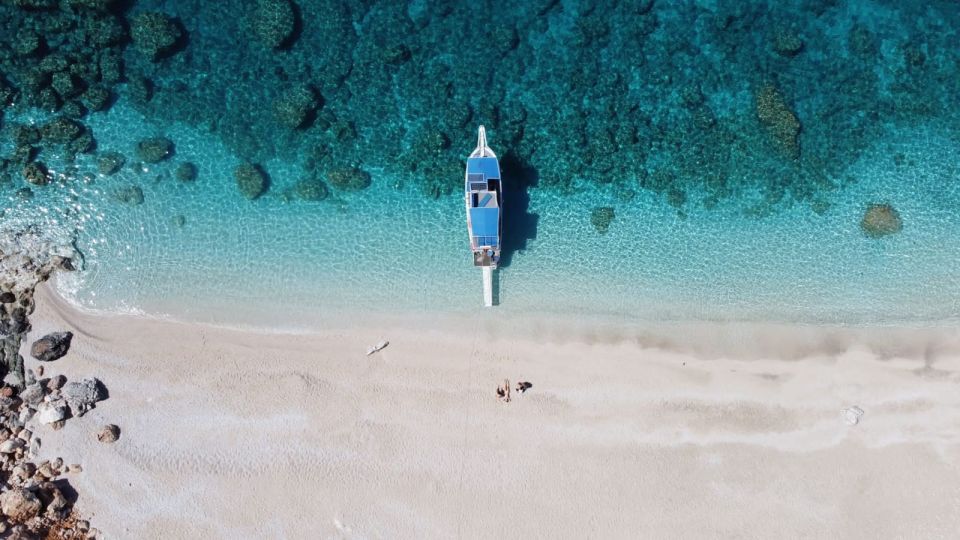 Are you ready to embark on a unique adventure and discover the hidden treasures of Antalya's coastal beauty? Join us on a Porto Genoese Boat Trip and Mud Bath from Kemer, Belek & Antalya, where you'll dive into crystal clear waters, explore secret caves, relax in boutique-style boats, and indulge in a mud bath experience like no other. This tour promises an unforgettable day filled with excitement, relaxation, and breathtaking scenery.
Phaselis Pirate Boat Tour with Lunch from Kemer and Antalya
If you're seeking a unique and exhilarating experience during your holiday in Antalya or Kemer, look no further than the Phaselis Pirate Boat Tour. This thrilling excursion promises a day of fun, adventure, and exploration as you set sail on a pirate ship, indulge in a foam party, swim in pristine bays, and discover the ancient ruins of Phaselis.
Book Your Daily Boat Trips from Kemer Today
Ready to embark on an unforgettable journey along the mesmerizing coastline of Kemer? Book your daily boat trip now and get ready for a day filled with exploration, relaxation, and unforgettable moments. Immerse yourself in the beauty of the Mediterranean, discover hidden coves, and create memories that will last a lifetime. Don't miss out on this incredible opportunity to experience the best of Kemer's boat tours.
Get ready to set sail, immerse yourself in nature's wonders, and create cherished memories that will stay with you forever.