You'll find lots of great things to do in Kemer during your family or beach holidays in Antalya, Turkey. Here you can find our pick of top best things to do in Kemer to help you plan your days in this Turkish Riviera. From popular tourist attractions, sights, leisure, day and night out activities, to day trips, excursions and tours, here's what should add to the top of your list for Kemer.
Top 19 Things to Do in Kemer
1. Have fun along the beautiful beaches
Kemer is famous for its beautiful beaches with breathtaking landscapes and coasts. You'll find wide range of beautiful bays and coves to choose from and spend a great day out. And where some are pebbled one while others are golden sandy.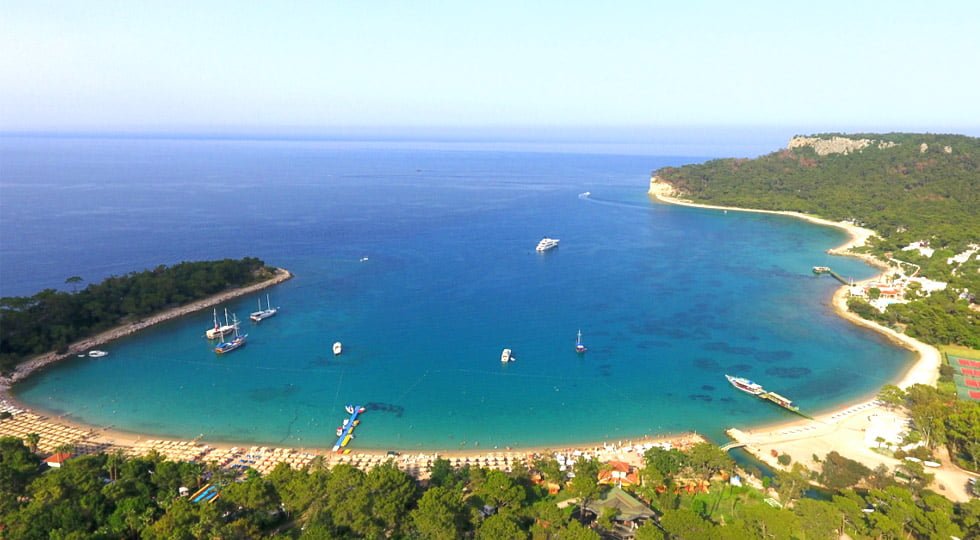 There are also many Blue Flag beaches in whole Kemer and the coasts of the surrounding resorts, which means that you can be sure to have sunbath and swimming along crystal clear waters.
The Mediterranean is also shallow and calm which means you'll be able to have great for water sports activities, and while families can paddle together safely.
The Moonlight beach (Ayisigi beach) is the main beach of Kemer city center. It is located right behind the Marina and has a golden sand beach with crystal clear waters. The beach is very ideal for soaking up for all year round sunshine.
2. Explore the Kemer Town Center
The town center of Kemer is a very lively place. You'll find lots of cafes, pubs, bars, restaurants, entertainment spots, as well as variety of classy shops and boutique stores.
---
No Regrets Booking Advice
---
You can have great town walking tour from the famous Watch Tower located through the pedestrian shopping street inland, and than head to the coast to explore and enjoy the Kemer G-Marina, Nomad Theme Park and Moonlight Park.
3. Enjoy a fun boat trip
Boat trips are a must take attraction for the ones who love sea and on a holiday in a beach resort like Kemer. You are able to find variety of boat trips from exciting Pirate or Viking ships to standard or luxury gulets and yachts from the Kemer marina.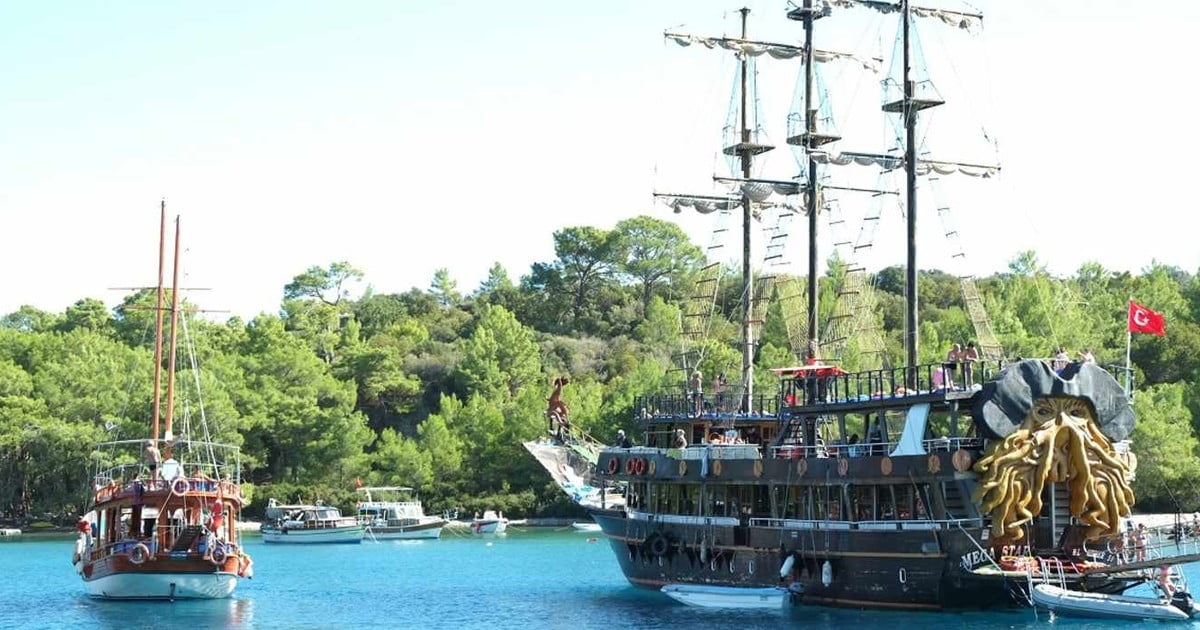 While you are on board, you'll definitely enjoy the stunning coasts of the Mediterranean, have a great sunbath on deck, with fun boat parties and swim breaks along several unspoilt coves, hidden waterfalls or excellent islands. Majority of the boats set sail from the marina at the Kemer town center. Continue reading…
4. Visit Nomad Theme Park
Folkloric Nomad Theme Park is the popular tourist spot of Kemer. Here, you'll experience and enjoy the culture of Nomads at the open air museum, and have a rest with a drink or snack along with the stunning views of the bay.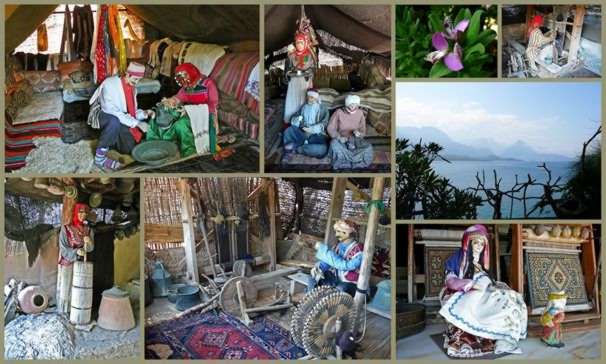 While you wander around the mannequins and tents that show how nomads once have lived here, you can have fun with the chickens, roosters and goats around your. We also recommend you to taste some authentic, delicious food at the restaurant here.
You can access the park by following the path through the slope along the Kemer Marina.
5. Enjoy Jeep Safari along the Taurus Mountains
If you are an adventure lover and want to do something fun during your hotel stay in Kemer, than we recommend the 4×4 off-road jeep safari tours. You'll enjoy travelling on dirt, dust and stone paved roads along the Taurus Mountains and have a great day out for sure.
During the tour, you'll give several breaks at the many places with great views from above, visit local villages and see the rural life of the villagers in their traditional houses.
You'll also give cool down swim breaks along the mountain streams and waterfalls. Continue reading…
6. Enjoy Quad Safari along the Taurus Mountains
Quad safari is another great attraction for the ones who are looking for adrenaline and adventure. You'll definitely enjoy the rugged landscapes along the Taurus Mountains while marveling through the challenging mountain paths on a quad bike safari.
Traveling along the dusty mountain tracks, pine-forested beautiful trails, scenic views, with several swim breaks along the mountain streams will cheer up your hearts for sure.
7. Trekking and cooling off at Goynuk Canyon
Location: Goynuk (about 13 km. from Kemer, between Camyuva and Tekirova resorts)
Goynuk Canyon is an amazing place for nature lovers. The canyon is famous for its nature, pine forests, waterfalls and natural pools. Here, you can have a fun trekking day out along the 4,5 km. long canyoning track.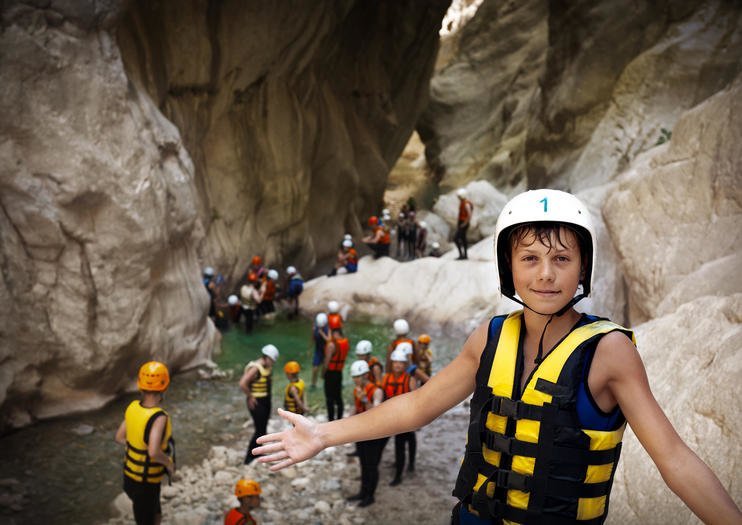 The region is also situated on the important part of the Lycian road, which considered to be one of the top 10 trekking trails in the world.
8. Have fun and adrenaline at the EcoFun Adventure Park
Location: Goynuk (about 13 km. from Kemer, between Camyuva and Tekirova resorts)
EcoFun Adventure Park is a marvelous adventure park located at the entrance of the Goynuk Canyon, through Kemer resort. Here, you'll experience and enjoy the adrenaline-laden activities such as paintball, zip wire and many more.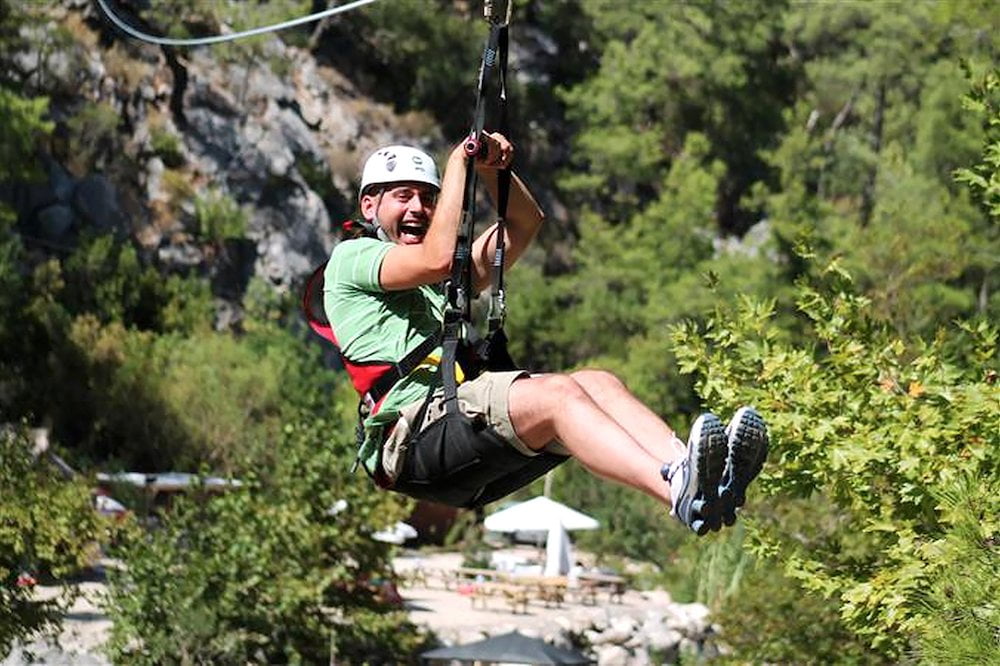 The attraction named Zip Fly will definitely excite you while you glide over the hills on a wire from 40 meters above.
9. Enjoy Tahtali Mountain Cable Car (Sea to Sky)
Location: Kemer (close to Olympos Valley, about 35 km. from Kemer, 57 km. from Antalya city center, between Camyuva and Tekirova resorts)
Mount Tahtali is the highest mountain situated very close to the sea on the Antalya region. It has an altitude of 2,365 meters. You can access here via the cable car (Olympos Teleferik) and enjoy the stunning 360 degree panoramic views of along Kemer coasts.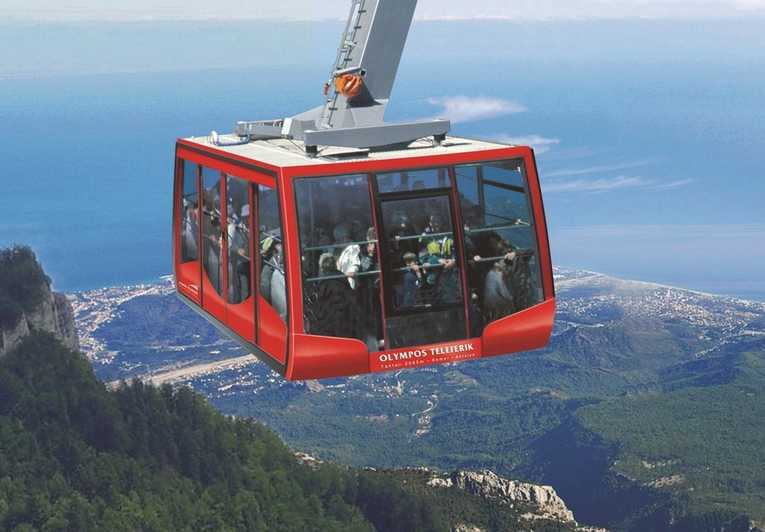 If you want a break during from your hotel days, you should take a day out, hop on the Mount Tahtali cable car and access the summit.
You'll really have fun with the 10 minutes aerial cable car, enjoy the mountain breezes, watch sunset and sunrise, do hiking, trekking, climbing, paragliding, and have a romantic dinner on the hilltop restaurant. You can even have a great ski experience here in winter. Continue reading…
10. Scuba Diving Adventure
With a scuba diving day out from Kemer, you can explore the great dive spots, bays and coves along the Mediterranean coasts along Kemer Bay, as well as marvel at the colorful and beautiful underwater life.
11. Fun day out at Dolusu Park
Dolusu Park is an innovative theme park situated at the entrance of the Kiris resort of Kemer. Here you'll enjoy wide range of attractions from 26 attractive water slides, wave pool, kids pool, fly-board show, pool party, to a beach for families, cafes, bars and restaurants. Sunbed, safe and boats are free of charge for visitors.
12. Admire the Ancient City of Phaselis
Location: Kemer (about 11,5 km. from Kemer, 55 km. from central Antalya, between Camyuva and Tekirova resorts)
Phaselis is the ancient Lycian city, archaeological site and open-air museum set in a very impressive natural environment by the coast and Taurus Mountain range at the background.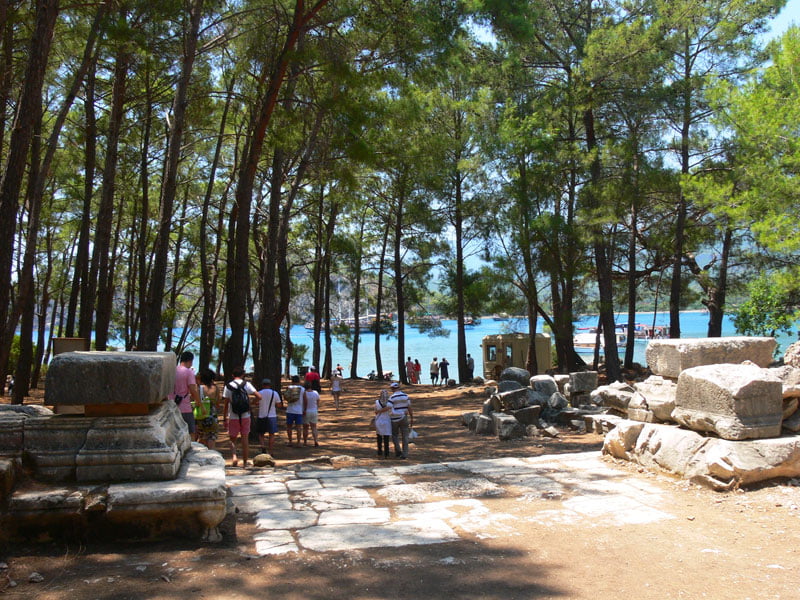 The archaeological site is very famous and attracts hundred thousands of visitors every year for its historical remains, amphitheater, wonderful beaches and picnic areas.
13. Discover Yanartas – Chimera
Chimaera, known as "the Eternal Flames" is a very supernatural place are where you'll see flames burn right on the rocks without any apparent fuel or heat source. It is situated on the sloped of the Mount Chimaera, near the famous Olympos Valley and Cirali resort of Kemer.
You can take an evening hike through this amazing place along with its pine forests with scenic views. The region is also a popular trekking trail along the Lycian Way.
You can enjoy the picturesque views of the Cirali coast, take beautiful photos, and have a fantastic moments here. Continue reading…
14. Ancient City of Olympos
Olympos is the ancient Lycian city and one of the natural wonders of Antalya region, situated on a very beautiful environment by the Mediterranean coast along the pine forests and Beydaglari mountains at the background. It is a unique place nearby the famous resort of Cirali in Kemer and also known as the city of gods.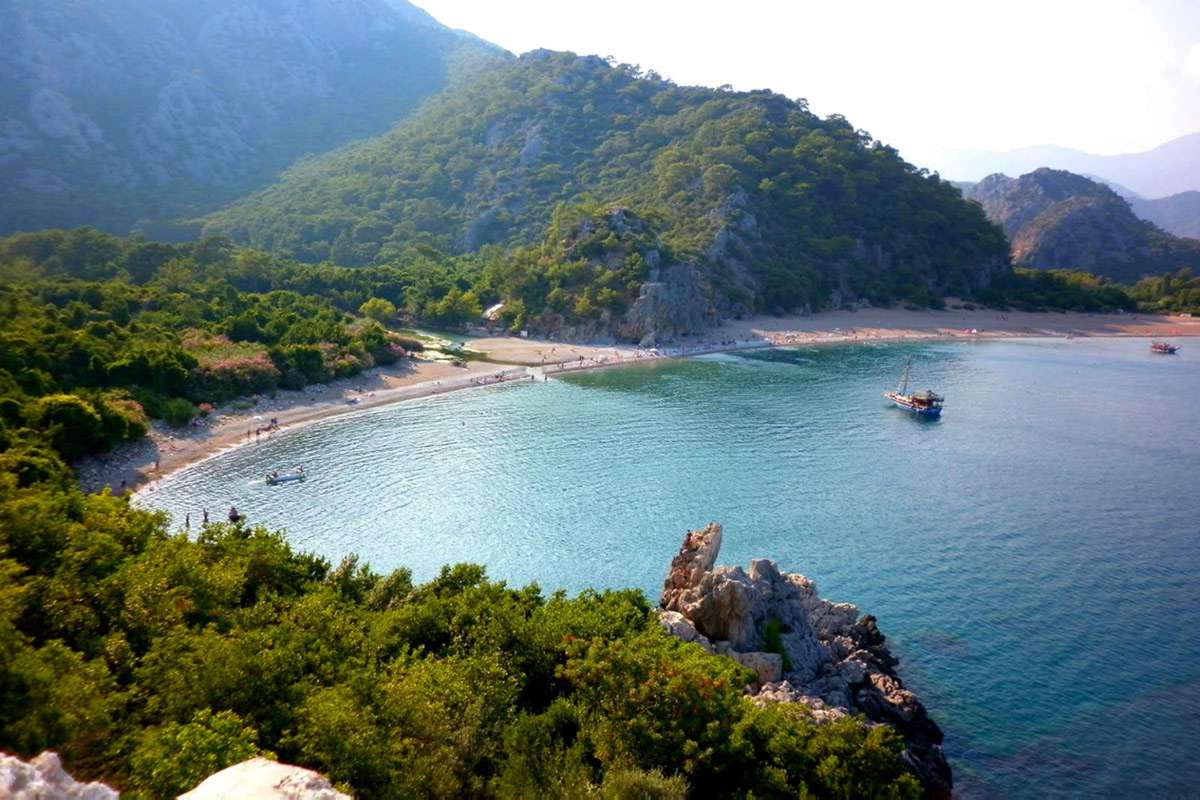 The ancient city dates back to the Helenistic era on the 1st and 2nd century AC. It was the biggest city of the Lycian region. Here, you'll see variety of ruins such as fortified castles, roman bath, etc. While you descend from the hills of the Beydaglari mountain range, you can watch the scenic views of the Mediterranean among the forests of pine and cedar trees.
15. Hike the Lycian Way
The 540 km. long mountainous Lycian Way runs parallel with the Mediterranean coast from Fethiye to Antalya and is considered to be one of the top 10 trekking trails in the world.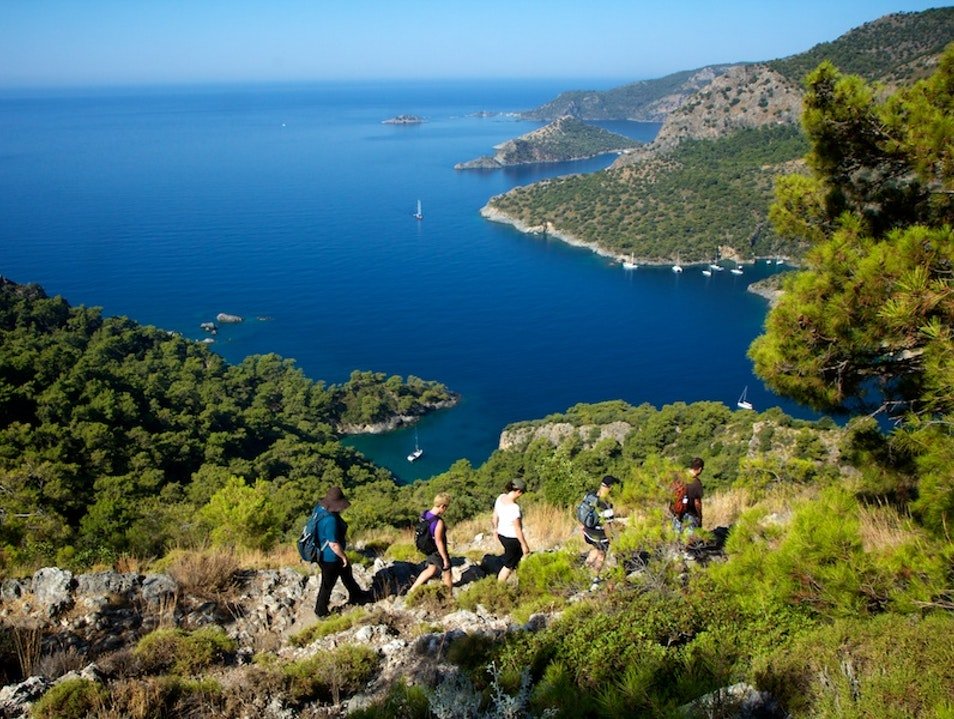 The very impressive natural environment along the pine forested paths, ancient cities, Taurus and Beydaglari mountain range, and very attractive Mediterranean coasts, make the region one of the perfect places to hike. Continue reading…
16. Reward yourself with a Turkish Bath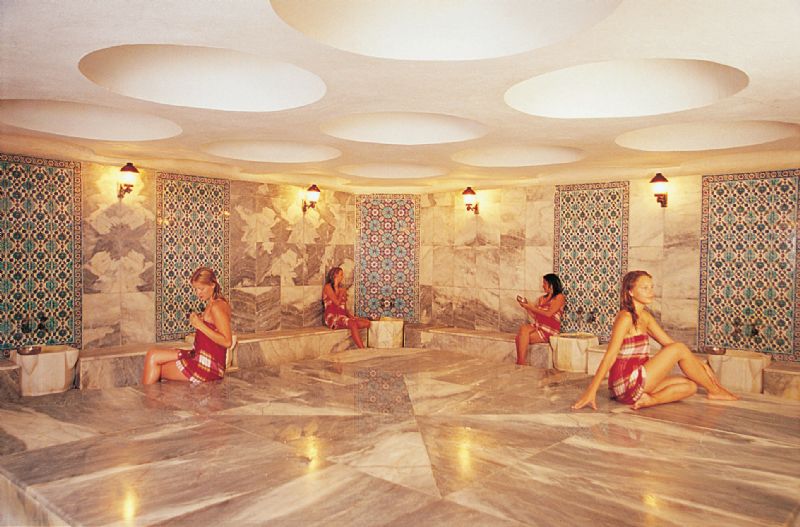 Traditional Turkish Bath (Hamam) will definitely be a unique and one time experience during your holidays in Kemer. You'll have an authentic bath experience while relaxing your muscles, resting in a steam bath, and refreshing your body.
17. Koprulu Canyon Hiking + White Water Rafting
Location: Koprulu Canyon National Park (50 km. from Manavgat, 87 km. from Antalya city center)
For the ones who love adrenaline and have exhilarating adventure, visiting the Koprulu Canyon and make white water rafting during your holidays in Antalya is a must. The Canyon is situated along a very impressive National Park near Manavgat the town.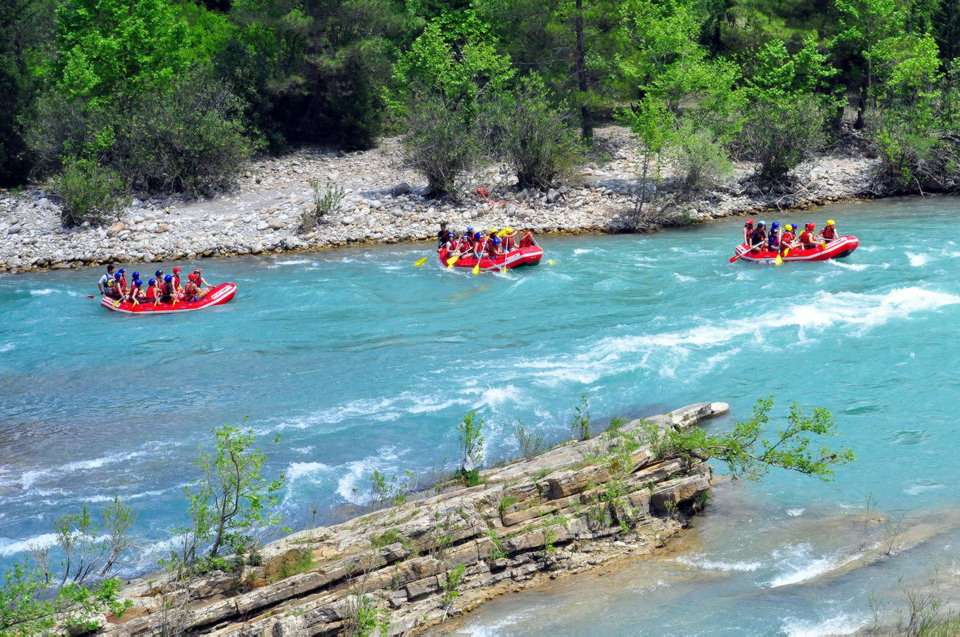 You'll definitely enjoy this activity while you surf the rapids with the amazing views of the Natural Park. You can also enjoy trekking, hiking, camping, do 4×4 Off-Road jeep safari, or have an authentic meal by the restaurants along the river. In addition, the 2,000 years old Roman Bridge worth a see and take photos. Continue reading…
18. Hit the lively bars & night clubs
Kemer has an intense nightlife where you'll find lots of bars and night clubs to enjoy and get entertained after dark.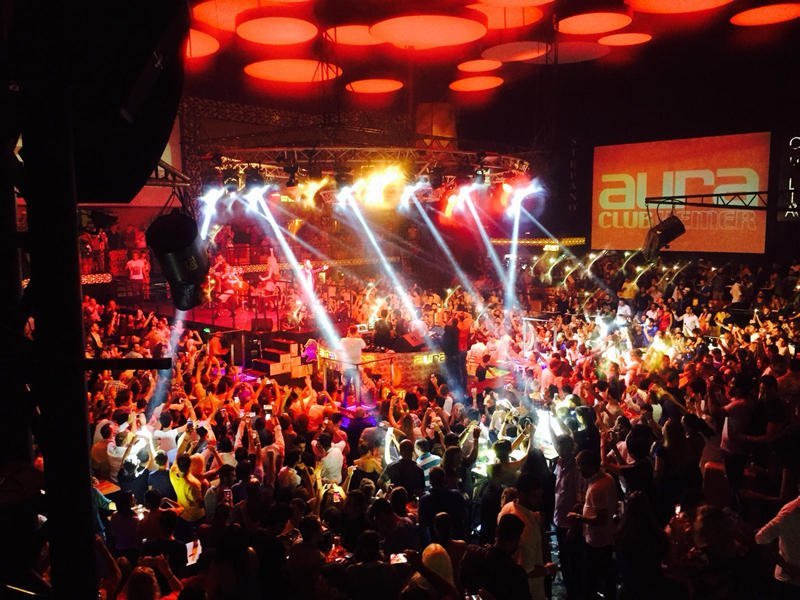 The Kemer town center is a lively place and home to a lively bars, night clubs and restaurants that all has different themes with live music and shows. Majority of the hotels in Kemer and surrounding resorts also have their own night time entertainment.
19. Enjoy the Turkish Cuisine
You'll find plenty of authentic and great restaurants and have excellent dining experiences in Kemer and all surrounding resorts. They are all situated in great scenery from harbors and yacht marinas with panoramic views to authentic and trendy restaurants inland.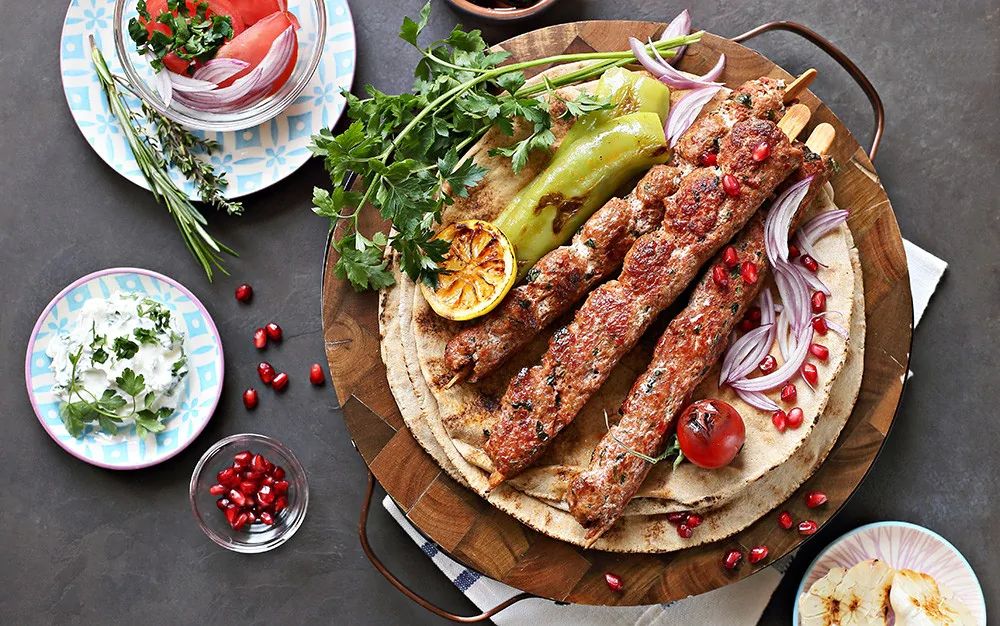 Traditional Turkish cuisine is a must and are on offer with range of soups and dishes from fresh caught fish, meat, grilled kebabs, vegetable dishes, as well as fresh salads and delicious desserts.