Welcome to DinoPark Antalya, an extraordinary attraction that takes you on a thrilling journey back in time to the age of dinosaurs. Nestled in the scenic village of Goynuk, Kemer, DinoPark Antalya offers a unique and educational experience for visitors of all ages. Get ready to embark on an adventure like no other as we explore the wonders of this prehistoric-themed park and discover the fascinating world of dinosaurs.
Unveiling the Wonders of DinoPark Antalya
A Mesmerizing Collection of Life-sized Dinosaurs
As you enter DinoPark Antalya, you'll be greeted by an awe-inspiring sight — a collection of life-sized dinosaur replicas that will transport you back millions of years. Marvel at the immense size and intricate details of these animatronic dinosaurs as they move, roar, and breathe, providing a realistic and immersive experience. It's an incredible opportunity to witness these ancient creatures up close and personal.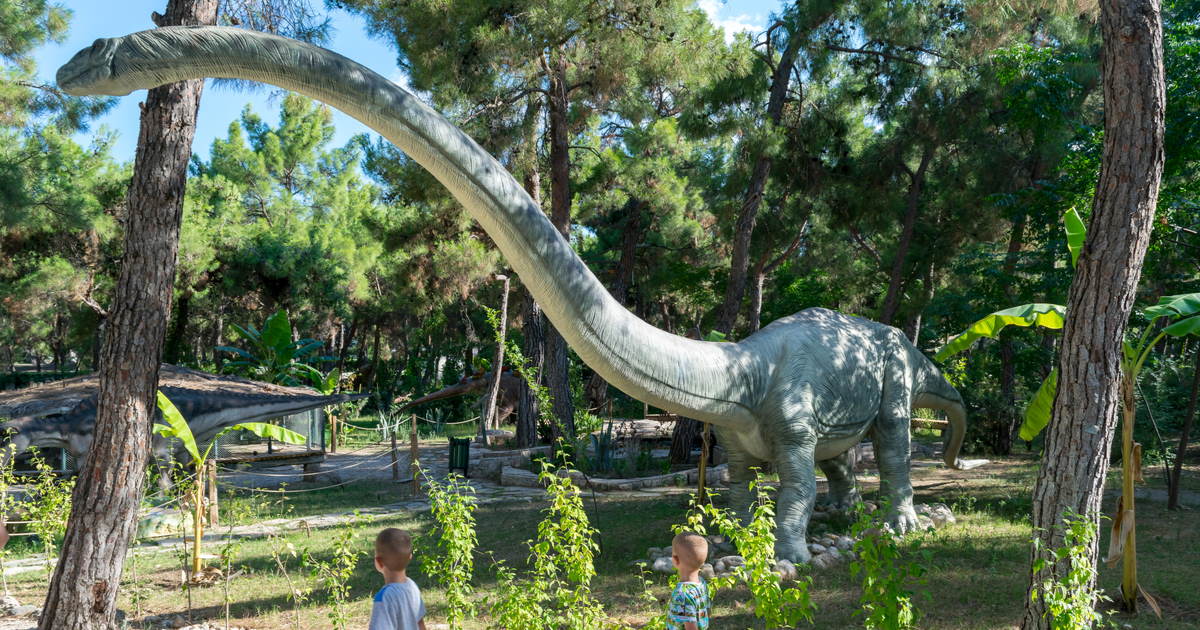 Journey through Time: Dinosaur Exhibits and Information
DinoPark Antalya offers more than just impressive dinosaur replicas. Explore the park's exhibits and informational displays, which provide valuable insights into the world of dinosaurs. Learn about their habitats, feeding habits, and the scientific discoveries that have shaped our understanding of these fascinating creatures. The exhibits are designed to educate and entertain visitors of all ages, making it a perfect family-friendly destination.
Interactive Experiences for Young Paleontologists
For young paleontologists in the making, DinoPark Antalya offers a range of interactive experiences that will ignite their curiosity and imagination:
---
No Regrets Booking Advice
---
Dino Dig: Let your little ones channel their inner paleontologist as they participate in a thrilling dino dig. Equipped with brushes and tools, they can uncover dinosaur fossils buried in the sand and experience the thrill of making their own discoveries.
Fossil Casting: Watch as your children create their own dinosaur fossils using molds and plaster. They can take their masterpiece home as a cherished memento of their time at DinoPark Antalya.
Face Painting and Costume Fun: Kids can transform into their favorite dinosaur species with face painting and costume options available within the park. Encourage their creativity and watch them embrace their dinosaur alter egos.
DinoLab: An Educational Adventure
Step into the DinoLab, an interactive educational space where visitors can engage in hands-on activities and experiments related to the world of dinosaurs. Through guided workshops and interactive displays, you'll have the opportunity to deepen your knowledge of paleontology and gain a deeper appreciation for the scientific methods used to study these ancient creatures.
Practical Information for Visitors
Before planning your visit to DinoPark Antalya, here are a few practical details to keep in mind:
Location
DinoPark Antalya is located in Goynuk, a charming village near Kemer. It's easily accessible by car or public transportation from the surrounding areas.
Operating Hours
The park's opening hours may vary depending on the season, so it's advisable to check the official website or contact the park in advance to confirm the current schedule.
Ticket Information
DinoPark Antalya offers various ticket options, including individual and family passes. Discounts for children and groups may also be available. It's recommended to purchase tickets in advance to avoid queues and ensure availability.
Facilities
The park provides facilities such as restrooms, souvenir shops, and dining options, allowing visitors to enjoy a comfortable and convenient experience.
Plan Your Visit to DinoPark Antalya
DinoPark Antalya in Goynuk, Kemer, offers an enchanting blend of entertainment and education for visitors of all ages. From the awe-inspiring dinosaur replicas to the interactive experiences and educational exhibits, it's a destination that guarantees a day of adventure and discovery.
So, embark on a journey through time, immerse yourself in the world of dinosaurs, and create unforgettable memories with your loved ones at DinoPark Antalya. Prepare to be amazed as you witness the wonders of the Mesozoic Era come to life right before your eyes. Don't miss out on this unique opportunity to make your Kemer and Goynuk holidays truly legendary!