Welcome to Hip-Notics Cable Ski Park, an exhilarating destination nestled in the beautiful town of Manavgat. This one-of-a-kind cable ski park offers a thrilling experience that combines water sports, adventure, and breathtaking natural surroundings. Whether you're a seasoned wakeboarder or a beginner looking to try something new, Hip-Notics has something to offer for everyone. Get ready to dive into a world of excitement, adrenaline, and pure fun during your Manavgat and Side holidays.
A Playground of Lakes and Adventure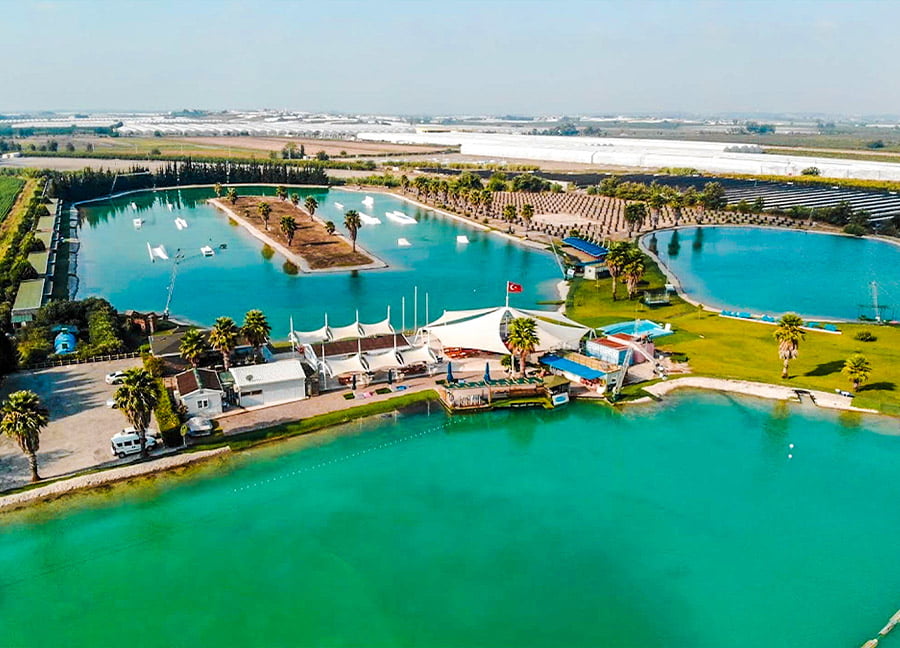 At Hip-Notics Cable Ski Park, you'll find yourself surrounded by three magnificent man-made lakes, fed by cool mountain run-off water from the Taurus Mountains. These lakes cover an impressive area of approximately 90,000 square meters, providing ample space for endless water adventures. Let's take a closer look at what Hip-Notics has to offer:
1. The L-1 Cable: A Thrilling 730-Meter Ride
The L-1 cable at Hip-Notics is a six-pylon system that spans a distance of 730 meters. This cable is perfect for wakeboarders of all levels, offering an exhilarating ride that will get your heart pumping. Glide across the water's surface, feel the rush of adrenaline as you conquer each turn, and experience the joy of being pulled by the cable system. The L-1 cable is an absolute must-try for wakeboarding enthusiasts seeking an unforgettable experience.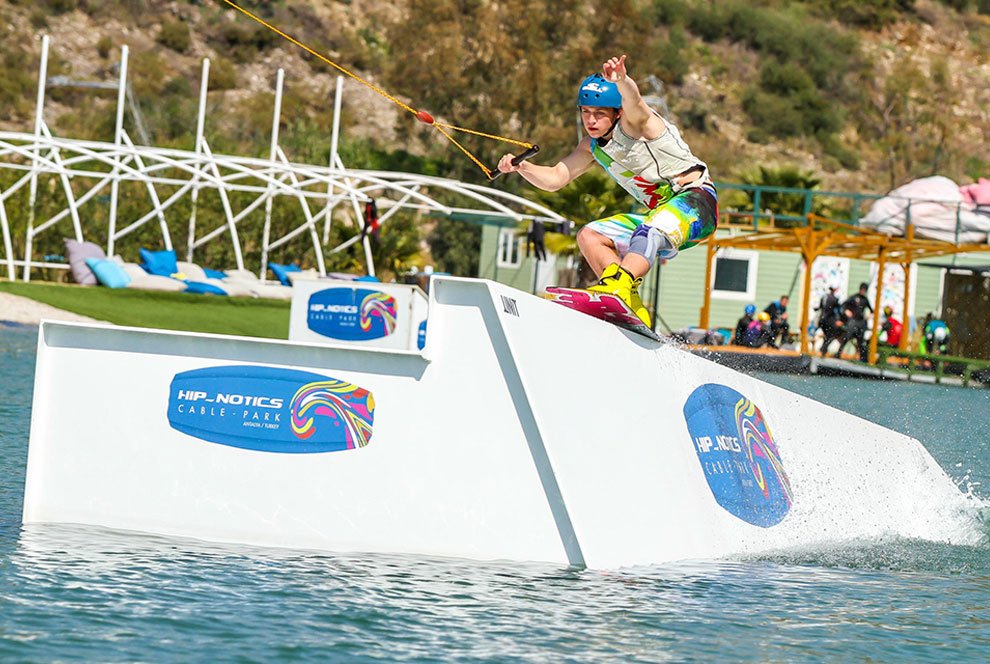 2. The L-2 Cable: Shorter, Yet Just as Thrilling
For those looking for a slightly shorter but no less exciting ride, the L-2 cable at Hip-Notics is the answer. This cable system consists of five pylons and covers a distance of 540 meters. Although it's shorter than the L-1 cable, it offers its own unique challenges and rewards. With a cable height of 10 meters above the water level, the L-2 cable provides the perfect setting for wakeboarders to showcase their skills and push their limits.
---
No Regrets Booking Advice
---
3. The L-3 Cable: Training Ground for New Tricks
The L-3 cable at Hip-Notics is a two X two tower system designed specifically for training and perfecting new tricks. Whether you're a seasoned wakeboarder looking to master advanced maneuvers or a beginner eager to learn the basics, the L-3 cable offers a supportive environment to develop your skills. With experienced instructors and a dedicated training area, you'll have the guidance and resources needed to take your wakeboarding abilities to the next level.
4. Obstacle Park: Unleash Your Creativity
Hip-Notics takes wakeboarding to another level with its newly added obstacle park. The park features a selection of Unit features strategically placed along the cable lines, allowing wakeboarders to showcase their creativity and style. From rails and sliders to kickers and funboxes, the obstacle park at Hip-Notics provides endless possibilities for riders to experiment and push their boundaries.
Facilities and Services for a Memorable Visit
Hip-Notics Cable Ski Park ensures that your visit is as enjoyable and convenient as possible. Here are some facilities and services available at the park:
1. Equipment Rental and Pro Shop
If you don't have your own wakeboarding equipment, don't worry! Hip-Notics offers equipment rental services, allowing you to get everything you need for a thrilling day on the water. From wakeboards to life jackets, you'll find top-quality gear to suit your needs. Additionally, the park has a pro shop where you can browse and purchase wakeboarding equipment, accessories, and apparel.
2. Professional Instructors and Training Programs
Whether you're a beginner or an experienced wakeboarder, Hip-Notics provides professional instructors who are passionate about helping you improve your skills. Take advantage of their expertise and enroll in training programs tailored to your level. From learning the basics to perfecting advanced tricks, the instructors at Hip-Notics will guide you every step of the way.
3. Spectator Areas and Chill-Out Zones
If you prefer to take a break from the action or simply want to soak in the vibrant atmosphere, Hip-Notics offers designated spectator areas and chill-out zones. Relax on comfortable seating areas, enjoy refreshments from nearby cafes, and watch as other wakeboarders showcase their talents. It's the perfect opportunity to unwind, socialize, and take in the incredible energy of the park.
Planning Your Visit to Hip-Notics Cable Ski Park
To ensure a seamless and enjoyable experience at Hip-Notics Cable Ski Park, here are some tips for planning your visit:
1. Opening Hours and Admission
Be sure to check the park's official website or contact their customer service for the most up-to-date information regarding admission fees and packages.
2. What to Bring
To make the most of your day at Hip-Notics, consider bringing the following items:
Swimwear: Don't forget to pack your favorite swimwear to fully enjoy the water activities.
Sunscreen: Protect your skin from the sun's rays by applying sunscreen regularly throughout the day.
Towel and Change of Clothes: Bring a towel to dry off after your sessions, and have a change of clothes for maximum comfort.
Water Shoes: Consider wearing water shoes to navigate the park's areas comfortably.
3. Safety Guidelines
Your safety is a top priority at Hip-Notics Cable Ski Park. It's important to adhere to the following safety guidelines:
Listen to the instructions provided by the park's staff and instructors.
Wear a life jacket while on the water.
Respect the rules and regulations of the park.
Stay hydrated by drinking plenty of water throughout the day.
Conclusion: Unleash Your Inner Adventurer at Hip-Notics Cable Ski Park
Hip-Notics Cable Ski Park in Manavgat offers an unparalleled experience for wakeboarding enthusiasts and adventure seekers alike. With its three stunning lakes, challenging cable systems, and vibrant atmosphere, the park provides an opportunity to unleash your inner adventurer.
Whether you're a beginner or an experienced rider, Hip-Notics offers the perfect setting to learn, improve, and have a thrilling day on the water. So, during your visit to Manavgat and Side, don't miss the chance to dive into the exhilarating world of Hip-Notics Cable Ski Park and create memories that will last a lifetime.