Welcome to Aquajoy Water Park, the ultimate destination for thrill-seekers and water enthusiasts in Manavgat, Antalya! Nestled amidst the stunning landscapes of the region, this water park promises a day filled with excitement, laughter, and unforgettable memories. Whether you're traveling with family, friends, or seeking a solo adventure, Aquajoy has something for everyone. Get ready to dive into a world of thrilling water slides, relaxing pools, and endless fun!
An Aquatic Adventure Awaits
Aquajoy Water Park offers an impressive array of attractions and activities that will keep you entertained throughout the day. Here are just a few highlights to give you a taste of the adventure that awaits:
Aqua Tower
Challenge your courage and conquer the towering Aqua Tower. With its multiple slides and thrilling twists and turns, this attraction guarantees an adrenaline rush like no other.
Aqua Tube
Embark on an exhilarating journey down the twisting and turning Aqua Tube. Hold on tight as you experience the sheer thrill of sliding through narrow tunnels and emerging into splash pools.
---
No Regrets Booking Advice
---
Black Hole
Step into the darkness of the Black Hole and brace yourself for a thrilling ride. Twist and turn through a fully enclosed tunnel as you defy gravity and experience the sensation of weightlessness.
Body Slide
Ready for an extreme rush of adrenaline? The Body Slide is a high-speed slide that will have you plummeting down with heart-pounding speed. Feel the wind in your hair as you make a splash at the end.
Flying Boats
Take to the water in the Flying Boats and enjoy a fun-filled adventure. Navigate through the twists and turns of the water channels, creating waves and laughter along the way.
Free Fall Kamikaze
For the ultimate thrill-seekers, the Free Fall Kamikaze is a must-try. Plunge down a steep slide at high speeds, experiencing a heart-stopping free fall before making a big splash at the bottom.
King Kobra
Prepare to face the King Kobra, a slide like no other. Board a raft and slide down a serpentine course, experiencing twists, turns, and surprises along the way. Will you dare to conquer the King?
Rafting Slide
Gather your friends or family and hop on a raft for an exciting ride down the Rafting Slide. Navigate through swirling currents and enjoy the feeling of rushing water beneath you.
Space Hole
Experience a thrilling moment of weightlessness as you plunge into the Space Hole. This high-speed slide takes you on a breathtaking journey before dropping you into a splash pool below.
Spray Action
For the little ones or those seeking a more relaxing experience, the Spray Action area is perfect. Let the gentle water sprays cool you down as you enjoy a leisurely float or play in the shallow pools.
Uphill Navigatour
Brace yourself for a unique challenge as you take on the Uphill Navigatour. Defying gravity, this slide propels you uphill, defying all expectations and adding a thrilling twist to your ride.
Wave Slide
Ride the waves and feel the rush of the Wave Slide. Hop on a mat and slide down a series of undulating waves, creating a sensation of surfing on water.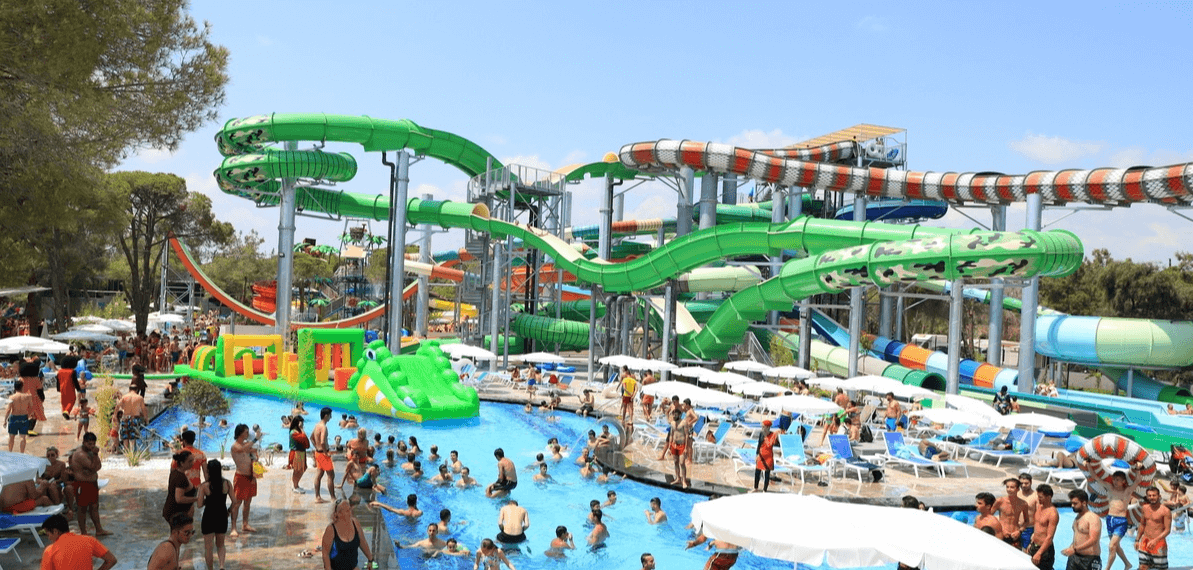 Getting There and Visitor Information
Location:
Aquajoy Water Park is located in Manavgat, Antalya.
Opening Hours:
Aquajoy Water Park is open during Monday to Sunday: 10:00 AM – 6:00 PM
Please note that these hours may vary, especially during peak seasons or due to weather conditions. It's recommended to check the official website or contact the park directly for the most up-to-date information.
Admission Fees:
To enjoy the thrilling attractions at Aquajoy Water Park, an admission fee is required. The fees may vary depending on age and the type of ticket you choose, such as individual, family, or group tickets.
Facilities and Amenities:
Aquajoy Water Park offers a range of facilities and amenities to ensure your comfort and convenience during your visit. Some of the amenities you can expect at the park include:
Restrooms and changing facilities
Dining options, including snack bars and restaurants
Sun loungers and umbrellas for relaxation
Lockers to store your belongings securely
First aid and medical facilities in case of any emergencies
Tips for a Memorable Visit:
Wear comfortable swimwear and bring towels for drying off.
Apply sunscreen generously to protect your skin from the sun's rays.
Consider bringing water shoes or flip-flops for added comfort.
Bring a waterproof camera or phone case to capture your favorite moments.
Follow the park rules and safety guidelines to ensure a safe and enjoyable experience for everyone.
With its thrilling slides, relaxing pools, and family-friendly atmosphere, Aquajoy Water Park is the perfect destination for a day of fun and excitement in Manavgat, Antalya. Get ready to make a splash and create lasting memories at this incredible water park!