Here you'll find useful information and guide on the Turkish Liras, including where and how to obtain, how to spend, exchange offices to familiarize yourself with Turkish currency. It will be helpful to know a bit about the Turkey's currency and how it works when you are visiting Antalya and Turkey.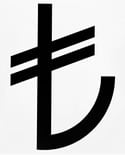 Practical Information
The currency of Turkey is the Turkish Lira.
The currency code for Turkish Lira is TL/TRY and the currency symbol is .
There are 100 Kuruş (Kr) (pronounced as "koo-roosh") to the Lira (TRY).
Turkish Lira Demonstrations
Banknotes come in 5, 10, 20, 50, 100 and 200 (rare) TRY.
Coins come in 1 (very rare), 5, 10, 25, 50 Kr and 1 TRY.
What should I do if I detect a counterfeit banknote?
When you suspect that a banknote is counterfeit, than we recommend you;
Check the security features on the banknote,
Compare it with a genuine banknote,
Avoid damaging it with writing, drawing, piercing or tearing,
Take it to the nearest Office of Chief Public Prosecutor or law enforcement officers and inform them where and whom the banknote came from.
To report a counterfeit banknote, you can call the 155 Police Emergency line or 156 Gendarmerie Hotline. Note that any report of counterfeiting may be crucial to revealing a suspect or a counterfeiting ring.
Where to Obtain Turkish Liras?
Currency exchange in Antalya
You can obtain currency exchange before traveling to Antalya region, or on arrival. We recommend you to get Turkish Liras after you arrive in Turkey as the exchange rates are usually better in Turkey and you can find exchange offices in Antalya Airport.
You can exchange any currency in to Turkish Lira in Antalya as usual. You are able to find many exchange offices through Antalya region.
---
No Regrets Booking Advice
---
Most of them are located on the streets of the popular tourist zones and districts, as well as inside banks, travel agents, Post Offices and Antalya airport.
It's worth shopping around to get the best deal and make comparison with the exchange rates on offer and make you ask about commission.
When to Use Cash Turkish Liras?
We recommend you take cash TRY as you may need to tip on your way to your hotel, at the restaurants, cafes and bars. Also some establishments such as local shops, boutiques offer good discounts when you pay in cash as they won't want to pay a percentage to the credit card company.
To take the advantage of good discounts on shopping, we recommend you to carry cash TRY, and carry small notes such as 5,10,20, 50 TRY.
Credit cards and contactless payments
Credit and debit (bank) cards such as Visa and Mastercard are widely accepted in the restaurants, bars, cafes, markets and shops of Antalya.
Contactless cards are also widely used in Antalya region and many businesses accept them as payment, up to a small limit per transaction for security reasons. In addition, the contactless payments may still incur an overseas transaction fee and these vary by card and by bank, so you should check with your card issuer before tapping your contactless card.
Cash machines – ATMs
While you are in Antalya, you'll find many cash machines, or ATMs, located separately on the streets of the tourist zones, banks, some corner shops, shopping centers and supermarkets.
Most of them accept international cards with the Visa, Plus, Mastercard, Cirrus or Maestro symbols. You should check before using them as they will almost certainly charge a free when you withdraw cash. Many cash machines also provide the facility to top up your mobile phone credit.