Are you ready to dance until dawn and experience the vibrant nightlife of Antalya? Look no further! We've compiled a list of the best nightclubs in the city that will make your Antalya holidays an unforgettable experience. From pulsating beats to stunning performances, these clubs offer an eclectic mix of entertainment, music, and ambiance. Get ready to paint the town red and make memories that will last a lifetime!
5 of the Best Nightclubs in Antalya city
Club Ceila: Where Day Meets Night in Perfect Harmony
Club Ceila is one of Antalya's leading nightclubs, seamlessly transforming from Ceila Beach during the day to Club Ceila at night. This venue hosts a wide range of entertainment and activities around the clock. With its unique dance shows, vibrant parties, and incredible DJ performances, it's no wonder that Club Ceila is a top choice for thousands of tourists seeking a good time.
While it's important to note that prices can be a bit steep at Club Ceila, with entrance fees ranging from 50 TL to 70 TL per person and a stand (table) fee of 100 TL, the experience is worth every penny.
Opening Days: Open seven days a week
Opening Hours: 11:00 PM – 4:00 AM
Address: Çağlayan, Fener Cd., 07230 Muratpaşa/Antalya
Klub Kristall: Where Endless Entertainment Awaits
Under the management of Russian businessman Alexander Ivanov, Klub Kristall stands as one of Antalya's most prestigious venues and a favorite among tourists. This venue comprises six sections, including Night Club, VIP, Restaurant, Beach, Karaoke, and Chill Out.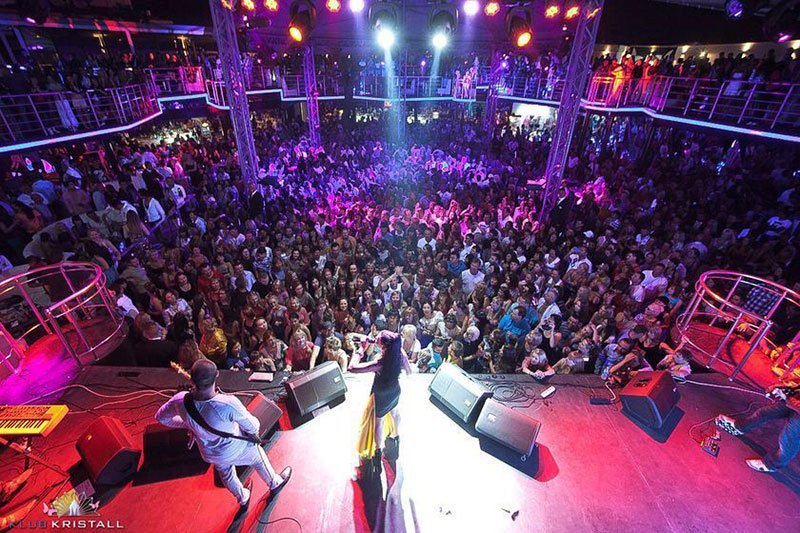 ---
No Regrets Booking Advice
---
Whether you want to take a dip in the sea, soak up the sun, sing your heart out during karaoke, or enjoy the performances of famous Russian DJs, music groups, and singers, Klub Kristall has it all. It's advisable to make a reservation in advance to secure your spot.
Opening Days: Open seven days a week
Opening Hours: 12:00 PM – 5:00 AM
Address: Merkez Mah. Deniz Cad. No:5, 07980 Antalya
Soho Club: Where European Vibes Come to Life
Soho, one of Antalya's iconic nightclubs, has gained international recognition for its vibrant atmosphere. It's often the first choice for tourists visiting Turkey for a holiday. Soho boasts the best dance floors among Antalya's nightclubs, hosting a variety of DJ performances, dance shows, and concerts by famous artists.
Every summer, Soho Club becomes a bustling hub, welcoming both locals and foreigners to dance and revel in the electrifying energy of the club. Don't forget to try their intriguing cocktails and special drink specials, as Soho is famous for its unique mixology. Keep in mind that the club's entrance fee ranges from 30 TL to 50 TL, slightly above average, but the experience is worth every moment.
Opening Days: Open seven days a week
Opening Hours: 11:00 PM – 4:00 AM
Address: Şirinyalı, Lara Cd. 10/A, 07160 Muratpaşa/Antalya
Gaga Club: The Newest Sensation
Gaga Club, one of the newest nightclubs in Antalya, has quickly become a favorite among holidaymakers. Nestled next to the cliffs in the Lara region, this venue boasts breathtaking views and state-of-the-art sound and light systems, making it a high-quality nightclub experience.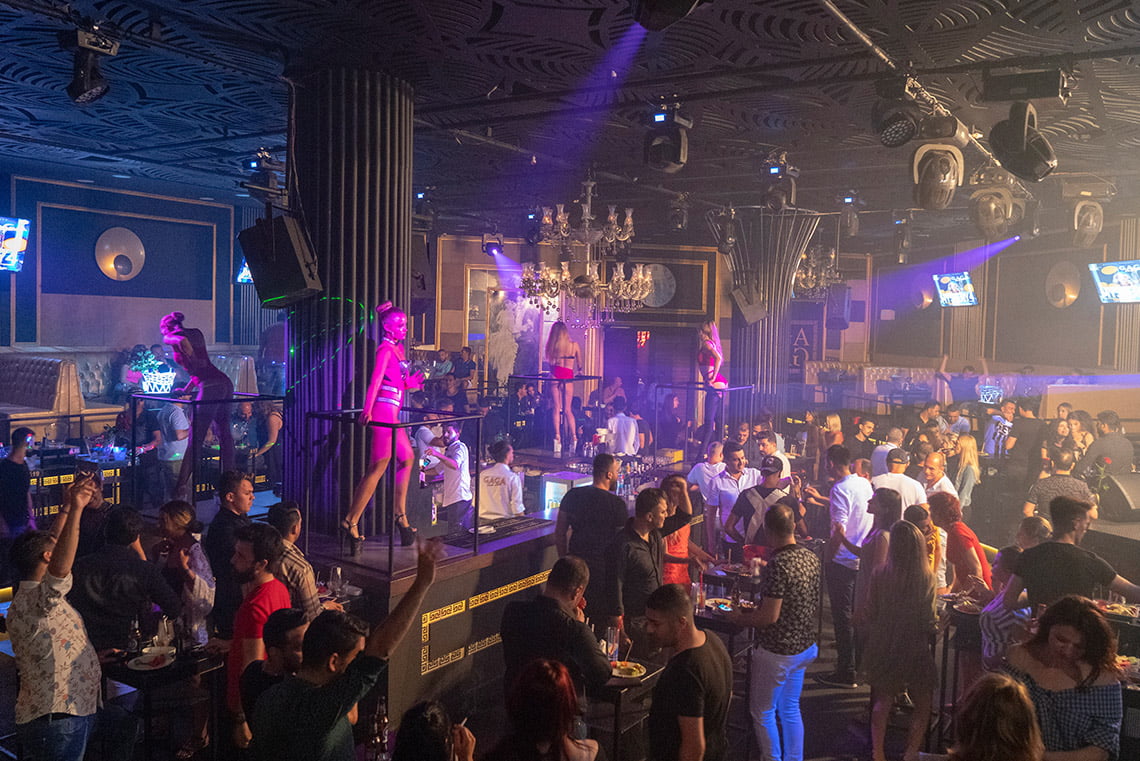 Gaga Club hosts performances by renowned DJs, mesmerizing dance shows, captivating stage performances, and unique concept parties. It's a place where locals and international visitors can let loose and enjoy the night. Keep in mind that prices at Gaga Club can be on the higher side, but the club's unmatched service and ambiance make it a must-visit destination.
Opening Days: Open seven days a week
Opening Hours: Open 24 hours
Address: Fener, Lara Cd. 307/2, 07160 Muratpaşa/Antalya
Massimo: Where Elegance Meets Entertainment
Massimo is one of Antalya's most sophisticated venues, serving as an elite restaurant during the day and transforming into a fantastic entertainment center at night. With its extensive menu, breathtaking views, and modern decor, Massimo receives top marks from visitors.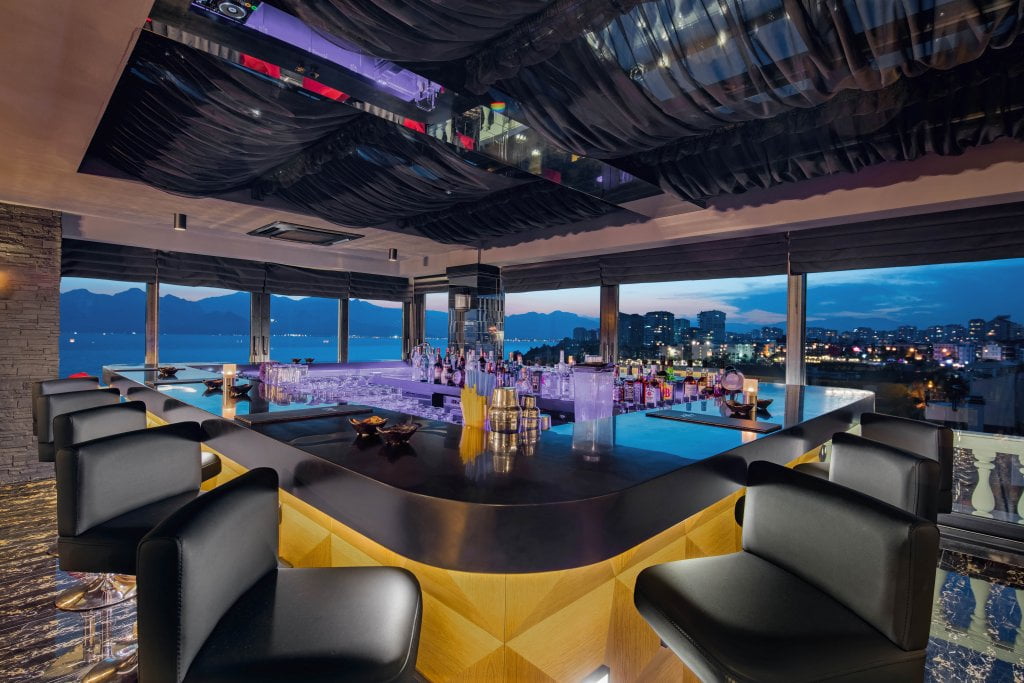 You can indulge in exquisite cuisine and delightful cocktails with your loved ones before immersing yourself in a magnificent DJ performance and the magic of music and dance. Massimo adds a touch of sophistication to Antalya's nightlife, but it's important to note that prices can be on the higher side.
Opening Days: Open seven days a week
Opening Hours: 4:30 PM – 11:00 PM
Address: Şirinyalı, 1537. Sk. No:16/5, 07160 Muratpaşa/Antalya
Are you ready to dive into Antalya's thriving nightlife? These best nightclubs are waiting to provide you with an extraordinary experience. Before heading out, don't forget to check the respective club websites for any updates on schedules or entrance fees. Get your dancing shoes ready, gather your friends, and embark on a night filled with excitement, music, and memories. The vibrant nightlife of Antalya awaits you!