Alanya, renowned for its vibrant nightlife, offers a plethora of exciting nightclubs where you can dance the night away and create unforgettable memories. From high-energy venues with renowned DJs to clubs with unique concepts and captivating performances, Alanya has something for every partygoer. Get ready to immerse yourself in the pulsating beats, energetic atmosphere, and electrifying vibes of the best nightclubs in Alanya. Whether you're a seasoned clubber or seeking an intense night out during your Alanya holidays, these top nightlife destinations will undoubtedly leave you craving more.
8 Best Nightclubs in Alanya
1. Havana Club Alanya: Where the Party Begins
As one of the first clubs that comes to mind when talking about Alanya's nightlife, Havana Club is a must-visit venue. Opening its doors in April, at the start of the summer season, this vibrant club welcomes visitors until November, ensuring endless entertainment. Located near Alanya's Iskele Meydanı, Havana Club is a two-story venue with a capacity of 1000 people. It features two VIP lounges, a balcony, open-air facilities, and a custom-built movable area.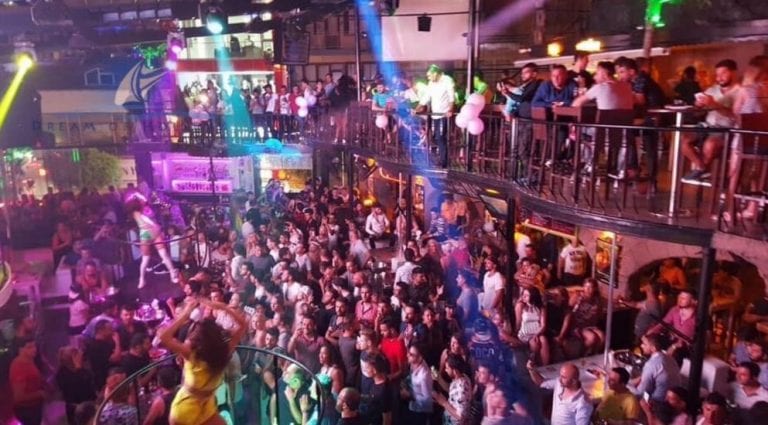 Boasting mesmerizing views of Alanya's city and castle, Havana Club offers uninterrupted fun with DJ performances, dance shows, and stage performances. The club often hosts Latin nights featuring dancers from Brazil and Cuba, adding a touch of exotic flair to your experience. Open seven days a week from 10:30 PM to 3:00 AM, Havana Club offers free entry, and the prices are reasonable.
Address: Çarşı, Müftüler Sk, 07400 Alanya/Antalya
2. Bistro Bellman Club: Party in Style
Located in Alanya's district of Konyaaltı, Bistro Bellman Club stands as one of the finest nightclubs in the region. This spacious venue, often frequented by Russian and Ukrainian tourists, boasts a large dance floor and a two-story layout.
---
No Regrets Booking Advice
---
The first floor houses the disco, seating area, and a massive projection area, while the second floor features a balcony/terrace that provides a panoramic view of the entire venue. With a capacity of 1500 people, Bistro Bellman Club hosts performances by world-famous DJs, dance shows, and captivating stage acts. The club operates from 10:00 PM to 3:00 AM, offering non-stop entertainment throughout the week.
Address: Çarşı, Rıhtım Cad. No:36, 07400 Alanya/Antalya
3. Club Hollywood: The Heart of Alanya's Nightlife
Situated in the heart of Alanya's city center, Club Hollywood stands as one of the most popular nightclubs in town. With its unique style and modern design, Club Hollywood adds a fresh perspective to Alanya's nightlife scene. The venue boasts a spacious bar and dance floor, accommodating 1500 to 1800 people. Club Hollywood has become a favorite spot for holidaymakers and tourists, hosting DJ performances, concerts by renowned artists, and dance shows. Known for its exotic cocktails, the club operates seven days a week from 9:00 PM to 3:00 AM.
Address: Şekerhane, Kuyularönü Sk. No:22, 07400 Alanya/Antalya
4. Robin Hood VIP: An Iconic Nightclub Experience
Renowned as one of Alanya's premier nightclubs, Robin Hood VIP sets the stage for an unforgettable night out. As one of the city's leading nightclubs, Robin Hood VIP showcases world-renowned DJs, mesmerizing dance performances, and captivating concerts by famous artists. Spread across three floors, each with its unique concept, Robin Hood VIP offers an exceptional clubbing experience.
The Latino Club on one of the floors is particularly popular among visitors and is often the preferred choice for many. If you're in Alanya during the summer season, Robin Hood is the perfect destination for a memorable night of entertainment. With reasonable prices and open seven days a week from 9:00 PM to 3:00 AM, Robin Hood guarantees a night to remember.
Address: Çarşı, 07400 Alanya/Antalya
5. Sess 07 Club: A New Era of Nightlife
Located near Alanya's İskele Meydanı, Sess 07 Club is a relatively new nightclub that opened its doors in 2018. Adding a fresh and vibrant touch to Alanya's nightlife, Sess Club is known for hosting famous DJs, singers, and a variety of stage shows.
Since its grand opening, the club has been a focal point for European tourists, offering a range of entertainment options such as dance performances and other captivating stage shows. Sess 07 Club operates seven days a week from 10:00 PM until 3:00 AM, ensuring uninterrupted fun throughout the night.
Address: Çarşı Mahallesi, İskele cad. Karantina Sk. No:26, 07400 Alanya/Antalya
6. Latino Club: Where Latin Vibes Come to Life
Bringing a taste of Latin America to Alanya's nightlife, Latino Club is one of the top venues that come to mind. With dance groups from countries like Brazil and Cuba taking the stage, this venue offers an unrivaled entertainment experience.
The party lasts until the early hours of the morning, making it a favorite spot for night owls. Opening its doors at the beginning of the summer season, Latino Club welcomes visitors with its wide selection of cocktails and attracts tourists from countries like Russia and Ukraine.
Address: Çarşı, Rıhtım Cd. 07400 Alanya/Antalya
7. Summer Garden: Embrace a Different Vibe
For a unique and enjoyable experience, head to Summer Garden, where you can spend exciting hours in a refreshing open-air setting that lasts until the early morning hours. Lose yourself in the rhythm of the music and dance the night away under the colorful lights. With a service that ensures your satisfaction and music that will make you want to move, Summer Garden is one of the must-visit spots for nightlife enthusiasts.
8. Queens Garden: Fit for Royalty
Queens Garden, known for its royal treatment, is a popular destination for those seeking a fun night out in Alanya. Enjoy endless parties and dance to music that will keep you energized until the early hours of the morning. If you're looking for an entertaining night in Alanya, Queens Garden is the place to be. The club is open seven days a week from 11:00 AM to 3:00 AM, ensuring non-stop excitement.
Address: Müftüler Caddesi, Demirciler Sk. No:99, 07400 Alanya/Antalya
Tips for an Unforgettable Nightclub Experience
Dress to impress: Most nightclubs in Alanya have a dress code, so make sure to dress stylishly and in line with the club's atmosphere. Smart casual or trendy attire is usually appropriate.
Arrive early: To secure a good spot and avoid long queues, it's advisable to arrive early, especially during peak tourist seasons. Some clubs offer early bird discounts or special promotions for early arrivals.
Be mindful of your belongings: Nightclubs can get crowded, so keep an eye on your personal belongings at all times. Consider using a small bag or a secure pocket to keep your valuables close to you.
Explore different venues: Alanya's nightlife scene is diverse, so take the opportunity to explore different clubs and experience a variety of atmospheres. Each venue has its unique vibe, music genres, and entertainment options, allowing you to discover new favorites.
Plan your transportation: Before heading out, consider planning your transportation to and from the nightclubs. Alanya offers various options, including taxis, public transportation, and shuttle services, ensuring you can get around safely.
Get ready to dance, make memories, and have an unforgettable night out during your Alanya holidays. So put on your dancing shoes and let the rhythms of best nightclubs in Alanya guide you into a world of fun, music, and exhilaration!